| | |
| --- | --- |
| | HOLLYS_NEW_LIFE's Recent Blog Entries |


Thursday, November 28, 2013
Since the Dirty Girl in September, I've be pretty down... I haven't had anything to look forward to or train for... I've gained a few too many pounds, and I'm starting to feel it and I definitely think it shows. You know, saying that out loud is pretty freeing. It's so hard to admit when things haven't been going well, it's like I'm letting EVERYONE down, not just myself. Amidst the crappy feeling, both physically and mentally, I truly am thankful for sooo much.

I am obviously thankful for my weight loss and my new life as a result of that. Like I said I have a few too many pounds to get rid of until I'm "back on track" but I'm truly happy for what I've done.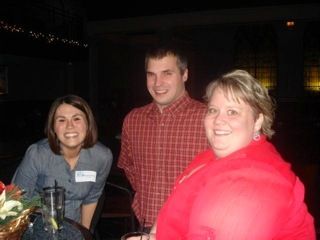 NEVER again!

I'm beyond thankful that I've I've been able to get my family and friends to get healthy.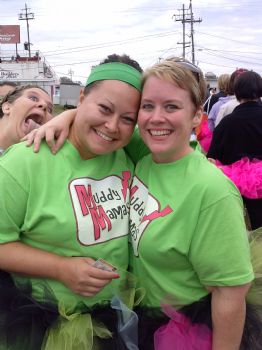 My BFF of 20 years (MADTHENURSE)
She's been with me for the last 2 years on this journey, and I hope she continues to make changes in her life.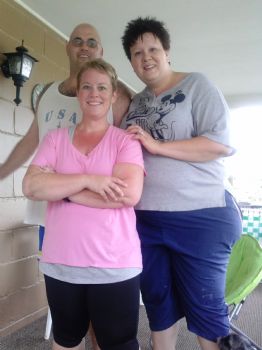 My husband's brother and his wife
They went on a 2 mile walk with me when we went to visit them in July, and since then, they've kept on walking!



My brother and his wife (MADDIESMOM102)
Chad said he's interested in starting up again, and I've been posting all that Lisa and I've been doing. Today she finished her FIRST TURKEY TROT!!! I'm SOOOO proud of her!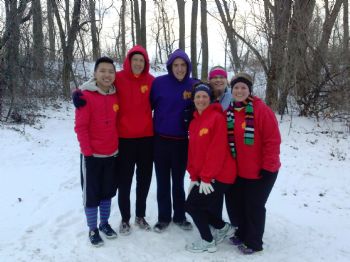 This is the same group I've been TT'ing with for the last 3 years!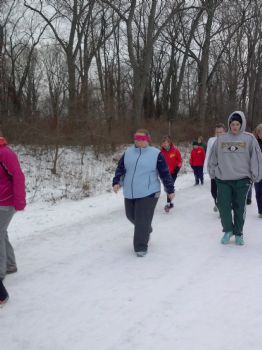 GO LISA!!!!!

I'm thankful that my kids have a happy, healthy mom to run around with, and I'm thankful that I'm able to participate in activities that they want to be a part of. And I'm thankful that I can walk into their classroom, go to an after school activity, and attend parties with them, and no longer be embarrassed about being the "fat mom."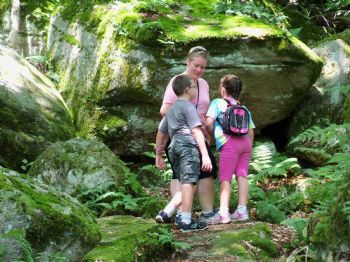 Panama Rocks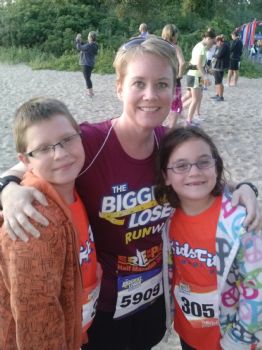 TBL 5k that they did with me this summer



Their last Cross Country Race of the season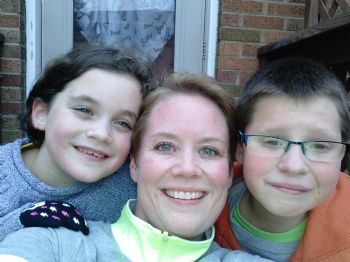 After a 1 mile run, at their request!!!

I'm Thankful for my husband, who's been with me through all of this. The frustration and tears, and more importantly, the joy of hitting those milestones. He's told me "no" when I wanted pizza at 9pm because he knows I'd regret it, and he's bought me new workout clothes to celebrate a PR. He loved and married me at close to 300 pounds and I know he loves me even more now!




This is hard, and frustrating, and to be honest, sometimes, it's really easy to forget WHY I'm doing this. It's even harder when you feel like you're on your own, and a lot of times, it feels like I'm alone. SP friends disappear and even family and "real" friends lose their enthusiasm. Hell, sometimes, NO one can figure out why I'm still doing this.... not even me. I wonder why I'm fighting to lose the last 20lbs... I've even been asked that exact question. "You've lost so much, you look good, you're happy, why does it matter." Why DOES it matter??? That's why I have to think about the things I'm thankful for, and remember what I'll lose if I don't finish what I started... It's when I remember that I can't rely on anyone else... that I have to do this for me. I have to be my own super hero!




If I hadn't changed my life 3 1/2 years ago, I wouldn't be who I am today. The life my kids have wouldn't be the same, and I know my husband's happier. Happy wife, happy life, right?!? I'm pretty sure he'd agree, lol! So even though things aren't great right now, I know they can be and I know how to get there. I thought I'd be done with this weight loss thing in 2 years... people have lost 200 pounds in 2 years... well, that's not me and it doesn't matter. This is my life, and I'm living it! And I'm SOOO thankful for every minute!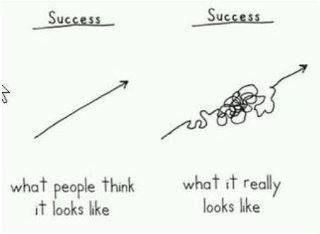 I can't tell you how true this is!





Sunday, September 15, 2013
On September 7, my BFF Melissa, 2 of my most FAVORITE Sparklies and I, did a Dirty Girl mud run. It's a 3 mile mud run with 12 obstacles along the way. We had to crawl through muddy tunnels, jump into a water and mud filled pool, climb up cargo nets, scale an 8 foot wall, climb over "bouncy house" pyramids, and many more! BEST TIME EVER!!! I've been wanting to do an obstacle race like this for more that a year, and I finally found some suckers, I mean friends, who were willing to do it with me *love you guys* ; )

I could go on and on about how awesome this race was, how much fun I had and all of the emotions that came with it. Instead, I'm just going to post the pictures, because that's all anyone ones to see anyhow, right? ENJOY!!!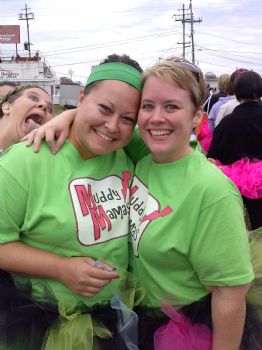 My BFF of nearly 20 years, Melissa (MADTHENURSE)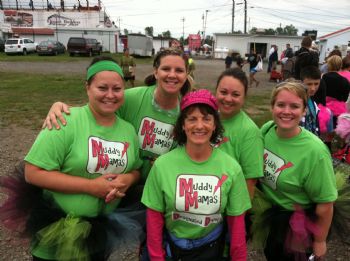 All of us before the race (MADTHENURSE, ENDERLI, NAYKNITS) My oldest friend Lisa came along to take all of these great pics for us!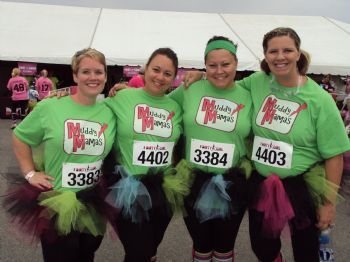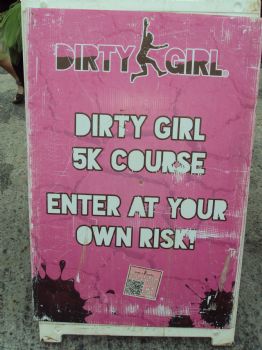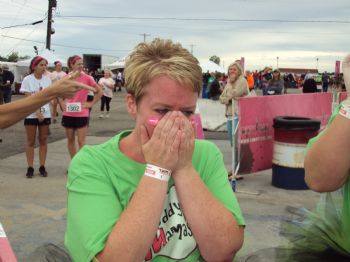 Right as we were lining up for our heat, the last 3 years flashed before my eyes. I was completely overwhelmed with emotions. THIS is what I've been waiting for, to do things I never thought would ever be possible.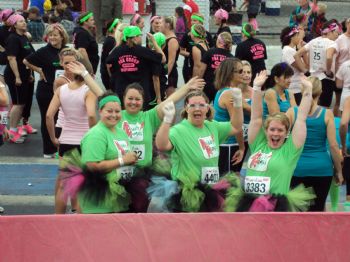 The 10 second countdown! Think we're a little excited!



This was halfway through the race. The first 6-8 obstacles were located too far way for Lisa to even see, let alone take pictures.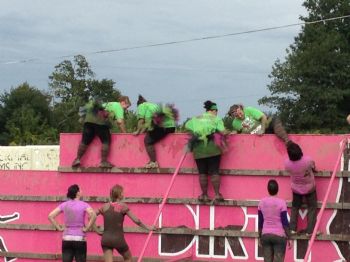 the 8 foot wall



top of the cargo net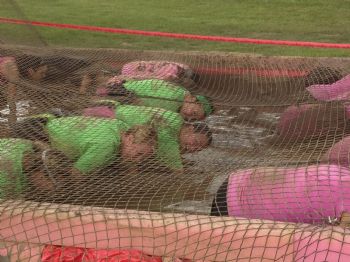 one of the multiple mud pits we got to crawl though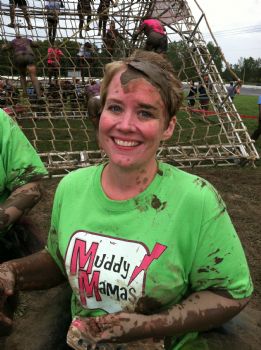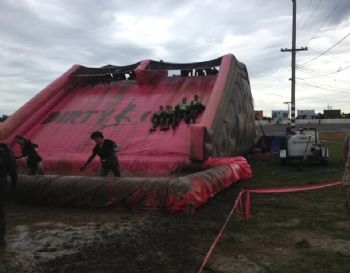 we climbed up one side of the bouncy house, and slide down into the mud pit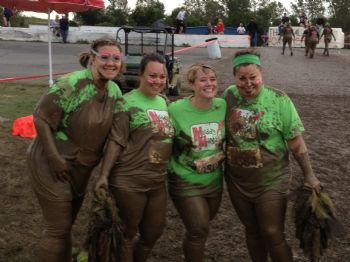 Yep, we lost the tutu's on that slide, so sad...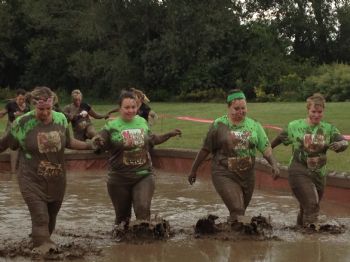 this was the final obstacle, and we found out later, we were supposed to "swim" through that. Umm, no thanks!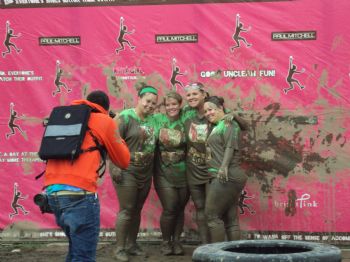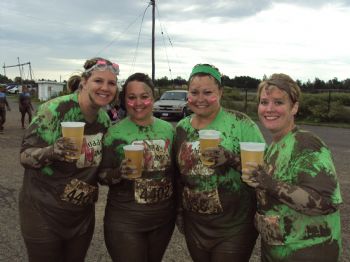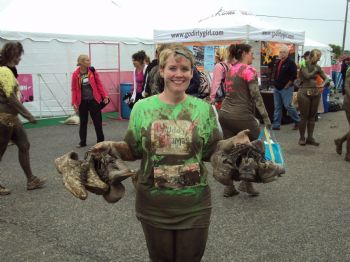 We were able to donate our race shoes to the Dirty Girl, who will clean, sanitize and then ship them to developing countries.



After the race, we all went out to lunch to celebrate! We clean up pretty well, huh?!?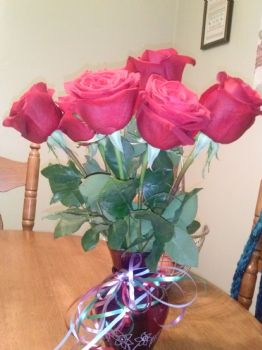 When I got home, I found these waiting for me from my always supportive family!

I can't tell you how awesome that day was! Physically and emotionally, it was THE best day I've had since being on this journey. I had even more fun doing the race with my Sparkgirls! I love you guys and I can't wait until 2014!!!

godirtygirl.com/

This is the site for the race! Check it out, find a race, and GET DIRTY!!! WOOHOO!!!





Monday, September 02, 2013
When you're upset with how much farther you have to go...
When you think you're never gonna get there...
When you eat tuna instead of the pizza you want, and you're SO not happy about it...

Have a friend remind you of who you used to be...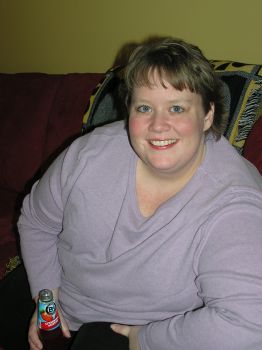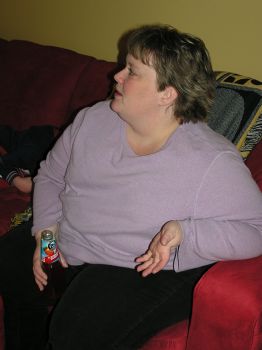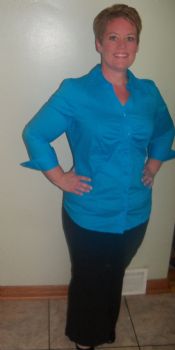 That's a bit of a difference!

My oldest and dearest friend sent these to me the other day, and I was shocked. I still cannot believe I looked like that! She found these while she was cataloging old photos on her computer and just HAD to share... THANKS LISA!

I will eat tuna, and I will fight until I get to goal, no matter how long that takes, because I will NEVER look like THAT again!





Tuesday, August 27, 2013
Wow, was that a lot of fun! Friday night, my husband and I went to the packet pick up and I got to meet a few of the Biggest Loser contestants.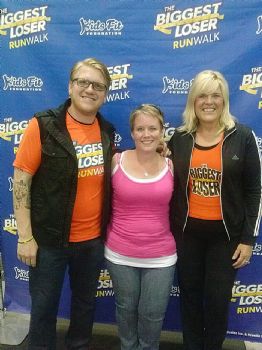 Dan and Jackie from season 5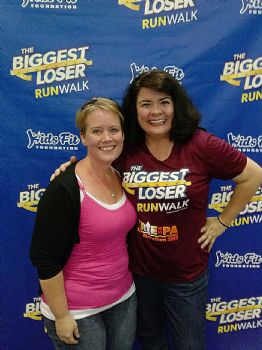 Pam from season 14
I LOVE her! She smart and sassy just like she was on the show!

There was a woman there who was giving advice for first time runners, which I felt was very helpful. She was taking about shoes, proper running technique and nutrition before a race.

After she was done, there was a Q&A session with Pam, which was great! She was very real, told a few *secrets* of the show, and said that Jillian on camera is Jillian in real life! YIKES! When she was done, Dan sang a song off his album (I had no idea he was an actual recording artist) and Jackie talked about the benefits of eating right and exercising.

I've done a bunch of races, but this was the first one I've ever done alone, and I was SOO nervous. We had to be at the Peninsula at 6:30, which meant we all had to get up and leave by 5:45. Have you ever tried to get an 8 and 10 year old up that early? Lucky for m they were super excited about their race, so it wasn't too much of a problem.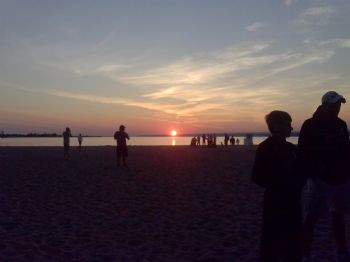 We got there just as the sun was coming up over the lake, it was beautiful.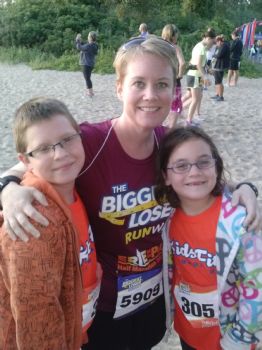 We were getting ready to watch the 1/2 marathoners start their race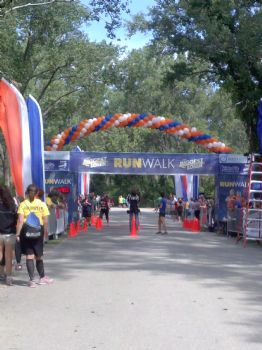 this is the start/finish of the race

So like I said, I was really nervous about the race, mostly because I was alone. I have no idea how to pace myself, I usually just try to keep up with whoever I'm with. It was so cool too see all the different people that were there. There were people who were there to PR their race, and a TON of people who were doing their very first race. I finally calmed down and decided I was just gonna go, and see what happened!

The first mile was through a wooded area, which I did not anticipate. Had I actually read the about the race course, I would have known this was not an out and back race. That kind of freaked me out. I don't like just "running around." I like a start, a turn around, and an end. So that was a serious mental block for me.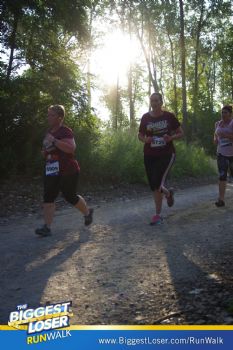 The rest of it was on the actual road at the peninsula, which is a beautiful, flat course! There are tree lined roads, and parts where you can see the lake, it really is very nice.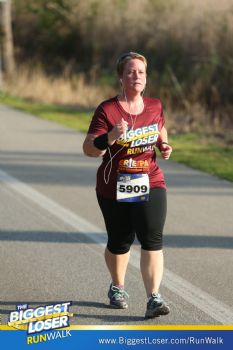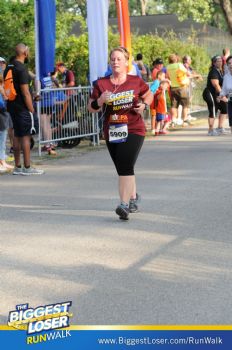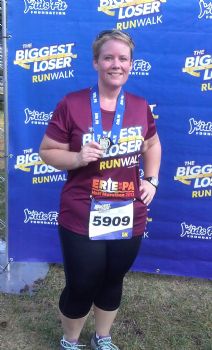 This was at the finish, when you get that cool medal!

It wasn't my best time, but I REALLY enjoyed talking to people that I was running with. It was great to encourage everyone, and keep them motivated. It was a very emotional race as well, which I wasn't expecting. I saw myself in so many people that were out there running. There was one girl in particular, who said it was her first race, and she was alone too. She didn't think she was going to be able to finish it. I told her a little about my story, and she said it was what she needed to hear... that it IS possible, without The Biggest Loser. Holy crap, THAT is what this is all about! Getting people to realize they don't need to be locked up in some house in LA, workout 6 hours a day, and eat only lettuce to change their lives.

After she finished, she found me, told me she did it in under 50 mins when her goal was 60. She actually thanked me for talking to her. OMG, that brought tears to my eyes... Like I said, it wasn't the fastest race I've done, but it was the BEST!

A couple hours later, the kids had a 1 mile run. It's always so great to see so many kids doing these races. The adults were all lined up cheering them on, and the announcer was yelling out everyone's number as they crossed the finish line, it was great and the kids were super excited!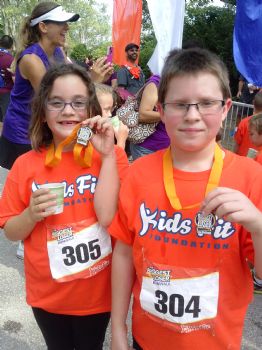 I had a great experience, and if you're able to do one of the Biggest Loser races, you'll have a great time!

*the professional photos are courtesy of The Biggest Loser Race Series*





Monday, August 05, 2013
Did you ever just feel pathetic and selfish? Why me, why can't I, why not... why do I have to... like a whiny, self absorbed 4 year old. That's how I've felt all day. Poor me. I know it all stems from the 1.5lb gain on Friday. You know, I tried to convince myself that I was "ok with it" but I'm really not. Especially when I kicked a$$ all week and was meticulous about my food. I know things aren't nearly as "easy" as they used to be. I know I have to do a bit more than walk around the block and cut my food intake in half, but it still sucks!

So instead of turning to food on Friday, which is what I wanted to do, yes it still happens, I had 6 too many adult beverages. Well, I stopped counting at 6 anyhow... Apparently I'm no good at moderation... on ANYTHING! I had a good time, we were out at camp and I wasn't driving anywhere... just enjoying the fire, and the stars. It was great until I woke up the next morning with the realization of how many calories I'd consumed. That's right kids, no hangover, just a sick feeling that I had consumed an entire days worth of calories in a few hours. WHY was that a thought in my head?!? I had a great night, and this is how it gets ruined. I didn't fall in the pool, and I didn't puke on my shoes... I was worried about the calories... WTH has happened to my life? When I'm more worried about the calories I've consumed than having a good time, a line has been crossed.

A few of my sprakfriends have found their way back recently. They've gained most if not all of the weight back that they've lost. These are people that are Spark Superstars in their own right, and it breaks my heart to see that this has happened to them. And it just brings up those feelings of, "if them, why not me?" How will things be different for me?

At work today, my 11 pound co-worker exclaimed, "OMG, I'm so full." After eating nothing but applesauce and Skittles for breakfast and exactly 4 pieces of lettuce for lunch... REALLY?!? This, after saying on Friday, that *I* should eat more protein and start running to lose weight. Does anyone know how much protein is in Skittles or hell, applesauce for that matter? I'm just asking... And yes, she knows I've lost weight. I was so fed up with her saying $h!t about "fat people" I finally showed her my before pictures. She freaked out, couldn't believe it, and yet, still has the cajones to talk smack! Skinny b!tch is gonna find herself stapled to the carpet if she keeps it up.

Tonight, I was in such a mood, I wanted to stick my face in the bowl of parmesan pasta I'd made. No, I can't have any pasta.... I "got to" eat basil grilled chicken, YEAH!! And really, please don't tell me I can "have anything I want in the correct portion." Usually, I believe that, and I haven't given up ANYTHING, but the funk I'm in tonight will not allow for a "correct portion" of anything. Pasta was NOT on the menu for me tonight. Aaaaggghhhh!!!!!

And finally, if you're still reading this crap... I was supposed to do 60 minutes of intervals on the treadmill. TOTAL FAIL! I wimped out and went out for a 4 mile walk/ slight jog. And by that, I mean only had the energy to jog when I was trying to get away from cars, dogs, or teenagers... teenagers are terrifying! Yes, I did it, but it wasn't what I was supposed to do.

On my way out, to half a$$ a workout, I ran into a mom I've known for years. Our son's have been in classes together since pre-school. She was sitting in a wheelchair/scooter type thing, and I asked her what had happened. She's always had a cane with her, and I knew she had something wrong with her legs or back, but it's not the kind of thing you bring up at a school function. She said her MS has gotten the best of her... She's my age.... I'm b!tching and moaning about food, and drinks and "having to exercise." Carley can't get out of her chair without help, let alone run around with her kids.... who the "F" am I???

Why me... why can't I... why not... why do I have to... because it's MY life to live and I have a chance to LIVE IT, that's WHY!



1 2 3 4 5 6 7 8 9 10 11 12 13 14 15 16 17 18 19 20 21 22 23 24 Last Page

Get An Email Alert Each Time HOLLYS_NEW_LIFE Posts