| | |
| --- | --- |
| | JMARISK's Recent Blog Entries |


Tuesday, July 29, 2014
Today I did Define Lower Body to get my hip stretched out. I think I pushed it a little too hard on my run yesterday. I followed that up with Hard Core on the Floor. That was amazing! It's 30 minutes of ab-burning hell. lol. But I never once thought that I couldn't complete finish it out.

I'm so glad I have PiYo to pull out of my back pocket whenever I get a little sore. Before my workout I could barely put weight on my hip. Now I just feel a little twinge but it's bearable. I do anything I can to avoid taking anti-inflammatories. PiYo has proven time and again to be the perfect tonic.

Less than 2 weeks before I leave for Ireland. I can't believe it!! Hubs just rented a luxury cab service to pick us up from home, so we'll be starting our trip in style. Saying our goodbyes at home will also be less traumatic for us and our 2 year old Matthew. It's going to be so hard saying goodbye to our precious peanut, but we know he'll be in good hands.

I hope you all are having a successful Tuesday!




Monday, July 28, 2014
Honestly, I suffered this weekend. My good eating habits went out the window and I didn't do any of the PiYo workouts. Turns out, the medicine I started taking to start my cycle early did what it was supposed to do. That would explain why I was craving carbs like crazy throughout the weekend and felt so tired and unmotivated. It explains my behavior but it doesn't justify it.

TOday it ends. I will be going out for a run with my friend. Hopefully we'll cram 5miles in today. I packed a healthy lunch box full of GOOD carbs and proteins. I had my Shakeology this morning which gave me a good boost. I skipped the nutrient-dense meal on Saturday and Sunday. I could really tell the difference. My friend gave me a great recipe to ttry that uses a tbsp of butterscotch instant pudding mix. It makes the chocolate shake taste like a butterfinger. Nom nom nom. I'll let you know how that goes!

I leave for Ireland in 12 days. I'm soooo excited. It's almost surreal. We've been planning for 6 months and we're finally less than 2 weeks away. It's amazing.

I'm definitely going to need a prgram when I return to get my head back in the game. I've been looking into the 21 Day Fix program. A lot of my friends have had amazing success with it, some losing as much as 15lbs! The portion control containers are just what I need to learn how to measure the perfect portions for my meals. It sounds kind of time consuming, measuring everything, but it's necessary to get results. I don't do enough of it, frankly because it is so time consuming. But the containers will help speed up the process and take all of the guess work out of it.

Is anyone else interested in being my accountability partner for this program? I'll probably start in September, after everyone gets back from vacation.

I hope you all are having a successful start to your week.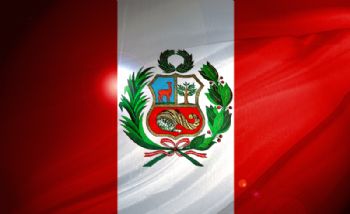 Happy Independence Day, Peru! Feliz dia de la independencia Peru





Friday, July 25, 2014
It has been a bigger challenge staying on track during the 3rd week of PiYo, but I've been doing it! I only missed one day this week. Today I plan on playing catch up and going for a run.

I did Define Lowerbody yesterday. I was soooo excited because I was noticing progress. There is one movement where you are in a tripod position (hands and one leg on the floor) and the hip of the raised leg rotates open. Sounds easy, but you have to do this while trying to keep equal weight on your arms--not so easy. I've always struggled with maintaining perfect alignment in this position, but yesterday I DID IT! It felt sooo good!! I was also able to get lower in my warrior posses and lunges. It was an amazing stretch.

I can't wait to do it again today!

NOw I just have to get my diet back on track. Last nigth, I ordered pizza and soda. WHAT? I don't know why I would do that to myself, they're my trigger foods! But I did and I ate half a medium pizza. I won't beat myself up too much today. I'll just focus on getting back on track and work on materials for the 5 day clean-eating challenge group I'm leading. That will definitely help keep me accountable. I might even be able to reach my goal weight before my Ireland trip!

Here we go!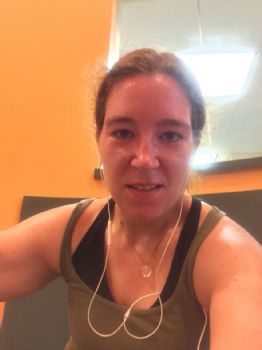 Wednesday, July 16, 2014
Today, I ran 5miles!! That is the longest distance I have ever run in my life. It helped that the air was dry and I could breathe. I felt strong through most of the run. I even maintained an 11 minute/mile pace!! WHAT?!





I feel like AWESOME-SAUCE!

Tonight, I'm supposed to do Sweat, but maybe I'll do lower body instead to give my legs a good stretch.

TOmorrow I'm running with my friend. We'll go a little slower. Then tomorrow night I'll take a break from PiYo or do upperbody.

At the beginning of the week I was a little discouraged because the scale went up, but I must have been retaining a lot of water because in 2 days I've dropped 4lbs! My goal might actually be obtainable! At this rate, I might be able to reach 155lbs by the time we leave for ireland. That's incredible!

What milestones have you reached this week? Did you pass up on dessert on your night out or walk an extra mile? Let's celebrate!









Monday, July 14, 2014
Getting through the PiYo workouts because it's own challenge this weekend. I was sore from the Sweat video I did on Friday, so doing the lower body workout on Saturday and Upperbody on Sunday was a struggle. My son actually made me do lowerbody on Saturday. He pointed to the mat and said, "Mommy, Yoga!" He then picked up the mat and placed it in front of the TV. I love him. Yesterday my friend, Caitlin, came over to try PiYo out. She loved it and will probably be ordering it when the weather gets colder and she needs something for the home gym. If she hadn't come over I don't think I would have done the workout. I was so sore. I'm so glad I did it though because it helped stretch out those muscles. I felt great for the rest of today.

I'm also into day 4 of my shakeology. I'm noticing a huge difference in my energy and digestion! Usually, I fall asleep in my car for 15-30 minutes to recharge after an hour commute to work. But this morning, I pulled into the lot and jumped out of my car without even thinking about it. I feel great! Not to mention the shakes are also reversing the effects my medication has on my digestion. For the first time in years I'm finally regular! I think I'm going to start a Shakeology challenge group when I get back from Ireland.

PS. I'm going to look amazing while in Ireland! I may not make my 155lb goal but I'm still going to look and feel phenomenal!



1 2 3 4 5 6 7 8 9 10 11 12 13 14 15 16 17 18 19 20 21 22 23 24 25 26 27 28 29 30 31 32 33 34 35 36 37 38 39 40 41 42 43 44 45 46 47 48 49 50 51 52 53 54 55 56 57 58 59 60 61 62 63 64 65 66 67 68 Last Page

Get An Email Alert Each Time JMARISK Posts