Monday, September 22, 2014



I ran my first 10K ever yesterday. It was amazing!! My friend Amy ran with me. Thank goodness. I never would have made it up that last hill without her pushing me on. My longest distance before yesterday was 5.6miles, so I really didn't know what to expect from my legs yesterday.

We started the race slow, but then picked up to an 11minute mile pace at the 2 miles mark and kept it. We started to struggle at the turn around spot, probably because it was mostly uphill between miles 2-3.5, but at around mile 4 my legs went on autopilot. Before I realized it, I was running ahead of Amy, a marathon runner (!), at a 9:30 pace. It was at that point we had stopped chattering and just focused on the run. We were in the zone. I loved it!

Amy caught back up to me when we reached the dreaded hill at mile 5.5. After a yards, I had to stop to walk. I hated to do it, but Amy kept us going by clocking 1 minute run/walk intervals. We did that until we were almost at the top of the hill. We could hear the crowd at the finish line, which was on the other side of the hill. That gave us the SPARK we needed to full out sprint up the last bit of hill to the finish.

When we flew over the hill we saw local cheerleaders lined up on both sides of the finish line, cheering us on. I couldn't help but smile. Then, I saw my husband and my son at the line cheering us on and smiling. That made me giddy!

I looked down at my Nike+ app. I told myself that I would be happy finishing under 1:15 and would be thrilled with 1:10. You can imagine my surprise when I saw 1:07 on my clock. I couldn't believe it! Neither could my husband.

As we walked to the postrace celebration tent, Amy and I started telling Percy all about the race. When Amy told Percy that I pushed into another gear at mile 4 and that she had trouble keeping up, he looked over at me with a huge smile of pride. I've only seen that smile once before and that was when our son was born. It was a great feeling, one I'll never forget.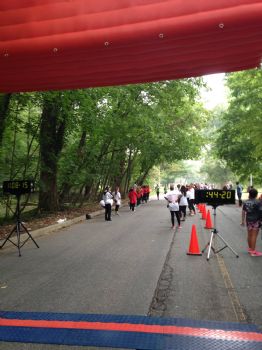 Amy and I coming over the hill.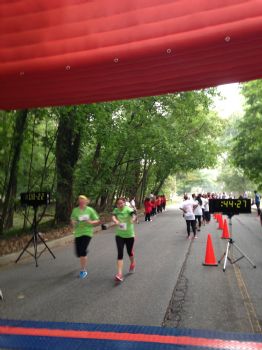 Me waving to Matthew as we cross the finish. You'll notice that the race clock says 1:08 but I'm going to go with Nike+ ;-)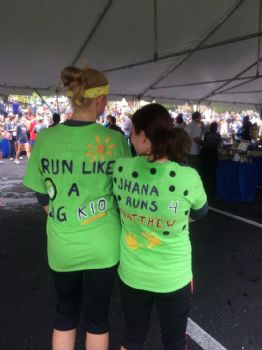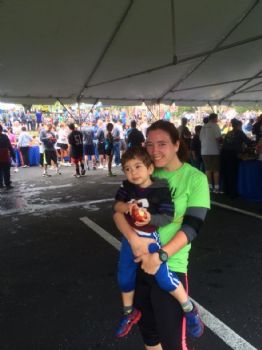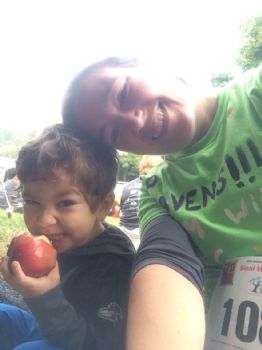 My inspiration.

Last year, when I ran the 5k, I was 175lbs. I finished thinking, "I could totally do the 10k." I'm so glad I listened to that voice and pursued it. This year, I ran the 10k at 160lbs. Next year, I'll run it at 150lbs and make it under 1:05.