| | |
| --- | --- |
| | JOHNHARNEY's Recent Blog Entries |



Friday, September 10, 2010
MY FRIEND SENT THIS TO ME AND IT REALLY TOUCHED MY HEART AND WANTED TO SHARE IT WITH ALL MY FRIENDS. I HOPE YOU ENJOY IT AS MUCH AS I DID. GOD BLESS

THE BIGGEST CROSS YOU WILL EVER SEE. The Atheists and American Civil Liberties Union (ACLU) will Not like this .



This is truly an amazing sight, not only is it beautiful spiritually, it is also an engineering feat .

This is awesome . . .

IN THE MIDDLE OF NOWHERE

On a lonely stretch of highway just outside of
Groom, Texas (near Pampa) stands a 19 story
tall cross that can be seen for miles from any
direction. The arm spans are 110 feet across.
It is constructed of a welded steel framework
covered with steel sheeting.

This cross is the result of the efforts of Steve
Thomas and family of Pampa, Texas. It took
250 welders eight months to complete, and
weighs 1,250 tons. It stands alone,
unsupported by guy wires, and can withstand
winds of 140 miles per hour.

Steve Thomas' son, Zack Thomas, is an All-
Pro middle linebacker for the Miami Dolphins.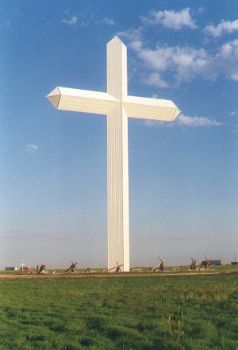 The cross is truly an awsome sight to behold.
It is a dedication to the love and sacrifice of
Jesus.

It is a spectacular sight at night, and is open
for viewing 24 hours per day, seven days a
week,and the site is truck and RV accessible.

It is anticipated that 10 million people a year
will pass by the cross and a thousand a day will
stop.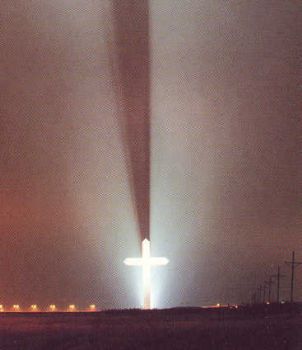 On a small hill facing the cross there are
three bronze cross statues depicting the
crucifixion of Jesus between two thieves.

The base of the cross is surrounded by life-
sized bronze statues of Jesus depicting twelve
stations of Jesus carrying the cross to Calvary.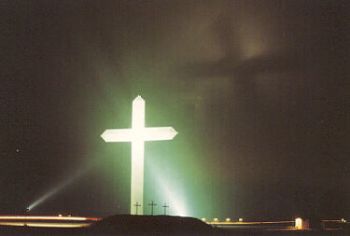 Bronze Statues Around the Base of The Cross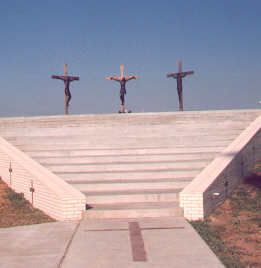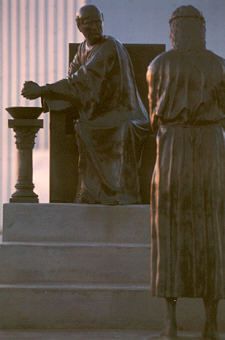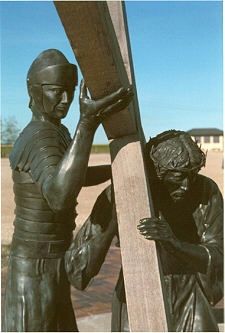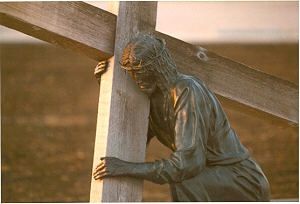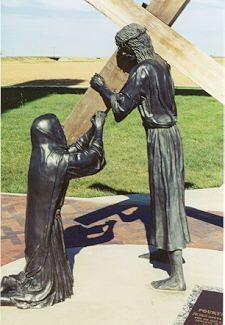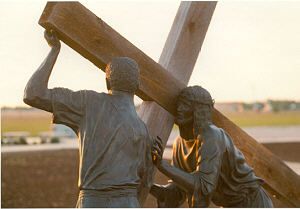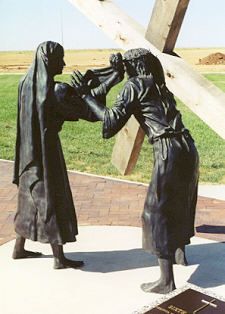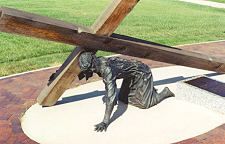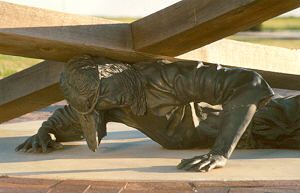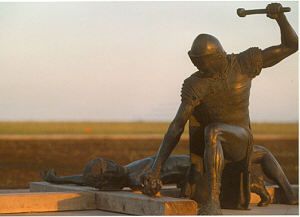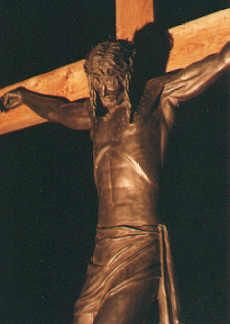 Friday, July 30, 2010

THIS IS PRICELESS
>
>If you've ever worked for a boss who reacts before getting
>the facts and thinking things through, you will love this!
>
>Arcelor-Mittal Steel, feeling it was time for a shakeup,
>hired a new CEO. The new boss was determined to rid the company of all slackers.
>
>On a tour of the facilities, the CEO noticed a guy leaning
>against a wall. The room was full of workers and he wanted to let them know that
>he meant business. He asked the guy, "How much money do you make a week?"
>
>A little surprised, the young man looked at him and said,
>"I make $400 a week. Why?"
>
>The CEO said, "Wait right here." He walked back to his
>office, came back in two minutes, and handed the guy $1,600 in cash and said,
>"Here's four weeks' pay. Now GET OUT and don't come back!
>
>Feeling pretty good about himself the CEO looked around
>the room and asked, "Does anyone want to tell me what that goof-ball did here?"
>
>From across the room a voice said, "Pizza delivery guy from Domino's."





Friday, July 30, 2010

Five (5) lessons to make you think about the way we treat people.

1 - First Important Lesson - Cleaning Lady.

During my second month of college, our professor gave us a pop quiz. I was a conscientious student and had breezed through the questions until I read the last one:

'What is the first name of the woman who cleans the school?'

Surely this was some kind of joke. I had seen the cleaning woman several times. She was tall, dark-haired and in her 50s, but how would I know her name?

I handed in my paper, leaving the last question blank. Just before class ended, one student asked if the last question would count toward our quiz grade.

'Absolutely,' said the professor. 'In your careers, you will meet many people. All are significant. They deserve your attention and care, even if all you do is smile and say 'hello.'

I've never forgotten that lesson. I also learned her name was Dorothy.

2. - Second Important Lesson - Pickup in the Rain

One night, at 11:30 p.m., an older African American woman was standing on the side of an Alabama highway trying to endure a lashing rainstorm. Her car had broken down and she desperately needed a ride.



Soaking wet, she decided to flag down the next car. A young white man stopped to help her, generally unheard of in those conflict-filled 60s.. The man took her to safety, helped her get assistance and put her into a taxicab.

She seemed to be in a big hurry, but wrote down his address and thanked him. Seven days went by and a knock came on the man's door. To his surprise, a giant console color TV was delivered to his home. A special note was attached..

It read:'Thank you so much for assisting me on the highway the other night. The rain drenched not only my clothes, but also my spirits. Then you came along. Because of you, I was able to make it to my dying husband's bedside just before he passed away... God bless you for helping me and unselfishly serving others.'

Sincerely, Mrs. Nat King Cole.

3 - Third Important Lesson - Always remember those who serve.

In the days when an ice cream sundae cost much less, a 10-year-old boy entered a hotel coffee shop and sat at a table. A waitress put a glass of water in front of him.

'How much is an ice cream sundae?' he asked. 'Fifty cents,' replied the waitress.

The little boy pulled is hand out of his pocket and studied the coins in it.

'Well, how much is a plain dish of ice cream?' he inquired. By now more people were waiting for a table and the waitress was growing impatient.

'Thirty-five cents,' she brusquely replied. The little boy again counted his coins.

'I'll have the plain ice cream,' he said. The waitress brought the ice cream, put the bill on
the table and walked away. The boy finished the ice cream, paid the cashier and left. When the waitress came back, she began to cry as she wiped down the table. There, placed neatly beside the empty dish, were two nickels and five pennies..

You see, he couldn't have the sundae, because he had to have enough left to leave her a tip.

4 - Fourth Important Lesson. - The obstacle in Our Path.

In ancient times, a King had a boulder placed on a roadway. Then he hid himself and watched to see if anyone would remove the huge rock. Some of the king's wealthiest merchants and courtiers came by and simply walked around it. Many loudly blamed the King for not keeping the roads clear, but none did anything about getting the stone out of the way.

Then a peasant came along carrying a load of vegetables. Upon approaching the boulder, the peasant laid down his burden and tried to move the stone to the side of the road. After much pushing and straining, he finally succeeded. After the peasant picked up his load of vegetables, he noticed a purse lying in the road where the boulder had been. The purse contained many gold coins and a note from the King indicating that the gold was for the person who removed the boulder from the roadway. The peasant learned what many of us never understand!

Every obstacle presents an opportunity to improve our condition.

5 - Fifth Important Lesson - Giving When it Counts...

Many years ago, when I worked as a volunteer at a hospital, I got to know a little girl named Liz who was suffering from a rare & serious disease. Her only chance of recovery appeared to be a blood transfusion from her 5-year old brother, who had miraculously survived the same disease and had developed the antibodies needed to combat the illness. The doctor explained the situation to her little brother, and asked the little boy if he would be willing to give his blood to his sister.

I saw him hesitate for only a moment before taking a deep breath and saying, 'Yes I'll do it if it will save her.' As the transfusion progressed, he lay in bed next to his sister and smiled, as we all did, seeing the color returning to her cheek. Then his face grew pale and his smile faded.

He looked up at the doctor and asked with a trembling voice, 'Will I start to die right away'.

Being young, the little boy had misunderstood the doctor; he thought he was going to have to give his sister all of his blood in order to save her but he had chosen to save her anyway.


Now you have 2 choices.

1. Delete this email, or
2. Forward it to people you care about.
I hope that you will choose No. 2

Work like you don't need the money, love like you've never been hurt, and dance like you do when nobody's watching.





Friday, July 30, 2010
HI I FOUND THIS AND THOUGHT IS WAS CUTE AND WANTED TO SHARE IT WITH ALL MY FRIENDS.






Why we love children ...

1) NUDITY I was driving with my three young children one warm summer evening when a woman in the convertible ahead of us stood up and waved. She was stark naked! As I was reeling from the shock, I heard my 5-year-old shout from the back seat, 'Mom, that lady isn't wearing a seat belt!'

2) OPINIONS On the first day of school, a first-grader handed his teacher a note from his mother. The note read, 'The opinions expressed by this child are not necessarily those of his parents.'

3) KETCHUP A woman was trying hard to get the ketchup out of the jar. During her struggle the phone rang so she asked her 4-year-old daughter to answer the phone. 'Mommy can't come to the phone to talk to you right now. She's hitting the bottle.'

4) MORE NUDITY A little boy got lost at the YMCA and found himself in the women's locker room. When he was spotted, the room burst into shrieks, with ladies grabbing towels and running for cover. The little boy watched in amazement and then asked, 'What's the matter, haven't you ever seen a little boy before?'

5) POLICE # 1 While taking a routine vandalism report at an elementary school, I was interrupted by a little girl about 6 years old. Looking up and down at my uniform, she asked, 'Are you a cop? Yes,' I answered and continued writing the report. My mother said if I ever needed help I should ask the police. Is that right?' 'Yes, that's right,' I told her. 'Well, then,' she said as she extended her foot toward me, 'would you please tie my shoe?'

6) POLICE # 2 It was the end of the day when I parked my police van in front of the station. As I gathered my equipment, my K-9 partner, Jake, was barking, and I saw a little boy staring in at me. 'Is that a dog you got back there?' he asked. 'It sure is,' I replied. Puzzled, the boy looked at me and then towards the back of the van. Finally he said, 'What'd he do?'

7) ELDERLY While working for an organization that delivers lunches to elderly shut-ins, I used to take my 4-year-old daughter on my afternoon rounds. She was unfailingly intrigued by the various appliances of old age, particularly the canes, walkers and wheelchairs. One day I found her staring at a pair of false teeth soaking in a glass. As I braced myself for the inevitable barrage of questions, she merely turned and whispered, 'The tooth fairy will never believe this!'

8) DRESS-UP A little girl was watching her parents dress for a party.. When she saw her dad donning his tuxedo, she warned, 'Daddy, you shouldn't wear that suit.' 'And why not, darling?' 'You know that it always gives you a headache the next morning.'

9) DEATH While walking along the sidewalk in front of his church, our minister heard the intoning of a prayer that nearly made his collar wilt. Apparently, his 5-year-old son and his playmates had found a dead robin. Feeling that a proper burial should be performed, they had secured a small box and cotton batting, then dug a hole and made ready for the disposal of the deceased. The minister's son was chosen to say the appropriate prayers and with sonorous dignity intoned his version of what he thought his father always said: 'Glory be unto the Faaather, and unto the Sonnn, and into the hole he goooes.' (I want this line used at my funeral!)

10) SCHOOL A little girl had just finished her first week of school. 'I'm just wasting my time,' she said to her mother. 'I can't read, I can't write, and they won't let me talk!'

11) BIBLE A little boy opened the big family Bible. He was fascinated as he fingered through the old pages. Suddenly, something fell out of the Bible. He picked up the object and looked at it. What he saw was an old leaf that had been pressed in between the pages. 'Mama, look what I found,' the boy called out. 'What have you got there, dear?'
With astonishment in the young boy's voice, he answered, 'I think it's Adam's underwear!'


NOW IF THIS DIDN'T BRIGHTEN YOUR DAY, GO BACK TO BED AND FORGET IT.













Saturday, June 19, 2010



Good One.










>
>
> The light turned yellow, just in front of him. He did the right thing,
>
>
>
> stopping at the crosswalk, even though he could have beaten the red
>
>
>
> light by accelerating through the intersection.
>
>
>
>
>
>
>
> The tailgating woman was furious and honked her horn, screaming in
>
>
>
> frustration, as she missed her chance to get through the intersection,
>
>
>
> dropping her cell phone and makeup.
>
>
>
>
>
>
>
> As she was still in mid-rant, she heard a tap on her window and looked
>
>
>
> up into the face of a very serious police officer. The officer ordered
>
>
>
> her to exit her car with her hands up.
>
>
>
>
>
>
>
> He took her to the police station where she was searched,
>
>
>
> fingerprinted, photographed, and placed in a holding cell.
>
>
>
>
>
>
>
> After a couple of hours, a policeman approached the cell and opened
>
>
>
> the door. She was escorted back to the booking desk where the
>
>
>
> arresting officer was waiting with her personal effects.
>
>
>
>
>
>
>
> He said, ''I'm very
>
>
>
>
>
>
>
> sorry for this mistake. You see, I pulled up
>
>
>
> behind your car while you were blowing your horn, flipping off the guy
>
>
>
> in front of you and cussing a blue streak at him. I noticed the 'What
>
>
>
> Would Jesus Do' bumper sticker, the 'Choose Life' license plate
>
>
>
> holder, the 'Follow Me to Sunday-School' bumper sticker, and the
>
>
>
> chrome-plated Christian fish emblem on the trunk, so naturally....I
>
>
>
> assumed you had stolen the car.''






1 2 3 4 5 6 7 8 9 10 11 12 13 14 15 16 17 18 19 20 21 22 23 24 25 26 27 28 Last Page

Get An Email Alert Each Time JOHNHARNEY Posts