| | |
| --- | --- |
| | JPONCIN's Recent Blog Entries |


Wednesday, November 27, 2013
The hubs just called me after his doc appt. so here is the scoop on how he's doing. His A1C came back 5.7, after 11.-something in July when he got his diagnosis, so the dr. is super excited about that!!! However, he is now on yet another new med to add to his cocktail, to protect his kidneys....and he has also gained back the 10 lbs. he lost when he first got diagnosed and started really watching his food.

I'm happy about the numbers of course, but I also know that I can't be his food cop. He did really well when the dr. kicked him in the pants and told him he HAD to change his lifestyle. But then he lost his way again, started depending on the drugs to do all the work for him. I can't be there standing over him for every meal and making sure he eats what he's supposed to eat. He has to do that for himself; he's a grown man and no one can do this for him.

He thinks he is newly motivated now, and he is determined to get back on track. His dr. had a family emergency and canceled his appt that he had 3 weeks ago, so this was the first time seeing the dr. again since August for his followup. So, he thinks the long time between appointments hurt his motivation and he says he's ready to do better.

Finally...I'm trying to convince him to try a new gym. There is a Gold's Gym Express in town that is only $10/month, and I think it would be good for him. He has not had a gym membership in about 4 years when his company dropped their corporate membership perk, and even then he didn't use it enough...but he knows he has to do this. I'm thinking he could go there for a half hour after work each day, since it's not far from his route home. He didn't sound convinced last time I talked with him about it, but certainly it would be better than what he's doing now for exercise, which is nothing. Sigh. I hope he starts feeling better soon. He got a new mask for his CPAP machine, so at least he's sleeping better right now.





Sunday, November 24, 2013
Okay so I'm a little bit cray and started planning my events for next year. It keeps me from getting too depressed about this weather, if I have something to look forward to!!!

April:
Abe Lincoln Tri, Petersburg, IL
Easter Ride, Park Forest, IL

May:
Tri-Shark Tri, Hudson, IL
Wheelin Around the Lake, Hudson, IL
Blackhawk Country Roads, Rockton, IL

June:
Ride the River, Moline, IL
Pedaling for Kicks, Danvers, IL

July:
Evergreen Tri, Hudson, IL
Miles of Smiles, Downs, IL

August:
2 Rivers Century, Kankakee, IL
Bike Psychos Century, COal City, IL
No Baloney Ride, Morton, IL

September:
Door County Metric, Door County, WI
Bob Galloway Amish Ride, Arthur, IL
Apple Cider Century, 3 Oaks, MI

October:
Pumpkin Pie Ride, Ottawa, IL

There will probably be others, but these are the ones I'm serious about. :)






Sunday, November 24, 2013
This weekend I celebrated 30 lbs. gone since July by cleaning out my dresser! I have about a half dozen pairs of pants that are too big...and several pairs that were in storage now FIT. :D I've lost 70 since I had my youngest who is now 6 years old.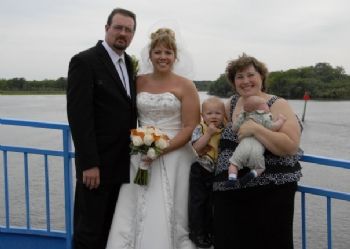 My sister's wedding with my boys, who were 21 months old and 5 weeks old at the time.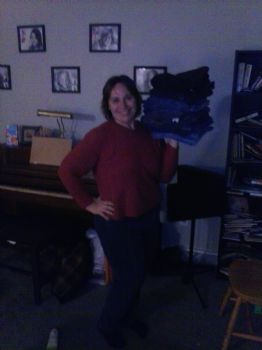 My husband took this of me last night while I was holding all my pants that are too big now. 30 more lbs. and I will weigh what I did when I got pg with my oldest, who will be 16 after Christmas.

Food is pretty good, but weekends can be tough. I really just want to lay around and eat!!! But someone at church noticed this morning that I've been losing, so I'm motivated to just stay good right now. I had a couple of cookies after lunch but I'm staying out of the kitchen for the afternoon.

Project Thanksgiving is coming along, but my foot is bugging me so I came home from the store with only my turkey, the wine, and a couple of other things. I'm so annoyed by all this foot business.

I'm also on Thanksgiving break this week so I'm catching up on several knitting projects this weekend in between loads of laundry and attending my daughter's orchestra concert with my parents, who came out for this special concert that my daughter had to audition for. Here's a quick mom-brag for you:
www.youtube.com/watch?v=3HofJmIhQK8&
feature=c4-overview&list=UU24S8YQvPDeE
oUOYcusUrYg

Anyway! I have some homework to catch up on and I have a lot of food to prepare, so this week is going to be great for pulling things back together after a hectic semester. Also, all the college kids are gone so I will get the gym all to myself this week. I've been extra sore the past couple weeks because I changed my ST routine and am using a barbell more instead of dumbbells. WOWZA what a difference! I'm not a person who changes their ST very much but this time I'm very glad I switched a few things up. Much more effective.

Well, I have 2 scarves, a legwarmer, and a hat all going at once on different needles, so I need to get back to knitting for the afternoon. Have a great holiday week!





Tuesday, November 19, 2013
It's the best news item of the week...Thanksgiving break hours at the gym! The university where I go to school is off the entire week of Thanksgiving, so they have special gym hours posted while all the young college kids are gone. I'm a "townie", so I will have the gym to myself, with the exception of faculty and other townies. ;)

I have been slacking at the gym. I have had such a hard time fitting it in with my work/school schedule! Next semester will be better; my oldest daughter will have her drivers license and she will be able to take herself to school, and I can bike to school or use public transportation; also I will be in a new classroom and the new teacher I have will be less freaked out if I don't get there until 7:30am. I really wish my gym would open at 5am instead of 5:30...it's just too late for me to get much done. Today, all I did was lift weights, no time for cardio at all.

Another thing I need to get better at is making my lunches ahead of time, so I'm not scrambling every morning to get them made before I leave.

Finally...I haven't lost any weight during my 4-week clinical block. :( But I also haven't gained, either. So I'll take it, I guess. I've done so well on the food though, so I was pretty unhappy this morning when I weighed...but at least I haven't gained. My food is really good right now, other than a brownie yesterday, I'm eating pretty clean and a good variety of foods too. It's just a matter of time.

Well I have to get dinner on the table and then head out for a student teaching orientation, so have a great night and rest of your week.





Sunday, November 17, 2013
Today there is severe weather developing and my blankets are warm and my cat is in my lap. There will be no exercising today!

Yesterday was busy; I worked at my daughter's school, setting up a craft fair...then attended a surprise birthday party for a dear friend...and then met a couple of Spark buddies for dinner (withOUT going over my calories). What a great weekend I'm having!

Speaking of dinner...my Thanksgiving menu is planned, my parents are coming, and I treated our family to a new tablecloth! What are YOU having on your table for THanksgiving? I have one kid who detests turkey, so for the first time this year, I'm having a small turkey AND a small ham. I found a couple of recipes in my Cooking Light that I want to try; one is a more healthy version of green bean casserole. I like eating the traditional kind, but it's not something I'm addicted to, so I'm looking forward to trying that. Also, my daughter saw a no-bake caramel cheesecake she wants to make. Otherwise, I'm pretty much keeping everything else the same; I don't want to overwhelm myself with work making a bunch of new stuff, and I don't want to freak out everyone at the table who has their hearts set on traditional fare.

So what do I mean by "traditional fare"? I'm curious to know what you all have for sides, so comment below. As for me, I'm planning:
Crockpot scalloped potatoes with bacon bits. My 8th grader must have this with her ham. She's being a psycho about it.

That green bean casserole I was talking about.

Glazed carrots. Need to find a new recipe because my family is tired of the ones I make.

Cornbread stuffing. I make the boxed kind and then add my own grilled onions/celery/garlic.

Garden salad with red onion slices. I thought about a layer salad but my kids don't eat enough green stuff for me to go to the work.

Husband's wild rice that he can't live without. His mother used to make a ton of it but no one here likes it except him, so I just make enough for him.

Whole wheat dinner rolls that I mix in the bread machine and then cut the dough, twist into knots, and bake in the oven with an egg-white/sesame-seed glaze. My kids are addicted to those and I can make them the night before.

For dessert, I'm thinking the caramel cheesecake my sophomore wants to make, also pumpkin bars and an apple-cranberry compote with vanilla ice cream. Also I make a good apple cider in the crockpot that my kids have been begging me to make. I have 2 crockpots for this very reason...they will both be in use for Thanksgiving!

Well anyway, now that I've typed this all out and I'm feeling hungry, I guess I'd better make some b-fast! My kitty abandoned my lap... Have a great weekend, everyone.



1 2 3 4 5 6 7 8 9 10 11 12 13 14 15 16 17 18 19 20 21 22 23 24 25 26 27 28 29 30 31 32 33 34 35 36 37 38 39 40 41 42 43 44 45 46 47 48 49 50 51 52 53 54 55 56 57 58 59 60 61 62 63 64 65 66 67 68 69 70 71 72 73 74 75 Last Page

Get An Email Alert Each Time JPONCIN Posts