MARYJEANSL's Recent Blog Entries


Thursday, October 23, 2014
I am sorry it has taken me so long to update about Danny and his MRI results. One can probably tell from the blog title that the news is not good. I have been shocked, stunned, overwhelmed, any other synonym for 'aaaaaaaaaaaaargh!' and I haven't been able to motivate myself to post about it until now.

I mentioned in the last blog that Dave (my ex-husband) had misread the first MRI scans, so he was even more blindsided than I was, particularly since Dr. Whiteway, Danny's oncologist, had not contacted him. And, honestly, I really wish she had been a bit more forthcoming with me. When she told me that Danny needed a further MRI, she downplayed things until I was pretty sure it wouldn't be serious. That, or I was just really dense. But I don't think so. It seems to me that, as long as doctors don't know every possible detail, they are going to obfuscate and prevaricate, and not tell what they really think. I probably should have known that, when she said she wanted new scans done so she could have the results before Friday's tumor board, it was very bad.

Here is what we are facing: There is a new tumor, actually outside the brain. It appears to be in the lining of the brain. It is pretty big to have grown in just three months. It is not in a normal area for a medulloblastoma recurrence - basically it is where the right olfactory bulb should be, kind of behind the nose.

Also, there is a very small spot in the cerebellum. Dr. W said that if that had been all there was, we would just watch it for three months.

And then, there is "signal abnormality and enhancement involving the ventral and left aspect of the clivus." The clivus is a bone...so it may be that cancer has spread into the bone. Again, this would very much not be normal for medulloblastoma recurrence.

On top of all that, he has really bad sinus disease. It's probably from allergies, which I hadn't realized that he was suffering from, but it isn't good on top of everything else. The surgeon initially wasn't willing to do surgery until the sinuses were cleared up, but he consulted an ENT doctor, who said it was OK to go ahead.

In the meantime (meantime being four days), he is being aggressively treated for it, with Claritin, Augmentin, and nasal rinses. Danny just *loves* those nasal rinses, as you can imagine.

So the surgery, for resection of the tumor, not just biopsy, will be on Monday. The pre-op appointments are on Friday, and the planning MRI (another one....grrr.....) is scheduled for Saturday afternoon. Since all the doctors consulted seemed to be in agreement that surgery needed to happen sooner rather than later, it was all arranged very fast. Ironically, before the tumor board could meet. I don't know if it's even necessary for them to meet now, and if they do, I wonder what they'll even talk about.
Not that it matters much, really.

So Monday was indeed a terrible, horrible, no good, very bad day.




Friday, October 17, 2014
I could say about MRIs the same thing that was once said about green eggs and ham: I do not like them, Sam-I-Am! Neither does Danny.

He had a regular, routine MRI Tuesday the 14th. He is generally a very cooperative kid when it comes to such things, but he makes no secret of the fact that he hates them. Not only does he have to lie still in a stupid tube for two hours at a time with lots and lots of unpleasant noise, but he also has to endure a needle stick on top of it. (They use IV contrast, which I presume makes the pictures clearer.) And he has had *so* many of them. I should count sometime. But it's a lot.

He endured Tuesday's about as well as usual. Of course I wanted to know results as soon as possible. We had already found out that his oncologist was on leave, and wouldn't return until Thursday, and of course no one else is going to give us results - it has to be she. However, our ace in the hole is that Danny's dad is a radiologist at the same hospital.

Mind you, he isn't the kind of radiologist that normally reads MRIs. He is an interventional radiologist, the kind that puts in chest tubes and ports. But he is trained to read x-rays and MRIs and is certainly competent at it. So we went to his office - by then it was after hours - and asked him to look at it. He showed us the scans and looked them over briefly, and said he saw no signs of recurrence, which was of course all we (and he) wanted to hear/see.

So I told friends and put it on Caring Bridge, and everything was sunshine and light. Then yesterday I missed a call from Danny's oncologist who had come back from leave. All the message said was would I please call her about the MRI. I figured it wasn't urgent and I didn't have time then.

Well, first thing this morning the phone rings and it is Dr. Whiteway. It seems that there is a concern about the MRI. Not in the area of the original tumor, which only shows some scarring, which is to be expected. No, up in the area of the sinuses, there is something that they just can't figure out. Now, the sinuses are not a normal area of recurrence for this type of cancer. (The area of the original tumor or down the spine are the common areas for recurrence.) In addition, what they are seeing looks like it is not in the brain. (Huh?) When I say 'they,' I mean Dr. W and the neuroradiologist she consulted.

So, she wants some more MRI pictures, stat, this time focusing on the area in question. If they aren't able to tell anything from the new set of pictures, then they will do a CT. And she wants it all done before the tumor board meets, which is at the end of next week.

Well, I am not surprised Dave missed seeing this. He was quickly looking at the area of the tumor. Nor am I in a panic. It would be really strange for medulloblastoma to recur in the sinuses. But it is very funny that they can't figure out what it is, and I am anxious to find out, just as she is. So overall, I am certainly not thrilled about this.

Danny is so not going to be happy that he has to have another MRI!





Friday, October 03, 2014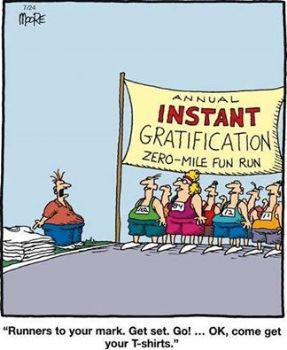 About my speed right now (pun intended)





Monday, September 29, 2014
A month ago I had posted a status about three terrible days in one week - Mon., Tues., and Wed., the 18th, 19th, and 20th, to be exact. And the following Sunday I posted a blog/rant about how stressful and difficult that Monday was.

I had always planned to follow up with a blog about the terrible Tuesday and wearying Wednesday (tough to find good alliteration), but I let a lot of time go by. Now I have a few moments and I will record for posterity (yeah, right) how that Tuesday was even worse than Monday had been.

Monday had been awful because my ex-husband and I had been trying to get a military ID card for our daughter, and there ended up being one problem after another. I had to drive all over town, got lost, couldn't get on base, etc., etc., and after all that, she couldn't get the card because she didn't have an extra form of ID with her.

So we had been told to come back at 7:15 A.M. and sign in to a walk-in waiting list, since she was leaving town and wouldn't have time to schedule another appointment. So we got up at O-dark-thirty and got ourselves there even a little before 7:15. She was the third person to sign in as a walk-in.

People with appointments have huge priority over walk-ins. And they book tons of appointments. And only three (out of six) of their computers were working. So we expected to wait. What we didn't expect was a woman working there, who had not been there the day before, going off on a rant about people who didn't make appointments and how they shouldn't even have to take walk-ins, and how terrible people were for trying to do a walk-in. That was lovely to hear, when Cecily *had* had an appointment the day before, but circumstances forced us to walk-in that day. And this lovely (not!) lady told us we would have to wait a long time.

We waited and waited and waited. Every once in awhile one of the walk-ins got called back. But Cecily didn't. I finally asked her to check and make sure her name was still on the list. The aforementioned lady snapped at her that of course her name was on the list and came out with another rant.

Meanwhile, Cecily had an appointment at a hospital not very far away for 11:00. She needed to see her neurologist to get a Botox injection for her cerebral palsy. It was an important appointment I really didn't want her to miss.

And what we didn't know (nor, evidently, did anyone else) was that someone there, after probably two hours of waiting, had highlighted her name as having already been seen. It wasn't until 10:45 when a walk-in I KNEW had arrived way after we did, got to go in, and Cecily *still* hadn't, that I made her go up and ask specifically about her name and they found the mistake. Then she got to go in a few minutes later - and it took less than five minutes after that to get the card. Five minutes. And a four-hour wait.

Meanwhile, I had already called to cancel her neurology appointment, thinking we couldn't get there. She was done at about 10:55. I called the clinic again and asked if she could still come in if we drove there right away. They said OK, as long as she was within about 10-15 minutes of the appointment time. So we rushed over there.

I was so stressed out by the time we got to the appointment that I am surprised I didn't get sick. Typically when I deal with that much stress I end up sick since stress devastates my immune system.

That appointment ended, and then after lunch we headed up to the peds heme/onc clinic to get Danny's port flushed. That was another whole issue to deal with. The day before, my ex had told me that the clinic had called him to complain about me because, they told him, Danny was overdue to get his port flushed (which was a lie) and they had called me and left a message which I had not replied to (which was also a lie). I was absolutely furious. They had/have no business calling him about Danny's appointments because he is not the custodial parent and he isn't responsible for getting Danny there. In addition, he has no idea where Danny might be at any time (except his weekends), or when Danny's appointments even are. That, on top of two major lies that they told him - lies which made me look very bad, something I did not need.

I had decided that I was going to complain about what had happened. I didn't know who had called Dave but I figured it was either the receptionist or one of the nurses. So I asked to speak to a doctor.

I was lucky that it was Dr. H's clinic day, because he is the nicest one. I told him what happened, and how I knew whoever it was had lied, and how angry and upset it made me. He surprised me by saying that my problem was easy. He promised me it wouldn't happen again, and that made my day much better. Not that it takes much to improve a day in which one waits for almost four hours, probably two of which were unnecessary.

Then we had to wait for numbing cream and the actual port flush. By the time we were able to leave the hospital, it was after three, and Cecy had an appt. with another doctor at 4. She also still needed to get her application in for a passport. (She is hoping to spend a semester abroad in the spring.) We went to the main post office, where we found out that they only process 35 passports per day, starting at 9 A.M. So that was a lost cause.

Then I had to call the insurance company to get authorization for the appointment, which took forever, then we rushed like crazy to get to that doctor's office. Seems like we spent the whole day rushing or waiting. We dealt with that appointment, finally got to come home, and I collapsed. Went to bed and let the kids fend for themselves for dinner.

So that was two dreadful days, and we still didn't have the passport taken care of. She was leaving town on Thursday, and there were other very important things that had to be done before then. Cue - woeful Wednesday blog still to come.







Saturday, September 27, 2014
A year ago I was sad on my birthday because my older kids didn't do anything special for me - in fact, I didn't think they had even remembered. They did eventually both call, and I felt much better. This year I didn't even get a chance for a pity party, which is a good thing.

My dd called me multiple times, just so we could finish our conversation, and even praised me on FB, which was so sweet of her, all the more that I didn't feel particularly praiseworthy. Danny had worked for his dad to earn money to buy me a present, and he was so eager to give it to me that he almost couldn't wait. And Henry came home for the weekend, just for my birthday. A mother couldn't ask for more than that.

He didn't get to town until fairly late, but one good thing about Fridays is that restaurants tend to be open later. We went to Cheesecake Factory, which I had been wanting to go to for a very long time (but didn't really have money for). I had gotten a gift card from mypoints, and that made it affordable. Plus, I was somewhat proud of myself for bringing half of my food home - but honestly, they give you so much food there that I can't take all that much credit for will power - I really didn't have room for anything more. Henry and Danny both brought food home, too.

I admit that I don't really enjoy watching the age number increase year by year, but, as my uncle used to say, consider the alternative. Having considered, I'll take the higher number, thank you very much. ;-)

I got presents, family, and even some fun time with friends - it was a very nice birthday indeed!



1 2 3 4 5 6 7 8 9 10 11 12 13 14 15 16 17 18 19 20 21 22 23 24 25 26 27 28 29 30 31 32 33 34 35 36 37 38 39 40 41 42 43 44 45 46 47 48 49 50 51 52 53 54 55 56 57 58 59 Last Page

Get An Email Alert Each Time MARYJEANSL Posts