| | |
| --- | --- |
| | MISHAMW's Recent Blog Entries |


Friday, October 24, 2014
Since I work Saturday and Sunday, today is kinda like my Wednesday. Which means hump day.

It's been a long week. Or maybe that's because my weeks are running together so it just feels long. Then I look at the calendar and realize, it's almost Halloween (which I have yet to decorate) and pretty soon it will be New Years.

Oh my gosh. Time goes by fast.

We are continuing the "Cross Training" at work. Meaning though I have been exclusively cattery and front desk, I have been learning how to clean the kennel and starting next the daily duties as well. I am super excited, but then again, it means other people will be doing MY job....which makes me worried. Can they really counsel someone on cat adoptions? Can they handle speaking to an irrate individual on the phone? Can they deal with 20 people waiting to be checked out for Spay and Neuter, two adoptions, and three volunteers needing help with something? We will see.

This makes me a bit happy though. A lot of people thought my job was so easy and cushy. Being in the air conditioning. Not having to rush or hurry. It takes a toll on us, especially since before it was just me and Jon, with front desk help three days a week from another person. Not so easy now is it?

Besides that, it makes me happy because now I don't feel guilty taking time off. Though I shouldn't feel guilty anyways because Jon has done it to me multiple times. I have worked without taking a day off (going home early only twice) since I started in January. I didn't want to leave Jon having to work several days straight (like I did) to cover me, while I sit just 4 minutes away playing Skyrim.

I do need some time off...which I am planning on taking. I just don't know when. I know I can't take Christmas off because both Jon and Michelle will be gone, which means, it's just me and whoever has cross trained the best. Weee!

Oh well, that's work for you. As for the actual Spark People type stuff, I am doing okay.

I didn't exercise Tuesday or today, but I need some time off. I am tired and work (because of construction) I am getting a migraine daily. Plus I started my period. Which means I planned getting into keto and going low carb at a perfect time (not!).

What do I want on my period? Pizza and donuts. What can I have on my period that is keto? Meat, cheese, and some dark chocolate. Not the same, but I am sticking with it, and the worse of the cravings have passed. I am trying to also be gluten free and refined sugar free, but I have been indulging (though still staying low carb and keto) in treats that I shouldn't. IE cheap chocolate and cheese sticks.

Current Goals!

To stay in keto until Thanksgiving and the day after.
To stay in keto after that until Christmas and the day after.
To stay in keto after that until my birthday (January 29).

Kinda hard to do, but totally do able if I find the freakin' energy to cook something once in a while. I need to find some good keto freezable recipes and crockpot thingys. Know I know what I am doing on my lunch break today and tomorrow. Menu/grocery list!

I am not really setting a goal weight. I am still going to be active as I can be. But I think focusing on diet which is like 90% of my issue with weight and fat and HEALTH, is the key! We shall see around New Years how to proceed.

Well that's all for me. I have to get ready for work now. My shift starts in a few minutes. Thank goodness for living only four to seven minutes away!

~Misha~




Tuesday, October 21, 2014
So after stepping on the scale and seeing 10 pounds more than the last time, only a month or so ago, I woke up to reality with a shock.

Plus I looked bloated, felt bloated, and well, have been in a bad mood for a while.

The bad mood is a multitude of reasons, but I am really trying hard to not let the little anger demon inside of me, get the best of me.

Yesterday I started the day right by rollerblading on my favorite trail. I knew if the day off with some physical activity and got some fresh air, I would be in a better mood. And it worked somewhat! I was on a trail in the North Austin/Cedar Park area call the Running Brushy Trail, named after a creek it runs along. Though in all honesty, that isn't Running Brushy Creek.

Oh well, welcome to Austin where every road as three names, and things are named after other things that are related!

I rollerbladed from Parmer Lane to Old 183, which is about 2.5 miles, and then of course back again. I only have two issues with the trail. 1) It's pretty hilly so you have been very experienced rollerblader to go on it and 2) the paved part isn't long enough. Yup, 5 miles is not enough for this gal to rollerblade on. But I am a hardcore blade-er yo!

Here are some pictures I took out on the trail!

*sorry the pictures on the side, I forgot to turn them*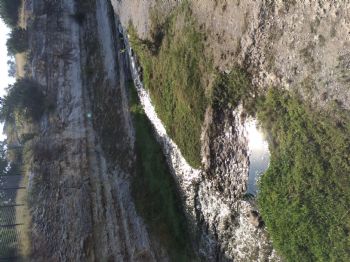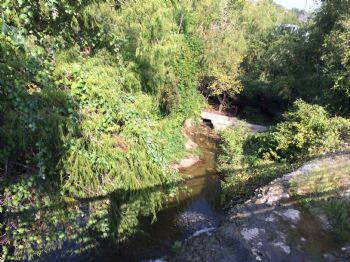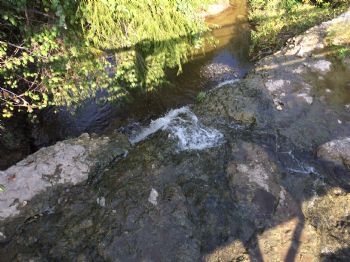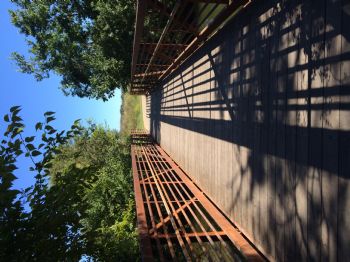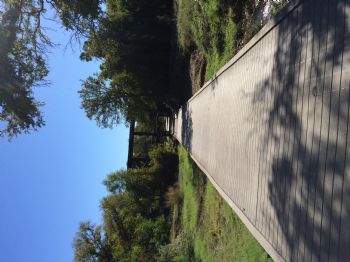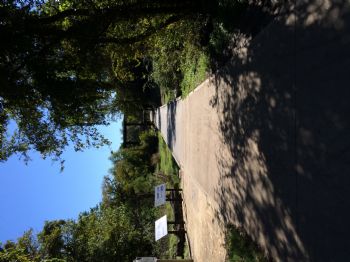 Pretty nice huh? This is of course starting from Old 183, where I turn around. The Twin Lakes Creek YMCA (or something like that) at Old 183 is the official start of the trail. So thats how the pictures are ordered. Hope that makes since.

After working out, I spent the day running errands with my mom. We are looking into getting a new TV, for some odd reason, I am the one with the final say in the matter. Whatever. After that it was another load from the storage room.

Of course, by the point I was pissy because we keep unloading, but nothing is being put up or organized, etc, etc, etc. You know the drill. I pretty much hung out in my room for the rest of the evening trying to keep myself calm and whatnot. Mom worked a bit on the counters in the kitchen. Though I will doubt they will last longer. At least with her having to put some stuff up, she knows why I stopped. I just kinda got to the point to where I had no idea where to put things. Not for lack of space, but more of lack of knowledge in what we have left, and how to organize it all. I like my kitchen to having a prep area, baking area, this area, that area. So after a while when you find random things, it's hard to figure out where to put things.

Today I was sore from my workout. And I didn't get my "rest" day on Sunday as I helped out with cleaning the kennels at work. So I took a "day off." Instead of working out, I basically just cleaned, and organized and unpacked. I got the front bedroom looking a TON better, and my room is now walk-able. Still not great, but it won't be for a while. I got some things on my fancy shelves (pictures to come), and hopefully will have them all set up by this time next week, when I get the rest of my books out of storage. I am thinking I might just have to downsize the books again. Basically only keeping things I will reread...which is probably only 200 of the books I have.

Hi, my name is Misha, and I am a bookaholic.

Oh well, moving on. I took a break and played some Skyrim, but the tv is so wonky, I got a headache and had to quit (which is why we are looking for a new tv). I finished up in my room and now I just want cake. Or donuts. Or any kind of carbs, so I am writing a blog until the craving stops, then I will makes some fancy new Yogi Tahitian Vanilla tea. I haven't had it before, but I am looking forward to it. I really should have it after dinner.

I am trying to get back into keto. I started eating low carb on Sunday, and I have been in and out of it since. I don't know if the readings are that accurate because of possible dehydration and whatnot. Plus I had a glass of red wine last night, and that seems to have knocked me out.

So yeah, I'm becoming a wino! Not really. But my cholesterol is high (as is my moms) so we are attempting to develop a taste for it. I don't know if its working. I tried Bella Bolle Sweet Red and was shocked to find it carbonated. I don't do bubbles. Or fizz. Or anything along those lines. It was bad only because of that. Then next one we got was one a friend of my mom's gave her. Some cheap Merlot that tasted just plain bad. The last one I picked out. It is Apothic Dark Limited Release. Not bad. I finally got one of those flavors thats used to describe wine. Peppery. At least I have a good base point.

Well off to get some dinner. And wine. And then tea. Then sleep for work. Boo.

Have a good one guys and hopefully I will talk to you soon!

~Misha~





Tuesday, October 14, 2014
~Breakdown ahead~


We all fall of the wagon. Because, let's face it, life is tough, and sometimes it sucks. Things get us down and we forget the important things in life.

Recently my knee has been hurting. My mom and Monday's off now. I'm sick.

These are the excuses I am making. Granted in my mind, they are totally valid reasons for my slump. In fact they are more than valid, they are perfectly acceptable.

And that sucks.

My lovely low carb lifestyle has gone out the window in the past few weeks. First it was because I got sick. Like headache and nausea that won't go away sick. I even wen to the doctor. They said it was a sinus infection and gave me some antibiotics. I still felt like crap after following the doctors instructions and taking their pills. So I just have been dealing with it on my own. The nausea comes and goes, and will all nausea the best thing is crackers. And not just any crackers, Goldfish. Seriously it was the only thing I could eat for like three days.

I am also very very tired trying to fight whatever I have off. It is still an infection of some kind, because my snot is neon green somedays, and clear on the others. But I think it is actually allergies that is causing it in the first place. And pair this with work, I am tired and don't feel like cooking any low carb dishes.

And my knee still hurts. I think its the weather changing as well as not being able to wear god shoes at work anymore. My shoes are pretty much shot, with one pair just gone (and it's my favorite pair) and my fancy mancy Non-Skid Work Shoes attempting to take a toe nail off if I wear them. So I am not really in the mood to workout. Though I should just attempt it, but I am so afraid I am going to hurt myself. And lets fancy it, I am so weird, I have to do cardio to even get in to the "hey maybe I can do some strength training without being pissy about it" mood.

Then the big issue. The huge issue. My mom now has Monday off. Which means my two day "me" time is now one day.

She claims I can refuse to go with her, but this is how it plays out.

Mom: "Do you want to come run some errands with me?"
Me: "Not really."
Mom: "Are you sure? You can stay in the car if you like."
Me: "Mom, I don't want to go."
Mom: "Are you sure? It won't take long and I would like to have the company."
Me: "Okay."

After 3 hours of doing nothing, being dragged store to store to store. And I am getting pissy with my mom because I have stuff I want to do by myself. I want to relax, and clean, and do laundry, and watch my stuff, and workout, and...and...and.....

Mom: "Why are you so grumpy?"
Me thinking: Because I have spent the last five days pretending that I like people and always smiling and I just don't want to have to deal with the public or you.

Me: "Because I want to go home now."
Mom: "Well if you didn't want to come you didn't have too."

Me thinking: WTF WOMAN!!!!

And there goes my Monday.

Plus my mom does her laundry on Monday now. And she's like, "I am trying to get it done so you can do yours"....at 7 in the freaking evening! She makes me so made. Forcing me to shop for clothing, WHICH I HATE! Going to hundreds of store were I am forced to smile and make small talk with random strangers, where I really just don't want even get dressed.

I need my two days alone, and NEED THEM. And they are gone and I am getting bitcher and bitcher as weeks and months progress because she is ruining EVERYTHING!

I am tired. I am so tired. And I just want to stop. I want to hide. And it's not like she isn't at home on Mondays. She is making me go with her to stupid places, and she is bugging me to help her do this and that. And the stuff I want to get done around the house, like clean and organize isn't getting done despite her being there because she is more concerned with getting more useless crap out of storage than and cluttering up the island and kitchen I have worked on cleaning than actually doing something important and it is DRIVING ME CRAZY!

I am probably going to be on the news for murdering her, I swear. I can see it now, Young Woman Murders Mother for Making the House a Mess!

I literally cleaned off a chair last night so Phoebe, our cat can sleep there, only to wake up this morning and find it full of wrapping papers.

So I just can't do it. And it is killing me. I can't focus on eating low carb, and I can't focus on working out, because I am so tired and I am so aggravated at everything. And my two days that I really really REALLY need for myself is now one and I am going crazy. I am going crazy.

I just want to break something.

So I am sorry I haven't been around. And I am trying to get back on track. And I have to go because I just really really need to break something now. So being in front of my computer isn't a good thing.

~Misha~





Monday, September 01, 2014
It's been one month, since I last posted a blog, and things sure have changed.

My mom finally became a regular at the Post Office and now get two days off, Sunday and Monday. Which means my "ME" time is reduced to one day.

This as led my depression to get worse. My knee still hurts, and I haven't been hungry for food, so I have been reaching for crap, because hey eating crappy food is better than not eating at all, right?

The biggest change that has been happened is the issues at work.

Hello, my name is Misha, I am 27 years old, I am a being bullied.

Hardcore.

So bad, I almost killed myself on Friday.

You see, this woman that bullies me, is in upper management. And she is a lot like my ex boyfriend. The one that could talk himself out doing something wrong and still make you feel guilty because it's your fault, when you weren't even there. Yup, that kind of person. We have all known a few in our lives, and this woman is one of them.

And she scares the heck out of me because of that. And I am the weak one, the easy one, the easy target, and she loves to see people cry. So she picks and bullies me.

At least the majority of the coworkers on my side. But lets just say, Friday was a bad day. And I might have slipped into old habits. And it's become a mess at work. And I have to deal with all of this crap storm when I got back in on Wednesday. Weeee....NOT. Makes for a fun weekend, dreading going back to work.

I really don't need this job. I don't use the money for anything other than the imaginary pool I see in my future, thus my savings account. I still rely completely on my parents. So why am I staying at a place where I bullied and have reverted back to hurting myself to cope?

I do love the cats.

I don't know what I will be doing in a week from now, but I wanted to let you know that though I do feel like jumping off a cliff, I have yet to do it. And I'm dealing.

And if you have any jobs in the North Austin area available for someone like me, I would so be willingly to switch.

Have a good holiday guys, and hopefully I will be back to the old routine soon enough.





Friday, August 01, 2014
First off, thank you for all your kind words.

I am not doing better, which is why I went AWOL for a while. But I wanted to let you know that I am still around, and still working towards my goal.

So, I guess it was two weeks now. Not last Tuesday, but the Tuesday before, I yet again re-injured my knee. My ankle kind of started hurting, which caused my knee to start hurting, which is never a good thing.

If you have followed me for a while, you know that my knee is a source of issues with me. And the fact that my depression is bad, and now I can't exercise, I am a bit worse than I was.

I tried to exercise on it a week later, but it didn't fly. I guess my shoes broke down to the point of me causing another bone bruise, or maybe I just stepped wrong and didn't realize it until the damage was done. I can still do basic things, but at the risk of not being able to do my cleaning at work, I am not doing much working out.

My little bit of not sleeping well, has got up with me. (Oh, and to Ms. USMAWIFE, I did start taking the magnesium, I don't know if it's working yet though). Now, all I do is sleep. I sleep durning my lunch break, and I rest all night until I can call it quits and sleep at 9:30 or so.

On the up side I am in the 120's now. I weighed in at 129.8 yesterday, and even after eating Taco Bell last night, I weighed in at 129.6 today. I really am not as happy about it as I should be. Maybe because I know I would have been there sooner if I was able to workout. What really bugs me, is all the lovely physical therapy I remember from the multiple times I went through this before, isn't really working.

I can do all it just fine. But ask me to dance or move too much, and nope...pain.

I really loath my knee. Seriously, it's like the bain of my life anymore. Every time I get on track, or I am close to doing something awesome, I hurt it. And it's not my fault really, it's just that the shoes broke down. I need like lifetime shoes. The only time I realize I need to switch shoes is when I hurt myself. Not good.

So, that's life right now. Still depressed and tired. Still losing weight.

Just thought I would let you guys know how it's going.

Hope you are all well. I am off to bed because I didn't get my nap time today.

Nighty night!

~Misha~



1 2 3 4 5 6 7 8 9 10 11 12 13 14 15 16 17 18 19 20 21 22 23 24 25 26 27 28 29 30 31 32 33 34 35 36 37 38 39 40 41 42 43 44 45 46 47 48 49 50 51 52 53 54 55 56 57 58 59 60 61 62 63 64 Last Page

Get An Email Alert Each Time MISHAMW Posts