| | |
| --- | --- |
| | MOM2ACAT's Recent Blog Entries |


Sunday, August 17, 2014
My oncology nurse called me Thursday afternoon, and she was able to arrange a blood transfusion for me. I had that done on Friday. It was a long day at the hospital, but it was worth it, because I am feeling better.

Yesterday I was able to change the sheets on the bed without feeling like I had to sit down and take a break when I was done, and I got the laundry and a few other things done. The only thing that spoiled my day was a rotten sinus headache; I get them this time of year when the ragweed is out, and I also think all these up and down changes with the weather aren't helping either. I went to bed at 6pm last night after taking my migraine and nausea meds. The whole right side of my face hurt, and I had an earache too.

Thankfully, today I am feeling better; headache is mostly gone, and the earache is completely gone. I got my workout done, a few little chores done inside the house, watered my hanging baskets outside, and filled up my bird feeders, all before 11am, something I would not have been able to do last weekend. I still get tired out, and still have to pace myself, but it's not the "dead tired" like I had been feeling for the last 2-3 weeks.





Wednesday, August 13, 2014
Struggling with worsened fatigue once again. I had my monthly lab work done for my oncologist yesterday, and the results are showing a reason for that fatigue; my hemoglobin level has dropped from 10 a month ago, down to 8.5 yesterday. I can't be sure of the exact cause, but most likely it's because of one my cancer meds; lowered blood counts are one of the possible side effects of the Afinitor I take daily.

In the past, anytime my hemoglobin would drop to 8.6 or below, my chemo nurse would order a blood transfusion for me. Now though, after our hospital recently merged with a larger one, the criteria has changed and now the hemoglobin has to be at 8 or below for a transfusion. It's so frustrating to be at the point of "almost" qualifying, when in the past, they have made me feel better as soon as the next day.

But at least I know my lack of energy and motivation wasn't just my imagination, or being lazy. I'm just going to have to take extra care with pacing myself with my activities throughout the day, something I pretty much already deal with on a daily basis, and making an effort to get an adequate amount of sleep each night. I try to avoid naps during the day though; usually if I take a nap during the day, I end up awake most of the night. I'll just go to bed earlier if I have too.

Another symptom of anemia I've been having is shortness of breath after certain activity, such as unloading the car and bringing my groceries into the house after a shopping trip. Even Sunday, just the effort of getting myself ready for church tired me out, but fortunately, I had about 20 minutes where I could just sit and rest before my mom picked me up that morning.

I'm still doing my chair workouts, even though on some days, I really have to push myself to get started, and some days, I can't go as long as I do on others. My daily minimum I have set for myself for fitness minutes is 20 minutes, and so far, I've at least been able to meet that. With my pain issues, not exercising at all makes things worse. I may not be able to get everything done that I want to do right now, but I refuse to sit in a chair or stay in bed all day.

I'll be seeing my oncologist on the 26th; if the fatigue gets any worse, I will ask about getting my blood counts checked again while I am there, instead of waiting the usual 4 weeks. In the meantime, I just have to take it day by day and do the best I can. I've been through this before, so I know the drill.

And before anyone asks; no, taking iron won't help in this case. My iron levels are actually higher than normal. Not all forms of anemia are caused by low iron, mine is because of my cancer.





Monday, August 11, 2014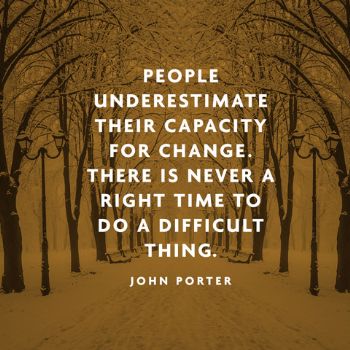 I saw this quote on Oprah.com and I thought it was very fitting for Spark People.

So many people feel overwhelmed at the beginning of a weight loss journey; I know I did when I started mine 8 years ago. Even though I have been at my goal weight for over 6 years now, I look back and I am still amazed with myself that I did it!

You can be amazing too! You can do this! The time to start making those changes for a healthy lifestyle is right now, and you never know what you can do until you try!





Sunday, August 03, 2014
First, a little background information about myself, for those that aren't familiar with my story, so you can understand why I would choose this type of workout.

I have been living with stage IV breast cancer with mets to the bone and liver. I am not able to do a lot of exercising on my feet because my left hip joint has been damaged by the cancer, and there is some arthritis there as well. Anytime I am walking outside of my house, I use a cane. My first cancer diagnosis was when I was 39; and I am now 50. (But I do not consider myself old enough to be a "senior".)

Now on to the review.

This workout DVD comes with 2 discs. The first disc is pretty simple, about 44 minutes of stretching and toning. It's pretty easy to follow. For both workouts, you will need a sturdy chair with a straight back, such as a kitchen chair; you don't want to use a chair with wheels such as a computer chair. The first workout also incorporates core exercises for the abs and back. If you are a beginner with exercise, this first disc is a good one to start with.

Disc 2 is for strength and aerobics, and is much more challenging. But even though it is challenging, the movements are easy to understand and follow; you don't need to worry about feeling confused or "lost" trying to learn the routine. Disc 2 is about 51 minutes long.

The disc 2 workout starts out with about 7 1/2 minutes of warm up, followed by about 15 minutes of seated aerobics followed by a short cool down. For the strength training portion, which is about 15 minutes long, you will need one 2-5 pound weight; it's followed by about 3 minutes of stretching. The last part of the workout is for balance; it is done standing, but with the chair next to you so that you can hold onto it for support if needed; that portion of the workout is about 10 minutes long and ends with more stretching.

I really enjoyed both workouts, especially the 2nd one; that one really got my heart rate up even though most of it is done seated. Even though the target audience for this is seniors, it is a great workout for anyone of any age if you have limited mobility such as I do.

If you are a beginner, you don't even have to do all of disc 2 all at once. For example. you may want to do the warm up and the weights on the first day, then do the warm up and balance workout the next day, and then try doing the warm up with the aerobics. As you get use to working out, you can build up to doing the entire workout all at once.

You can do a search on Google to find several places to buy this DVD if you are interested. I found mine on Ebay, and I got a good deal on it; I paid a little less than $10 for mine, which included the shipping.





Tuesday, July 29, 2014
Today was one of those oncologist appointments that was not just a "routine" visit; today he went over the results of the bone and CT scans I had last week.

The CT scan showed some lesions in my liver, but they are very small, and appear to be slow growing. He is not overly concerned with them at this time. I know from some of the support groups for metastatic breast cancer that I belong to on Facebook that liver mets can be managed and lived with. The lab tests show my liver function is normal, so that is a good sign too.

The bone scan was mostly stable, just a few new tiny mets in my left shoulder and ribs, and some of my older bone mets have actually improved a little. There is an area of concern though in my T spine. I have a new met there that appears that it might be in danger of collapsing and pinching a nerve, so I might need some surgery to stabilize that. Before sending me off to see a surgeon though, he is having me get an MRI done of that area to take a closer look at it.

Overall, even though my scans were not "clean", the news was not as bad as what I was expecting. I actually picked up my scan reports last week, but I didn't want to say anything until I had talked to my doctor and knew exactly what the results meant. Even though I have some concerns, I am relieved because things are better than what I had been expecting just judging from the written reports.

He's not changing my treatment at this time, which is another reason to cheer; so I am continuing on with the Aromasin and Afinitor. I'm glad I can stay on it for now, I think it needs more time to be given a fair chance to work.



1 2 3 4 5 6 7 8 9 10 11 12 13 14 15 16 17 18 19 20 21 22 23 24 25 26 27 28 29 30 31 32 33 34 35 36 37 38 39 40 41 42 43 44 45 46 47 48 49 50 51 52 53 54 55 56 57 58 59 60 61 62 63 64 65 66 67 68 69 70 71 72 73 74 75 76 77 78 79 80 81 82 83 84 85 86 87 88 89 90 91 92 93 94 95 96 97 98 99 100 101 102 103 104 105 106 107 108 109 110 111 112 113 114 115 116 117 118 119 120 121 122 123 124 125 126 127 128 129 130 131 132 133 134 135 136 137 138 139 140 141 142 143 144 145 146 147 148 149 150 151 152 153 154 155 156 157 158 159 160 161 162 163 164 165 166 167 168 169 170 171 172 173 174 175 176 177 178 179 180 181 182 183 184 185 186 187 188 189 190 191 192 193 194 195 196 197 198 199 200 201 202 203 204 205 206 207 208 209 210 211 212 213 214 215 216 217 218 219 220 221 222 223 224 225 226 227 228 229 230 231 232 233 234 235 236 237 238 239 240 241 242 243 244 245 246 247 248 249 250 251 252 253 254 255 256 257 258 259 260 261 262 263 264 265 266 267 268 269 270 271 272 273 274 275 276 277 278 279 280 281 282 283 284 285 286 287 288 289 290 291 292 293 294 295 296 297 298 299 300 301 302 303 304 305 306 307 308 309 310 311 312 313 314 315 316 317 318 319 320 321 322 323 324 325 326 327 328 329 330 331 332 333 334 335 336 337 338 339 340 341 342 343 344 345 346 347 348 349 350 351 352 Last Page

Get An Email Alert Each Time MOM2ACAT Posts