| | |
| --- | --- |
| | MOMNAMEMANTOOTH's Recent Blog Entries |



Tuesday, April 01, 2014


I can't believe that 3 years ago, right after the birth of my son I started this journey! I was over 250 pounds, unhealthy, unhappy, and scared for the journey ahead of me.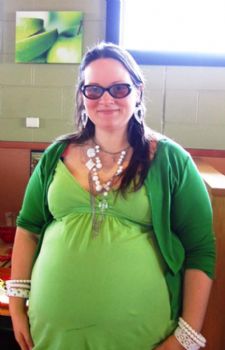 Me right before my son was born. I was so uncomfortable at my baby shower. I had to rig on some maternity pants!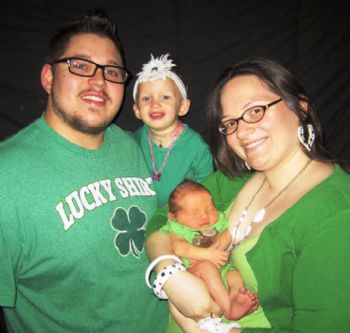 Now I had two babies to raise and I couldn't raise them to be unhealthy, the generational curse of unhealthy eating in my family was going to end with me!!!
I am now a beautiful 190 pounds! I've lost and gained a little but I've really learned to love myself and this body (the only one I've got) no matter how much I weigh. Even better God loves me and can USE ME at any weight I am!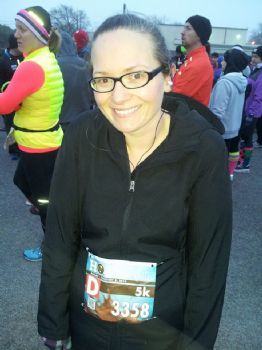 I even ran my first 5K in February.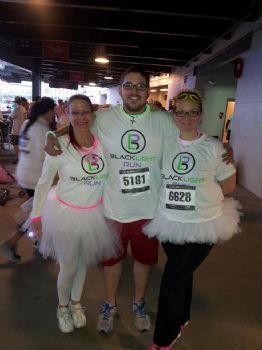 My second 5K in March, and I have my third, a survival mud run, scheduled for later this month!!!

I don't have to be perfect
I don't have to be skinny
I don't have to be a supermodel! (Though I have thought about being a plus size model!) Because who else knows that the worlds "plus size" is really just healthy!!!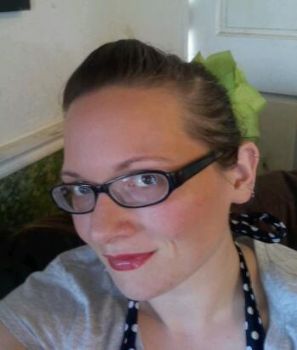 I am beautiful, confident, and I know I WILL NEVER give up!!! I will never say "I'll just start again tomorrow" "I'll just finish out the week and start over Monday" No, it's about making the healthy choice everyday. Making the next best decision!

God has big plans for me, and I have BIG dreams!!
I want to have a weight loss camp for girls, because our youth are facing a big problem. Not only is being overweight okay, it's "better." That's a lie! Being healthy and active is better! Eating nothing but junk food and sitting around all day is not living!
I want to be a fitness instructor. I want to teach Zumba or Turbo Kick, I've even been thinking of starting my own fitness dance craze!
I want to have more children and this time with a healthy pregnancy, finally not fearing gestational diabetes or high blood pressure!

My life has only begun and I don't ever want to look back!!!





Thank everyone of you who have stopped by my blog. Who have inspired me. Thank all of you for being on this journey with me! This is just the beginning of a new chapter, and this book doesn't have an ending!!!







Wednesday, March 26, 2014
So I so didn't finish the Streak into Spring. It's been a cray cray couple of weeks. My husband has been on call twice this month and twice next month. He's a plumber so when he's on call, he's working! Especially with the weather here in Texas.

I do think I want to figure out a Blog or Vlog challenge for April (my Birth month btw!) Also that will be my... three year anniversary with Sparkpeople! (It's been more than that, but three years under MomNameMantooth!

Oh and I finished my second 5K! The Blacklight Run Saturday!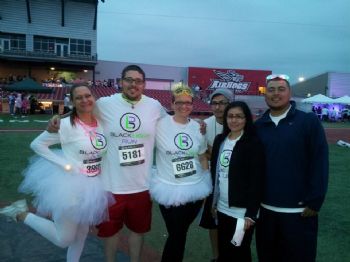 I'm already signed up for my next 5K in April, a survival-esk Tough Mudder type thingy! It's in Forney TX the 27th so I'm kind of really excited about that!!! My husband is pretty pumped about it as well!

Oh yes, and if you've read my previous blogs I'm not a huge fan of free days or splurge days however, I am going to give it a try again. I've been stuck and I mean STUCK in the 190's since December... it's almost April! So I'm to the point where I want to do something cray to get to a healthy weight! But I cannot have my free day on a weekend I just go nuts and spend all my money... my husbands money

So my day will be on a Wednesday, today actually! I'm going to track my eating (check it out if you'd like) and it does really help with me eating cleaner the rest of the week and being on a weekday I don't really leave the house and it's my Zumba day!!! So it's not like I'm also being a couch potato.

I guess that's about it...
Have an awesome Wednesday you's guys!







Tuesday, March 11, 2014
Man it's getting hot here in Texas! It's nice though! But only if I was feeling a little better, being a girl, once in a while I get really fussy and don't want to leave my cave of a livingroom for about 5 days

So I haven't done much exercise cuz my girl body is angry at me and my hubby is working late which is never fun! I've also been sleeping 9+ hours a night which I really don't like. But the good news is when I don't feel well I do my best drawings!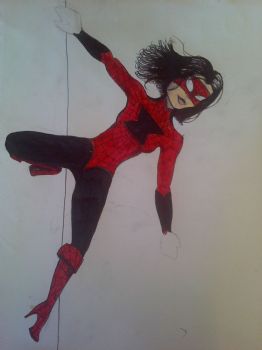 My kids have been watching a lot of spiderman lately so I've been in the mood to draw a spidergirl... spiderwoman... spiderman-lady... whatever!
I attempt to do an art piece a month but it hardly happens, but it's a good goal to have!



Today's Fitness Streak


So far I've only done a 10 minute cardio video, to stay on streak I need to do 20 more minutes so I'm going to have to go through some workout videos and figure out what I'm going to do! Not excited!



Today's Nutrition Streak


Breakfast was of course cereal!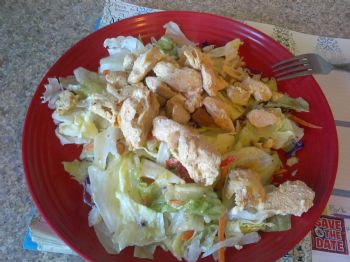 Lunch with chicken salad! Yum!!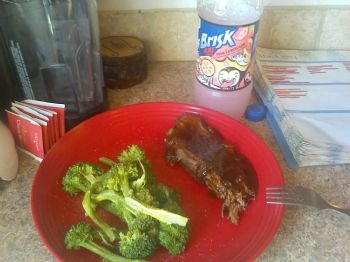 Dinner was some homemade brisket and broccoli! haha Brisket, Broccoli, and BBQ sauce... all I was missing was Brownies!!!

Well that's all for today!
I'm going to try to make it into bed at 9pm, but we will see!







Monday, March 10, 2014
Sunday Day 9
We woke up a little late Sunday morning, and I was very emotional in the morning! Seriously everything was making me cry. But after my emotional moment we went to my husband's parent's house for his brothers birthday party. I made him some lasagna (his favorite). I didn't really overeat, but I did have a little more cake then I needed, and some brownie. Honestly this weekend I wasn't doing well with my eating and I didn't exercise all weekend.

After the party we went to Six Flags with my husband's brother (it was his first time riding a roller coaster) it was so much fun! I even rode the Titan again even though I almost passed out the last time!

I did share a chicken nacho with my husband and a funnel cake with him and his brother.







Monday Day 10
Look I remembered!!!

Today I didn't do much, the babies and I didn't get up this morning until 10am, then I needed to head to city hall to pay for the park gazebo rental for my son's 3rd Birthday. He's been talking about his Birthday for over a month now! We ordered his cake Saturday and he's been asking when we're going to pick it up every day since!



Todays Fitness Streak


I did a short inner and outer thigh workout (planning to do a full body strength, but that didn't happen). I went on a walk with the babies before dinner. Then the whole family went on a bike ride to a corner store, we rode almost 4 miles!



Todays Nutrition Streak


I've had the same breakfast for a few days, and will probably have the same breakfast for the rest of the week!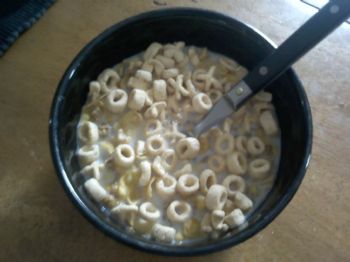 Cereal!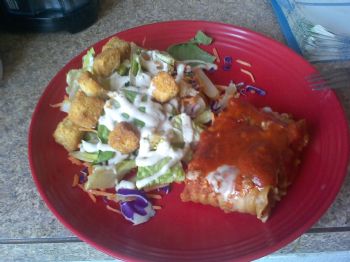 Lunch (at about 2pm) was some lasagna rolls I made and a ceaser salad! I'm loving ceaser salad lately.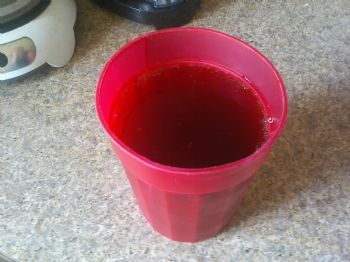 I also had some sweet tea today! I'm working on calculating calorie drinks as well. If it's got calories, it gets counted!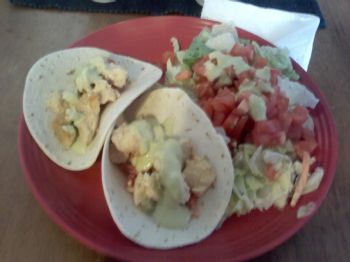 Dinner was chicken tacos and salad.
After our bike ride though we had a small protein mug cake, I forgot to take a picture of it

Well that's all for today, It's almost 10pm and I'm super sleepy!
See you tomorrow!







Sunday, March 09, 2014
Man guys it's been four days since my last blog and honestly it's just because I've been forgetting! I'll remember to take pictures of my food every once and a while but by the end of the day I'm in bed and forgot all about streaking!

This week my husband has been on call so after taking care of the babies all day and putting them to bed and my poor husband coming home at 10, 11 at night I have not thought about blogging.

But today we've done so much! I started off the day with some yoga and I ended it with 10 minutes of HIIT cardio. I'm hoping to go for a run with the hubs because our next 5K is coming up in two weeks!

Well guys that's all for tonight, it's almost midnight and I'd like to get this out on time!





1 2 3 4 5 6 7 8 9 10 11 12 13 14 15 16 17 18 19 20 21 22 23 24 25 26 27 28 29 30 31 32 33 34 35 36 37 38 39 40 41 42 43 Last Page

Get An Email Alert Each Time MOMNAMEMANTOOTH Posts