| | |
| --- | --- |
| | MOSTMOM1's Recent Blog Entries |



Sunday, September 21, 2014

It really and truly did take a solid six months to recover from the Death By Bulldog Knee Sprain. I've been walking and stuff, but it's only been within the last couple of weeks that my knee actually felt 100%. 100%! Like, I can't even tell when it's going to rain anymore. I can't even tell that it was ever injured. As optimistic as I am, I wasn't sure if that was going to happen. But lo and behold, it has.

You know what that means, don't you? This short, round, middle-aged woman will be hOOping in her backyard again! Oh yes, yes she will. What have the neighbors done for free entertainment over the past months? I must make it up to them.

Spark on, Brave Sparkers!

PS: The song I'm hooping to is, "Wonder What You're Doing for the Rest of Your Life," from Train's new album, Bulletproof Picasso, which I've pretty much been playing nonstop all week. :)






Monday, September 15, 2014
A backyard accordion concertójust what you need, to start off your Monday! Iíve been working on this song for weeks, so I thought I would share, because I think itís important for you to monitor my accordion progress. EVERYTHING awesome is SparkWorthy, right? Of course it is!
As I mention in the video, I played this song in church yesterday morning. Iím telling you; this place lets me get away with just about anything. Heh heh. If youíre curious about how we used it in the service, hereís a link to videos from the day:
vimeo.com/album/3037911
. The accordion bit is the third video.
Speaking of yesterday, it was a big one. Iíve been a little quiet on Spark, because weíve been working so hard to pull things together for yesterday. It was Worship Arts Sunday, when we combine the music team with the creative arts team, and do amazing things. Even Audrey got into it, by programming some wicked cool lights. Hereís a pic of the set (made entirely with styrofoam and buckets of paint).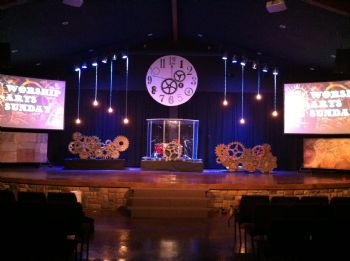 We will not speak of all the styrofoam fumes inhaled, during the making of this set.
Check out the abstract artwork some of my buddies made, to illustrate one of the stories.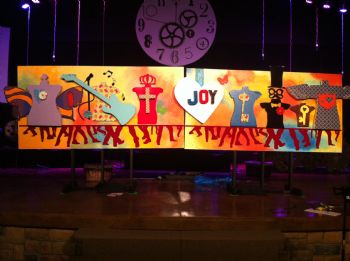 If you don't have some artsy friends, you might want to get some. I have extra; you may borrow some of mine.
Anyway, I mention it, not to drone on and on about work (because Iím sure you grow weary of that), but because I absolutely have a Spark Point. I team-taught yesterday, which means I spent a lot of time speaking onstage. In front of everyone. It was fun. I love it; I really do. I got to tell stories and storytelling is one of my favorite things.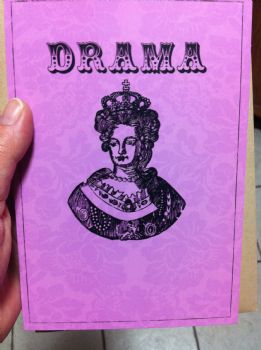 I bought this card for myself. Iím hanging it on my office wall, next to the poster of Miss Piggy.
Fast forward to later in the afternoon, when Iím editing all the video clips, to post online. Question for the audience: Have you ever edited video of yourselfó full-body, low-angle, close-up, high-def video? Have you ever done this when youíre massively overweight? I assure you, it is not for the faint of heart. It takes a lot of courage, mixed with humility. I admit that my heart sank, more than a little. For a moment, I almost forgot my Secret Power of Awesome and thought, ďHoly cow, Iím fat. I feel sorry for people, having to see that.Ē
Fortunately, I did a gut check, rebooted my Secret Power of Awesome and plowed through it. Hereís the thingóI spent years, trying to hide behind the scenes, backstage or in the tech booth. Most of the time, thatís appropriate; itís where I need to be, to get the job done. But thereís a difference between working quietly behind the scenes and hiding. I avoided public speaking, because I was embarrassed by my weight. I decided this time around, that I wasnít going to hide. I love sharing stories with people. I love giving people a chance to laugh. That is my absolute favorite thing to do, help people laugh. And guess what? I can do that, no matter what my size is. I just have to get past my pride.
So guess what? I posted the videos. I cringed a little, but I posted them. And guess what? Iíll be up on that stage next week, doing the announcements and stuff. Iím guessing I wonít be able to lose 30 pounds by then, so Iíll probably still be this size. But Iím going to take a deep breath, smile and just be myself. That doesnít mean Iím settling. Far from it! Iím not quitting. In fact, Iím getting ready to start a new 5% challenge in a few weeks and I hope to knock some poundage off before Christmas. I really want to work and be much smaller when Iím editing videos of myself speaking a year from now. I completely want to work for that. Itís just that, in the meantime, Iím not going to hide. I will be true to my calling and if that means singing onstage with an accordion, so be it.
Hope you have a fantastic week planned. I will leave you with this determined face.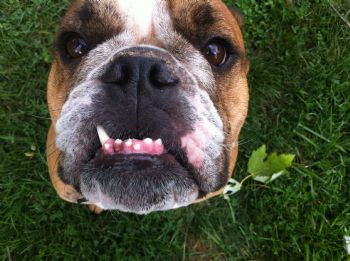 Bubba says, ďSpark ON, Brave Sparkers!Ē






Friday, August 22, 2014
For me, the start of the school year feels more like New Yearís Day, than the actual New Yearís Day. Something about a fresh start and a clean slate, new pencils and all that. Back to school also means back on a regular schedule for me, and thatís not always a bad thing. Sometimes, I want to fight the clock during those early morning wake-up calls. And sometimes, itís frustrating to have to drop everything, to go pick up kids from school. But itís super easy to find the silver lining there. Early mornings mean Bubba and I can get our morning walk in sooner, so my day ends up being more productive. And this week, Iíve added strength training back into the mix. Iíd been away from it over the summer, so Iím easing back into it and it feels great. Today is Day 1230 of my exercise streak. WooHoo!


Taking Audrey to and from school is its own silver lining. She just started her Freshman year in High School, so this might be the last year or so that I take her. Soon, sheíll be driving herself. I enjoy those moments with her in the car, every day. Iíd post a first day of school pic, but I promised not to take one this year. Sigh. Remember when Audrey was in all of my vlogs and I said I was enjoying it, because I knew it wouldnít last forever? Yup, she definitely reached that point and Iím respecting her privacy. Enjoy the moments and be ready to move on to the next one, preferably without kicking and screaming.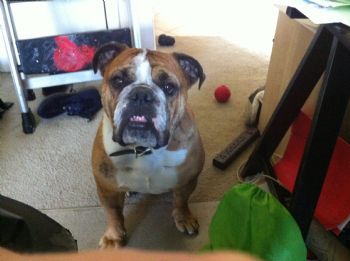 What Bubba looks like, while Audrey is at school. ďHey lady, stop working and play with me!Ē

So, Audrey is a Freshman and Logan turned 20 this week. Big week for our house! Logan has been lamenting the loss of his youth. He thinks life is basically over, once you become an adult. I keep assuring him that heís barely begun and thereís a ton of good stuff happening now and just around the corner. He is the Eeyore to my Tigger. Look, here he was as a little guy, with our first bulldog, named Phyllis. Fast-forward to today with Manboy and his dog. (Heís oblivious to the fact that I have a blog, so he doesnít really care what I do. Iím just happy I got a picture at all. He Who Shall Not Smile.)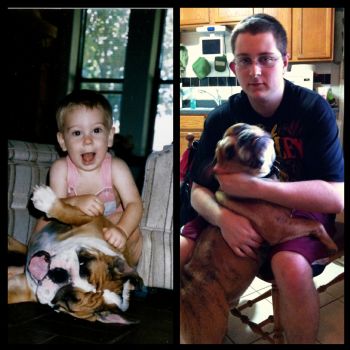 Proud of this hardworking, young man.

Another area Iím getting back on track with is lunches/snacks. Remember how I said I was going to start packing a stash to have at work, so I wouldnít grab something to eat on the way home, or binge-eat when I finally got home? Well, I did it. I have a little stash of healthy snacks in the fridge at work and Iíve already dipped into it once. It saved the day yesterday, when I wasnít able to get home for lunch. Next step, freeze some wraps at work and create a snack stash for the car. WORKDAY PREPPERS UNITE!


Stash, next to communion trays--occupational hazard :)

Early morning workouts-check, strength training-check, freezer meals-check, work stash-check. I think Iíll start seeing positive results on the scale in the next couple of months. As always, I remain optimistic! I hope you are too!

I will leave you with some unrelated photos, because thatís what I do. Audrey finished painting her room, so she was finally able to install a special decal that Shelley (BFF) made for her two years ago. Weíre not the quickest DIY peopleÖ Shelley makes decals for a living, so her stuff is really cool.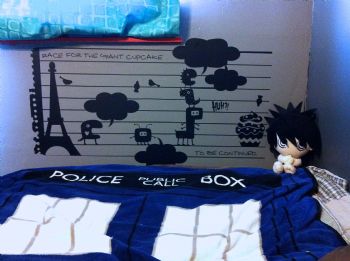 This is made with chalkboard vinyl, so Audrey can doodle all over it, using chalkboard markers. Sheís having a lot of fun with it.

A lot of my friends are artists; many of them are visual artists. Not only does Shelley have her own business, she has an art studio in her house. A couple of weeks ago, she invited a bunch of us over to play. We were supposed to bring our own canvas and we could use all of her paints and stuff. Audrey painted a hat box. Check it out.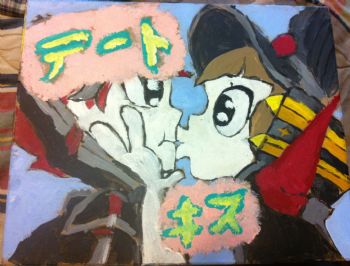 Girl has skills

Visual art really isnít my thing, so instead of bringing a canvas, I brought this: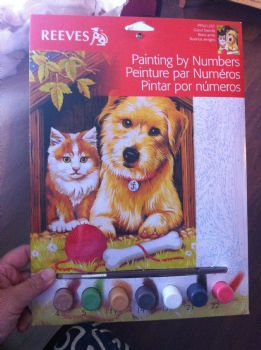 Paint by number, with the suggested look, original title--"Good Friends"

I decided to reinterpret it this way instead: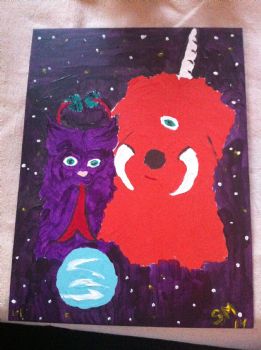 New Title: "Galaxy Cat and UniDog from Outer Space" (1 of 1)

Have a great weekend; paint outside the lines, be amazing. Spark ON, Brave Sparkers!!






Monday, August 11, 2014
Took a muggy, morning walk with Bubba and rambled about stuff Iím trying and going to try. Kind of a long vlog for me, but wanted to share a couple of things, in case it helps anyone else. Feel free to learn from my mistakes! (Also feel free to skip entirely.) Iím okay with slow and steady, as long as Iím learning along the way.
I wonít bother restating everything I said in the vlog. Suffice it to say, Iím still doing freezer meal prep for dinners. And now Iím going to extend that to lunches. I think having emergency stashes at work and in my car, is going to help during those times Iím stuck at work and canít get home.
Work has been pretty interesting lately. We shot an amazingly cheesy, music video for an upcoming project. Audrey did all the hair and makeup. Check out the look she gave me: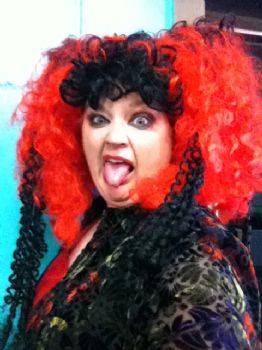 I should go to the grocery store like this.
Hereís the rest of the ďband.Ē This would be funnier, if you knew what we really look like. Just know that these people are actually a nurse, teacher, worship leader, truck driver and electrician. Now, we have all discovered our secret, inner rock star. heh heh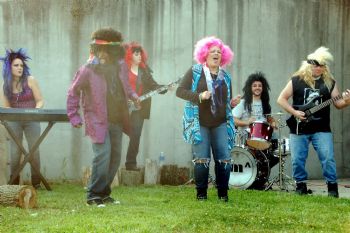 We. Are. Rockstars
Also, weíre recovering from popping 600 bags of popcorn for the weekend. We started a new, summer movies series and are serving popcorn each week. Thatís a LOT of popcorn.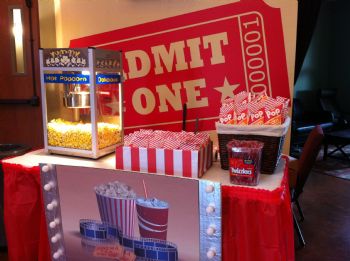 I may stop loving popcorn in the next five weeks...
Weíve had fun with the set, though. Lookó giant, candy boxes, full of calorie-free, invisible candy. SparkWorthy.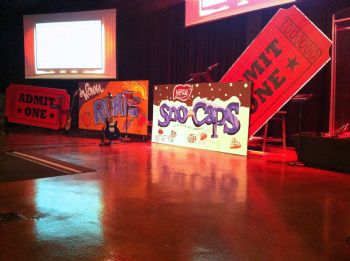 Imagine if those SnoCaps were real! Holy cow.
And hereís a little Pinterest win we tried. We wanted to make our movie posters light up, like the vintage signs. One of my team members found this tip and it worked really well. We cut slits in ping pong balls and slid LED Christmas lights into each ball. They form little light-up globes. It was cheap and turned out really cute. I think Shelleyís daughter is going to use this idea in her dorm room. Iím not really a crafty person, but thought Iíd pass this along. It really is a clever idea. Just make sure the lights are LEDs, so you donít melt the ping pong ballsÖ
Fun little idea
Well, I suppose Iíll sign off here and go tackle some housework. My house looks like itís been in the eye of a sharknado. (Please tell me youíve watched at least one Sharknado movie this summer. It gives your brain some necessary rest time.)
Oh, I must leave you with this inspirational photo of Bubba. I love these flowers; I think theyíre totally Dr. Seussian creations. Cindy Lou Who probably has a vase of them on her nightstand. I was later informed that the flowers are called Naked Ladies, which probably makes this picture inappropriate now.
A Moment with Bubba
Spark ON, Brave Sparkers!!






Monday, July 28, 2014
I know youíve eagerly awaited the next Laundry Room Accordion Concert. Honestly, how have you lasted this long? How? I regret to inform you that Accordion Concerts are now being held in the garage. Now you know. Why am I sharing this? Because I can. And I think itís highly SparkWorthy, to share whenever youíre trying and learning new thingsóeven if itís the accordion. Heaven help us.
Accordion matters aside, hereís a little vacation update. If you read my last blog, youíll know that we had a girls-only road trip to Nashville, to visit family.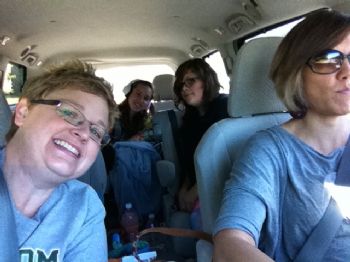 Here we are, setting out.
We had such a great time. Nothing super organized, just a quick, yet relaxing trip. We called this the ďGet Out of Town for a Couple of Days, Before We Inadvertently Kill SomeoneĒ trip. You know what Iím talking about. We all needed a break! But guess what? We kept the streak alive, by working out in the hotel fitness center. Woo to our hotel hoos.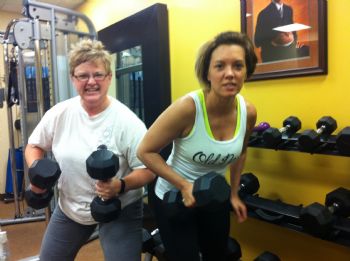 We worked out every single day. ROAR
And guess what else we did, with all the time in the world and no agenda? We went to a childrenís Science museum and planetarium. Without children. Yes, this is what we (along with the two, older teenagers) decided to do. Nerds. And guess what? We had so much fun! Turns out, itís way easier going to a childrenís museum without children. Who knew? We had fun climbing all over things and Shelley and I only nodded off a couple of times during the planetarium show. We werenít bored, just relaxed and the lights were out.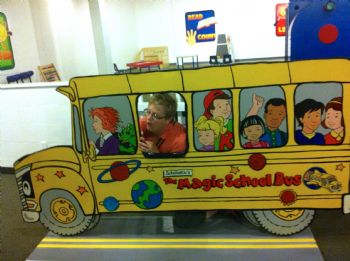 Finally! My chance to ride on the Magic School Bus.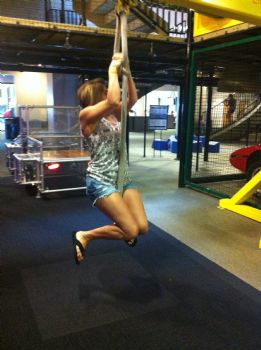 Shelley, dangling from a large rope and using leverage to lift a small car.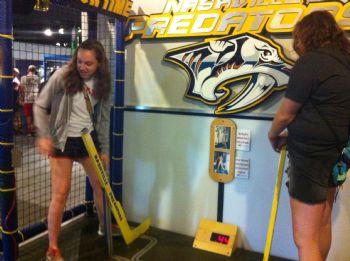 The girls, trying to do some hockey thing, that we never figured out.
And hereís another thing we tried to do, while traveling. We tried to eat semi-reasonably; lunch portions, splitting meals, etc. The one, big, splurge meal was at a Mexican restaurant. You have to understand that my cousinís mother-in-law owns the restaurant. This is her home cooking, the real deal. Jody (my cousin), wanted us to try everything. We felt obligated. I was raised in the South; I have manners. But Jody had the smart idea of ordering everything family-style, instead of a bunch of separate meals. So we had this huge table, full of food, but we only sampled a little bit of everything, rather than gorge on one thing. Just a taste of this and that, instead of the whole thing. It was a great way to try a lot of different things, without overdoing it in a big way.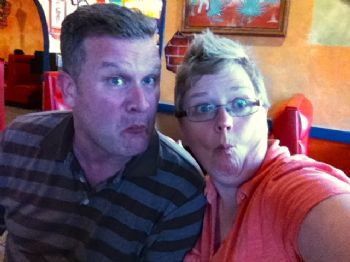 Me and Jody (Can you tell weíre family?)
Anyway, I thought that was pretty brilliant and thatís a tip Iím gonna try to remember. That said, the scale did bump back up a little. But Iím not alarmed. Even eating somewhat reasonably, Iím sure that my sodium intake was up. That always throws me for a loop. And I never can drink as much water while Iím traveling, as I can at home. So, I expected some fluctuation. Itíll all even out in the long run. And I got some very valuable rest and relaxation that my brain so desperately needed.
And guess who was very glad his walking buddy came home?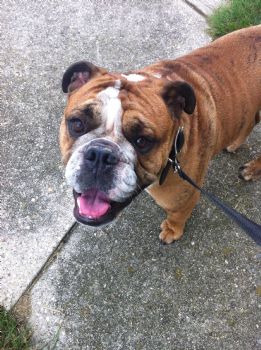 This guy.
Another news flash: Last week was the first week that my knee felt normal! Guess it really did take six months to heal from the Death By Bulldog Sprain. Iím awfully glad it finally did, because this dog does not want to stop. Check it outóBubba finished his first 5K the other day. (Heís probably done one before, but this was the first one I actually measured.) He did great! What a SparkDog.
I think he deserves a medal.
Well, Iím sure youíve had your quota of Mostmom exploits for one dayóaccordion concerts and vacation pics. Riveting stuff. I hope youíre having a good summer (if itís summer where you are) and getting to recharge your batteries (even if itís not summer where you are). Have a great week! :)
Spark ON, Brave Sparkers!



1 2 3 4 5 6 7 8 9 10 11 12 13 14 15 16 17 18 19 20 21 22 23 24 25 26 27 28 29 30 31 32 33 34 35 36 37 38 39 40 Last Page

Get An Email Alert Each Time MOSTMOM1 Posts