| | |
| --- | --- |
| | MOSTMOM1's Recent Blog Entries |



Friday, February 28, 2014
Know how life can sometimes hit you, out of left field? Well, sometimes thatís not just a figure of speechÖ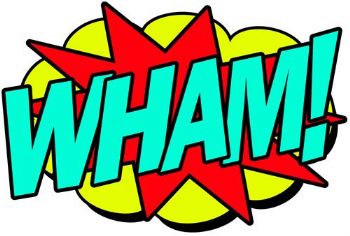 Out of left, (okay, really it was right) field

I like to call this incident ďDeath by Bulldog.Ē Wednesday evening, Bubba and I took a 45-minute walk. It was great. The weather was brisk, but it was sunny. I had just enough time to squeeze in a walk, before I headed back to work. When we got back home, Bubba seemed like he still had a lot of energy, so I took him in the backyard and threw a stick for him. Man, oh man, that gets him going. He was tearing around the yard at bulldog rocket speed. Youíd be surprised how fast this guy can RUN. I was having so much fun, watching him run. But, all of a sudden, he took a corner a little too sharp. I saw him out of the corner of my eye, but he was a blur, no time to move. He plowed, full-speed, into the side of my right knee and I went down to the groundóWHAM.

As I was falling and my knee was bending sideways, I thought, ďThis must be what it feels like to break your leg.Ē Wham, bam, thank you maíam. It was like getting hit by a very short, Mack truck. I had to dig my phone out of my pocket and call Audrey to come out and help me get up. I knew, right away, that my knee was Łber messed up. It was too late to get to the doc, so I went straight to bed, elevated it and iced it all night.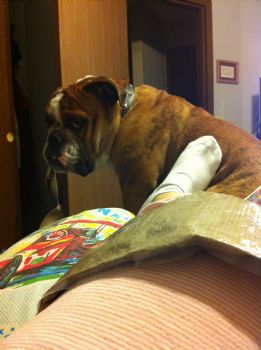 Not sure if Iím fooled by the guilty look on his face, since he kinda always looks like that.

I saw an orthopedic doc yesterday, for x-rays and stuff. Nothing broken, just bent. Woohoo! She gave me three options: Aóa medial ligament thing that is exceptionally angry about being bent sideways. Bóa whacked out meniscus. Cóan ACL torn asunder. I told her I would like Option A, please and thank you. She said sheíd be happy to comply, but I have to have an MRI first, to see. In the meantime, ice, elevation, rest (because Iím SO good at that), Naprosyn, and crutches. When I was a kid, I thought crutches looked like so much fun. I thought itíd be a ball to use them. At almost 47, Iím thinking I was a little off in that assumption. Randy made fun of me for watching a YouTube tutorial about walking with crutches, but hey, I needed to know. Even with the tutorial, I will not be entering any Crutches Relay Races anytime soon.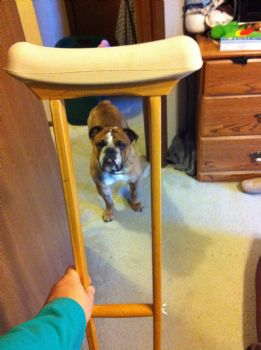 Bubba just wants to know why I wonít take him for a walk.

I told Coach Nicole that I thought I would probably have to break my workout streak for this. I mean, I canít even hula hoop or do a slow walk on the elliptical. I was fine with that; itís totally legit. But she encouraged me to at least try one of her seated workouts first, and then see. So, last night, I modified one of the workouts, just doing the upper body stuff.



WHAM! Keeping the streak alive one more day.

So, Iím hoping and praying for Option A, following doctorís orders, and Sparking while seated. This can work. Itís all good. Death by Bulldog could've been so much worse. And Audrey is responsible for taking the killer beast on his walks, for the time being.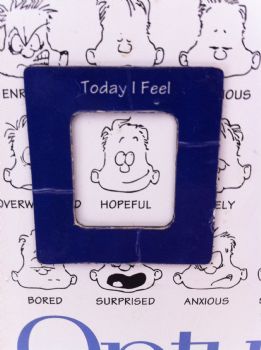 Magnet on my Fridge: I choose to remain wildly optimistic.

Spark ON, Brave Sparkers! (even if itís from a chairÖ)






Friday, February 21, 2014

Remember how I said I had always wanted a dog I could walk on a leash? Well, Bubba is definitely that dog!! He's used to me taking him for at least a 20-30 minute walk every day. Most days, I'm using that as additional exercise, on top of what I had already planned for the day. Pretty nifty way of working in some extra exercise. Bubba will help me keep the streak alive!

I wanted to share this tiny clip with you, just for fun. I was working yesterday and just about to leave my desk to pick Audrey up from school. Bubba decided he couldn't wait any longer and had to take a walk. That minute. This is his overly dramatic way of telling me. (We took him for a walk when Audrey came home, so all is well. He survived.)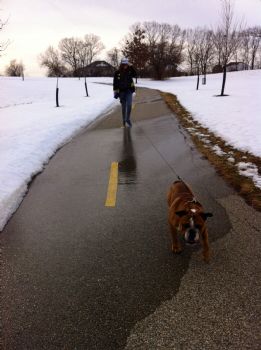 Audrey and Bubba, taking a walk in the park.

Hope the sun is shining where you are, or you're able to make a little of your own sunshine.
Spark ON, Brave Sparkers!






Monday, February 17, 2014
Oogah, oogah! Clang, clang, clang! ďIceberg, dead ahead, Capín!Ē Thatís what I heard in my head, when I stepped on the scale Saturday morning. If youíre tired of my blogging about my latest struggle with the scale, I totally understand. Feel free to skip ahead to something more entertaining. Iím just trying to sort through stuff here.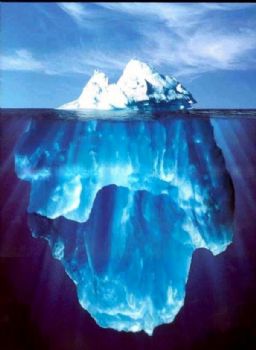 Iceberg, dead ahead!

Iíve experienced some alarming weight gain, since going back to work this September. Blah, blah, blahóyouíve heard all this before. I tracked my food for a couple of weeks and started to see a little progress. Then, I got busy with a big set design and slacked off a little. The scale responded appropriately. If I donít turn this ship around soon, I will find myself sailing right out of Onederland. Not cool.



This is one of the stickers on my tracking calendar.

Thing is, I know all this. Itís not a surprise. I play fast and loose with my food and the scale shows. My jeans get tighter; itís harder to move around and do stuff. This is not new news. But hereís what isóAudrey had a doctorís appointment this week and showed a weight gain too. I kinda knew that was happening, but it didnít seem too bad. We got in the car and she very matter of factly said, ďWell, yeah, mom. When you gain weight, I do too. It just makes sense, because I usually eat whatever youíre eating.Ē

(Insert stunned moment of silence in the car.)

Okay, this isnít rocket science. I mean, I know what I do affects my family. In the back of my mind, I know that. Thing is, the guys in the house kind of do their own thing. My son works night shift and feeds himself at all hours. Hubs is coming and going, so he either eats with us, or forages for himself. Audrey and I often eat on our own. When I took all that time and ate Spark Solution stuff this summer, she lost weight with me. It makes sense that, when I fall off the wagon, sheíd be right behind me. I immediately pictured those mountain climbers who are all tied together and thought of me falling off the mountain and dragging her with me.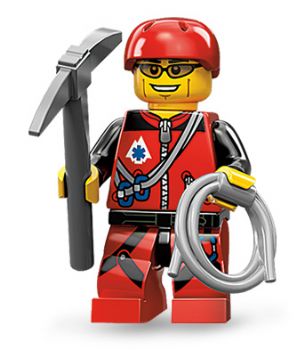 Me as a mountain climber.

But hey, we can flip that. Mountain climbers are tied together for safety, right? So, if one of them falls, the others can drag him/her back up, right? Maybe Iím dangling off the side of the mountain and Audrey is hanging there, waiting for me to get back on my feet. But sheís only a teenager; she canít be responsible for pulling me back onto the mountain. Maybe, just maybe thatís the motivation I need to get serious about this again. Because it isnít just my problem; itís affecting my daughter too. And that is really and truly not cool. So whatever figure of speech I need to use; turning the ship around, climbing back up the mountainó I need to use it. I need to make it happen, because weíre connected, this girl and I. Even if she doesnít want to be seen with me at the mall. :)






Monday, February 10, 2014
Canít believe I havenít blogged in two weeks! Work has kept me busy and so has this guy. Meet Bubba, our new SparkDog! Bubba is an almost-three-year old, 55 lb., English Bulldog. Heís our second bully. When we were first married, we had an English bulldog named Phyllis. She was a sweetheart and even helped teach our son to walk. He would pull up on her hindquarters and toddle around. Randy is particularly fond of this breed. I think because they look like him! Check it outóBubba is my husband in dog-form. lol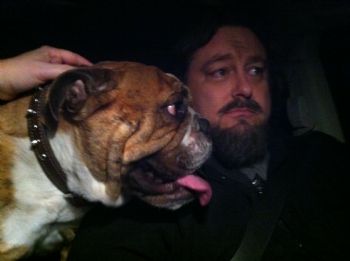 Heís crazy about this dog.
After Gunner, we decided no more dogs. We figured the kids were older; we didnít want to tie ourselves down again and we didnít want to eventually go through another doggy loss. But after several months, it was apparent that the kids really missed having a dog. Dogs are kinda like medicine for the soul and our house hasnít been dogless for years. So, Randy started looking, found Bubba online and was a goner. We ended up driving two hours, to ďrescueĒ him from a shelter. Heís never been neglected or anything. His first family just couldnít keep him, because of allergies. We were lucky enough to be the first people to snatch him up.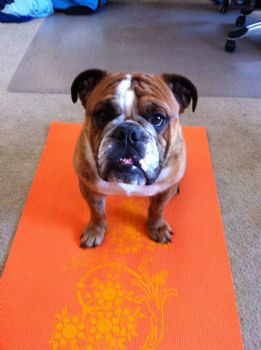 Bubba does yoga.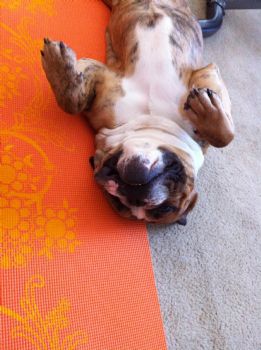 He has mastered the Corpse Pose.
Iím excited because, for the first time ever, I have a dog I can walk on a leash. I want to take him through a basic training class, but heís already pretty manageable on a walk. Being a bulldog, I know he wonít be able to take super long walks, or be out in the heat much. But this guy really likes to get outside and GO. So I have a new exercise buddy!! And holy cow, I have to get some footage of this guy running and jumping. Itís impressive, for something that short. At any rate, itís nice to have a walking buddy, even if he snorts and snuffs a little. Heís the only one in the house whoís as happy to go outside as I am!
Bubba on the go
So, meet Bubba. Iím sure youíll be seeing a lot of him in the future. He seems to like the camera, so weíll see if heís as big a photobomber as Gunner was. Iíve introduced him to hula hoops and he seems okay with those. But heís terrified of the ukulele! Baby steps, people, baby steps.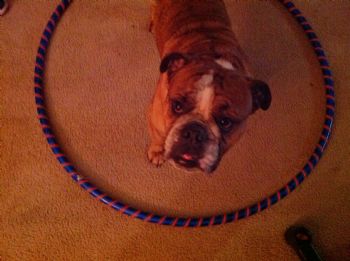 hOOpdog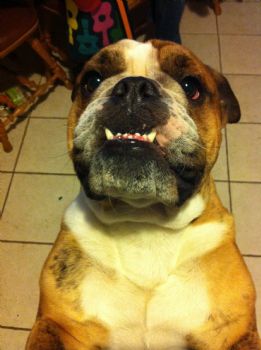 Bubba says, "Spark ON, Brave Sparkers!"






Sunday, January 19, 2014
Upside-down thinking is one of the most valuable skills Iím honing during my SparkJourney. Know what I'm talking about? This is where I take something I've held onto for a while, flip it upside-down, and look at it from a different perspective. Take my Secret Power of Awesome.
www.sparkpeople.com/mypage_public_jo
urnal_individual.asp?blog_id=5250600
Iím not allowed to say anything negative about myself. Changing the way I spoke and thought about myself was a huge, positive shift. It's colored every aspect of my life and I consider it to be my biggest non-scale victory. If you could weigh attitude, mine would be svelte, like "cover of a magazine, without being photoshopped" svelte. For real. This week, Iíve had a couple of opportunities for upside-down thinking thatís helped me a lot. I thought Iíd share with yíall, in case it resonates with anyone else.

If youíve been with me for a while, you know that I have a wonky disc in my neck. Intense forms of exercise; running, jumping, lifting anything over my headó stuff like that, is out. I have to be careful, making me the Queen of Moderate Exercise. Iíve often thought that slowed my weight loss. But I think the past 1016 days of my exercise streak prove that nutrition weighs in heavier than fitness, as far as my weight loss goes. I gotta admit, I was disappointed in that. Sometimes, itís easier for me to hop on the elliptical, than put down the cookie. Upside-Down Thinking to the rescue! Instead of being disappointed that I canít do intense exercise or frustrated because poor nutrition choices are slowing me downó

FLIP IT!!

UPSIDE-DOWN THINKING: Since nutrition plays such a big role, if I spend a little more time controlling my eating, I can STILL lose weight, even while being the Queen of Moderate Exercise. I donít have to go crazy at the gym or feel guilty that I canít swing kettlebells anymore. I can still lose weight. That may sound simple to you, but it was an epiphany for me.

And I need those epiphanies; I really do. Heck, I wish I could be one of those covers on the magazinesóďShe lost half her weight, went down 14 pant sizes and lived happily ever after.Ē But thatís just not my reality. Well, I can do the ďhappily ever after,Ē but my weight loss journey isnít so neat and tidy. Take where I am right now. I spent a lot of time, focusing on nutrition over the summer. I was in between projects, wasnít working much; I had the extra time. And I got within eyeshot of my weight loss goal. Then, I went back to work, nutrition took a back seat to my job, I stopped weighing in, broke out the bread machine over the holidays, andÖWHAM, Iím up again. By a lot. Iíve been here many times. I lose weight, get close, life gets a little more complicated, I pack on some pounds, I get frustrated and give up.

FLIP ITóFLIP IT NOW!!!!!

UPSIDE-DOWN THINKING: I have a job I am passionately crazy about. Sure, it threw me off-track for a little bit, but Iím gonna cut myself some slack, because itís been a big adjustment. It's also been a lot of fun. I know what to do. Iíve done it before and I can do it again. And Iím not going anywhere. The fact that Iím still here, blogging the highs and lows, proves that Iím not gonna give up. Life is complicated; thatís part of what makes it so delightful. So, I post the big weight gain. So what? Iíll post the losses too. Life is good and you donít have to be on a magazine cover to know that.

Spark ON, Brave Sparkers!!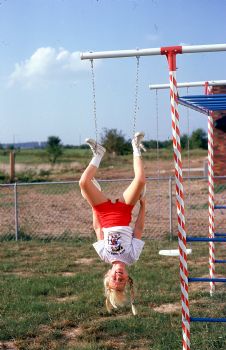 Look, I even used upside-down thinking when I was a kid!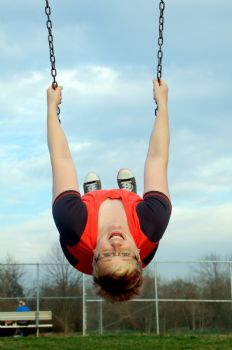 FLIP IT!!



1 2 3 4 5 6 7 8 9 10 11 12 13 14 15 16 17 18 19 20 21 22 23 24 25 26 27 28 29 30 31 32 33 34 35 36 37 Last Page

Get An Email Alert Each Time MOSTMOM1 Posts