| | |
| --- | --- |
| | MOSTMOM1's Recent Blog Entries |



Monday, December 09, 2013

Nothing big or important, just a snowy walk through the neighborhood. Gotta get out while you can!

Spark ON, Brave Sparkers!






Monday, December 02, 2013
I havenít blogged in a couple of weeks. There was one week I barely even did status updates. Thereís a reason for that. Itís been a rough couple of weeks. But thereís something that Iím taking away from it and I think itís SparkWorthy enough to share. Itís something I already knew, but have an even deeper appreciation for now.

Community matters. Iím not talking about your town, or where you live, necessarily. I mean real communityó people you do life with. These last couple of weeks, I have seen my little community rally around a family who unexpectedly lost a precious nine-year old. The love and support have been inspiring and encouraging, in the midst of such loss.

Those same people stood shoulder to shoulder with me, helping me get caught up with work I couldn't possibly do on my own. They helped finish building a set, shoot video and design last-minute graphics. They brought my family food, because they knew we didnít have time to feed ourselves. They took care of us. That is community. We don't have family in town and couldn't travel to mine for Thanksgiving this year. So, some of our friends hosted a Transplant Thanksgiving, for people who don't have family in town. It was a houseful of "framily" (friends who are like family) and it was incredible. That is community.



Hereís the set they helped finish. I think it turned out pretty cool.

I believe that sense of community easily transfers itself to a SparkJourney. Itís very easy, and sometimes tempting, to keep a struggle with weight loss and health a secret. It can be embarrassing and frustrating to share both the successes and setbacks. But Iíve chosen to share those, to be very public about it. And Iím glad. It keeps me honest, but it also keeps me encouraged. This week, my buddy Tom (from 40,000 Step Challenge fame) got a new FitBit and he gave me his old one. Why? Because heís my buddy and it was a nice thing to do. He couldíve sold it, but he wanted to see me back on the leaderboard and back in the game with the rest of my FitBit buddies. Iím ecstatic!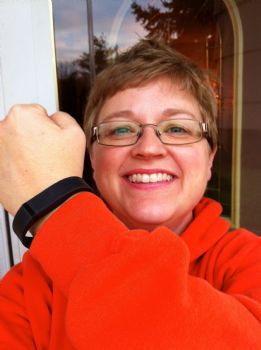 Back in the game!! (But the new sync erased my 40,000 Step badge!!)

Jodi, one of my SparkBuddies, knew I was having a rough couple of weeks and she sent me this Christmas, Kermit the Frog shirt. Why? Because sheís awesome and she knew Iíd love it.



Kermit!

But itís not just about gifts, although Iím extremely grateful. Itís about people checking in with me, making sure Iím okay, that Iím on track, that I havenít lost my woohoo. (I havenít, by the way. The streak is intactótoday will be Day 968. And my woohoo is coming back.) I know for a fact, there is no way I can lose another 20 pounds on my own. Thatís just reality. Itís going to take a community and I know that. I rely very heavily on the support, advice and humor from my SparkCommunity. And I hope I can be there, to encourage and support other people on this journey, because I really do think it takes all of us.

Spark ON, Brave Sparkers!






Saturday, November 09, 2013
Wow, canít believe Iím just now making time to blog this week. Itís been chock full of work and play (sometimes, simultaneously). Tuesday was Election Day and I decided to walk to the polls. Itís not that far, a couple of miles to the library. It was a beautiful fall morning, perfect day for that kind of walk. So, I walked to the library, voted, headed to the grocery store and then hoofed it back home. It was a 90-minute walk and I ended up with over 16,000 steps that day.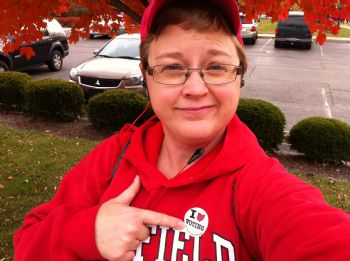 I voted! On foot! :)

And now we must pause, to mourn the loss of my FitBit. At some point during a work night on Wednesday, it fell out of my pocket. I think it was somewhere on a hardware store run. I looked everywhere. I even downloaded an app a friend told me aboutóBTLExplorer. It scans for signals given by devices like FitBits and can help you hone in on them. No such luck. So, I am sad. I picture it somewhere out there, lost and alone, my little digital buddy. It was special because it was a Secret SparkSanta gift last year. Sorry, Secret SparkSanta! I donít think I can get a replacement, because I donít have a receipt or anything and itís been a year. Fortunately, I also have a Spark Activity Tracker, so I can still track my steps and stuff. But Iíll miss being able to glance at the number on the readout and earn FitBit badges with my buddies. Boohoo.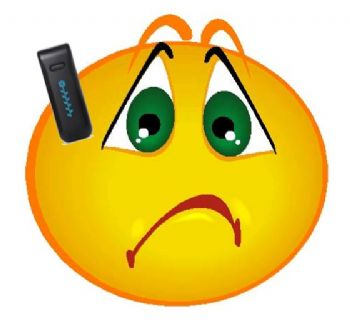 RIP, lil FitBit, wherever you are.

On to other things. Life really is a series of adjustments, sometimes huge ones, sometimes small. Like it or not, things are always changing. My weight loss journey definitely reflects that. Over the summer, I was able to focus on doing the Spark Solution program. I wasnít working at the time and didnít have a lot of side projects going on, so I made it a high priority. And I got really close to my Wonder Woman goal. ThenÖ

I went back to work full-time in September. Technically, Iím part-time, but it feels full-time to me. (lol) Now, my weeks are suddenly full of meetings, set designs, planning schedules, video shoots, scripts, technical issues, rehearsals, budgets, brainstorming sessions and a myriad of details.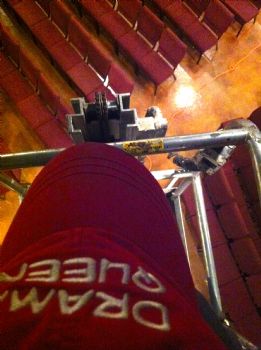 View from the top of the lift. I banged my head on the ceiling. Part of my new normal.

And I love it. I really do. But wow, has it wreaked havoc with mealtimes around here! I have to plan ahead, or we end up eating on the run. Even making better choices, that hurts. My brain is occupied with so many things, I forget to plan for meals. Not good.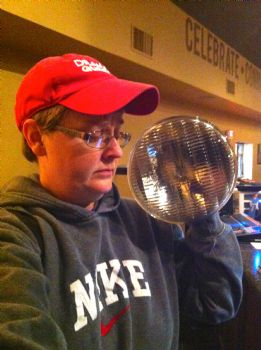 This is the obnoxiously gigantic lamp I replaced yesterday. Crazy.

I wish I could exercise away a bad diet. Oh how I wish I could. I thought it was possible, in the past. But come on, yesterday was Day 944 of my Exercise Streak. If I could work off a bad diet, I wouldíve done so by now!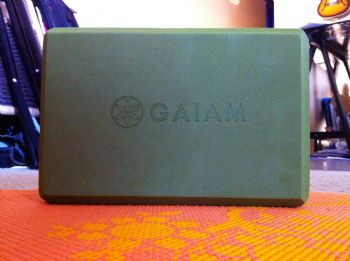 The yoga block is my new best friend. It's helping me be a better person. haha

Sadly, itís simply not true. And the scale has reflected that, over the last couple of months. Soóadjustments. Starting a new job, even one I really like, is a huge adjustment. Now, I have to find a better way to manage nutrition in the midst of what sometimes looks like a lot of chaos. I donít have as much time to spend in the kitchen, so I need to make it count. This week, I took a small step in the right direction, simply by getting back to tracking my food. Iím going to try to sit down sometime over the weekend, and make a general plan for meals. I have to keep it super simple. This is all stuff I know to do; Iím just coming at it from a different angle this time. Adjustments. Gotta be flexible, even if you need a yoga block to help!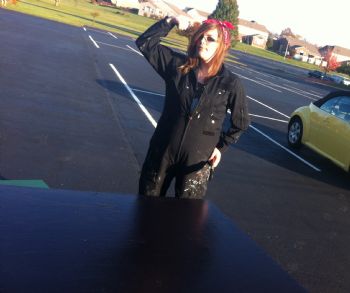 Audrey, helping paint set pieces. Love that girl!

Spark ON, Brave Sparkers!






Monday, October 28, 2013
Thank you SO much for all the friendly feedback from my last vlog! I knew youíd be helpful; thatís why I posted my dilemma. I got some really great advice and itís helping me think things through some more. Yes, I over-think things sometimes. Often. Regularly. What can I say, the wheels are always turning.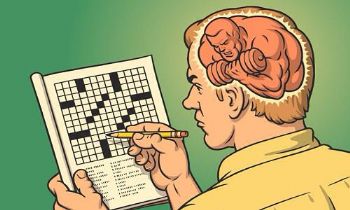 This is what my brain feels like sometimes. I wish thinking hard burned calories. Iíd be on the cover of Shape magazine by now!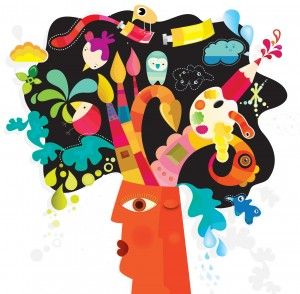 This is probably more what my brain looks like, though. Just add hula hoops, ukuleles and tennis shoes to the mix.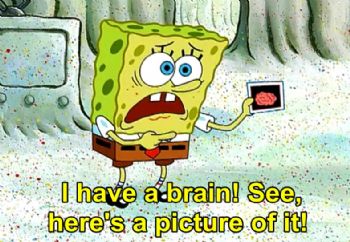 And this is most days...

I sifted through all the feedback and came to this conclusion: Donít break the streak, just freshen it up, so itís motivating again. I like the thought of that! Iím not usually a fan of throwing the baby out with the bath water, so I like the idea of revamping the streak, instead of killing it altogether. Here are the big ideas you suggested:

Celebrate and Reward: When I started the streak, I rewarded myself along the way. I bought myself SparkMerch, books, music, lots of little things. Then, the streak became so powerful, it was its own reward and I stopped giving myself treats. But when that feeling sort of fizzled out, I didnít replace it with anything. No real celebrations or rewards, just day after day of plodding along. No wonder it isnít motivating anymore! So, Iím going to reintroduce the reward and celebrate system. The first thing Iím going to do is start planning a celebration for Day 1000. If I can get some of my friends in on this, it could be something fun to look forward to. We all know Iím powered by FUN, so I think this could be instrumental in fanning the motivational fires. Iím still thinking skating party...

Mix it Up Even More: Iím somewhat limited as to what exercises I can do, because of my neck injury and Iíve always tried to have variety in my routine. But there are probably still some new things I can add to the mix, even at home. Yoga-- thatíd be new for me. Itís been a long time since I looked through some of the Spark exercise videos; I can try some of those. I can keep finding new places to walk/hike. I can create new ways to mix it up.

Add to the Streak: Keep the big streak going, but make it more specific, with little, mini-streaks within the streak. So maybe one week, add 20 crunches to the end of every workout, or work on a hoop trick every day for a week, or a freggie streak to go along with the exercise one. I like the idea of challenges within the streak. Anytime I can make something into a game, thatís a good thing. Once again--fun-powered. That could be a game-changer for me.

So, for now, the decision is to KEEP STREAKING! Many of you pointed out that the streak will probably break, on its own someday. In the meantime, I might as well keep going while I can. Some days will be hum-drum, some annoying, some hilarious, some inspiring, some challenging, etc. But, for now, I will keep stringing those days together, because I have a feeling like they might be more powerful than I realize.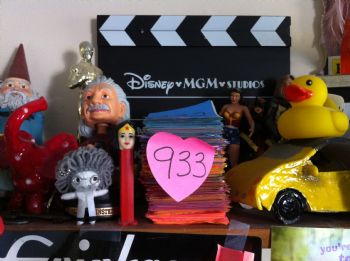 Today is Day 933. My stack of post-its continues to grow on my Shelf of Awesomeness. Newest Dilemma--Iím out of post-it notes!!

Spark ON (and streak on), Brave Sparkers!!








Monday, October 21, 2013
Okay, I'll try posting this again and see if the video comes through this time... Sparkgremlins at work?
Yes, you read that correctly, Iím contemplating breaking my exercise streak. Not today. Today was Day 926 and I took an hour-long walk in the park. Today was a great day to streak. No, Iím contemplating breaking my streak at Day 1,000.
If youíre late to the party, here are my streaking rules: At least ten minutes of intentional exercise (not just walking around the grocery store, or housework) every single day. My ten-minute minimum is more like 15, with most days being 20-60 minutes. Those are the basic rules. Some days are hardcore; some are pretty laid back. But Iíve kept this streak going for 926 days in a row. No lie. I really and truly have done this. I have walked, hiked, hula hooped, roller skated, lifted weights, been an elliptical warrior, swam, Zumba, and who knows what else, for 926 days in a row.
Part of me thinks it might be time to end the streak. But Iím on the fence about it. On one hand, I feel like itís almost played out; itís lost some of itsí motivating force. On the other hand, I wonder if itís doing me even more good than I realize. If you get a chance, watch the video, so you can see whatís bouncing around in my head. Maybe youíll have some input. I have 74 days to make up my mind (barring any unforeseen, streak-breaking incidents outside of my control). To streak, or not to streak--that is the question. :)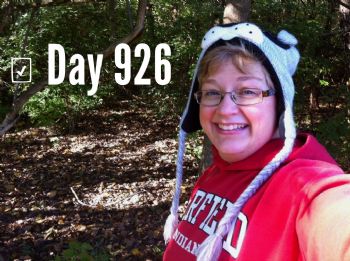 But today--WE STREAK!
Spark ON, Brave Sparkers!!
PS: Please excuse the annoying dropped frames in the video. I was trying out a new video app on my phone and it ended up being a little unreliable...



1 2 3 4 5 6 7 8 9 10 11 12 13 14 15 16 17 18 19 20 21 22 23 24 25 26 27 28 29 30 31 32 33 34 35 Last Page

Get An Email Alert Each Time MOSTMOM1 Posts