| | |
| --- | --- |
| | MOSTMOM1's Recent Blog Entries |



Monday, July 14, 2014
I AM ON VACATION!!! Woo to my exhausted hoo! I haven't taken any time off, since I went back to work in September, so I'm definitely ready for a break. I'm getting ready to do massive amounts of laundry, so Audrey, my BFF, her daughter and I can head out for a girls-only, road trip. WOOT! And guess what? The guys still have a couple of freezer meals left, so they're set. How about that?

Quick Watermelon Update: Apparently, this is the summer for me to try 14 different ways to slice a watermelon. First, there was the giant, slicer, which frankly--still makes me nervous. Next, were Pinterest watermelon sticks. Took me a while to cut, but they were super easy to pick up and eat, kinda like watermelon popsicles or something. Now comes, "skinning" a watermelon. Have y'all seen the video that's floating around? Here it is:
www.dailymotion.com/video/x1s5cx6_th
is-guy-shows-you-how-to-skin-a-waterme
lon-in-10-seconds_creation
I tried this, but imagine me doing it in super slow-mo. My knife isn't that sharp and I wanted to keep all my fingers. But it was a really easy way to deal with the rind. The watermelon chunks weren't as easy to snack on as the sticks, because you have to have a bowl, but still, pretty cool.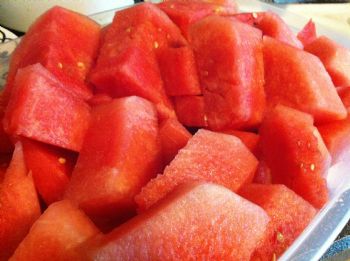 Results from "skinned" watermelon

Aren't you glad I share these important findings with y'all?

Here is one of the reasons why I'm exhausted and ready for a break. Last week was filled with set building/dressing. Here's an example: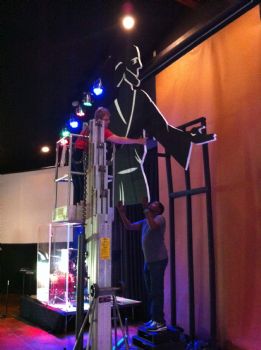 Me in the lift, attempting to hang our foam-carved "Elisha." It's harder than it looks, people!

But, it turned out pretty cool.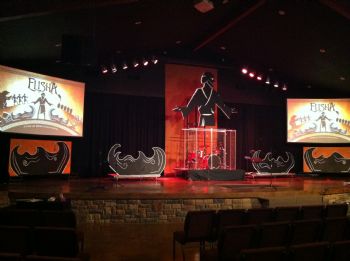 I get to make cool stuff at work, because I work with amazing people.

But I'm exhausted and ready for a break!!

Also, yesterday, we celebrated our 23rd wedding anniversary. Just for fun, I'll share this vintage pic with you. Here we are: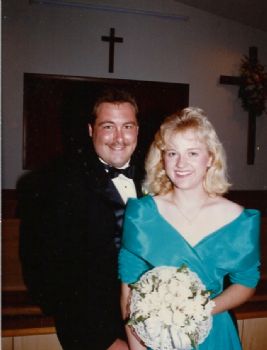 There's a whole story behind that hair. Heaven help us!

Here's the reception, where the Best Man made a toast to Randy and SHEILA. Randy spit out whatever he was eating and I yelled, "Who's Sheila?"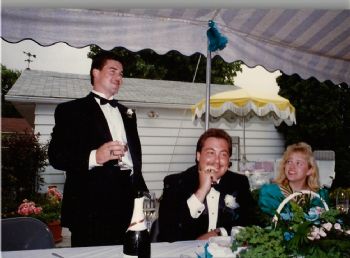 Look at my face. Haha. We were off to such a classy start.

Okay, I need to sign off and head to the laundry room, so we can get this party started. Don't worry, I will definitely be Sparking on the GO. Today is Day 1191 of my exercise streak. We'll keep that going on the road.

I'll leave you with this sad pic of Bubba, who will be left for a couple of days, with humans who won't take him for a walk. Bless his little bulldog heart.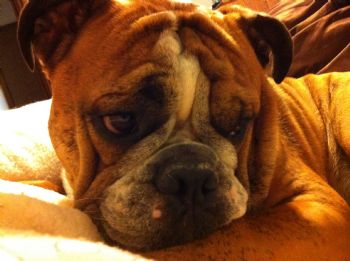 I'll make it up to you when I get back, buddy!

Spark ON, Brave Sparkers!!!!








Monday, July 07, 2014
I survived my first Freezer Meal Marathon last week! Okay, technically, Iíve done a freezer meal workshop before, but this was the first time I did it solo. Audrey and I took a couple of days, scouring the Internet for recipes and building a shopping list. Honestly, the recipes arenít ďdietĒ recipes. Theyíre just regular food, made in bulk quantities or prepped ahead of time and frozen. Iím not that concerned about ďdietĒ food. Iím more interested in ďrealĒ food, less processed stuff, smaller portions and ready to have on-hand. So, this worked for me. Pretty much the only processed thing, was a can of beans I threw in one of the soups. Other than that, it was just regular food.

Back story: We have two major grocery stores in town. One is Kroger, which I know like the back of my hand. I can be in and out of there, lickety-split, if necessary. The other is Jungle Jimís, which is a massive, local store. I SO wish I could take you there via vlog, but they donít allow filming. It has to be one of the most interesting grocery stores on the planet. Itís full of animatronic exhibits and tons of exotic stuff. But I donít have that place memorized very well, because itís so big. So I usually just go there for interesting produce, special cuts of meat and weird stuff I canít find anywhere else.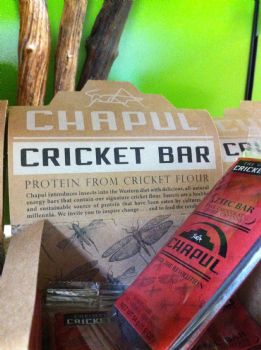 They carry stuff like this. Cricket bars were NOT on my list.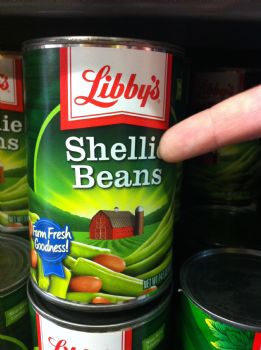 I also found these, monogrammed beans. I passed on these, as well.

For some unknown reason, Audrey and I decided to do this massive shopping trip at Jungle Jimís. It took us hours. At one point, we both wanted to cry. We wanted to ditch our cart and just go home. But we had too much effort invested in it, so we soldiered on. We got the best produce and meat, though. But holy cow, we were glad when it was over.

By the time I got home and was ready to start prepping, it was almost evening. Did I mention that we got a late start, because a water pipe busted in our basement? Yup. I knew I couldnít cook or do anything, until repairs were made and the water was back on. So I didn't even get started until after dinner. But I was determined to do this on my one and only day off, so I persevered. Audrey helped as much as she could, but itís a small kitchen and sometimes itís easier to fly solo. This is insane, I know it isóI meal prepped until three in the morning. What can I say? I got a late start. I knew this was my only day to do it. It had to be done. Next time, Iíll schedule one day for shopping and one day for prepping. And Iíll try NOT to schedule a plumbing emergency. Really, what was I thinking with that?

But. I. Did. It. At one point, I was really running out of steam. Audrey hugged me and said, ďYou'll thank yourself later, mom. It will all be worth it.Ē Then, my mantra became, ďFor Future Shelli!Ē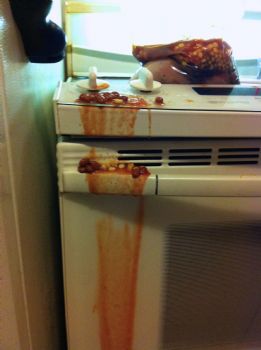 One casualty of the night. Chicken Tortilla Soup that spilled while I turned my back for a second. That was not a fun clean-up, I assure you.

So, we have a freezer full of meals and I went a whole week without panicking or exploding when someone asked what was for dinner.
Hereís the rundown/quantities of what I made:
Lasagna (2)
Chicken Fried Rice (2)
Honey-Spiced Glazed Pork Chops (2)
Roasted Chicken & Veggies (2)
BBQ Ribs
Beef Kabobs
Ham and Scalloped Potatoes
Chicken Tortilla Soup (minus a few beans)
Roast for French Dip sandwiches

13 meals, with leftovers. And everything either has veggies in it, or will have veggies as big sides. Iím not gonna lie; pretty darn proud of myself. And Iíve been tracking my food this week and staying within range. Feels pretty good.

Important Watermelon Update:
As you know, my friend Shelley has a gigantic, watermelon slicer. I do not. I terrify myself and my family with a large knife. But one of my SparkBuddies, JoyInky, shared a great way to slice up watermelon. She found this on Pinterest. Iíll have you know, Iím usually a walking testimony for Pinterest fails; I really am. But I was halfway able to do this one. Except my watermelon sticks were more like watermelon spears or lightsabers. But theyíre WAY easier to grab and eat this way! Cut the melon in half and then cut it like you cut a potato for fries. Hereís the link:
www.pinterest.com/pin/10752350982821
4509/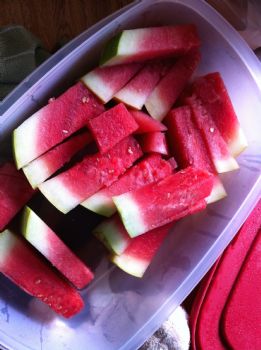 My watermelon sticks/spears/lightsabers.

I will leave you with this pic of my new practice space for my accordion lessons. With everyone home for the summer and my son working night shift and sleeping during the day, Iíve now been relegated to practicing outside in the garage. But Iím improving!! Iíll have to stage another laundry room/garage concert soon.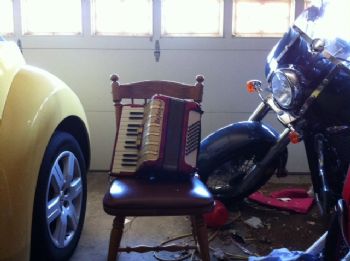 I think I need a soundproof practice room! I tried practicing in my car, but thereís not enough room. An artist is never appreciated at homeÖ

Spark ON, Brave Sparkers!!!

PS: I forgot to mention that most of these recipes are freezer to crock pot meals. Can't get much more convenient than that. Not until they build a robot, home chef anyway.






Saturday, June 28, 2014

First, let me explainóI took a much-needed day off yesterday and spent it at my BFFís (Shelley with an ďeyĒ) house. We made pita bread pizzas, had organic popcorn and watermelon for dessert, while we watched a documentary about the font, Helvetica. Why? Because weíre graphic design nerds and weíre not ashamed!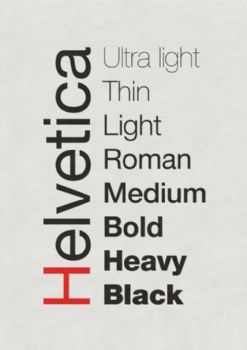 Yes, we watched a whole movie about this font. Nerds.



This is what Audrey and I took to the ďparty.Ē We donít usually buy bagged popcorn, but Shelley is obsessed with chia seeds, soÖ

If you can struggle through the video, which is annoying, because my phone has a hard time shooting video these days; you will see the giant, watermelon slicer somewhat in action. Why do I even bother showing this? Why is this SparkWorthy? Because Iím working more freggies into my meal plans and watermelon is quickly becoming my go-to snack of the summer. And what better way to show that, than with a gigantic, watermelon slicer? Plus, my buddy Shelley has worked really hard swinging kettlebells and stuff, and has the upper body strength needed to man this monstrous, kitchen gadget. SparkChick Power!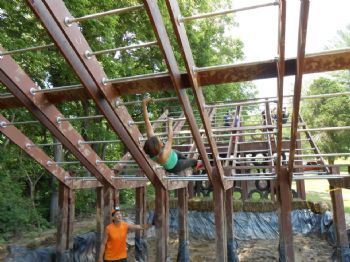 This is Shelley, training on some ridiculous monkey bars, for a mud run/obstacle course.

So, that covers the watermelon slicer. Now, on to the hokey pokey in Onederland. Hereís the thingólast week, I took a step out of Onederland. Just one step. I recorded it on my tracker, because we started a 5% challenge and it was weigh-in day, so I had to report it. 200 lbs. Iím gonna be honest here, my heart sank. I canít say I was surprised. I played it pretty fast and loose with food over the last couple of weeks of work. That piper demands to be paid, whether I like it or not.

I wasnít filled with the self-loathing Iíve had in the past. Thankfully, my Secret Power of Awesome prevents that. But I admit that I felt disappointed and, to be frank, embarrassed. Iíve chosen to be very public with my weight-loss journey. When things are going well, I proudly share those numbers and those victories. But when I slip, it takes a real gut-check to share that. Especially something as big as stepping back over that Onederland Line. Itís just a number; I know that. But itís significant for me. I worked really hard to lose that 40+ pounds and I was so proud and excited. I wore my SparkPeople shirt everywhere.

To backslide as much as I have, has been very humbling. I almost felt like I should take my SparkPeople decal off my car, until I ďgot my act together,Ē that I shouldnít wear my SparkPeople shirt around. I felt like I wasnít being a very good ďunofficial spokespersonĒ for the program I love so much. But that feels like hiding to me and Iím not going to do that. I have to be honest with myself and with yíall; thatís how this is gonna work. Thatís how Iím gonna make it to that 50 lb goal and how Iím gonna deal with the ups and downs of maintenance, once I get there. I donít do this journey gracefully; I just donít. Iím not gonna have that neat and tidy success story, with the perfect, happy ending. My life is too chaotic and interesting, to fit into the magazine cover mold, and Iím okay with that.

At the same time, I firmly believe in accepting responsibility and moving forward. Iím a big planner at work. It drives the guys crazy sometimes. I like to plan ahead. Iím writing scripts for Christmas and next Motherís and Fatherís Days now. (seriously) When I manage a project at work, Iím a stickler for backdating, making lists, delegating action items; I watch over that like a hawk and Iím super organized. Work is the ONLY facet of my life that is that organized. I resist it everywhere else. Fiercely. But I think itís time for me to apply that type of planning and organization to my meals, because thatís where I consistently trip and fall. So, Iím backdating a trip to the grocery store on Monday and breaking it down into steps beforehand. I have my meal planner app open, freezer to crockpot recipes at my fingertips, and Audrey by my side to help. Iím going to try planning a two-week menu and see if that helps. My issue isnít so much that I eat a lot, but that what I eat isnít always the best choice. Iím hoping that Director/Producer Shelli can step in here and make a difference. Iíll let you know how it goes.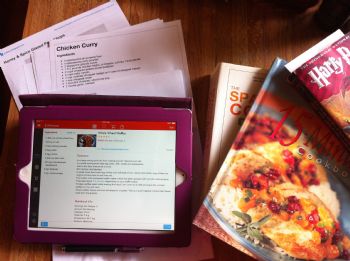 PLANNING!!

On a positive note: I took that step back INTO Onederland this morning and Iím so happy. That is a BIG WOOHOO! Back to 20 lbs lost and I'm choosing to be as proud of that now, as I was the first time around. And my SparkDecal is still on my car and I just might wear a SparkPeople shirt today. This is still happening, people; this is still happening!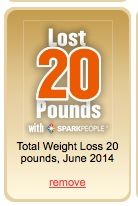 20 lbs again!

Thanks for reading my long, rambling blog. As always, I appreciate every ounce of support I get from this community. I will leave you with these two, completely unrelated pictures, just because.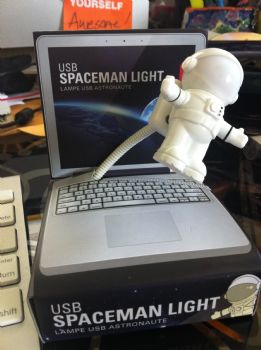 This is my USB Spaceman light I got to use in the tech booth at work. Itís the only light thatís been bright enough for me to use. Bonus points for being adorable.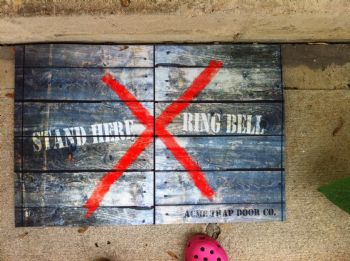 And this is our new ďwelcomeĒ mat. Audrey and I thought it was too hilarious not to share. Hope you can read it, look in the corner. heh heh

Spark ON, Brave Sparkers!!







Wednesday, June 18, 2014
I survived the Holiday Trifecta!!! A big chunk of my job involves production details for holiday services, so the back to back of Easter, Mother's Day and Father's Day is a doozy. It's been a lot of fun, a lot of work and it took its toll on me. I was worn out from hauling 22 lb bags of ice, 400+ cans of pop and running down a myriad of details. I had to ice my knee for two days afterwards, but I'm feeling like myself again. Huzzah!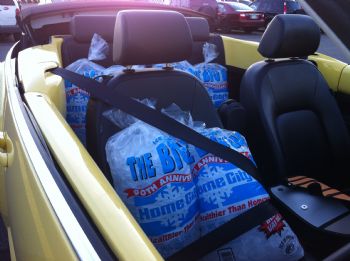 The IceBug Cometh! Some of the ice I had to haul around. And yes, I belted it in. The seatbelt warning thing dinged if I didn't.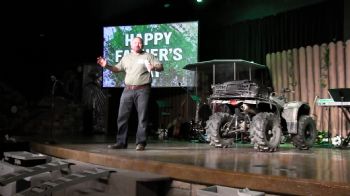 Our Senior Pastor (my boss) rode an ATV in during our manly Father's Day service. heh heh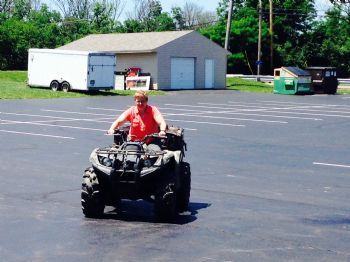 I got to ride it around in the parking lot. Looks adventurous, but it was more like "Driving Miss Daisy on an ATV."
One of the things I had to do to prep for the weekend, was clean out the garage at work. We needed space to store a bunch of chairs. It was a LOT of work!! Randy and I made a day of it and guess what we found? Remember last November, when I lost my FitBit while working on the Christmas set? Randy found it buried in the gravel! I don't know if it still works, because I gave my charger to a buddy a long time ago. But it was kinda cool that we found it.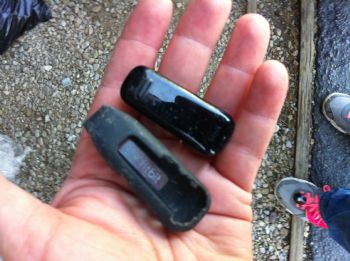 Poor lil FitBit.
I also found the gorilla costume I'd been missing.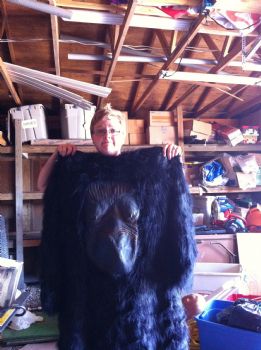 You never know when you might need one of these.
Here's a pic of me with one of the props for Father's Day. Yes, this is Randy's head. I walked around like this, yelling at the kids all day. They thought it was hilarious. Randy didn't find it as humorous.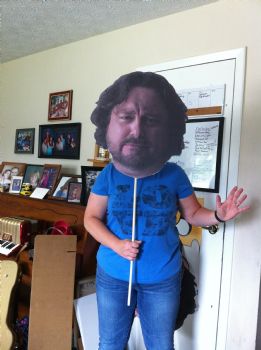 Everyone needs a giant fathead of their spouse.
But I survived. So this afternoon, I tried hOOping again. (Disregard the dead swing, giant weeds, and dismantled trampoline in the background of the video. The swing's going out to the curb, I'll get around to the weeds, and we're saving the trampoline parts for an upcoming set. We're resourceful like that.) But yeah, I can hOOp again! And my knee even felt a little looser afterwards. Looks like Bubba is going to be another photobombing hOOpdog. Now I can focus more on losing this next 25 lb--hooray!
I will leave you with this pic of Randy, lounging in his new chair and Audrey stealing the hammock that she bought "for him."
And this painting Audrey did of Bubba, because I think she's brilliant.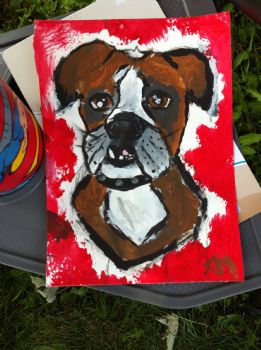 Bubba, Portrait of a Snaggle-Toothed Wonder
Spark ON, Brave Sparkers!!






Monday, June 02, 2014
I figure since Bubba is a SparkDog, he should share what works for him, in case any of his four-legged friends out there might be interested. So, this morning, we went for a walk in the park and tried out two new things for my walking buddy.
The pet store had a carseat harness on sale yesterday, so we had the BubbaMeister fitted. I don't know if he likes it, but it works. And he gets excited when I get it out, because he knows he's going somewhere.
No catapulting bulldogs!
We also tried out a new water bottle I picked up on Amazon for $8. It's called the Gulpy and it was a neat, convenient solution for us. Two Paws UP.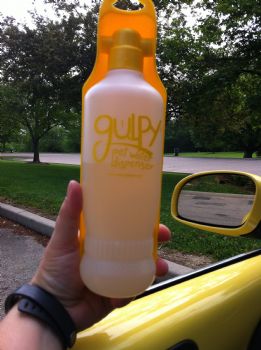 Drink on the GO!
Stay hydrated this summer!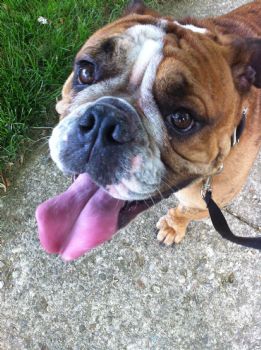 When your tongue touches the sidewalk, it's time for a drink.
Spark ON, Brave Sparkers!



1 2 3 4 5 6 7 8 9 10 11 12 13 14 15 16 17 18 19 20 21 22 23 24 25 26 27 28 29 30 31 32 33 34 35 36 37 38 39 Last Page

Get An Email Alert Each Time MOSTMOM1 Posts