| | |
| --- | --- |
| | MOSTMOM1's Recent Blog Entries |



Monday, October 20, 2014
If we've been friends for a while, you know that meal prep has always been my Achilles heel. I don't enjoy spending time in the kitchen. Cooking is not my fortť. Need I remind you of the cookbook I set on fire, while trying to cook and read Harry Potter and the Goblet of Fire simultaneously?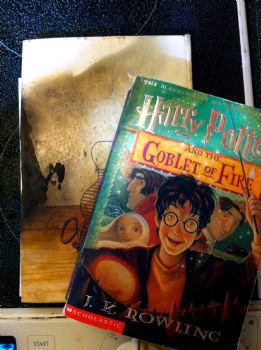 The pages are melted together. I keep it, as a humble reminder that reading and cooking don't mix.

Lately, you know I've made it my mission to work harder on meal prep, with menus, lists, freezer meals, snack stash at work, etc. I'm happy to say that I'm making strides. Do I love it? No. But I'm doing it and learning a lot as I go. I keep tweaking my system and thought I'd share what's working for me right now. Here is my convoluted process:

Schedule Planning/Shopping
I've learned this the hard way. Here's the deal: Randy (DH) and I are both ministers, working at the same church. While we love our jobs, let's just say that we don't do it for the money. Things are tight--always. Meal planning has been a huge help to us, nutritionally and financially. Secret bonus perk. But I have to stay on top of it. If I wait until payday to start making a menu and shopping list, it's too late. I won't have enough time to get it done. And if we don't do our big shopping trip on payday, we waste a couple of days with drive-throughs/takeout and our money and nutrition fly out the window. I need to have that menu and shopping list ready to go by payday. And Randy and I have made The Pact. One of us will go shopping ON payday. If I'm busy, he goes; that's the deal. Between us, I prefer to go myself. Randy's great about going, but has to call me approximately ten times while shopping, which kind of defeats the purpose. So, I put planning days and the shopping day on my planner. This girl does deadlines.




Meal planning goes on the schedule, like a doctor's appointment or meeting for work. It's a thing.

Meal Planning and The List
I schedule about 2-3 days to pull together a menu and shopping list. This is because I'm incredibly slow and I try to add a couple of new recipes each time. I browse through cookbooks, look online, try suggestions from friends. I use an app called Paprika for all my menu planning. I love it. I can type in recipes from my cookbooks, automatically download recipes from websites, rate and categorize them, add them to my meal plan and even generate a shopping list, if I want. I prefer using Paprika on my iPad for menus and the Groceries app on my iPhone for my shopping list. Randy has offered to make The List, but I know it would largely consist of Hamburger Helper and chicken nuggets, so I gracefully decline the offer.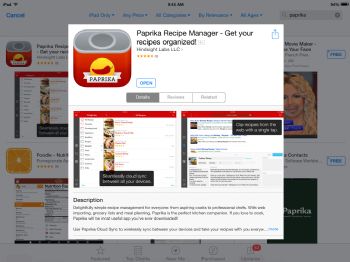 Go, go Gadget Groceries!

Using the apps makes this hated job easier, so there's a little less whining on my part. I start with menu items, then add things like cleaning supplies and stuff. I give all family members a last-call to text me things they want added to The List and do a walk-through of the house, to see if I've missed anything. Then, I take a moment to feel exceptionally proud of myself, for doing something I loathe and despise.

The Dreaded Shopping Trip
I try to eat before I go; shopping while hungry is a rookie mistake. I prefer to go in the morning, when it's less crowded. If I have to go later, Audrey usually goes with me, which is helpful. My app organizes The List into categories, which makes it easier to find things. Before I get out of the car, I check to make sure I have any coupons and my reusable bags. The bags are important; here's why-- I can fit way more groceries per bag, they're easier to carry into the house and they're FUN. I intentionally bought entertaining bags. I figure if I'm doing something I'm not that crazy about, I might as we'll be slightly entertained. Plus, sometimes they cheer up the baggers. When I have everything ready, I take a deep breath, say, "For the Family!" and head into the store.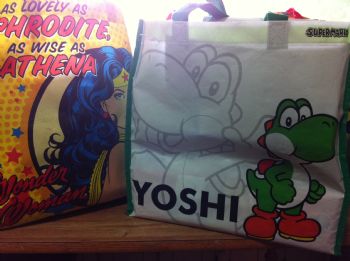 Two of my favorite bags. Gotta love Wonder Woman and Yoshi

My trip last week was a biggie, a month's worth. I had to put the top down on my car, so I could fit everything in my lil bug.



Meal Prep
The first couple of times I tried the freezer meal thing, I did meal prep in one, marathon session. That doesn't always work out for me. Most times now, I do it over a couple of days. I double up on some tried and true recipes, making two batches with one in the fridge and one in the deep freeze. I double-bag stuff, to prevent explosions/leaks and include the instructions on the bag. If she's able, Audrey helps with some of the prep. But we have a very small kitchen, so sometimes it's just better if everybody stays out of my way. Know what I mean? I put Netflix on my iPad and just get it done.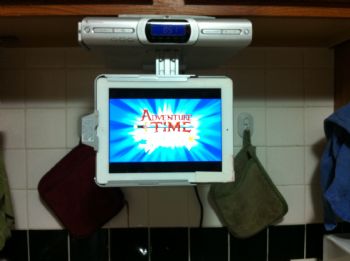 Cooking and binge watching Netflix works much better than reading

Friday night, I did something that made meal prep more fun. My BFF (Shelley with an ey) and I both tried a new recipe at the same time. We were texting each other the whole time and sending pics back and forth. It was nice, knowing someone else was in the same boat and it made cooking more fun. I think weíll try that again.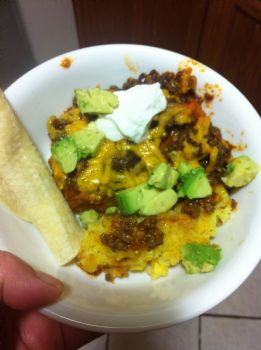 We made Tamale Pie and it was awesome.

Feel Proud
This is an important part of my process, because meal planning/prep is a big, non-scale victory for me. I stop and look in the deep freeze and fridge and I feel proud. Proud that I made myself do something I don't remotely enjoy and that I'm trying to take better care of my family. Plus, I know that Future Shelli will be extremely grateful and I want to make her life a little easier when I can.

So that's my long and convoluted update on my ongoing mission to feed my clan without losing any more of my mind. Hope you're making progress on your own personal missions too!

I will leave you with this pic of Bubba.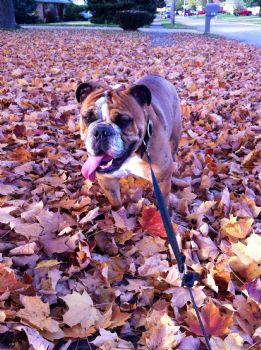 Some of my friends said that this is his camouflage pic. :)

Spark ON, Brave Sparker!






Sunday, October 05, 2014

I took my camera along on our walk Friday morning, but Iím just now getting around to posting the video. I was a little under the weather over the weekend, but doing better now. Walking is a great time for me to think, process things and sometimes, admit how Iím feeling about stuff. Letís consider this a ďwalking confessional.Ē Maybe youíll be able to relate, or maybe youíll just enjoy seeing the Halloween decorations. :)

I love walking in our neighborhood; thereís always something to see. Check out this inspiring sidewalk art we saw the other day: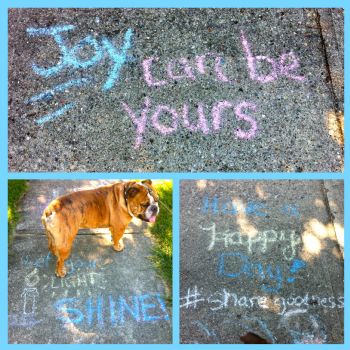 It says: Joy can be yours, let your light shine and have a happy day!

And now, people are putting up their Halloween decorations, so thereís even more to see. The skeletons used to freak Bubba out, but heís over it. Look at these guys: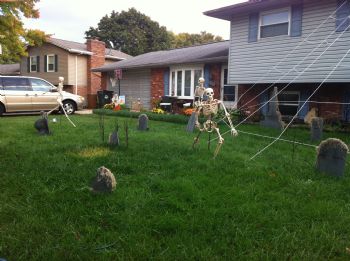 Coming for you!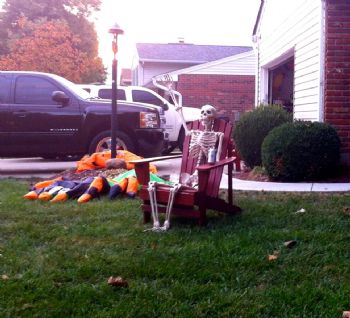 Friendly dude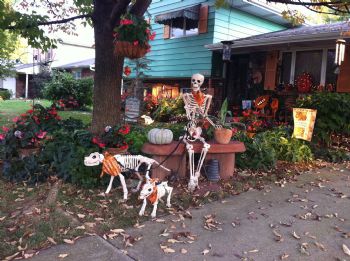 This is my absolute favorite. This family has a pack of dogs, so this just makes sense.

And the other day, we walked in the park and I took this pic, which I call Bubbaís, ďSound of MusicĒ pose.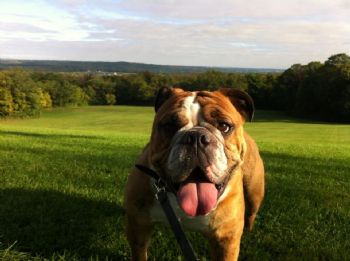 The hills are alive, with the snorts of bulldogs!

I will leave you with this pic of some souvenirs some of my friends brought me from their recent vacation. Behold: The Wildly Noisy Wooden Thing, A Unique Kazoo and a Nose Fluteóyes, a Nose Flute.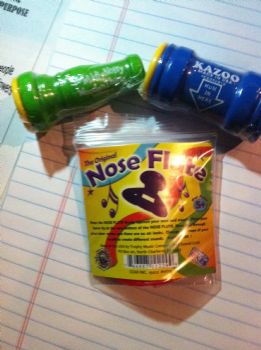 As soon as Iím over this cold, you know I have to try these out.

I hope you see interesting things while youíre out and about this week and that you have friends who know you well enough to buy you a Nose Flute, or whatever floats your boat. In the meantime, have an awesome week!

Spark ON, Brave Sparkers!







Sunday, September 21, 2014
It really and truly did take a solid six months to recover from the Death By Bulldog Knee Sprain. I've been walking and stuff, but it's only been within the last couple of weeks that my knee actually felt 100%. 100%! Like, I can't even tell when it's going to rain anymore. I can't even tell that it was ever injured. As optimistic as I am, I wasn't sure if that was going to happen. But lo and behold, it has.
You know what that means, don't you? This short, round, middle-aged woman will be hOOping in her backyard again! Oh yes, yes she will. What have the neighbors done for free entertainment over the past months? I must make it up to them.
Spark on, Brave Sparkers!
PS: The song I'm hooping to is, "Wonder What You're Doing for the Rest of Your Life," from Train's new album, Bulletproof Picasso, which I've pretty much been playing nonstop all week. :)






Monday, September 15, 2014
A backyard accordion concertójust what you need, to start off your Monday! Iíve been working on this song for weeks, so I thought I would share, because I think itís important for you to monitor my accordion progress. EVERYTHING awesome is SparkWorthy, right? Of course it is!
As I mention in the video, I played this song in church yesterday morning. Iím telling you; this place lets me get away with just about anything. Heh heh. If youíre curious about how we used it in the service, hereís a link to videos from the day:
vimeo.com/album/3037911
. The accordion bit is the third video.
Speaking of yesterday, it was a big one. Iíve been a little quiet on Spark, because weíve been working so hard to pull things together for yesterday. It was Worship Arts Sunday, when we combine the music team with the creative arts team, and do amazing things. Even Audrey got into it, by programming some wicked cool lights. Hereís a pic of the set (made entirely with styrofoam and buckets of paint).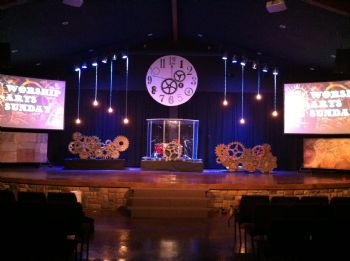 We will not speak of all the styrofoam fumes inhaled, during the making of this set.
Check out the abstract artwork some of my buddies made, to illustrate one of the stories.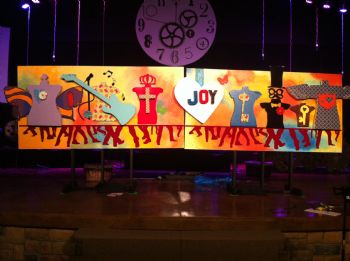 If you don't have some artsy friends, you might want to get some. I have extra; you may borrow some of mine.
Anyway, I mention it, not to drone on and on about work (because Iím sure you grow weary of that), but because I absolutely have a Spark Point. I team-taught yesterday, which means I spent a lot of time speaking onstage. In front of everyone. It was fun. I love it; I really do. I got to tell stories and storytelling is one of my favorite things.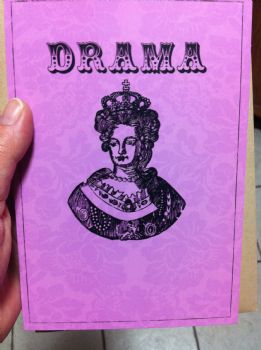 I bought this card for myself. Iím hanging it on my office wall, next to the poster of Miss Piggy.
Fast forward to later in the afternoon, when Iím editing all the video clips, to post online. Question for the audience: Have you ever edited video of yourselfó full-body, low-angle, close-up, high-def video? Have you ever done this when youíre massively overweight? I assure you, it is not for the faint of heart. It takes a lot of courage, mixed with humility. I admit that my heart sank, more than a little. For a moment, I almost forgot my Secret Power of Awesome and thought, ďHoly cow, Iím fat. I feel sorry for people, having to see that.Ē
Fortunately, I did a gut check, rebooted my Secret Power of Awesome and plowed through it. Hereís the thingóI spent years, trying to hide behind the scenes, backstage or in the tech booth. Most of the time, thatís appropriate; itís where I need to be, to get the job done. But thereís a difference between working quietly behind the scenes and hiding. I avoided public speaking, because I was embarrassed by my weight. I decided this time around, that I wasnít going to hide. I love sharing stories with people. I love giving people a chance to laugh. That is my absolute favorite thing to do, help people laugh. And guess what? I can do that, no matter what my size is. I just have to get past my pride.
So guess what? I posted the videos. I cringed a little, but I posted them. And guess what? Iíll be up on that stage next week, doing the announcements and stuff. Iím guessing I wonít be able to lose 30 pounds by then, so Iíll probably still be this size. But Iím going to take a deep breath, smile and just be myself. That doesnít mean Iím settling. Far from it! Iím not quitting. In fact, Iím getting ready to start a new 5% challenge in a few weeks and I hope to knock some poundage off before Christmas. I really want to work and be much smaller when Iím editing videos of myself speaking a year from now. I completely want to work for that. Itís just that, in the meantime, Iím not going to hide. I will be true to my calling and if that means singing onstage with an accordion, so be it.
Hope you have a fantastic week planned. I will leave you with this determined face.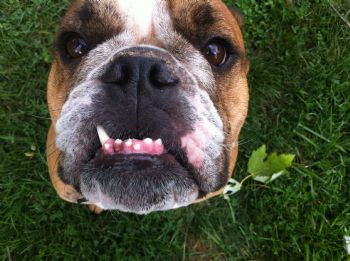 Bubba says, ďSpark ON, Brave Sparkers!Ē






Friday, August 22, 2014
For me, the start of the school year feels more like New Yearís Day, than the actual New Yearís Day. Something about a fresh start and a clean slate, new pencils and all that. Back to school also means back on a regular schedule for me, and thatís not always a bad thing. Sometimes, I want to fight the clock during those early morning wake-up calls. And sometimes, itís frustrating to have to drop everything, to go pick up kids from school. But itís super easy to find the silver lining there. Early mornings mean Bubba and I can get our morning walk in sooner, so my day ends up being more productive. And this week, Iíve added strength training back into the mix. Iíd been away from it over the summer, so Iím easing back into it and it feels great. Today is Day 1230 of my exercise streak. WooHoo!


Taking Audrey to and from school is its own silver lining. She just started her Freshman year in High School, so this might be the last year or so that I take her. Soon, sheíll be driving herself. I enjoy those moments with her in the car, every day. Iíd post a first day of school pic, but I promised not to take one this year. Sigh. Remember when Audrey was in all of my vlogs and I said I was enjoying it, because I knew it wouldnít last forever? Yup, she definitely reached that point and Iím respecting her privacy. Enjoy the moments and be ready to move on to the next one, preferably without kicking and screaming.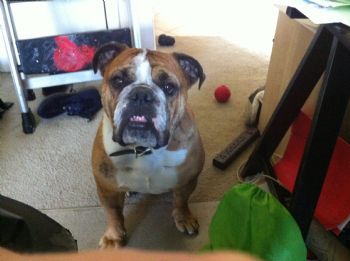 What Bubba looks like, while Audrey is at school. ďHey lady, stop working and play with me!Ē

So, Audrey is a Freshman and Logan turned 20 this week. Big week for our house! Logan has been lamenting the loss of his youth. He thinks life is basically over, once you become an adult. I keep assuring him that heís barely begun and thereís a ton of good stuff happening now and just around the corner. He is the Eeyore to my Tigger. Look, here he was as a little guy, with our first bulldog, named Phyllis. Fast-forward to today with Manboy and his dog. (Heís oblivious to the fact that I have a blog, so he doesnít really care what I do. Iím just happy I got a picture at all. He Who Shall Not Smile.)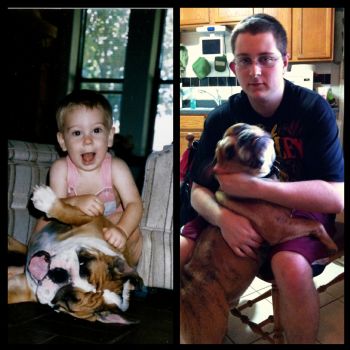 Proud of this hardworking, young man.

Another area Iím getting back on track with is lunches/snacks. Remember how I said I was going to start packing a stash to have at work, so I wouldnít grab something to eat on the way home, or binge-eat when I finally got home? Well, I did it. I have a little stash of healthy snacks in the fridge at work and Iíve already dipped into it once. It saved the day yesterday, when I wasnít able to get home for lunch. Next step, freeze some wraps at work and create a snack stash for the car. WORKDAY PREPPERS UNITE!


Stash, next to communion trays--occupational hazard :)

Early morning workouts-check, strength training-check, freezer meals-check, work stash-check. I think Iíll start seeing positive results on the scale in the next couple of months. As always, I remain optimistic! I hope you are too!

I will leave you with some unrelated photos, because thatís what I do. Audrey finished painting her room, so she was finally able to install a special decal that Shelley (BFF) made for her two years ago. Weíre not the quickest DIY peopleÖ Shelley makes decals for a living, so her stuff is really cool.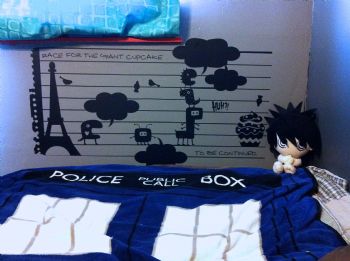 This is made with chalkboard vinyl, so Audrey can doodle all over it, using chalkboard markers. Sheís having a lot of fun with it.

A lot of my friends are artists; many of them are visual artists. Not only does Shelley have her own business, she has an art studio in her house. A couple of weeks ago, she invited a bunch of us over to play. We were supposed to bring our own canvas and we could use all of her paints and stuff. Audrey painted a hat box. Check it out.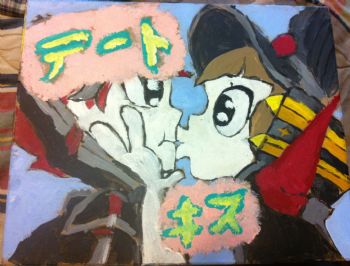 Girl has skills

Visual art really isnít my thing, so instead of bringing a canvas, I brought this: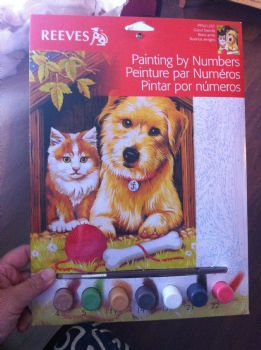 Paint by number, with the suggested look, original title--"Good Friends"

I decided to reinterpret it this way instead: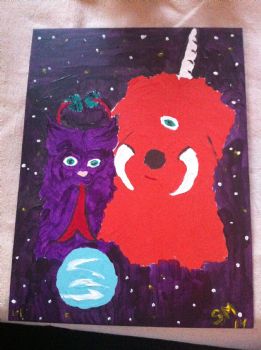 New Title: "Galaxy Cat and UniDog from Outer Space" (1 of 1)

Have a great weekend; paint outside the lines, be amazing. Spark ON, Brave Sparkers!!



1 2 3 4 5 6 7 8 9 10 11 12 13 14 15 16 17 18 19 20 21 22 23 24 25 26 27 28 29 30 31 32 33 34 35 36 37 38 39 40 41 Last Page

Get An Email Alert Each Time MOSTMOM1 Posts