| | |
| --- | --- |
| | MOSTMOM1's Recent Blog Entries |



Wednesday, April 09, 2014

Making progress! Last week, my doc said I could ease my way back onto the elliptical and walk Bubba, provided he doesn't try to kill me again... I don't have to wear the bionic brace anymore; I've graduated to a smaller, elastic one, so I'm happy about that.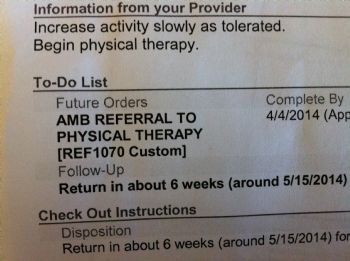 Slowly, as tolerated...

I had my first Physical Therapy session this morning and it went well. I have a good range of motion in my knee, but the muscle atrophied and is now super lame and wimpy. Can't have that! No sir! So, I will be doing all the exercises that the therapist gave me and be super compliant and all that jazz.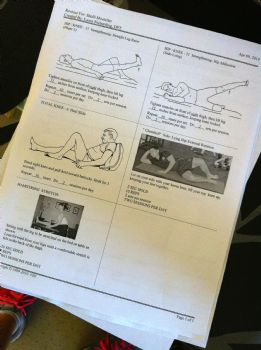 All the cool kids do the Clamshell!

Gotta get back in shape, so I can hoop and do all the physical stuff my job demands. Wouldn't you know the current set we have involves scaffolding? At least it has a full staircase, so that makes it a little easier, but still, I'll be super glad to be able to climb and take care of stuff again.



Thank goodness I had an awesome team help build this, while their fearless leader was hopping along on one leg!

But check it out, I got to play percussion on the top tower last week!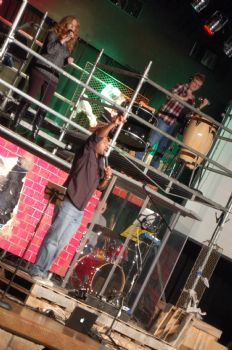 See? Upper right corner, shaking stuff

I hope you're making progress too, whatever it is you're doing. Slow and steady, right? I'll leave you with this pic Audrey took of the Noble, Killer Bulldog.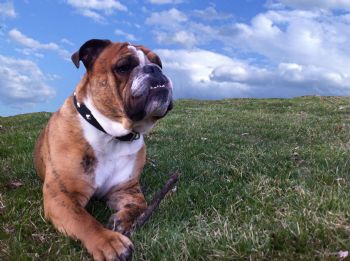 Spark ON, Brave Sparkers!
(Sorry for the quality of the video; it was just from my phone. And yes, I have a dashboard tripod, so it was all hands-free.)






Friday, March 21, 2014
Oops, missed a week blogging. Gotta get back on schedule! Finally got a chance to try something I've wanted to try, ever since the dreaded knee incident--Chair Hooping. Yes, folks, turns out it IS possible. Who knew? Doing whatever I can do, to keep my streak alive in a fun way, whether it's chair boxing, upper body strength training, or this--Chair Hooping.
PS: Bubba helped shoot this video. Please note his BubbaCam shots. lol
Hope you have a great weekend and get to do something fun.
hOOp dog on camera duty
Spark ON, Brave Sparkers!!
(In case you're curious, I'm sitting on a cajon, which is a percussion instrument. The music in the background is a Walk Off the Earth's cover of "Happy.")






Saturday, March 08, 2014
Howdy! Just popping in for a super quick update to my last blog. Saw the doc Thursday for MRI results and it was--



OPTION A!!

WOOOHOOOOO!!! Nothing was torn, broken, or ripped asunder. Just an exceptionally angry medial collateral ligament. I think this was one case where being short helped me. I hit the ground so fast, nothing had time to tear. What can I say, hobbits rule! I have to continue taking it somewhat easy, so seated exercises are probably gonna be the way to go for a while. Today will be Day 1063 of my exercise streak--from a chair!



Too bad I don't have a chair like this--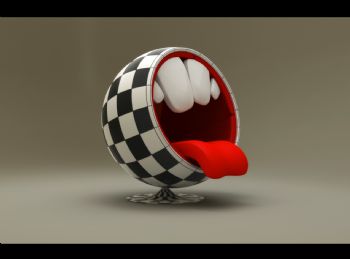 Or this...

I was so happy when the doc told me that news, I wanted to hug her. But it's a good thing I didn't, because I would've accidentally shared my ninja germs with her. That night, I was waylaid by a stomach bug that was almost a streak-killer in itself. Hoo boy, I think I've had enough undirected, unsolicited drama for a bit! But it's all good now. I'm playing it smart, still buddies with the ice pack and naproxyn. And guess what? I get to lose the crutches and wear this nifty, bionic brace! Check it out.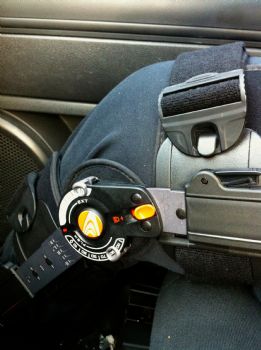 ROBO SHELLI--how cool is that?

I gotta get the hang of cinching it up, so it doesn't slip. But it's WAY better than crutches. And it makes it so I can drive so I'm happy about that. Randy would never say anything, but he had to be tired of Driving Ms. Daisy. So hey, a little hiccup in the journey, but wow--could've been so much worse. I'm a happy and relieved Sparker--from a chair!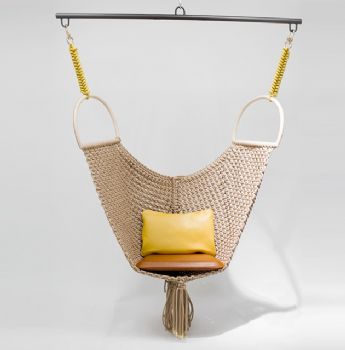 This one would be awesome.

Spark ON, Brave Sparkers!!







Friday, February 28, 2014
Know how life can sometimes hit you, out of left field? Well, sometimes that's not just a figure of speech…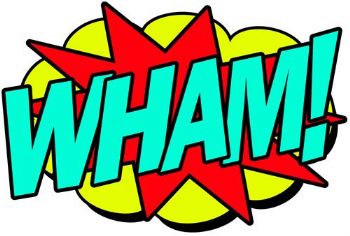 Out of left, (okay, really it was right) field

I like to call this incident "Death by Bulldog." Wednesday evening, Bubba and I took a 45-minute walk. It was great. The weather was brisk, but it was sunny. I had just enough time to squeeze in a walk, before I headed back to work. When we got back home, Bubba seemed like he still had a lot of energy, so I took him in the backyard and threw a stick for him. Man, oh man, that gets him going. He was tearing around the yard at bulldog rocket speed. You'd be surprised how fast this guy can RUN. I was having so much fun, watching him run. But, all of a sudden, he took a corner a little too sharp. I saw him out of the corner of my eye, but he was a blur, no time to move. He plowed, full-speed, into the side of my right knee and I went down to the ground—WHAM.

As I was falling and my knee was bending sideways, I thought, "This must be what it feels like to break your leg." Wham, bam, thank you ma'am. It was like getting hit by a very short, Mack truck. I had to dig my phone out of my pocket and call Audrey to come out and help me get up. I knew, right away, that my knee was über messed up. It was too late to get to the doc, so I went straight to bed, elevated it and iced it all night.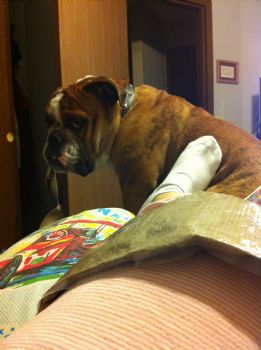 Not sure if I'm fooled by the guilty look on his face, since he kinda always looks like that.

I saw an orthopedic doc yesterday, for x-rays and stuff. Nothing broken, just bent. Woohoo! She gave me three options: A—a medial ligament thing that is exceptionally angry about being bent sideways. B—a whacked out meniscus. C—an ACL torn asunder. I told her I would like Option A, please and thank you. She said she'd be happy to comply, but I have to have an MRI first, to see. In the meantime, ice, elevation, rest (because I'm SO good at that), Naprosyn, and crutches. When I was a kid, I thought crutches looked like so much fun. I thought it'd be a ball to use them. At almost 47, I'm thinking I was a little off in that assumption. Randy made fun of me for watching a YouTube tutorial about walking with crutches, but hey, I needed to know. Even with the tutorial, I will not be entering any Crutches Relay Races anytime soon.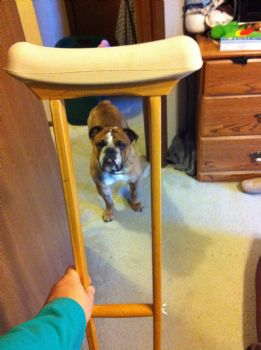 Bubba just wants to know why I won't take him for a walk.

I told Coach Nicole that I thought I would probably have to break my workout streak for this. I mean, I can't even hula hoop or do a slow walk on the elliptical. I was fine with that; it's totally legit. But she encouraged me to at least try one of her seated workouts first, and then see. So, last night, I modified one of the workouts, just doing the upper body stuff.



WHAM! Keeping the streak alive one more day.

So, I'm hoping and praying for Option A, following doctor's orders, and Sparking while seated. This can work. It's all good. Death by Bulldog could've been so much worse. And Audrey is responsible for taking the killer beast on his walks, for the time being.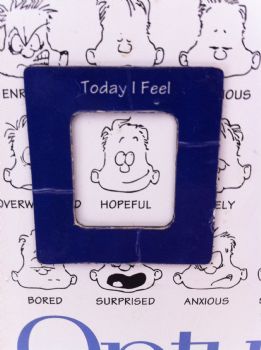 Magnet on my Fridge: I choose to remain wildly optimistic.

Spark ON, Brave Sparkers! (even if it's from a chair…)






Friday, February 21, 2014
Remember how I said I had always wanted a dog I could walk on a leash? Well, Bubba is definitely that dog!! He's used to me taking him for at least a 20-30 minute walk every day. Most days, I'm using that as additional exercise, on top of what I had already planned for the day. Pretty nifty way of working in some extra exercise. Bubba will help me keep the streak alive!
I wanted to share this tiny clip with you, just for fun. I was working yesterday and just about to leave my desk to pick Audrey up from school. Bubba decided he couldn't wait any longer and had to take a walk. That minute. This is his overly dramatic way of telling me. (We took him for a walk when Audrey came home, so all is well. He survived.)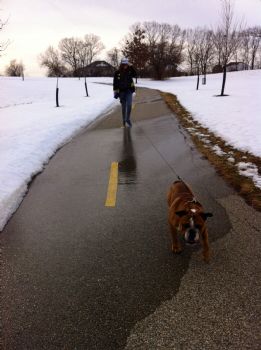 Audrey and Bubba, taking a walk in the park.
Hope the sun is shining where you are, or you're able to make a little of your own sunshine.
Spark ON, Brave Sparkers!



1 2 3 4 5 6 7 8 9 10 11 12 13 14 15 16 17 18 19 20 21 22 23 24 25 26 27 28 29 30 31 32 33 34 35 36 37 Last Page

Get An Email Alert Each Time MOSTMOM1 Posts