Tuesday, October 30, 2012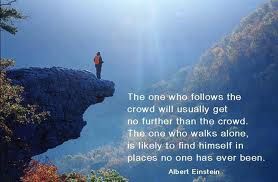 I have some very dear family & friends who are helping me along this weight loss journey. Some of them are on the same journey, but are very easily discouraged. I used to be that way, too. I am DETERMINED that this is the last time I'm going to lose this weight. It might take a long, long time, but that's ok -- slow is still progress.

I had a workout buddy who was going to the gym with me, but she became discouraged & quit. I had another friend who was doing the SP healthy eating plan with me & she also became discouraged & quit.

If you're following along with the crowd, you can only go so far. A lot of the crowd will become discouraged & quit. But don't you do it!!!! Hang in there!! Once good choice at a time, one foot in front of the other.

Sometimes, you have to go alone to be successful.

Blessings to you!!