Sunday, October 14, 2012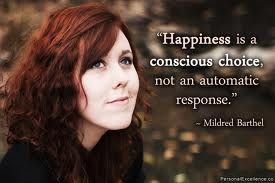 I don't have many bad days, thankfully, and it's been a long while since I've had one. Nobody wants to be around a grump, so I choose not to be one. Instead, I choose to be happy (most of the time).

That can be hard when everything around you is going wrong, but I want to be the one who cheers everyone up or smiles at the person who really needs a smile for the day. I want to be the cheerleader who lifts the spirits of a down-trodden person. I want to spread my happy.

I spent too many years being a grumpy Gus and looking back, I realize I didn't like it. Life is too short to be miserable. So instead, I paste that smile on my face, listen to some great music & try to get out of the funk that I may be in.

I choose my happy!!



Blessings to you!!