Tuesday, November 20, 2012


Why is it that we don't like change? I know for me, it's so easy to get into a "groove" (the nice word for "rut") & be comfortable or safe. Being comfortable is familiar. Being safe is familiar, but can you grow as a person when you're comfortable and safe? Hmmmm. I'm not so sure that I can. Maybe you can, but I cannot.

So that means I need to get out of my comfort zone a bit. Ouch! Change! Ouch!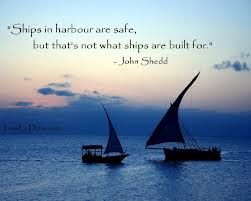 I am beginning to see that if I get out of my comfort zone & get into the unknown a little bit more, I am a better person. I can learn new things -- try new kinds of exercise that I've never tried before -- try new foods (healthier foods) that I've never tried before.

These kinds of changes are good changes! So as my outside is changing from my healthy habits, my insides are changing, too -- for the better.

Change doesn't have to be scary. Some changes are so good for us. Think of what you could become by implementing positive changes in your life.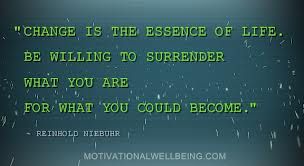 Contemplate these things as you continue on your journey. We are in this together, so even though we may not be comfortable getting out of our comfort zone, we can lean on one another for support as we do.

Blessings to you!!