Friday, April 19, 2013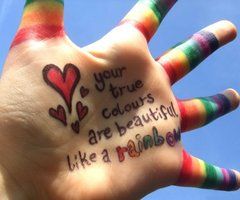 Your true colors are beautiful like a rainbow. (From the song, True Colors, by Cyndi Lauper).

When I was growing up, I had a wonderful youth leader at church who used to always say, "God don't make no junk!" ~ Anna M. ~ I've never really felt I was beautiful, but I've never really been all that down on myself except for my weight. Maybe it was because she said that to us so often & I really grew to believe it.

My sister sent me this video in my email this morning. It's just over 4 minutes long. If you have the time, please watch it.

www.youtube.com/watch?v=Ai4sTZFRNoU

If you can't watch it, I'll just give a brief explanation here. Dove (the soap company) hired a sketch artist to do sketches of women as they see themselves & then as others see them. He did these sketches from the comments alone -- without seeing the person he was sketching -- they were situated behind a screen. The women were very critical of themselves & their faces often looked misshapen, "pinched" and unhappy in the first sketch. Each of these women met one person who was also asked to describe her features to the sketch artist. This second sketch turned out to be so beautiful & was a true rendering of their features as the other person saw them. One woman cried when she saw the sketch the artist had done from the comments of the other person she had met.

We tend to be so critical of ourselves. We need to just stop it.

God don't make no junk.




Today, go look in the mirror & observe your features. I know you are beautiful & unique. There are no two of us exactly alike -- not even twins. Tell your image in the mirror that you are beautiful. Make note of what you like about your face.

For me, I have beautiful bright green eyes that light up when I smile or laugh. I have a cute little nose that fits so perfectly on my face. I have a crooked little smile that is just so adorable.

Please reply & tell me what you love about your face. I can't wait to hear from you!!

Blessings to you!!