| | |
| --- | --- |
| | NOREGRET2010's Recent Blog Entries |


Monday, September 05, 2011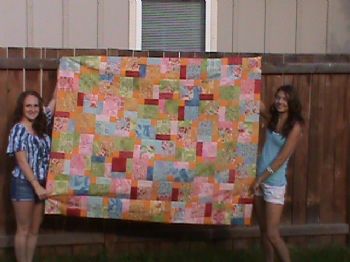 Yes, Terry55, I did stay in my jammies all day Saturday and quilt...and even part of Sunday! Finished this quilt top... now it will 'rest' while I find the border/backing fabric I want. :)

it's been good. I've taken a nice long nap both days...today I sorta have to hustle tho. Not bad, but..yeah. Laundry, chores, stuff.

Enjoy your Monday off, for those who get it!




Friday, September 02, 2011
In fact, I commit to everything!

that's the problem. Too much "I can do that!" lead to a week that was so chock full this a.m. I got up exhausted and crabby. With Jodie visiting her family in Louisiana - the running of the house, multiple appointments for my son, things that HAD to get done on top of my usual crazy schedule of work and dance and I've way over done it this week.

Again. Someday, I think I'll learn. Maybe. Possibly.

So I have made sure to keep tomorrow as clear as possible...I have a cupcake order due which will only take me about an hour tomorrow morning...then I'm quilting. All day. I may not even get out of my pjs all day! If I feel like it, I'll do some dance, but I'm not scheduling it or feeling guilty about it either.

Tomorrow will be a Real. Day. Off.

I've heard of those....let's see if I can pull it off!





Wednesday, August 31, 2011
That title there? That is me trying to convince myself that I'm thrilled it's "Wednesday already!" as opposed to "crap, it's only Wednesday?" which is how I really feel, LOL.

School doesn't begin here for another week...and yet I'm already putting on my armour and butt-kickin' gear to deal with the school district and my son. Last year, a process I was told would take 60 days took closer to five months...and the last chapter of the school year was to hear, "oh, I guess we didn't quite do everything correctly...so we'll have to see about getting Mike into the therapeutic day school in August when we return". Now, the last week of August, they tell me "um, gee, guess there is a big process we have to go through...and they aren't really taking anyone new right now...and um, how about we just go with a half day at regular high school?"

Last year, I tried to trust them when they said X, Y and Z was going to get done. When the ball was dropped repeatedly, I learned that if I don't keep gentle steady pressure, NOTHING will happen. Period. Nothing. So, of course the meetings they told me would happen 2 weeks ago never happened, and school starts next week and they have no plan whatsoever in deaing with my kid. My kid who can NOT at this point be successful just thrown into regular classes.

So, the lessons in how to advocate for my special needs kid continue. The biggest one has been learned: Do not assume or trust that they will do what they say they will. These are not horrible, awful people. Not at all. They are people who are overwhelmed, underappreciated, etc. It is simply a lesson from the Universe for me to speak up, to keep bringing Mike to the front of the to-do list for them, etc.

Not a run day, so I'm going to do a bellydance boot camp style "warm up" - focuses on strength with pilates, good old fashioned crunches and push ups (UGH HATE THE FREAKING PUSHUPS!) and stretching.

Woo hoo it's Wednesday ! whoop whoop!





Tuesday, August 30, 2011
Got that first run in this a.m....I took it easy, stretched well after, and I'm glad it's done. Now I can go back to building my strength, time, and distance. Back at week 1 of C25K until I feel .... ready to move to week 2, LOL. Nice that it can be repeated ad nauseum until I'm ready!

Food is okay, not perfect....but the likelihood of my attaining perfection any time soon is pretty small - so I'll take "okay".

Slowly working on "me" time. Definitely working on rest - not cramming every minute of my day full is a habit.

A surprisingly hard habit to break, at that.







Monday, August 29, 2011
August is almost gone! Frankly, I'm ready. Ready for change, ready for something different!

I've begun work on my Radical Self-Care Manifesto....I've done some brainstorming and come up with three areas of self-care: Health, Balance, and Responsibility.

The last one is sort of funny, because the whole point of the project is to stop being so responsible to everything BUT me...this part of the project, responsibility ... is about responsibility to ME for things that make my life better.

I won't go on about everything, but some things I want to do for me, for FUN, for GROWTH, for a happy, VIBRANT, full life, include:
* Build a team and participate in Portland to Coast, a 130 mile relay walk
* Portland Marathon in 2014 - the year I turn 50. Walking it or walk/run is fine with me.
* Go to Disneyland
* Make quilts - and keep some of them!
* See a movie a month
* Orderly, well-maintained car...to take me where I wanna go!
* Savings

My life has grown into a hectic mess...and I'm the one who did it! I'm so overwhelmed I frequently forget things, and then I feel I must be responsible to others instead of myself. This has, like weight gain, taken me a long time to arrive at this point. It will take a long time and work to get to a place of balance and vibrancy.

But I'm going to!

Tomorrow is my first day back to walk/run since my back went out, I'm sort of looking fwd to it, sort of dreading it.

On to Monday folks!



First Page
1
2
3
4
5
6
7
8
9
10
11
12
13
14
15
16
17
18
19
20
21
22
23
24
25
26
27
28
29
30
31
32
33
34
35
36
37
38
39
40
41 42 43 44 45 46 47 48 49 50 51 52 53 54 55 56 57 58 59 60 61 62 63 64 65 66 67 68 69 70 71 72 73 74 75 76 77 78 79 80 81 82 83 84 85 86 87 88 89 90 91 92 93 94 95 96 97 98 99 100 101 102 103 104 105 106 107 108 109 110 111 112 113 114 115 116 117 118 119 120 121 122 123 Last Page

Get An Email Alert Each Time NOREGRET2010 Posts