| | |
| --- | --- |
| | ON2VICTORY's Recent Blog Entries |


Monday, June 30, 2014
This weekend was a proud moment for me as a coach. To give you a little background, I have been coaching a woman at my gym and encouraging her to finish her first 5k. We started a few months ago.. See blog here for details
www.sparkpeople.com/mypage_public_jo
urnal_individual.asp?blog_id=5683999

This Saturday, I had the privilege of running her first 5k with her. As many of you know, I also started a running club as well. Here are some photos from that great day.



There was a conspiracy among the ladies of the running group to try to get me to wear a Tu-Tu for the event... ummmm nope! It was all in good fun but a guy still has his pride... but they did make garters for me and another guy in the group so he wore his on his arm but I went the extra mile and wore it like a headband.



While I'm more of a traditionalist when it comes to running, it's events like this that really makes it fun and I can be a total nut and get away with it :)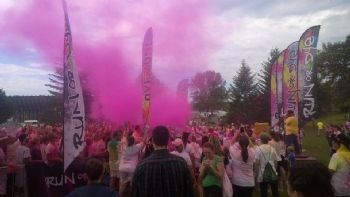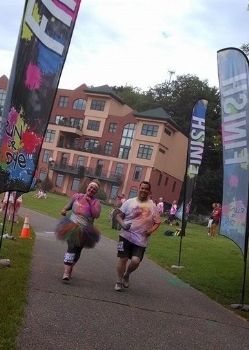 Running group shot at the end



Adding her 5k sticker to her car :)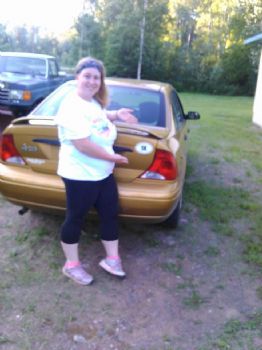 She worked really hard to finish this event and I am so proud of her


The next day, I had a triathlon so it made for a really busy day.. I was on the go, go, go.

here are some photos from my big day as well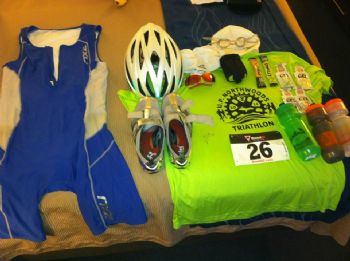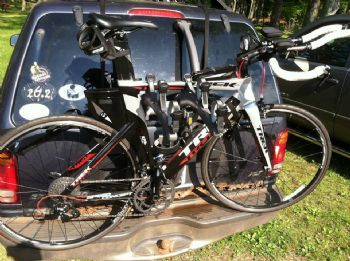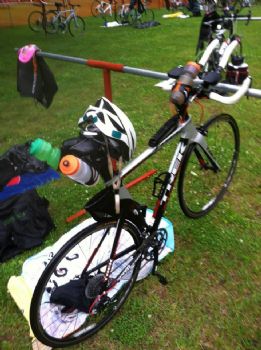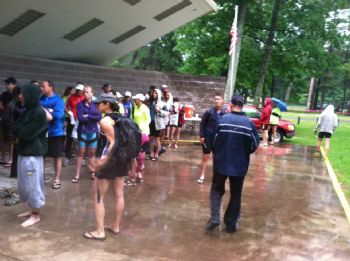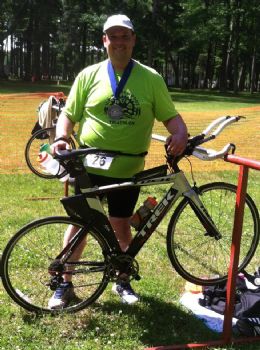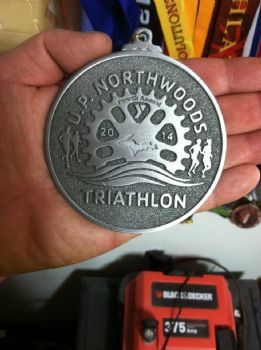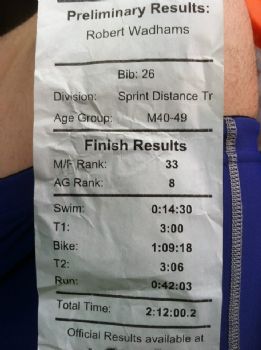 I really haven't had the time to sit down and blog like I normally do and I miss everyone here. You folks are important to me and I don't mean to drop off the map like I have. Big hugs for everyone.


Let's be friends on Facebook
www.facebook.com/#!/robert.wadhams.7






Monday, June 16, 2014


I got quite the surprise in my lunch today. I am on midnight shift this week and predictably, I felt myself starting to sink into a slump. It happens every time I rotate to night shift. The feelings of isolation and sleep deprivation all begin to take their toll and it can be quite overwhelming. When I was getting ready for my second 12hr shift, I found a note from my oldest daughter. It wasn't fancy, just a simple note telling me how much she loved and appreciated me and how she wanted to take me out for dinner once I get off nights. She even bought me a Subway with her own money.

It is amazing how something so simple can turn things around for a guy. I can't remember the last time I have gotten a simple note of appreciation in my lunch. I wrapped it up and stuck it in my pocket so when I start feeling down, I can pull it out and read it all over again.

I don't talk much about what I do here on Spark because I try to be upbeat and fitness oriented in my posts. After bouncing around doing various jobs I finally got one of the best jobs in the area. It's union, pays very well, and my family no longer goes without. Unfortunately, that kind of freedom also comes with a price tag. I have given up a normal life in order to provide. Life as a miner is filled with good times for sure but it is also filled with mud, mosquitoes, -30 windchills, grease, high voltage, heights, depths, and hazards that will send you home in a body bag if you are careless. Then there are the missed life-moments. Lots of them. There isn't a price that can match missed birthdays, parties, and moments with friends.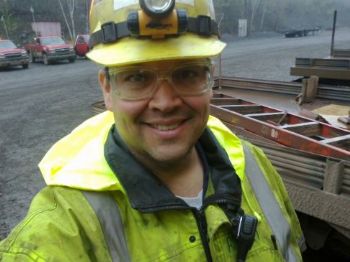 I listen to the stories of what happened at various events, eat leftovers, and fight pangs of jealousy as I read the Facebook posts of people with normal lives as they talk about the things they are doing on the weekend.... As I read them at 3am sitting in a truck waiting for a call out. Weekend? What's that?

While not wanting to be sour grapes, that does accurately describe a big chunk of my life.

Then I look at what my personal sacrifices bring for my family and I realize that it's worth it. I'm human and can fall prey to feeling sorry for myself, then I get a note like that and it makes it all better.

I work hard, I sacrifice, I press on, and I never give up because I am a dad.

I wouldn't have it any other way.

Love is strong.





Wednesday, June 11, 2014
I have been really, really busy over the last month so here is a quick summary before I go to night shift...

1) What started out as a local idea for a running club at the Anytime Fitness I go to, has now gone area wide spanning 2 counties. We are coordinating group runs and are planning a group trip to the Whistlestop race in Ashland Wisconsin in October. There is a full and half marathon as well as a 5 & 10K race so there is something for everyone in our group.

2) I completed my Coaching Fundamentals course and am now entry level certified through USATF.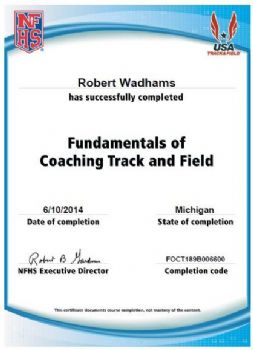 I've been hard at work and it is now beginning to show .. here is a link to my fitness credentials so far..
drive.google.com/folderview?id=0B4BR
L_6LVeYZeUliS25Xbm5tSFE&usp=sharing

3) I got my online coaching business up and running and am working on doing recorded webinars..
victorylifestyleconsulting.blogspot.
com/

4) Currently working on writing a book... BIG PROJECT... (head explodes)

5) I am also currently training for:

-Teal Lake Swim (Benefit for diabetes research) 2.25 miles open water (finished last year in 1hr 41 minutes)
-UP Northwoods Triathlon
- Whistlestop Half Marathon

6) The Run Or Dye 5k is rapidly approaching and there is a conspiracy in the running group to get me totally color plastered as well as to try to get me to wear a TU TU!! ... ummmm NOPE ;)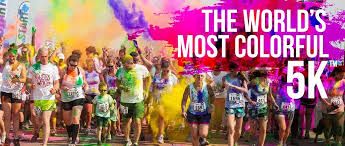 Last but not least.... Big moments this week as a daddy.. my youngest is now on her way to high school and my oldest just graduated high school...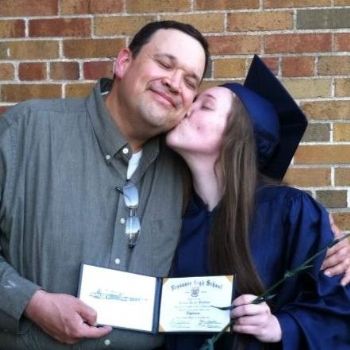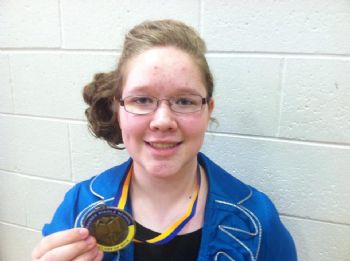 and yes, even the kitty is a little smarter... with honors in napping, chair selection, scratch post fundamentals, and mooching.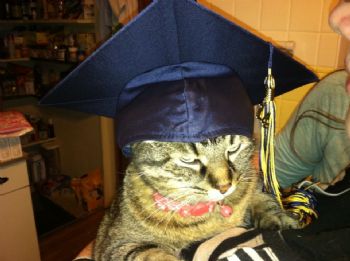 Friend Me On Facebook :)

www.facebook.com/#!/robert.wadhams.7








Thursday, May 15, 2014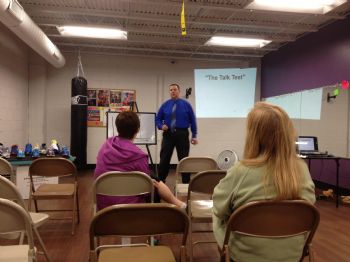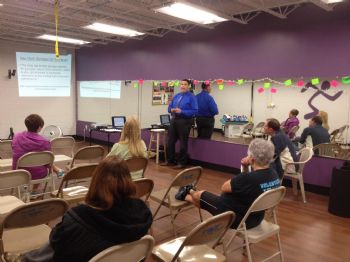 We had a small group for our initial couch to 5k kickoff and it went really well. This has been a long time in coming, everything that has gone into turning this idea from a mere day dream to a physical reality has been worth it. It often takes far more energy to get something off the ground than it does to keep it going and this is no different.

The presentation covered the following:
-My story and background
- Why train for a 5k?
- Introduction to run/walk training
-The science behind the effectiveness of run / walk training
- Basic periodization and it's importance
- The fitness progression
- Avoiding over training and the top 4 running injuries
- The importance of proper running shoe fit and selection.

When I get off night shift, I'll put some of this into a blog for our beginning runners out there.

Today I did an eval on one of my c25k clients to determine her run/walk interval and her best training pace for aerobic base training and best recovery between sessions. We discovered during the process how much better she felt at a training interval that was best suited for her current conditioning and she told me later how she was always sore and her knees hurt before because she was training at a pace that everyone else was doing and not what was best for her...

#WIN

Next week I'm meeting with other clients to get their pace and schedules set up and the. Next Saturday is our first group run :)

It's kinda hard to fathom how fast things have progressed toward my goal of starting a running group and coaching/training clients. What started off as ... Wouldn't it be cool if I did... Became reality because of consistent dedication and small steps that leaned toward what I ultimately wanted to do.

I love being a trainer.


Friend Me On Facebook :)

www.facebook.com/#!/robert.wadhams.7








Friday, May 09, 2014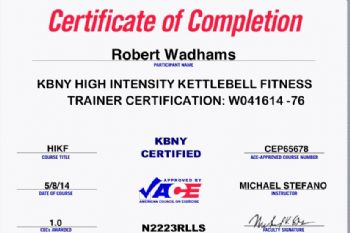 Up on the wall with my running coach and weight management certifications :)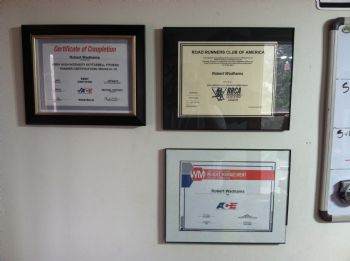 Just a quick note for my SP friends that I finished my Kettlebell certification. I finished my goal way ahead of schedule which leaves me time this year for the big push to finish my CPT. While I'm not ready to start training clients one on one, this puts me in a good position. I first want to get the couch to 5k program off the ground (kick off presentation is on the 12th) and I need to develop training programs for 3 clients that I will be training one on one for upcoming endurance events.

After they get underway, I am going to be putting a basic intro to kettlebells program that will guide the novice through safely executing basic lifts such as the 1 and 2 handed swing, the clean, press, push press, dead lifts and go let squats, then on to the half and full snatch and jerks.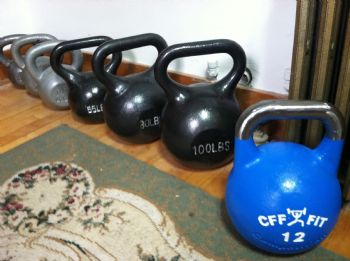 Got big goals this year. If I can get my CPT out of the way, I really want to get my ACE Health Coach. What I really want to do ultimately is design an exercise program centered on motivation and weight loss that incorporates effective one on one training, education, and accountability. The whole purpose is to get people through the rough patches of the first year of lifestyle change.

Friend Me On Facebook :)

www.facebook.com/#!/robert.wadhams.7




1 2 3 4 5 6 7 8 9 10 11 12 13 14 15 16 17 18 19 20 21 22 23 24 25 26 27 28 29 30 31 32 33 34 35 36 37 38 39 40 41 42 43 44 45 46 47 48 49 50 51 52 53 54 55 56 57 58 59 60 61 62 63 64 65 66 67 68 69 70 71 Last Page

Get An Email Alert Each Time ON2VICTORY Posts