| | |
| --- | --- |
| | ONEKIDSMOM's Recent Blog Entries |


Monday, September 29, 2014
Photo credits to SPINNINGJW. The finish line photos - they are on the front page, too.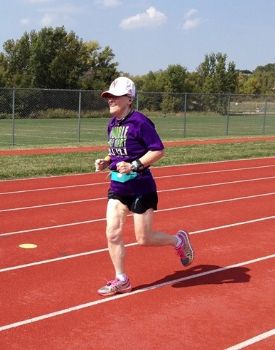 Me - look at that grin. And look at those muscles in the legs "at work". Kinda gross, but proud of those old legs, anyway.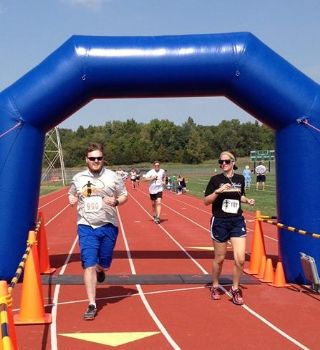 The mythical son - working to get back in shape, after "letting himself go" on return from a place where "edible calories were not guaranteed". I think he looks like an Irish poet, seriously... but he doesn't have the accent for it.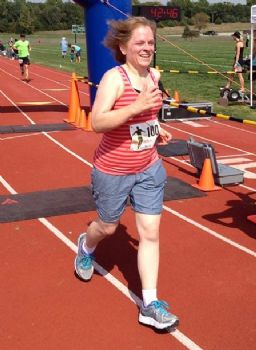 Saving our super-star for last, here's ALICIA363 with the finish line grin of her very first 5K event. I could NOT be prouder. She pointed out this was the same shirt she was wearing when she came through the chute with me at my first Olympic Triathlon last June. Doesn't she look great?

I think the first "finish line" blog I posted here on spark had a title something on the order of "I hate finish lines". I have since come to respect the process a little more. I like to think I am LEARNING about what is needed after crossing one. I still recognize them as holding some personal danger: some "what now?" thoughts are attached to each one of them.

Every finish line is an invitation to a transition. We all need something to strive for. The NEXT finish line. But we also need some time to adjust to the fact something about US has changed!

Yesterday, I bested my pre-40 year old time in a 5K. I'm still adjusting to that reality.

Yesterday, Alicia crossed her first 5K finish line. And she'll have some adjusting to do to THAT reality.

Yesterday, my son finished a 5K in under 30 minutes. This is NOT his distance, but he did very well. He critiques his finish line photo by saying he looks fat. Sigh - and we thought it was just us women. Well, yeah, he still has some work to do before he does the challenge races with his battle buddies next year, and running yesterday was a stake in the ground toward that goal. He has to adjust to where he is at this point in his life, too.

Whatever finish line you have recently crossed, may you have a smooth adjustment to the reality, and a smooth transition to the next phase. Because life doesn't stop at the finish line.

LIFE is good. It's better when I'm fit. It is at its best when kindred spirits model and guide us as our journeys touch. Creatively, consistently, and consciously making choices that support the journey, I remain GRATEFUL for each and every day.








Sunday, September 28, 2014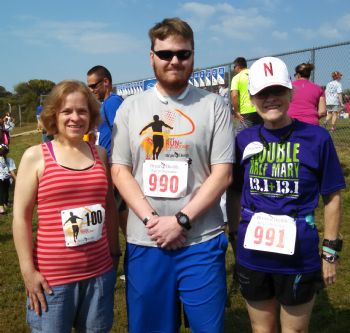 Here we all are before the start of the event. Big smiles, hide under hats and sunglasses. Put on the sunscreen. Walk around to warm up.

I'm sure you're going to hear this race from three perspectives... ALICIA363, as her first 5K. SPINNINGJW as photographer and spectator (she has the finish line photos, you'll have to wait for her blog for those)... and of course mine, because I kind of ... um... can't shut up about this stuff, it makes me so bubbly.

You've heard before that this Run to Overcome is all about mental health support, and suicide prevention. Alicia was spurred to do this run because of Robin Williams' passing. My son, well, as he put it, this is kind of his wheelhouse, having been an Army reserve mental health specialist working suicide prevention. He was running for Glen Gildersleeve, a fellow mental health specialist who took his own life, post deployment, among others. And me? Knowing that today is Gold Star Mothers' Day... I was also running for all the moms who have lost children in the military!

Usual happy pumped up music, live band at the start, which was on a local high school track/football field. The kids did the 1 mile fun run first, and we observed them... including a couple of kids that ran that mile in 4:17 and 4:22, giving one another quite the race. Impressive, as Darth Vader would have it.

A while later Alicia and I warmed up by walking up and down the length of the football field. We stretched. Then we joined the crowd at the starting line, hunting for a spot that would be "near" those that might be targeting similar pace rates.

Yet, as always happens, when we started, it was heavy traffic, as there were walkers ahead of runners, and we were not well self-sorted. Around the track we went, weaving through traffic. Son and I were pacing one another until we left the track and were in the parking lot... then he pulled ahead. I just tried to keep him in sight.

He never got further than about half a city block ahead of me, never out of sight, and somewhere close to mile one, I caught up to him. I asked him was he slowing down for me, and he responded, no, he was slowing down for himself. We ran the second mile together until about 1.97 miles, at which point, he had to stop to walk as his foot fell asleep. I kept on, all the way to the finish. I did not take walk breaks other than walking through the water station. It felt like a short race to me. Back in the stadium, a really good runner (probably one of the 10K runners) sped by me in the final straightaway, and I sprinted for the finish line, trying to catch him.

In the end? I crossed the finish line first of the three of us. My son crossed about two minutes later (he only walked long enough to work out the foot issue). And Alicia came in according to doing her own race, run/walk intervals. When the official times came up, I was extremely gratified. This was a PR for me. I finished this 5K in 27:25, which bests my previous PR from Canton, PA in 1992, before I turned 40! Since I don't have my written record, I'm relying on the time burned into my memory from that day - 27:29. So I bested it by all of 4 seconds.

That prior PR, I was racing at about 25 pounds heavier than I am now, and 22 years younger. Needless to say, the competitor within (the one who competes with MYSELF) is very, very pleased.

My pacing him along pushed my son to a sub-30 minute 5K. 29:44. Ace finished her very first 5K with a very respectable time of 33:38. See? I TOLD her 32 minutes was possible for her. The real mystery now is whether she will challenge herself to prove that she CAN. Stay tuned to HER blog to find out where she goes from here.








Sunday, September 28, 2014
When I signed up for this race today, it was in support of ALICIA363 and her first 5K outing. It lands between two larger efforts on my calendar, the Last Blast Triathlon, completed two weeks ago, and the Governor's cup, three weeks in the future. I've also tucked in a Harvest Bash Bike ride two weeks from yesterday.

But a funny thing happened in the days leading up to this one. For one thing, I got a phone call from my son, and he mentioned two things: his target time, and that he'd only done a 2.4 mile run at most in his training so far. He's a former Army dude. He runs what they run for the APFT... 2 miles. Never been a fan of longer distances. Took up his mother's challenge that she could run farther than he could when he got back from the mountainous territory where he'd been deployed and that time he had to slow to a walk at 7 miles. Mom could have gone longer that day.

But today, it will be "just a 5K"... 3.1 miles. Longer than he's used to, shorter than I'm used to. The target time he gave me? 32 minutes. That's 10 minute miles. Not that much faster than I've done my fastest half marathon. Slower than my Buffalo run pace even this month... and that was a 5 mile race.

So... the inner competitor in me came out. But I'd thought I was going to be going at Ace's pace. Still... I want to push the kid. I think he can go faster than that. Having a mom to push him might just do the trick. Ace and I went down to packet pickup together Friday after work. I mentioned this competitor streak in myself, and wanting to "beat my son". She was immediately on board. She's into this "never too old" thing, having just passed her half century mark (she's a good deal younger than I). (And she says she's not a runner... HAH!)

So I emailed my son, told him I have his packet, and that I'd been released from my bond to stay with her... it's on. Mom is racing today. And then I kind of fell apart with my eating and attitude all day Saturday. Don't think I got 2000 steps in, and I made up for it with extra eating. Self-sabotage? Giving myself excuses in advance if I *don't* best the kid? Maaaaybe? Whatever... slept well. And in about 5 hours now... it's on. And whoever crosses first or last... we'll celebrate at the finish line.








LIFE is good. It's better when I'm fit. It's at its best when points on the journey touch with the journeys of kindred spirits. Creatively, consciously, and consistently (remember, not perfectly) making choices that support a healthy lifestyle, I remain GRATEFUL, for each and every day.






Friday, September 26, 2014
I wrote in my status that I had pretty much blogged my blog in my response to my sister ALICIA363's blog this morning. She titled it "Dreams of Quitting"

www.sparkpeople.com/mypage_public_jo
urnal_individual.asp?blog_id=5787019

When I first read it, at bedtime last night, I did not immediately respond because it took me on a reverie back to when I did my very first 5K... which was in 1991. It was at Hickories Park in Owego, New York. A couple of my work buddies had encouraged my efforts at running, and they talked me into signing up for this one.

One of the fellows was doing the 5K, only he was a speed demon, compared to me. The other was a little older than us, and he was a regular runner, doing the related 10K, twice as far.

It was a BIG deal, this wearing a number on my front, and having an official time. It was old school, before things like bib-tags and timing mats. Instead, there was this little strip at the bottom of the bib that would be torn off was you ran through the finish chute. There was only ONE clock, and it was the stop watch at the finish line. You didn't get your official results until they processed through them all. Somebody was writing down the times as you came across. Somebody else was collecting the tabs from the bibs in order. Then clerical work was finished and results put up.

Nowadays the bib tags are read by the timing mats and you get individualized results based on when YOU started and finished, not when the gun went off. Somewhere in the archaeological dig that is my house there is an old runner's log where I have recorded my times from that season of running that got me hooked. But I could not lay my hands on it right now. It will take a major house-cleaning to find it!

The point was, new runners give experienced runners echoes of ourselves in the day before we became runners. Before we accepted ourselves as runners. Which is why seeing someone do their FIRST 5K, or 10K or any event where numbers are worn is so exciting... like seeing young children at play... it rejuvenates us.

Before I became a runner, I said "I could never..." about a lot of things that I have since done. I look forward to seeing the before/after in my sister, and in every "new" runner. Because once you become a runner... you will never NOT be a runner again.

You may stop running. You may never enter another race. But from this day forward, you are a runner.

Resistance is futile. You have been assimilated!



LIFE is good. It is better when I'm fit. It's at its very top when celebrating moments with kindred spirits. Creatively, consciously and consistently making choices to support a lifetime of fitness, I remain GRATEFUL for each and every day!








Thursday, September 25, 2014
Tuesday after work I ran about 3.4 miles, easy. It was cool and cloudy, and it felt good. That old "Pioneer woman against the elements" that I sometimes get in the Winter, battling snow... echoed in my head... just a bit. The seasons are turning.

I told myself I was running for my lunchtime friend... because she had been among my running mentors, and isn't currently running due to issues with body parts that don't approve. At lunch she had uttered, "I miss running." So this easy run? Was for her. I know she lurks and checks my blog, so now she knows.

Yesterday evening, it was strength training time. Like the last time I picked up the weights, this one wasn't a lot, it was at home with my ball, my dumbbells, and my body weight... just basics: pushups, crunches, squats, tricep extentions, and side bends. But I did it. Keeping that promise to "do something" is huge on the motivational front.

In the mail yesterday: my new USAT (USA Triathlon) membership cards arrived, good for another year. Now I have to find my 2015 target TRI's. Because this card says I'm a triathlete.



The Prisoner is now done with his antibiotics and has been released from house arrest. He stayed out overnight last night, and after coming in for breakfast, wanted out again... so he's back to full cat status.

LIFE is good. It's better when I'm fit. It is at its best when my journey touches those of kindred spirits along the way. Creatively, consistently, and consciously making choices that support a healthy lifestyle, I remain GRATEFUL for each and every day.

Namaste.





1 2 3 4 5 6 7 8 9 10 11 12 13 14 15 16 17 18 19 20 21 22 23 24 25 26 27 28 29 30 31 32 33 34 35 36 37 38 39 40 41 42 43 44 45 46 47 48 49 50 51 52 53 54 55 56 57 58 59 60 61 62 63 64 65 66 67 68 69 70 71 72 73 74 75 76 77 78 79 80 81 82 83 84 85 86 87 88 89 90 91 92 93 94 95 96 97 98 99 100 101 102 103 104 105 106 107 108 109 110 111 112 113 114 115 116 117 118 119 120 121 122 123 124 125 126 127 128 129 130 131 132 133 134 135 136 137 138 139 140 141 142 143 144 145 146 147 148 149 150 151 152 153 154 155 156 157 158 159 160 161 162 163 164 165 166 167 168 169 170 171 172 173 174 175 176 177 178 179 180 181 182 183 184 185 186 187 188 189 190 191 192 193 194 195 196 197 198 199 200 201 202 203 204 205 206 207 208 209 210 211 212 213 214 215 216 217 218 219 220 221 222 223 224 225 226 227 228 229 230 231 232 233 234 235 236 237 238 239 240 241 242 243 244 245 246 247 248 249 250 251 252 253 254 255 256 257 258 259 260 261 262 263 264 265 266 267 268 269 270 271 272 273 274 275 276 277 278 279 280 281 282 283 284 285 286 287 288 289 290 291 292 293 294 295 296 297 298 299 300 301 302 303 304 305 306 307 308 309 310 311 312 313 314 315 316 317 318 319 320 321 322 323 324 325 326 327 328 329 330 331 332 Last Page

Get An Email Alert Each Time ONEKIDSMOM Posts