| | |
| --- | --- |
| | ONEKIDSMOM's Recent Blog Entries |


Wednesday, September 17, 2014
Yesterday I was scheduled to go to lunch with a friend who had retired from my workplace over a year ago. We made these plans a couple of months ago. As I was packing my lunch/snack bag, I pondered over whether to pack a salad and entrée for lunch "just in case"... but opted not to. I downsized a couple of the snacks to give me more wiggle room in the calorie count for lunch, too. This friend is very reliable, even though not a "phone each other at home" level of interaction... we're both introverted, and e-mailing one another on my work e-mail is more our style.

Anyway, midway through the morning, I got an e-mail from her that something had come up, and next week would work better for her. As it turns out, at that point with the usual "you took a day off" catch up, my reaction was "no problem, it will really work better for my day today, too." We rescheduled for next week, and I'm really looking forward to it. It's Sparking in person when you meet supportive friends!

That, however, left me with no packed lunch, and in need of a plan B. Plan B turned out to be a walk outdoors to a nearby Subway sandwich place. And my six inch turkey on wheat? Tasted oh, so good, and fit right in with my calorie and nutrient range needs. I even added the provolone cheese to it, because one of my snacks would normally have cheese and that's the bit I downsized on that snack.

Ended the day satisfied and in range... and with a little sunshine therapy. It was a gorgeous day. After work I had an early bedtime after Big Brother (yes, the Summertime obsession)... and got up bright and early this morning, ready to have another good day!

LIFE is good. It's better when I'm fit. And it is at its best when my own journey touches that of kindred spirits at points along the way. Creatively (see, always have a plan B), consciously, and consistently making choices that support an active lifestyle, I remain GRATEFUL for each, and every day.

Namaste, my friends.






Tuesday, September 16, 2014
I took yesterday as vacation. I scheduled it well in advance, because I know that after a big event, I need to pay particular attention to my recovery, both mental and physical.

On the mental side it is a day to assimilate the event into my identity. I am now a woman who has completed two Olympic distance triathlons. Before Sunday, I was not.

On the mental side, I need to go back over my memories of the race day, and re-assess without the rush of adrenaline and endorphins. I need to savor the good things and learn from the bad ones. By the way, SPINNINGJW did find time after her work day to share her photos, and that helps, too. I here present the swim exit - my left leg is the one that cramped, and you can see I'm a bit shaky getting my land legs back: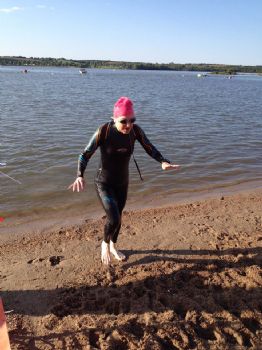 Twelve and a half minutes later, she captured me starting out on the bike. I'm not feeling terribly confident at this point, well aware of my relative position in the group. I did not clip in until I turned the first corner, then clipped only on the right side for a while. Added the left leg clip out on the main loop. Unclipped the left as I was getting done with the second big loop, unclipped the right not too long after, and was "mashing" (i.e. riding unclipped) for the traffic laden ride in to transition (about 2 miles worth).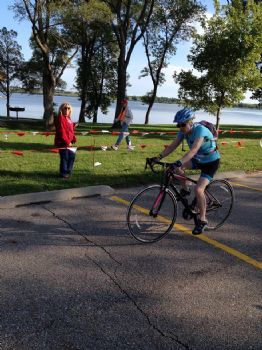 Jen caught me at the run start, too, and I kind of like this photo. It captures how the sun is now out... love the way the light plays in this photo. The run did not have me feeling cold (I was chilly for the first loop of the bike). By now things are looking up in my head.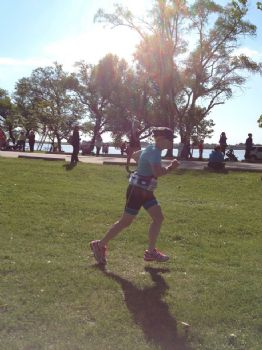 The finish line shot is on my Spark Page, and several of you have already commented on it... thank you. I'm kind of proud of that time. Not bad for "A little old lady in training".



On the physical side, I need to remember to get up and move around gently. I took two walks outside, short and slow. The furnace guy came and pronounced that it needs a part, so when the part gets in I'll have to schedule its installation. I ran errands... to the grocery store... got my eyes checked... made an appointment for my annual physical check up. In short, I am returning to the normal routine.

Today, I'm heading back to work. The gentle walks yesterday did what they needed to do... I'm not as stiff today as I was yesterday. I can feel the physical recovery. I'll feed my soul at lunch today with a former co-worker who is now retired.

LIFE is good. It is better when I'm fit. It is at its best in those moments when my journey touches those of kindred spirits. Creatively, consciously, and consistently making choices to support this CHOSEN lifestyle, I remain GRATEFUL for each and every day!

Namaste, my friends!






Monday, September 15, 2014
The splits from yesterday's Oly triathlon are now in, and I'll mix them in with a few random thoughts about the experience.

Time: 4:05:04
Overall Place: 100 of 105 - so there were five people behind me... it was 3 runners I passed, confirmed.

Place in Gender: 29 of 34 - and they were all women, ranging in age from 19 to 37.

Place in Division F6064: 1 of 1 - we knew this already. On the way back to the car, I was chatting with some others, including a gal that looked like she might belong in the "senior" age groups, and fairly fit... and suggested she might want to do one sometime. I shared my dedication with her, when she said I was braver than she... because I'm not all that brave... I just have reasons to do this!

Swim: 53:06 Rate: 3:15 Place: 105 - of the 150 participants, only 106 were in the Olympic race, the remainder being in the Super sprint. I was dead last exiting the water, but my support crew tells me one guy panicked in the water early on, and they pulled him out.

Trn1: 12:22 - I needed this time. I think it was a good thing that the wetsuit was so stubborn coming off. My body needed to adjust to being on land, I needed the nutrition I took on. The deal about transition is that it is to prepare for your next sport. It is worth whatever time it takes to go out PREPARED for the next leg. I am grateful for how yesterday went. It held lessons in it that I needed to learn (or re-learn).

Bike: 1:50:37 Rate: 14.4 Place: 93 - You can see me making up time on the bike. I was 93rd fastest on the bike leg. While I was cold, I was also battling discouragement because I was being passed by people who were 13 miles ahead of me, on their second loop already as I started my first! It wasn't like the little CSG race where I knew the course, and it was short, and three loops... where you didn't really know how far ahead the folks who were lapping you were, and you could imagine that some of those you were passing were on your loop and you were making progress.

It truly is hard to come back from leaving the water last. When I passed that first biker on the back side of the second loop... no, even when I had her in sight as I started the second loop... I felt better. I wasn't THAT far behind. I would be OK.

The tail end of the bike, when I was going through running traffic on my way back to transition was particularly encouraging, as there were people I knew out on the run... my open water swim training buds... and they all had kind words for me as I passed (and I for them).

Awesome, awesome thing, the TRI community! We compete, yes... but with ourselves. This was Angie's first Olympic distance TRI. She did great (finished third in her AG, 35-39, young mom of two, in a bit more than an hour less than my time 3:04:27). So proud of this gal! Ken finished in 3:12:31, and was 11th in his AG of Men 35 - 39. His goal was to not panic in the water and have a better swim time... which he achieved. Proud of him, too, as he's had back issues to deal with. See? We all have our personal inner battles! Apparently joining TNT (Team Nebraska Triathlon) and meeting some of these folks has led to becoming better known among others who participate... I heard my name called by THEIR support teams, too! And we did NOT have names on our bibs this race.

Trn2: 4:29 - T2 is usually faster than T1... you're just changing shoes and headgear.

Run : 1:04:33 Pace: 10:24 Place: 83 - My strongest sport of the three, I improved my pace here over my race in Wisconsin by nearly five minutes. Which is good... I have more running training ahead of me, to get up to HM distance by November 9th. And stay there over the Winter.

This morning? I'm a little stiff. Moving slowly, but moving. I already had scheduled it as a vacation day, knowing I need a recovery day, both physically and mentally after an event like yesterday's.

LIFE is good. It's better when I'm fit. It is at its best when my journey touches those of kindred spirits at points along the way. Creatively, consistently, and consciously making choices that support the long term change in my lifestyle, I remain GRATEFUL for each and every day!



Namaste.





Sunday, September 14, 2014
The online splits are not yet available. The photos are sitting in SPINNINGJW's phone while she's sitting with car trouble getting repaired... ouch! But the race is in the bag. I'll do the word story here... but warning to those of you who are used to having me all bubbly and happy after a race... I'm going to let you in on something a little different this time: not all races are the block party, full day of joy that I normally experience.

This one was the other kind. Yesterday afternoon I had trouble controlling my eating... I justified it as "carb loading" but it probably was not the best idea.

This morning, on the good news front, my furnace had actually worked overnight (it refused to start yesterday even though the thermostat was set lower than the ambient temperature in the room holding it by about 5 degrees). I put on flannel p.j.'s and put my winter blanket on the bed. Slept very well... so that was good news.

I methodically packed the car, and got to the race site. There was fog on the way, and the lake looked like a giant hot tub, with the fog rising off it. The water was going to be warmer than the air, and we knew it.

The wet suit (Eliza the Sleek) slipped on easily in the chilly air, using the plastic bag trick. My friends who had been open water swim training with me racked their bikes near mine, and there was lots of room in transition. There were 150 entrants... a good turnout.

My cheering section showed up before the race began, SPINNINGJW was staying with a different friend this weekend, who lives very near the lake of the event, so she had no trouble getting there on time. Also, after the race, she helped me schlep everything back to Dexter for the ride home, serving as my Sherpa as well as the photographer.

So... to the race itself. This is the lake, a shot from yesterday when I did a little preview of the course.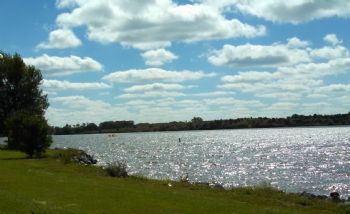 I tried to find a spot toward the back of the swim crowd. It was a mass start of a single wave for the open water swim. Before I even got to the first buoy, there were thoughts in my head "what was I thinking? This is a LONG swim. Can I take it back?" I found myself fighting my inner dialog the whole swim long. I kept having to remind myself of who I was doing it for. I kept having to remind myself that I HAVE trained for this. What I'd do differently next time? Taper better... I hadn't been in the pool OR the open water for about 3 weeks!

So, I was indeed the LAST Olympic distance swimmer out of the water... AND... my left leg cramped really badly JUST as I was trying to stand up and get out. I ended up having to flip over onto my bottom and work out the cramp before I could dizzily pull it together and head up to transition.

Worst Transition 1 EVER! I had a horrible time taking the wetsuit off. The legs especially, and probably that cramp contributed to the trouble. I have no idea how long I was in transition, but I took my time. Slurped a GU, which I really needed at that point. Tried to check out the potty... and it was in use, and I decided to go out on the bike course without stopping to pee.

As it turned out, I went all the way through a 26.4 mile bike ride and peeing during Transition 2, from bike to run. The big gaffe of the technology day was that I hit the lap button and the stop button, but failed to "OK" the change of sport... so that bike ride was recorded by the Garmin as a second Open Water Swim, and I couldn't change it once it was done... sigh. Still, because I *did* hit the lap button, I *do* know how the entire bike ride went.

So... now, out on the bike. I was cold. You say Nebraska doesn't have hills? Hah! This course was ALL hills. And I went up and down and up and down... around the lake twice, OFTEN having to invoke Carol's name and remember who I'm doing this for. But the scenery was pretty... glimpses of the lake, sometimes long vistas... sunflowers in one spot, and Sophia (my bike) *is* a sweet ride. And at about mile 20 (in the second loop around the lake)... I caught up with two other bikers, and passed them... and things began to get better in my mind. I didn't have to talk myself out of giving up from then on... I knew I would finish. I only had 6 bike miles and a 10K run to go. It's like when that horse knows the barn is ahead on the trail ride.

Coming down the road to transition (about 2 miles from the loop road to the transition area) I was in traffic. There were runners coming out, and runners heading back. And HUGE old campers and trailers trying to exit the park. Yuck! Still I made it back to transition, and I was NOT the last biker into T2.

Speaking of Transition 2, it was much better than T1. Took care of the potty stop (they were out of TP... ewwww... but any port in a storm, folks, and it was 3 hours post start by now). Switched to the running shoes, slurped another GU (which I needed at that point), changed water sources to the fuel belt, and slapped my cap on in place of the bike helmet. Headed out. Started relatively fast, having been high from finishing the bike, and feeling hope from having passed two bikers. And knowing that the run is still my strong suit in triathlon.

The run course was also hilly. But remember last week's Buffalo Run? Hills are our friends, remember? I kept telling myself that. I started passing other run/walkers sometime between mile 2 and 3 on the out and back route. I think I passed three or four runners. So that makes about five or six folks now BEHIND me.

When I got to mile 6, I could see the finish line, only two tenths of a mile away. By then, many of the folks who had already finished were heading to their cars, pushing their bikes and holding their awards. Jen was there to take a photo of me almost ready to pass under the gun time clock, which at that point read 4:05:04. Amazing. That's two minutes UNDER my Wisconsin Dells time from June, and with a bike course two miles longer. (As it turns out, since it was a mass start, Gun time = chip time!)

Oh, my, Goodness! It works. You don't HAVE to be walking, running, swimming, or biking on air to have a race come together for you. Did I have lessons learned today? You bet! They abound.

But in the end, the important things remained the same: LIFE is good. It is better when I am fit. It is at its best when my journey touches those of kindred spirits in the process. Creatively, consistently (not perfectly), and consciously (every step of the way) making choices that support that healthier lifestyle, I remain GRATEFUL for each and every day!

Oh, and one more photo:



Yep, I was the only little old lady in my age group... but I EARNED it. And when SPINNINGJW gets access and uploads them, we'll see the action shots.

Namaste, my friends.









Friday, September 12, 2014
Sunday I have my second outing in an Olympic distance triathlon. The bike course on this one is about two miles longer than the one in June. The temperature conditions are looking to be cooler. And I'm not as pumped up... this one was kind of an after thought.

It was spurred by getting together with other triathletes. You know you're in trouble when you start sharing memories of races and hopes for future races! LOL... you suddenly find yourself hitting "enter" on a registration form. But seriously, this one is to prove that the one in June was not a fluke.

And it's a local race, no destination or trip stuff, just getting to the lake with all my gear, and going out and doing it. I will be taking Monday off work to come down off the high or recover from the low, no matter what happens on Sunday.

Meantime, I've been pretty much tapering for three solid weeks this time. Even last Sunday's Buffalo Run of 5 miles was done as a training race, not a press for the best race. As usual, this week I've been second guessing everything... it's what I do during taper. But the truth is... I'm as ready as I'm going to be. What happens, happens.

And when the day is done, I will still be me. The goal is to cross the finish line, in an upright position, with a smile on my face, and wanting to do it again. The goal is to complete an event uninjured, and be able to continue training for the next one.

And to whom will I dedicate THIS outing? I'm thinking this one is for my late sister in law, Carol. Because she was one who stopped being able to do things, through no fault of her own. She passed away as a result of ALS, in 2013. As she was declining, I would tell her that I was running for her, and she would tell me that she could feel that. So, once again, another event for Carol. I do this because I can. I do it for those who cannot.

LIFE is good. It is better when I'm fit. It is at its best when my journey touches at points with those of kindred spirits. Encouraging others, and creatively, consistently and consciously making choices that support an active lifestyle, I remain GRATEFUL for each and every day!






Namaste.



1 2 3 4 5 6 7 8 9 10 11 12 13 14 15 16 17 18 19 20 21 22 23 24 25 26 27 28 29 30 31 32 33 34 35 36 37 38 39 40 41 42 43 44 45 46 47 48 49 50 51 52 53 54 55 56 57 58 59 60 61 62 63 64 65 66 67 68 69 70 71 72 73 74 75 76 77 78 79 80 81 82 83 84 85 86 87 88 89 90 91 92 93 94 95 96 97 98 99 100 101 102 103 104 105 106 107 108 109 110 111 112 113 114 115 116 117 118 119 120 121 122 123 124 125 126 127 128 129 130 131 132 133 134 135 136 137 138 139 140 141 142 143 144 145 146 147 148 149 150 151 152 153 154 155 156 157 158 159 160 161 162 163 164 165 166 167 168 169 170 171 172 173 174 175 176 177 178 179 180 181 182 183 184 185 186 187 188 189 190 191 192 193 194 195 196 197 198 199 200 201 202 203 204 205 206 207 208 209 210 211 212 213 214 215 216 217 218 219 220 221 222 223 224 225 226 227 228 229 230 231 232 233 234 235 236 237 238 239 240 241 242 243 244 245 246 247 248 249 250 251 252 253 254 255 256 257 258 259 260 261 262 263 264 265 266 267 268 269 270 271 272 273 274 275 276 277 278 279 280 281 282 283 284 285 286 287 288 289 290 291 292 293 294 295 296 297 298 299 300 301 302 303 304 305 306 307 308 309 310 311 312 313 314 315 316 317 318 319 320 321 322 323 324 325 326 327 328 329 330 Last Page

Get An Email Alert Each Time ONEKIDSMOM Posts