| | |
| --- | --- |
| | ONEKIDSMOM's Recent Blog Entries |


Saturday, August 18, 2012
Some days you just aren't feeling the workout plan. But you just slog it out there. Today was such a day. I debated doing a bike ride instead of the planned "long run", and got so far as to pump up the tires and fill the camel back. Then I went to let the cat out and discovered rain drops on the deck.

Which was enough to change my plans, and drive me back into my cave. Swapped the bike shorts for running shorts, and put the treadmill and Netflix to good use. I've been working my way through old seasons of The Biggest Loser, and they are pretty incredible for getting through the boredom of a treadmill interval workout. And I slogged it out, in 119 minutes, 10.25 miles.

Some time after that, showered and lunched, an IM conversation window popped up, from my son, halfway 'round the world. Nothing fancy, just the hi, we're both still breathing sort of conversation I have come to expect once a week if I'm lucky.

And I made it through the day behaving well, no recurrance of the bingy stuff from last weekend (I did eat well, and in maintenance range). And recognized that this quiet day by myself was exactly what I needed today. Even to the slogging it out workout. Some days just have to be low key.

Life continues to be good. Spark on.






Friday, August 17, 2012
My story board of "fall down seven times, get up eight"!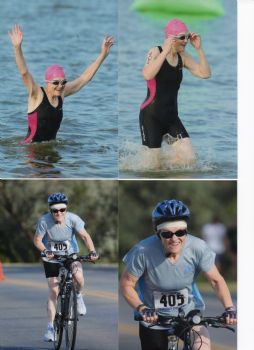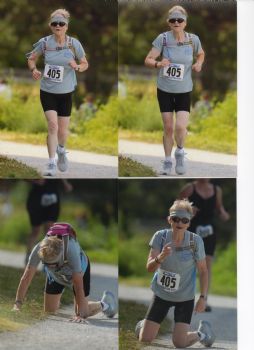 My daughter in law thinks the next to last snap looks like I've run so hard I'm about to hurl... but really it was a trip and fall, I'm getting up, halfway there...





Friday, August 17, 2012
My brother MOBYCARP's blog this morning made me cry. Because his next step in setting a goal was to support his daughter. Whether he recognizes this or not, his daughter, in the process, is supporting him and HIS fitness.

One of my Spark friends blogged last month about finding The Biggest Loser on Netflix... and sparked me to start streaming all the seasons, in sequence. When I got to season 4, where they started doing couples, including parents and children... it started me thinking about my own motivation over the years.

When I was young and losing weight to "look good"... I did it stupidly. I really didn't know better at that point, and I did some crazy stuff... which resulted in starting the cycle of loss/regain.

When I finally got serious about learning to do it right... it was because I had a son. At the time, he was a pre-schooler, and my fear was that in the shape I was in, I could fail as a parent in keeping HIM safe. I succeeded in that attempt to lose, beyond my expectations... but never reached my goal weight. A few years later, it unraveled, and I regained.

But by then I knew how to do it right... and every time I could scrape the motivation together, I did it again. But I would lose the motivation off and on, and lapse and regain. Still, I knew this was something I wanted, I just didn't always have the "oomph" to go for it.

More recent memories show that my son was supporting ME... when he came out of the basement while my marriage was ending, he took me in hand and said, "Come on, Mom, we're joining a gym." And we did... and supporting him in his efforts to get healthy I got healthier myself.

Life changes (I don't deal as well with change as I'd like to think) resulted in regains. But HE never gave up on me... he would cajole me into going to the park to shoot hoops, when all I could do was set shots... no fast breaks for his tubby mummy!

When he signed on the dotted line to defend our nation, he was pretty fit, and he was working hard to make sure he passed that physical fitness test before he got to boot camp. In supporting him... yep, mom was back on the wagon. I got pretty doggoned fit by the time he graduated boot camp. Even hired a personal trainer for the first time for myself in the process.

He got married, they moved out... I was doing pretty well until injury hit, then I once again backslid. Oh, and it wasn't just the injury, it was overcommitting to other stuff, and one thing I've learned about me is that when I get overwhelmed, taking care of me was the first thing that got dropped.

When my son was given orders to deploy... his wife came to me, wanting to sign on to lose weight herself. Guess what? To support HER, I went with her to the commercial weight loss program she had selected, and rebelling all the way about whether it could do what it said, signed up.

But I followed the program, and took up exercising again, and that was the beginning of THIS phase of healthy living. Gee, has it been 3 and a quarter years already?

I never wanted to go back... not even when my son was a pre-schooler. But that's not the point of this blog... it's about how huge a motivator our kids can be for us. We want to be there for them? We need to take care of ourselves. We need to hold that vision in our minds... of a long and functionally capable life... a life with quality to it... not pain.

Now, as my son is on his second overseas assignment, I am able to do things. Things I can write to him about, as well as experience for myself. Things to check off the list of "something I want to do before I exit, stage left". Some of them scare me... but each time I get to the goal line... I feel amazing.

Here's to the amazing moments of life... sponsored by our kids... who are not just watching, but cheering for us, and pulling us along.

Life IS good. Spark on!







Thursday, August 16, 2012
There has been an interesting discussion over on the At Goal and Maintaining team this past week. Link to the team here: teams.sparkpeople.com/maintaining

The discussion was originally Sparked by the featuring of an old article about "Secrets of the 5%"... which of course gives the dismal statistic that only about 5% of those of us who lose significant amounts of weight manage to keep it off long-term.

The discussion first centered around "is it (the 5% statistic) still true". A second wave of discussion pondered whether in fact we are elusive, or just rare... and if we ARE elusive / secretive / hiding from the world, why?

One commenter mentioned that over time both she and her circle of friends ceased thinking of her(self) as "a person who has lost a lot of weight" and begun thinking of her as simply "a healthy person".

That got me pondering (you know me) over how I consider myself. And I concluded that while she's right (I do think of myself as fit and healthy these days)... for me, the past relationship and present relationship with food will always be an element of my identity. I am, you see, a self-admitted, self-identified Compulsive Overeater. Kind of like being an alcoholic. You're never a recovered alcoholic (or compulsive eater)... you are a recoverING overeater.

That's not an easy image to project or even accept about yourself. People who didn't know you at your heaviest, that have only come to know you during a healthy period can't even imagine it. Most people don't "get" that a compulsive OVER eater can turn into a compulsive UNDER eater, and is in danger of that risk, as well.

So, for those of us in this category: the tools of maintenance are vital... and they are NOT about the scale. They are about maintaining a level of spiritual fitness, and physical behavior. They are about saving our lives, one day at a time.

One of the hallmarks of addiction recovery is acceptance of our affliction, and the willingness to do "whatever it takes". This was one of the things that Steve Siebold talks about in his Mental Toughness training course. It is also something I heard in the rooms of Overeaters Anonymous, and is written in the Big Book of Alcoholics Anonymous. We have to be willing to do whatever it takes to be successful.

Not everyone who has this issue is ready to accept its reality. Or willing to do that "whatever it takes" part. You don't see a lot of outreach. We are the self-identified, and self-selected.

But there is another item: those of us who are on this path are keenly aware of how little it takes to spiral back into the "active" as opposed to "recovering" addiction column. We don't like putting ourselves out there as examples, because when we subsequently fail (as humans invariably do) to be "perfect"... it is devastating not just for our personal benefit, but for how we perceive our image.

It's hard to come crawling back. That's why when I lapse I write about it, almost right away. It sets me straight. Here's the HOPE part of the message... when we do get honest and overcome the resistance to coming back? We are always welcomed. Those in recovery KNOW what it's like to lapse and have to climb back up. We've been in that hole before.

Not everyone who is overweight is a compulsive eater. Each individual has his or her own challenges. But all maintainers know it's not easy to keep it off: motivation has to be tended to, daily.

Here's to ALL the maintainers... that work their lives for balance... that embrace the willingness... one day at a time, here in the Final Frontier called maintenance.

Life is good. Spark on!



Late addition: a link to the specific discussion I mention above. www.sparkpeople.com/myspark/team_mes
sageboard_thread.asp?board=0x1111x4942
1657





Wednesday, August 15, 2012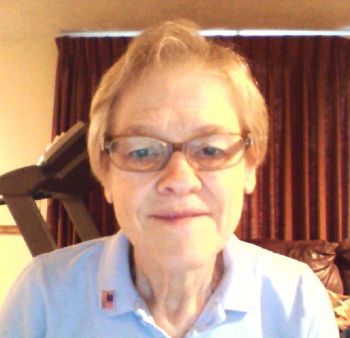 Figured I'd at least mention that I got new glasses and give a mug shot of me in them. This happened over the last couple of weeks, and it was indeed high time.

This is short because I'm out of time... got to head out the door to work, but I'm saying "hi", and wishing my Spark buds a great Wednesday. Remember, we're worth taking care of, and here we are to Spark on!



First Page
1
2
3
4
5
6
7
8
9
10
11
12
13
14
15
16
17
18
19
20
21
22
23
24
25
26
27
28
29
30
31
32
33
34
35
36
37
38
39
40
41
42
43
44
45
46
47
48
49
50
51
52
53
54
55
56
57
58
59
60
61
62
63
64
65
66
67
68
69
70
71
72
73
74
75
76
77
78
79
80
81
82
83
84
85
86
87
88
89
90
91
92
93
94
95
96
97
98
99
100
101
102
103
104
105
106
107
108
109
110
111
112
113
114
115
116
117
118
119
120
121
122
123
124
125
126
127
128
129
130
131
132
133
134
135
136
137
138
139
140
141
142
143
144
145
146
147
148
149
150
151
152
153
154
155
156 157 158 159 160 161 162 163 164 165 166 167 168 169 170 171 172 173 174 175 176 177 178 179 180 181 182 183 184 185 186 187 188 189 190 191 192 193 194 195 196 197 198 199 200 201 202 203 204 205 206 207 208 209 210 211 212 213 214 215 216 217 218 219 220 221 222 223 224 225 226 227 228 229 230 231 232 233 234 235 236 237 238 239 240 241 242 243 244 245 246 247 248 249 250 251 252 253 254 255 256 257 258 259 260 261 262 263 264 265 266 267 268 269 270 271 272 273 274 275 276 277 278 279 280 281 282 283 284 285 286 287 288 289 290 291 292 293 294 295 296 297 298 299 300 301 302 303 304 305 306 307 308 309 310 311 312 313 314 315 316 317 318 319 320 321 322 323 324 325 326 327 328 329 330 331 332 333 334 335 336 337 338 339 340 341 342 343 Last Page

Get An Email Alert Each Time ONEKIDSMOM Posts