| | |
| --- | --- |
| | ONEKIDSMOM's Recent Blog Entries |


Sunday, August 26, 2012
I'd never been a featured blog before. I got up this morning, checked my e-mail and there were 80 comments on my Sparkblog! If I didn't get an individual "thank you" back to you for having commented, please know that I appreciate every one of you who did... and I encourage you all that I am really not that different from you... just a gal who woke up one day and decided she needed to live healthy. Granted it has taken me a couple of decades to figure it all out, downs, ups and downs again. I KNOW I'm not alone (proven by the volume of comments!)

The flurry of attention will subside, and I'll return to doing what I do every day, which is try to live the lifestyle I've been carving out... because it makes me happy. And who doesn't want to be happy?

Today's "happy" included a 17.8 mile bike ride, under gray skies that didn't open up, although I think I might have felt a sprinkle or two. We really need the rain, too.

So pardon me while I try to shove my head back into my normal sized hat and chant today's mantra (another favorite): "Don't get cocky, Barb!" Get through today, one decision at a time.

Life is good. Spark on!







Saturday, August 25, 2012
Let's see: goal #1 was don't get injured.

Crossed finish line in an upright position with a smile on my face.

Goal #2 was don't lose the car key.

I tied it around my waist on a shoestring... with a knot I had to wait to dry off before I was able to untie it to drive home.

Goal #3 was to have fun in spite of myself.

The story: I was channeling my father. I have to arrive early. Besides, it looked like rain and I was afraid the parking would turn into mud, not just the course, so I did arrive early enough to get to park on pavement.

I took a before picture of me, clean. Notice I swapped out for the old glasses, I didn't want to lose the new ones if anything happened... but I strapped 'em on, just in case.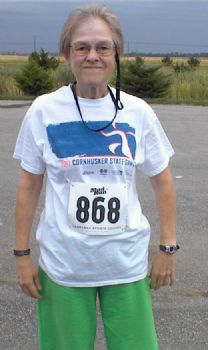 I prepped the car for the inevitable "not so clean" drive home. I have learned how to keep the seats clean.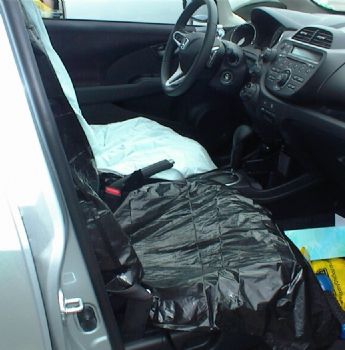 So then I am milling about the crowd... it really did look like rain.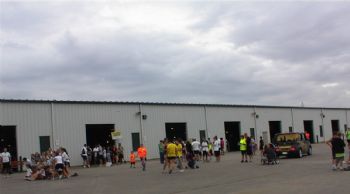 I found race numbers 1 & 2 also milling about. These gals had driven up from Georgia for this event. Apparently they have a local cousin here. We got to talking, and it turned out that one of these ladies was my age group competition in the 10K. She looked awesome. We talked about line up pace and she gave a number that was faster than my own, so I figure, oh, well, silver is a nice color. She told me she'd looked up on line and we were the only two 50-59 year old females doing the 10K, unless someone showed up at the last minute to participate.

The weather was perfect, in my mind. Cool, but not cold. Shivering just a bit... 60, according to my deck thermometer before I left the house.

I dropped back to the tier that matched what I hoped would be about a 10 minute mile pace. I chatted up a couple of gents who lined up the same. And a few younger women.

The first wave started... and we started forward... it was a narrow chute start, so it got to a point and they stopped us, cold! Made us wait until the first wave cleared the first bend. My competitor was in that first group, I thought, but I really wasn't giving it much thought by that time. I was, in fact, going zen on myself: "It's just another workout. Run easy." That's what I tell myself every race... it's just another workout. Have fun with it.

They let us go, and we started forward. I settled into an easy pace before the first set of obstacles, which they had named the "tubes of fun". As we started, so did the rain. The glasses got spotted almost immediately. I was listening to another runner wishing she had worn a hat... I had figured a hat would have been just another thing to lose in the obstacles, so didn't bother... and ran on, mostly blind.

After that first set of tubes to run around or vault over (runner's choice)... the first half of the 10K was pretty much a straight trail run on gravel.

Then you got to take a sharp right down steps to the first creek crossing and up through forest. First mud pit. More running. "The Great Escape"... gotta be walls... well, it was... but they had side by side taller/shorter walls, and I picked the shorter in each of two. There was a waiting line for the walls, and the rules said you could not go around until the person ahead of you got over... so why not try going over?

They had great support staff there to coach you over the walls and in some cases even give a hand up or spot your drop down on the other side... enough to help an old lady have the confidence she's not going to hurt herself. I got over! First one, then the next, taller one.

So high after that I'm jogging on air... until the cargo-net covered mud pit #2... a runner ahead of me had lost his/her race bib, and I tried to help free it. Big mistake. In the process, my hair tied itself to the cargo net! What's a gal to do? I've already gone over 3 miles, nearly 4... there's a race to finish!

So I grabbed hold by the root and anchored the hair, and told the volunteer to go ahead and yank that net free, since he didn't have a knife or scissors to cut me loose. He asked was I OK after... I was fine... I'd been freed of a trap and was running onward!

Under/over/under came next. Another deeper creek crossing. A mud pit on the far side of a hurdle. A tire pit on mud footing. Then the slip and slide into the main mud pit, and the final balance beam before running the remainder of the last mile.

As I was rounding the bend, I was listening to the announcer give names of the finishers, and my competitor's name was announced. A couple minutes later, I was across the line myself, feeling really, really good, and marvelling that I wasn't winded or achy or anything... I felt good and fit and wonderful.

Can't really ask for more than that. Sprayed off, turned in the chip and changed into clean outer layer at the tailgate. I meandered into the party venue where they had a bluegrass band playing, and the started showing video from the race... so cool. We're a special breed, you know, those of us who "event".

We talked about the obstacles, told one another how

we all are... and eventually they got around to handing out the medals. My mind was saying silver, still. But when it came down to it... they announced her name as the silver medalist. And mine as gold. Turns out, because she started in wave 1, and I in wave 2? Chip time had us only 26 seconds apart... mine was 1 hour, even. Hers 1:00:26. Wow! An incredibly close finish... and you could have knocked me over with a feather. We even asked them "are you sure" and had them double check the results.

Because I would hate to rob someone else of a medal they earned. But when I think through it, it makes sense. I did it. And without skipping obstacles. What a rush.

So now, the medal snap, courtesy of a bystander: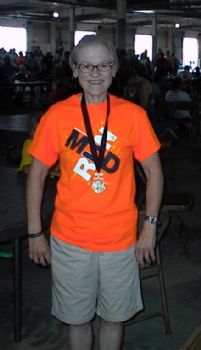 Saturday, August 25, 2012
Today is the Mud Run. I will be running... um... make that travelling... 10K on roads and cross country, and overcoming obstacles. This year they have added to the obstacles, according to the pre-race materials.

Last year there were only 3 mud pits and a few hurdles. There were some creek crossings. This year, they have added a "wall of pain" (my nemesis) something called the "great escape" which based on who built it, I suspect to be a series of walks to climb over. The folks who built the course for Quest for the Vets that I did on memorial day built these obstacles. They had something they called "Alcatraz" which was a series of walls to climb over.

I got really grumpy when I found that out. Walls are my nemesis, and I have not trained for them. Grrrr. So I was a little mopey this week, between the medical poking, prodding and squooshing (which turned out fine, by the way, no worries)... but seriously wondering WHY I signed up if I have to do those things AGAIN.

I had resolved the obstacle course last Spring was enough for this year. The tri was enough... I was looking forward to an "easy" autumn leading up to the half marathon, "just" run/walking!

And then something took charge of my keyboard and signed me up. WHY?

Because despite the fact that these things give me nightmares (imagining falling in the creek, or losing my glasses in a mud pit... yes, my mind goes these places), there is something about the craziness of being able to say to myself "I did it".

Today's goals?

1. Don't get injured. If an obstacle is going to defeat me, know when to do the avoidance path. No shame in knowing my limits.

2. Don't lose the car key... don't have a support team to hold on to my stuff this year and there is no bag drop... so I'm going to have to carry it with me, all 10K through the mud and obstacles... best find those shorts with the inside pocket!

3. My son says, "Mom, you're going to have fun in spite of yourself." Prove him right.

And of course, I'll blog about it when it's over. LIFE is good. Spark on!






Friday, August 24, 2012
Zig Ziglar quote from the Spark People calendar: "People often say that motivation doesn't last. Well, neither does bathing -- that's why we recommend it daily."

I love this quotation. It's so true. Motivation fluctuates. Like so many things in life, it will be higher some days than others. Unlike things like food or exercise, it is not easy to figure out ways to increase it. Different people get sparked by different things. Me? I cannot always say what will give me my spark for the day... or if I'll lose the spark partway through a day.

Some things definitely help: hanging out here, reading things my Spark buds choose to share, subscribing to the articles, even the silly game of gaining Spark points for tracking or clicking on an e-mail. Some days it doesn't even take that... some days I wake up with the spark blazing, and have bubbles to spare and share.

I would have to say the thing I most have to remember to stay motivated has little to do with the "how". It doesn't even necessarily relate to a specific "why".

It is the simple reminder that I am worth doing it for. That there is a "me/I" under there, and she's worth taking care of and sharing with the world. I'm not the sum of other peoples expectations / opinions... I'm the creation of my Maker... and that Maker has a purpose for me... and it's not to collapse inward and stop caring or taking care of myself.

The same is true for each and every human being. YOU are worth it. No matter how many times you have tried, slid backwards, succeeded and the devil voice tells you you don't have to do it any more... you are worth it.

Today, each day, you are worth it! Spark on!






Thursday, August 23, 2012
About the blood, that is. I rather suspect that I just haven't got it built back up since my donation, that it is taking me longer than it used to. Kevin may be right about genetics. Age could also be a factor. My current level of activity may be playing in, as may my diet... I do get my leafy greens but I could be doing a better job with iron-rich proteins. Probably just a combination of stuff.

Tomorrow morning is the annual squooshing. Ladies, you know what I'm talking about. With a sister being a BC survivor, I'm taking that test sesriously, too.

Today was packet / chip pick up for the 2012 Mud Run. There's something about the "goofy" events that keeps me signing up for them. Despite the creek crossings. Despite the hurdles. Despite the mud pits. And despite that cussed wall of pain they have promised this year... gotta go defend my title. Last year in the 5K mud run I was the fastest old lady in my age group. This year I upped the distance I will go after to a 10K. Fits in with the training for the half marathon.

This noon I picked up my chip, shirt, and bib... Saturday morning, it will be time to get down and dirty again. This year's shirt is bright Spark People Orange!

Despite puzzles, LIFE is good... Spark on!




First Page
1
2
3
4
5
6
7
8
9
10
11
12
13
14
15
16
17
18
19
20
21
22
23
24
25
26
27
28
29
30
31
32
33
34
35
36
37
38
39
40
41
42
43
44
45
46
47
48
49
50
51
52
53
54
55
56
57
58
59
60
61
62
63
64
65
66
67
68
69
70
71
72
73
74
75
76
77
78
79
80
81
82
83
84
85
86
87
88
89
90
91
92
93
94
95
96
97
98
99
100
101
102
103
104
105
106
107
108
109
110
111
112
113
114
115
116
117
118
119
120
121
122
123
124
125
126
127
128
129
130
131
132
133
134
135
136
137
138
139
140
141
142
143
144
145
146
147
148
149
150
151
152
153
154 155 156 157 158 159 160 161 162 163 164 165 166 167 168 169 170 171 172 173 174 175 176 177 178 179 180 181 182 183 184 185 186 187 188 189 190 191 192 193 194 195 196 197 198 199 200 201 202 203 204 205 206 207 208 209 210 211 212 213 214 215 216 217 218 219 220 221 222 223 224 225 226 227 228 229 230 231 232 233 234 235 236 237 238 239 240 241 242 243 244 245 246 247 248 249 250 251 252 253 254 255 256 257 258 259 260 261 262 263 264 265 266 267 268 269 270 271 272 273 274 275 276 277 278 279 280 281 282 283 284 285 286 287 288 289 290 291 292 293 294 295 296 297 298 299 300 301 302 303 304 305 306 307 308 309 310 311 312 313 314 315 316 317 318 319 320 321 322 323 324 325 326 327 328 329 330 331 332 333 334 335 336 337 338 339 340 341 342 343 Last Page

Get An Email Alert Each Time ONEKIDSMOM Posts