| | |
| --- | --- |
| | ONEKIDSMOM's Recent Blog Entries |


Sunday, September 02, 2012
Link to the blog that TanyaP71 brought me into the challenge with - it has the 30 topics for those who wish to play along: www.sparkpeople.com/mypage_public_jo
urnal_individual.asp?blog_id=5038746

Today's topic: "How did you pick your goal weight? Did you pick an ultimate goal weight at the beginning of your weight loss? Did it change? Did you set smaller goals along the way?"

I'm a "conservative" goal setter, at least in terms of goal weights. Beaten down by years of attempts that failed to reach the numbers on the charts, when pressed for a number to give at the commercial weight loss center, I gave them one I knew I could meet, having been there and below on several prior attempts. 150.

Was this an ultimate goal weight? Not really. Because for me, it was about maintenance to begin with... at least at the back of my mind and in my self-talk. It was about a level of fitness, not a specific number on a scale. I wanted my body to FIND its own level of comfort. I'd been working toward this mind-set over the decades.

BECAUSE of this mind-set, the concept of "goal" DID change as the process unfolded. In the end it settled on being in the healthy range of BMI. I am not a body builder or a professional athlete, so for me, BMI range works. No use trying to game myself into thinking it is a faulty measure because for ME, it is not.

Did I set smaller goals for myself along the way... yes and no... they were not pound goals, they were "make it through this week without giving up healthy behavior A" kinds of goals, followed by small rewards. I'm a big believer in small rewards and non-food ways to make myself feel special! I'm talking a pack of votive candles or stickers on the calendar for exercising TODAY. It works for me.

In the end, my body knocked my socks off with its response to consistent, repeated healthy treatment. I am grateful and will do everything I can to let it keep on surprising me.





Saturday, September 01, 2012
Simply because Barb can't shut up. I'm blogging now with the relief that the weekend's "long run" is in the bag. With my seasonal allergies and the 90 plus degree heat today, I opted for a treadmill 11 miler... to video streaming of Biggest Loser season... um... lost track... I think maybe 9.

It was the "I'm happy" season. I say that because in the interviews with the contestants, that was the word that popped out at me, over and over and over again. And it rang so true as I heard it. This whole Spring and Summer it has dawned on me how happy I have been in my active lifestyle. HAPPY!

What did I tell mom I wanted to be when I grew up? "Happy". Every time. Not a career, a mindset. So... here I am... keeping promises to myself... including "follow the training plan"... and I proclaim myself Happy.

May the Happy be contagious. Do something good for you, and let it make you smile!






Saturday, September 01, 2012
TanyaP71 has challenged folks to blog 30 days on a set list of questions. www.sparkpeople.com/mypage_public_jo
urnal_individual.asp?blog_id=5038746

Being me, I thought about it and decided, "why not?" Here is the first blog topic:

"Your stats. Starting stats, current stats, goal stats. Are you currently trying to lose weight, gain weight, or maintain weight or something else? Do you have a goal for the month of September? "

First off, whenever I talk about starting stats, it all depends on WHICH start we're talking about, since I have been through this process many times over the decades. But to play it as straight as I can - this particular healthy initiative began on May 29th, 2009, when I weighed in at 198.6 on my home scale. At 5' 3", that's too much, by anybody's assessment.

I did not take tape measurements until a month later, on June 26th, and at that point, my waist was 37 inches... bust 43, hips 45. Sigh... with a month of progress, even.

At that time, I timidly set my goal down as 150, because I had to pick a number. (I was at a commercial weight loss center, they wanted a number.) But as I told them there, the real goal was not about a number on the scale. The real goal was to get back into the shape I was in when I did an informal triathlon with my siblings. That was August 2007, and I felt better than I had my whole life.

My current stats? Are you ready?

Weight, 7 day rolling average, as of today: 119.3 pounds.
Bust: 35
Waist: 27
Hips: 34.5

Current phase in the process? Maintenance. Don't need to lose more. My goals are not so much about the scale (they never were, really)... but to maintain the level of fitness to participate in the events that give me so much joy. Eye on the prize right now of a half marathon in November, busy building mileage.

Goals for September:
1. Don't injure myself.
2. Follow the fitness plan, but modify as the body's level of energy demands. I.e. LISTEN to the body.
3. One 5 mile race, Sept 9th.






Friday, August 31, 2012
Looks like the past week has had a theme, and that theme is age-related. I won the age group gold in that mud run, the oldest female on the 10K course. I posted the link to the 80 year old Iron Nun article. And today, I'm pondering the word "old".

Old to me means powerful. All my life, I have looked up to older people. Old to me means wise. But old to me means playful, as well... my great-grandfather taught me to waltz and play cribbage. My grand-dad hiked 50 miles with a Boy Scout troop to celebrate his 65th birthday, (if I remember right which milestone birthday it was). My mom and dad taught square and line dancing to senior citizens.

I embrace the goal of "old". When I was ten years old, I met my great-great-grandmother for the first and only time. She at that time was 101 years young. She had been 4 years old when Abraham Lincoln was shot. She was a tiny, strong, opinionated woman who took no guff from anyone.

That's been my concept of "old". So when people say I'm not old? It may be true (59 is not really that "old" any more)... but I really don't mind the term. It's something I aspire to... I feel myself coming into the power and self-direction that I associate with the word... I feel the "me" coming to the fore in my life.

So here's to embracing concepts that the world might think are less than flattering... and cherishing the positives about them. I am a "little old lady in training"... training physically and mentally, hopefully in the cast of my great great grandmother!

Life is GOOD. Spark on!






Thursday, August 30, 2012
www.tonic.com/post/80-year-old-siste
r-madonna-buder-iron-nun-triathlete-ir
onman/

SANDIEGOJOHN has issued an Upbeat challenge for September on Team SDJ, and one of the posts there included the link above.

Edited to add this Note: The link above is from 2008. At age 82, Sister Madonna Buder finished Ironman Canada (August, 2012) this link to the article.

www.examiner.com/article/sist
er-madonna-buder-ironman-triathlon-fin
isher-at-82-years-old-a-world-record

I found this link by way of following the bouncing links from today's "featured member blog".
www.sparkpeople.com/mypage_public_jo
urnal_individual.asp?blog_id=5035895

Seriously, this gal is the major reason I had the courage to sign up for my own first sprint distance triathlon. I've had hints from the youngsters I have raced with (22 year olds in my tri, a few at the mud run) that they look at me that way (as an inspiration)... but Sister Madonna Buder really is incredibly inspiring. She puts the lie to the limitations of age. I hope that should I survive to that point, I'm still doing these kinds of things, at whatever level I can.

It makes me smile. Life is GOOD. Spark on!

Bonus photos from the Mud Run coverage... this was on FaceBook from our local newspaper... neither photo shows me, but I remember climbing up this slope!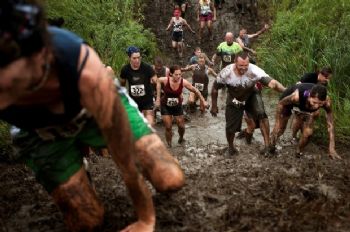 And over this wall.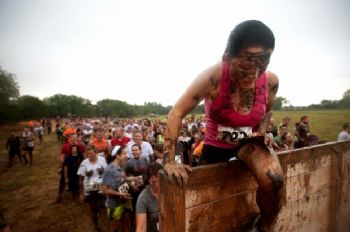 First Page
1
2
3
4
5
6
7
8
9
10
11
12
13
14
15
16
17
18
19
20
21
22
23
24
25
26
27
28
29
30
31
32
33
34
35
36
37
38
39
40
41
42
43
44
45
46
47
48
49
50
51
52
53
54
55
56
57
58
59
60
61
62
63
64
65
66
67
68
69
70
71
72
73
74
75
76
77
78
79
80
81
82
83
84
85
86
87
88
89
90
91
92
93
94
95
96
97
98
99
100
101
102
103
104
105
106
107
108
109
110
111
112
113
114
115
116
117
118
119
120
121
122
123
124
125
126
127
128
129
130
131
132
133
134
135
136
137
138
139
140
141
142
143
144
145
146
147
148
149
150
151
152
153 154 155 156 157 158 159 160 161 162 163 164 165 166 167 168 169 170 171 172 173 174 175 176 177 178 179 180 181 182 183 184 185 186 187 188 189 190 191 192 193 194 195 196 197 198 199 200 201 202 203 204 205 206 207 208 209 210 211 212 213 214 215 216 217 218 219 220 221 222 223 224 225 226 227 228 229 230 231 232 233 234 235 236 237 238 239 240 241 242 243 244 245 246 247 248 249 250 251 252 253 254 255 256 257 258 259 260 261 262 263 264 265 266 267 268 269 270 271 272 273 274 275 276 277 278 279 280 281 282 283 284 285 286 287 288 289 290 291 292 293 294 295 296 297 298 299 300 301 302 303 304 305 306 307 308 309 310 311 312 313 314 315 316 317 318 319 320 321 322 323 324 325 326 327 328 329 330 331 332 333 334 335 336 337 338 339 340 341 342 343 Last Page

Get An Email Alert Each Time ONEKIDSMOM Posts