| | |
| --- | --- |
| | ONEKIDSMOM's Recent Blog Entries |


Saturday, September 15, 2012
See 'em? Rising all around me? Endorphin bubbles... it was the day for long, slow distance. I patiently waited for the sun to rise, as I'm not fond of running in the dark. Temperature was perfect, 45 degrees F.

I walked briskly up to the nearest main intersection, then jogged slowly Eastward into the rising sun, picking up the bike trail that heads toward downtown. It was a bit brisk at first, of course, since I dressed for how warm I anticipated getting. As I expected, by the time I got back home, my apparel was perfect for the outing.

I ran all the way down to the memorial rose garden near the Children's Zoo, then switched to the other bike trail to come back South to the highway and across to my own neighborhood and back in another way. Total distance ended up as 12.67 according to the Spark "map my route" function.

Observations along the way: I was sharing the trail with bikers, walkers, dog-walkers and other runners, one in line skater, and one skate boarder, and one of the runners was pushing a jogging stroller, too. Relative anonymity... none of us can tell whether the person we encounter just started out, is finishing up, or how far their journey of the day is... but we share smiles and nods, and an encouraging word or two. The pure joy of being out in the sunshine and nature this time of year is common to us all.










It is a football Saturday, and the game is already in progress now... I got home before kickoff. However, with kickoff as early as it was today, even as early as I got out to jog, I could observe the tailgaters on their way to the game when I cross major streets. I watched a few of the stadium special shuttles on their way to pick up the park and rider crowd. I smiled at the trucks and cars with their fan flags flying.

In short... a lovely Autumn day is off to a great start. Have a wonderful weekend all. Spark on!






Saturday, September 15, 2012
Link to original question post by TanyaP71: www.sparkpeople.com/mypage_public_jo
urnal_individual.asp?blog_id=5038746

Today's topic: "What is your favorite weight loss, fitness, or wellness blog (or website or magazine) outside of sparkpeople?"

I don't think I HAVE one. Not that I never go exploring outside of Spark. I visit other sites, but none of them qualifies as either a favorite or a blog or magazine.

I have to say I *do* enjoy one called Fitocracy: https://www.fitocracy.com/accounts/l
ogin/?next=/home/
My kids (son & daughter in law) got me started over there, but it's not as rich to me as is Spark. I do tend to follow the kids around, just to stay in touch, if you know what I mean.

On this one, I'll be very interested in seeing what others post on this question, but in terms of how much on-line time I have to spend, Sparkpeople.com is my go-to hang out spot.





Friday, September 14, 2012
Link to the original TanyaP71 challenge post: www.sparkpeople.com/mypage_public_jo
urnal_individual.asp?blog_id=5038746

Today's topic: "What life style changes have been easier than you expected? Why do you think that was?"

Interesting mate to yesterday's question about what were the hardest ones. As I introduced yesterday, at the moment nothing seemed particularly hard that day, so it also makes it difficult to pick an "easy" one!



Surprisingly, I'm going to use one from my "hard" list as having been easier than I expected, and that's the giving up diet soda. I expected it to be impossible. And it turned out to happen almost organically as I began by cutting back.

I think the reason it was easier was in part life circumstances surrounding it. I had just had surgery in October 2009. My life was going crazy with my son being deployed for the first time. I was in need of an item of discipline to hold on to. Counting the sodas. Restricting myself to one a day. And finally stopping entirely... marking down the days as a streak... made it possible.

Sometimes I think having ONE thing that I make my focus is such a spur to other good behavior!

And now? It's so automatic!

-free,

drinker!

Life IS good. Spark on!






Thursday, September 13, 2012
Today's topic: "What has been the hardest life style change you've made for the sake of losing weight, getting fit, or becoming healthier? Any tips for making that change easier? "

At this point in my life, none of it seems all that hard. But this was not always the case. And I accept that it may not be the case tomorrow. Because of the place emotions play in this process for me, I make no promises!



The list of "hard":

3. I thought I was NEVER going to be able to give up diet soda. But I started out by reducing the number of cans I consumed in a day. Then I progressed to not drinking it on the weekends at all. Finally, one day, it was time, and it went completely out of my life... over 2 1/2 years ago now.

2. I thought if I ever slipped up, it was a failure, so "why try?" I had to root Polly Perfectionist out. This is HARD! Really hard. And continues to be so. But I've got pretty good at picking myself and dusting myself off and reminding her she has no place here.

1. The hardest thing of all is "Remembering that I am worth it!" And the best tip for that lies right here on this web site: community. Spreading the Spark. Sharing the struggle, when it is a struggle. Accepting the hand up when one is offered. Pulling the boot straps by blogging my "pep talks to myself".

Spark is a great place for remembering that LIFE is good! Spark on.






Wednesday, September 12, 2012
Once again, the link to the original challenge / questions: www.sparkpeople.com/mypage_public_jo
urnal_individual.asp?blog_id=5038746

Today's topic: "Post a picture of your inspiration. Thinspiration if that's your thing. Fitspiration if that's what you're after. Heathspiration if that's your primary goal. Why is this person inspiring to you?"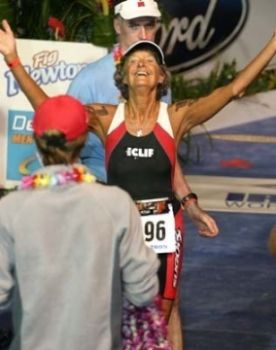 For those of you who don't recognize the photo, this is Sister Madonna Buder, "The Iron Nun". She's 82 now, and still competing in triathlons, breaking the age record every IronMan she completes. I am in awe and "I want to be like her when I grow up."

She inspires me for obvious reasons: age doesn't stop her. Injury doesn't stop her. She remains true to her spiritual side, while using her body to demonstrate to us all that it is possible to be fit and active WELL beyond where we happen to be. Go, Sister, Go!

OK, so that was the big public "star" inspiration... but let us not forget the inspiration I find in each of YOU... my fellow Sparkers. In Chris (SparkGuy) Downie for founding an incredible meeting place for us! In my meat-space friends and family, who have never given up on me, too.

Life is GOOD. Spark on!




First Page
1
2
3
4
5
6
7
8
9
10
11
12
13
14
15
16
17
18
19
20
21
22
23
24
25
26
27
28
29
30
31
32
33
34
35
36
37
38
39
40
41
42
43
44
45
46
47
48
49
50
51
52
53
54
55
56
57
58
59
60
61
62
63
64
65
66
67
68
69
70
71
72
73
74
75
76
77
78
79
80
81
82
83
84
85
86
87
88
89
90
91
92
93
94
95
96
97
98
99
100
101
102
103
104
105
106
107
108
109
110
111
112
113
114
115
116
117
118
119
120
121
122
123
124
125
126
127
128
129
130
131
132
133
134
135
136 137 138 139 140 141 142 143 144 145 146 147 148 149 150 151 152 153 154 155 156 157 158 159 160 161 162 163 164 165 166 167 168 169 170 171 172 173 174 175 176 177 178 179 180 181 182 183 184 185 186 187 188 189 190 191 192 193 194 195 196 197 198 199 200 201 202 203 204 205 206 207 208 209 210 211 212 213 214 215 216 217 218 219 220 221 222 223 224 225 226 227 228 229 230 231 232 233 234 235 236 237 238 239 240 241 242 243 244 245 246 247 248 249 250 251 252 253 254 255 256 257 258 259 260 261 262 263 264 265 266 267 268 269 270 271 272 273 274 275 276 277 278 279 280 281 282 283 284 285 286 287 288 289 290 291 292 293 294 295 296 297 298 299 300 301 302 303 304 305 306 307 308 309 310 311 312 313 314 315 316 317 318 319 320 321 322 323 324 325 326 327 328 329 Last Page

Get An Email Alert Each Time ONEKIDSMOM Posts