| | |
| --- | --- |
| | ONEKIDSMOM's Recent Blog Entries |


Wednesday, September 19, 2012
Link to TanyaP71's original question post: www.sparkpeople.com/mypage_public_jo
urnal_individual.asp?blog_id=5038746

Today's topic: What 'unhealthy' food(s)/drink(s) do you refuse to give up? Any that you have given up completely?

Well! I shall not give up my coffee. With fat-free fake creamer and sugar substitute, I grind flavored locally roasted beans. Yums.

I did give up soda... but rapidly replaced it with the coffee.

Advantage, without the bubbles, I stay fuller even when I overeat, thus stopping binging sooner! Weird side benefit that I did not expect.







Wednesday, September 19, 2012
This woman has been back in the driver's seat for a few days: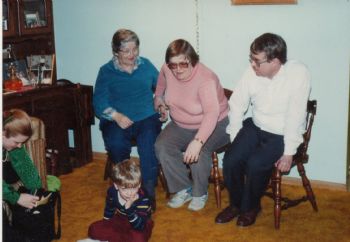 I've been watching from the sidelines and wondering what happened to this one: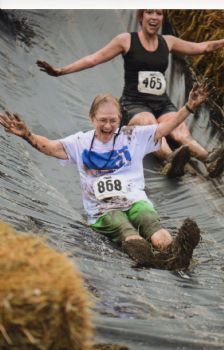 In the black and white world of the compulsive eater, I'm never "in between". Never "normal". Sometime between a 12.67 mile long slow distance jogging workout Saturday morning and bedtime that evening, a switch flipped in my brain and I became Ms. Binge Eater.

And I woke up as her on Sunday. She got put back in the box for most of Monday, but came back out Monday after work. And Tuesday after work.

Usually this is a sign that something is "eating" me. The observer in me is contemplating what that might be.

Lots of little things come to mind, but they are things that would not HAVE to have this effect... and yet they did. A phone call from the neighbor lady who wants to trim back my trees. Came to the lady on the top as a message of "you haven't done your chores, so you can't go outside to play."

Going to a film in the company of people who are more policy / social work / health care work folk and getting a reaction that I internalized as "they are looking at me through a microscope..." and "don't those people in the study (on the film) recognize they are being manipulated"?

Yi, yi, yi! She comes back quickly!

The lady in the second photo is having fun and doesn't care. The lady on the top got scolded for playing.

I have to figure this out. Because I am NOT the lady on the top, although she is a part of me. I am the lady in the second photo, and I deserve to train, to eat well, sleep well, and PLAY!

'Nuff said. LIFE is good. I shall Spark TODAY! I shall figure out this AWOL thing... and place it firmly in the past!






Tuesday, September 18, 2012
Today's topic: Do you have a go-to meal for days when you have to be on the go, no time to stop to eat and no refrigeration/cooler available?

Boy, don't leave a lot of options here, do you TanyaP71? "no time to stop to eat"? Come off it! I make time. Even if it's only a little. No refridgeration/cooler... I carry my own: insulated lunch bag with a blue ice wrapped in paper towels... enables me to carry a boxed salad to eat in that little time. Add a small can of tuna (3 oz.) and whole wheat crackers, a piece of fruit... and we have a lunch.

Planning ahead. Packing ahead. These are my friends. If I "forget" my lunch bag, I find substitutes at vendors... a piece of string cheese, fruit, nuts (I'll take salted ONLY if unsalted is not available), a Subway salad or sandwich without sauces / dressing... Subway is my go-to fast food.

That said... "doing the best I can with what's available" is always a wise choice for me.





Monday, September 17, 2012
Link to TanyaP71's original set of questions challenge blog: www.sparkpeople.com/mypage_public_jo
urnal_individual.asp?blog_id=5038746

Today's topic: Do you have any meals/snacks that you repeat over and over? What are they?

Yes, I do.

For one thing, my morning steel cut oats cooked in skim milk, and fruit added... standard, returned to over and over for breakfast.

Morning snack includes half an ounce of nuts, either walnuts, cashews or almonds... raw, unsalted, in all cases, and 3/4 of an ounce of dried fruit, prunes, apricot halves, raisins or a single date in holiday season.

Afternoon snack almost always is baby carrots and celery and a piece of fruit (apple, orange, or banana).

Standardizing snacks makes it easy to shuffle together my "work bag" in the morning. No thinking... just toss it together!





Sunday, September 16, 2012
Today's topic: Do you follow an eating 'plan'? (Vegetarian, paleo, South Beach, Atkins, yada yada yada) How has this helped you live a healthier life?

This is one I was not looking forward to answering, but I'll be honest. I'm a Jenny Craig so-called "success story". Even now, in maintenance, when in "lazy" mode, I go and buy their food, although I freely do "meal on my own" cooking. Thing is, I live alone. If I make a 12 serving pan of lazagna, it's hard not to overeat... even if I portion it off and freeze it. And I get bored. So the JC cuisine gives me variety without having a whole ton of "binge-able" food on hand. Even when I do go crazy, I don't have that much around to go crazy on.

And yes, I still go crazy at times. Part of MY self-defensive eating plan begins at the grocery store, avoiding bringing home stuff that I know will get me in trouble.

ETA: The reason I did NOT particularly look forward to disclosing this is that NO commercial weight loss program is a total solution. They are tools. This happens to be a tool that I use. Success depends on actually FOLLOWING whatever program one is on, not on what the program happens to be. As long as it is balanced, healthy, it's an OK tool in my book.



First Page
1
2
3
4
5
6
7
8
9
10
11
12
13
14
15
16
17
18
19
20
21
22
23
24
25
26
27
28
29
30
31
32
33
34
35
36
37
38
39
40
41
42
43
44
45
46
47
48
49
50
51
52
53
54
55
56
57
58
59
60
61
62
63
64
65
66
67
68
69
70
71
72
73
74
75
76
77
78
79
80
81
82
83
84
85
86
87
88
89
90
91
92
93
94
95
96
97
98
99
100
101
102
103
104
105
106
107
108
109
110
111
112
113
114
115
116
117
118
119
120
121
122
123
124
125
126
127
128
129
130
131
132
133
134
135
136 137 138 139 140 141 142 143 144 145 146 147 148 149 150 151 152 153 154 155 156 157 158 159 160 161 162 163 164 165 166 167 168 169 170 171 172 173 174 175 176 177 178 179 180 181 182 183 184 185 186 187 188 189 190 191 192 193 194 195 196 197 198 199 200 201 202 203 204 205 206 207 208 209 210 211 212 213 214 215 216 217 218 219 220 221 222 223 224 225 226 227 228 229 230 231 232 233 234 235 236 237 238 239 240 241 242 243 244 245 246 247 248 249 250 251 252 253 254 255 256 257 258 259 260 261 262 263 264 265 266 267 268 269 270 271 272 273 274 275 276 277 278 279 280 281 282 283 284 285 286 287 288 289 290 291 292 293 294 295 296 297 298 299 300 301 302 303 304 305 306 307 308 309 310 311 312 313 314 315 316 317 318 319 320 321 322 323 324 325 326 327 328 329 330 Last Page

Get An Email Alert Each Time ONEKIDSMOM Posts