| | |
| --- | --- |
| | ONEKIDSMOM's Recent Blog Entries |


Saturday, October 13, 2012
According to my little Webster's independence is "1 the state or quality of being independent; freedom from the influence, control, or determination of another or others".

Similar to my "f" word, freedom, but with a slight twist. To me, independence is the feeling my grandmothers were looking for when they would intone "I don't want to be a burden..."

I know, sounds negative, doesn't it? But as we get more mature, shall we say, the ability to make our own choices about how we live our lives becomes precious. If we become burdened by ill health ourselves, we lose the ability to care for ourselves and in that process, the choice of how to live the days, weeks, months and years of our lives. This in turn puts a lot of pressure on our loved ones to make those choices FOR us.

Scary, yes, and a bit of a negative motivation. But flip it on its head and fitness becomes the key to retaining that prized independence. It's not about weight (even though we might have thought so our whole lives). It's not about comfort. It's about ability. It is about health. The ability to live an independent life, to keep our bodies and minds in the kind of shape where we are not victims but victors... for as long as possible.

The wisdom that comes with a mature perspective is valued in many societies. We need to also value it in ourselves, protect it by taking care of the bodies that house that perspective.

Here's to our Independence! It, like life, is good. Spark on!






Friday, October 12, 2012
Today's word is hero (or if you want to change the gender, heroine). Reason I include both is because of the sense of the word I want to use. My little webster's defines hero as "4 the central male character in a novel, play, poem, etc., with whom the reader or audience is supposed to sympathize". There is a similar clause for heroine, "2 the central female character in a novel, play, etc., with whom the reader or audience is supposed to sympathize".

There are other clauses that talk about the great strength and courage, nobility, exploits, achievements and so on that we normally associate with heroism... but I'm more interested at this point in my saga of motivation with who we choose as our role models... who we sympathize with, how we write the story of our lives.

When you were a kid, who were YOU in the plays or stories you wrote in your head? Who did you pretend you were, left to your own devices? Who did you look up to? Has that changed over the years and decades?

We all need heroes... someone to admire or look up to. In the 30 Days Hath September blogs, I named Sister Madonna Buda as among mine. Interesting timing to get the H today and the I tomorrow, but she's registered (at age 82, remember) to participate in the world championship Ironman Triathlon in Kona Hawaii, tomorrow. I swear I did not plan this timing, but picking "hero" today, and with the potential to choose "Ironman" tomorrow? A way to put my fandom down in a blog again! And of course I'll be monitoring live feed coverage of the event... because it is motivating to ME.

Motivation is an individual thing. Choice of heroes? Definitely individual. But it is worth examining: what about these people brought about their choice for you? They have some quality that you admire. And in some small way, when making choices in your life, you may be more likely to embrace that quality in yourself.

So if I admire Sister's determination, never quit, keep coming back attitude toward her sport? I will want to adopt that kind of attitude in my own life. I will look to her and her life's work as motivation to continue my own.

This does not mean that we ARE our heroes. We are unique to ourselves. But who is to say... we could be SOMEONE's hero! Grandkids? Nieces and nephews? Teammates? By acting like our "health and fitness" heroes, we might just help someone else along the way to a healthier life. By acting like our "character" heroes, a better, more compassionate, fuller life. We could... with the motivation of heroes... just end up with a better world, one human life at a time!

Life is good! Spark on.






Thursday, October 11, 2012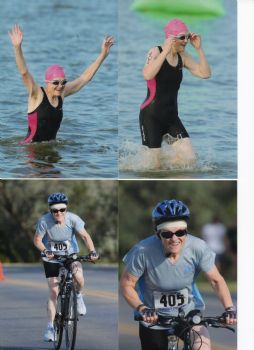 Today's word is grin. The photo shows why. When my motivation flags, I look at photos of me in athletic endeavors. There is always a grin on my face... and it makes me want to do it again!

I had considered some other great "g" words. Motivation, for example, to me is a gift. This is the mate to my "e" entry... as elusive as it may be at times, when it reappears, it is a most amazing gift! Motivation has elements of grace to it... unmerited by anything in particular that I do, a grace from my higher power (another great G word... God).

And then, of course, my "giggle points"... a phrase you won't find in the dictionary at all. I've blogged about them before... they are those moments during weight loss (and they happen in maintenance, too) when you suddenly find yourself doing something you had no idea you would be doing. Some of my favorites were finding I could squeeze through the car door in a tight parking garage and climb over the transom. Or the day I found myself spontaneously running across a field with my then-5 year old son. Or the time I found I could flip over onto my tummy in the bathtub (ok, tmi, there!) But I'm sure you have a few, too!

Maybe I'm past giggling and have moved on to grinning. But, obviously, from the photographic proof... the surprises and joy are still there.

Life is good. Spark on!






Wednesday, October 10, 2012
There are a LOT of great "f" words, from fit, to fun to functional. Yet when I think about what motivates me? What could be better than the freedom I feel when I maintain those healthy habits?

In my little Webster's, among the words defining freedom (there are a lot) there is this snippet: "d) exemption or release from imprisonment e) being able to act, move, use, etc. without hindrance or restraint".

What are those layers of fat I fought my way free of but a prison? What are the unhealthy habits I work to give up but a way of restraining myself? What is being unfit but a hindrance to my freedom?

So the desire to be free, to be able to make my own decisions, and to be able to carry them out? HUGE motivating factor.

Here's to being fit so as to be free! Free to function! Free to feel! Free to have fun!

Life is good, freedom is great! Spark on!






Tuesday, October 09, 2012
Today I chose a descriptive term for motivation, at least where I myself am concerned. There are times when my motivation to "eat right" becomes an escape artist.

Elusive, says my little Websters means "1 tending to elude 2 hard to grasp or retain mentally; baffling".

Elude includes this snippet: "1 to avoid or escape from by quickness, cunning, etc.; evade"

Yep, sometimes motivation is hard to hang on to. Take yesterday. I did all the things I normally do... I took some time to myself, I got on the treadmill, I had a healthy breakfast, I drank my water... I *thought* about going outside, it was a gorgeous day.

But then something happened... I ended up anchoring myself indoors... allergy avoidance? Maybe some. Hope for IM connection with a different timezone? Perhaps some. And I ended up watching movies and... eating. Starting with a lovely veggie soup I'd made, but moving on through a whole lot of stuff. And finally ending full enough to nap away the afternoon.

So, this morning, I find myself with another e-word: emerging. Coming forth from this cave I hid in yesterday, back to work, back to normal routine. Because the healthy behavior is more normal than a lapse. And the majority of behavior rules... here's to a healthy majority!

Spark on!





First Page
1
2
3
4
5
6
7
8
9
10
11
12
13
14
15
16
17
18
19
20
21
22
23
24
25
26
27
28
29
30
31
32
33
34
35
36
37
38
39
40
41
42
43
44
45
46
47
48
49
50
51
52
53
54
55
56
57
58
59
60
61
62
63
64
65
66
67
68
69
70
71
72
73
74
75
76
77
78
79
80
81
82
83
84
85
86
87
88
89
90
91
92
93
94
95
96
97
98
99
100
101
102
103
104
105
106
107
108
109
110
111
112
113
114
115
116
117
118
119
120
121
122
123
124
125
126
127
128
129
130
131
132
133
134
135
136
137
138
139
140
141
142
143
144
145
146
147
148 149 150 151 152 153 154 155 156 157 158 159 160 161 162 163 164 165 166 167 168 169 170 171 172 173 174 175 176 177 178 179 180 181 182 183 184 185 186 187 188 189 190 191 192 193 194 195 196 197 198 199 200 201 202 203 204 205 206 207 208 209 210 211 212 213 214 215 216 217 218 219 220 221 222 223 224 225 226 227 228 229 230 231 232 233 234 235 236 237 238 239 240 241 242 243 244 245 246 247 248 249 250 251 252 253 254 255 256 257 258 259 260 261 262 263 264 265 266 267 268 269 270 271 272 273 274 275 276 277 278 279 280 281 282 283 284 285 286 287 288 289 290 291 292 293 294 295 296 297 298 299 300 301 302 303 304 305 306 307 308 309 310 311 312 313 314 315 316 317 318 319 320 321 322 323 324 325 326 327 328 329 330 331 332 333 334 335 336 337 338 339 340 341 342 343 344 345 346 347 Last Page

Get An Email Alert Each Time ONEKIDSMOM Posts