| | |
| --- | --- |
| | ONEKIDSMOM's Recent Blog Entries |



Saturday, December 29, 2012
A few years ago I took a brief class on writing a business document, led by a professional technical writer. One of the things she told us was that good writing should be invisible. If all that is seen is the message, and the reader doesn't notice the words, you've done your job.

This morning as I made my rounds of my favorite Spark blogs, I came across one where the writer expressed her discomfort with too much focus on the physical aspects of weight loss process, on the body. She mentioned that she wanted attention, but didn't want the focus of the attention to be the body.

My mind went back to that class. We want to be seen as ourselves, we don't want the body getting in the way of relating to others. Too much focus on the body (medium, words), takes away from seeing the person who lives there (message).

It was certainly true of me that I used my heavy body to deliver a message. In my head, I thought I was saying "This woman is here for her mind and what she can contribute". I thought I was saying "This woman is not interested in anyone who is so shallow as to be attracted by purely physical traits, you must love her for her mind and soul." It was my armor to keep people at bay that did not want to get to know the real me.

I don't think that was always the message that was received on the part of those who saw me, and it leaves out some important things... like that I have to live in this body, and it gets physically difficult if you're carting around excess padding. We won't even mention the additional risk of certain kinds of disease.

What enabled me to trim down / edit the body size is a process. I tried many tools over the decades and they all worked until I would hit the wall of reversal. I think one of the reasons I kept regaining was too much focus did come onto the physical body. I would have to find ways to use my voice and my words to express the messages I needed to deliver. And while that still scared me too much? Saying out loud what I wasn't ready to admit to myself I thought or felt? Guess what? The pounds come back! Almost by magic.

So... the deal is... it's yet another skill set to be learned while we lose the pounds... setting our boundaries... establishing the beachhead of SELF... and using the voice to keep others at bay when they invade our comfort zone.

What was different about THIS time through losing (now in year 3 of maintaining the loss) is that I insisted throughout that the goal was NOT a number on the scale, NOT a body size. The goal was to find healthy ways of eating and being active, and the scale and the measuring tape would take care of themselves.

They did... I succeeded beyond my wildest dreams. But I *did* have to fight off those who wanted to focus too much on the physical for my comfort. And find ways to use my words to do so.

Because in the end... we don't need to "lose weight", per se... we need to nurture ourselves and take care of our body... because it is the medium of the message... and the message (self) is our mission to the world!

I know this will not resonate with EVERY reader of my blogs, but for those of you who struggle with discomfort at compliments that focus on "how much have you lost", "you're a different person!", etc., we are sisters and brothers under the skin. We are the survivors of obesity. But there is so much more to each of us than body size.





From where I sit now? At my natural body size, and working hard to stay here? Life is good. I'm still me (as you will still be you, if you're still working on it). And we are all worth taking care of ... today and every day. Spark on!






Friday, December 28, 2012
Some long time readers have heard this story before, so feel free to skip this one if you have, but you know how it happens, someone asks a question and you realize there are folks who walked in on the middle of the blog-stream. So... as a reminder / reinforcement to myself, as well as to let the newbies in on this part, here goes.

In 2008 / 2009 the doctor showed me the results of tests showing significant bone loss in the two years he'd been monitoring. At the same visit, he observed that my blood tests continued to show high levels of calcium. In short, while I was getting enough calcium in my diet and with my supplements, it wasn't translating into bone. Very disturbing.

So he sent me to a specialist, who diagnosed a problem with my parathyroid glands. At the time, I was drinking five or six cans of diet soda a day, and trying to cut back. By the time all this diagnosing was completed, and I got scheduled for surgery to correct the parathyroid problem, I had managed to get myself down to three a day, but I loved my bubbles. Some people don't like the bubbles, but that was the attraction for me.

Anyhow, surgery was successful, and I was reading how the carbonation in beverages was linked to bone loss! Well, duh! My continuing to drink the bubbly stuff was kind of analogous to a lung cancer patient continuing to smoke. So... I cut back further. I allowed myself ONE a day. At work, after my first break, or after lunch was my special treat time.

I set myself a Spark goal, and gave myself a "goal met" for every day I had no more than 1. We all know about the stupid motivational tricks of Spark... they work. I found myself not drinking soda at home on the weekends. Days with 0.

At Christmas dinner, 2009, which was December 27th, due to a huge snow storm, I had what I was determined would be my LAST diet cola. And I started giving myself a star sticker on the calendar for every day I made it with none. At first it was easy... it was Winter and I was substituting coffee for my beverage treat.

I was concerned about the hot weather, but somehow I made it through. I debated with myself about allowing one on the 4th of July, but my Higher Power intervened and my sister forgot to buy any for the celebration that was at her house. Lemonade was just fine.

By the time I reached a year, I threw myself a virtual party, stopped using the stickers, and sometime in the second year I just became an ordinary person who doesn't do bubbles. BUT... I still celebrate the anniversary of becoming carbonation free.

Now, for the benefits, since you've walked through the process with me:
1. Bone loss quit happening. This is HUGE!
2. Surprisingly, I noticed during food lapses, when I got full, soda used to clear up extra space and extend the binge. I found my lapsy - bingy behavior stopped sooner. Maintenance of a healthy weight became easier... and keep in mind, what I gave up was not the sugary soda, but the diet soda.
3. And of course, there is the infamous grocery bill. Soda costs $. It's an expensive habit. So is coffee, but it was a fair swap.

Some people are sensitive to artificial sweeteners in bad ways. I have not observed myself to be one of them, but if you are, this could also be a benefit.

So, without the bubbles? Life's still good. In fact, for me, it's better. If you're considering this as a goal for 2013, it's a good one... Spark on!




FREE!







Thursday, December 27, 2012
More years ago than either of us would like to think, my mother brought home a new, wrinkled, red creature in a basket. It cried. I know, Dad loved showing that slide.

Over the years, the little dude in that basket became my best friend and playmate. He outstripped me in so many ways... competition? Sibling rivalry? We joke about it, but it makes both of us somehow better. So, if you're of a mind, and know him, wish MOBYCARP a happy birthday!

Second observance: December 27, 2009 was the date I last had a carbonated beverage. Best thing I ever did for my own long-term success, and in ways I did NOT expect. So today, I celebrate 3 years soda-free.

Third observance: I woke up without the miseries this morning, and that's always cause for celebration! One day at a time.

Today's pep talk: leave for work early. Be prepared for snow that's supposed to start in a few hours. Drive carefully on the way home, beware of the icy patches covered by new snow. And keep your work priorities straight. Get the most important things done, and remember to breathe.

I packed my lunch before I went to bed, anticipating I might have to shovel this morning, but it hasn't started yet. Yay!

Life is good. Spark on!






Wednesday, December 26, 2012
Not fun stuff. I perused some other blogs of fellow Sparkers, and saw I'm not alone. This time I know for sure it is NOT bad behavior with food.

Many times you've seen me blog "introspective" blogs on why I had a lapse with food. This time I found myself doing the same thing will illness. Which I tend to do, as well, but not usually out loud in my blog! You see, I hunt for ANYTHING as an explanation rather than "I'm sick".

I look for excuses like, "I had too much salt and fat yesterday, I'm not really sick, I have a food hangover." This has definitely NOT been the case over this past few days. I had stellar behavior with food. I did modify my exercise based on not feeling completely up to snuff over the weekend. Only yesterday did I feel better enough to jog on the treadmill. So the next thought that springs to mind: "did I try to do too much too quickly, and cause a relapse?"

I started feeling lousy late yesterday afternoon, so I put myself to bed early. I took a Zyrtek because my sinus looked swollen at that point. Woke up this morning to full blown, "this head hurts too much to do mental work!" And naturally, out of Advil... best I could come up with was junior aspirin.

Second thing I look for (particularly with headaches)... "I've messed with my caffeine levels... it's withdrawal. A couple of cups of java and I'll be fine again." Again, not this time... the couple of cups of coffee I had this morning didn't make it diminish.

So I reported off work, put myself back to sleep, and didn't get up until afternoon. At this point, out of other options, I must conclude I have succumbed to a bug. I hope it's over now, because I'm feeling human again. And I hope I didn't pass it along pre-full symptom onset when I went to church Christmas eve.

That's how these things get passed around, you know... we aren't fully symptomatic, but are contagious. That said, I'm glad I didn't go on to work and spread it further. It's looking good for being better enough to face the cold temps and snow and get to work tomorrow, anyway, so I hope.

Hope those of you who've had "the bug" are similarly recovering. And those who haven't caught it? May it never darken your doors!

Spark on.





Tuesday, December 25, 2012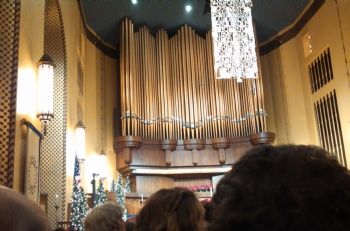 As I did last year, I slipped into church for the Christmas Eve "Lessons and Carols" service. For me, this service speaks of Christmas and makes my holiday. Actually, I like the 11 p.m. candlelit communion service a little more, but for me to stay up that late is a danger to those around me when I drive home... so I settled for the 7 p.m. service which only keeps me up about an hour later than usual. I was in bed by 10 p.m.

This morning I opened my package "from Santa" (the anonymous gift that showed up on my desk at work that no one has fessed up to leaving). In it was a pair of fuzzy warm footies, a candle in a holder, three (exactly the right amount) meltaway chocolates, and a note. "Mothers, too, sacrifice for our country. Thank you for yours." Between knowing exactly what would be welcome and the note, I am somewhat stymied... methinks this may have been a joint effort. There's a fellow military mom I went to school with... but my team would know more about the candles and the footies.

Anyway, whoever Santa is... thank you!

And when I got to my computer, son was online, so we've been swapping IM's. And get this... my REAL Christmas surprise: the box I shipped on the 17th? Got to his station TODAY, on Christmas. So he and his team are knocked out on caramel corn and the same flavored coffee I am now sipping. Psychic connection complete.

It is indeed a Merry Christmas. It doesn't take much, you know... just those little connections.

The steel cut oats are simmering. I spent more than I normally do to buy fresh strawberries yesterday as my special breakfast treat. And in a little while, I'll be putting a ribeye steak in the crock pot because a roast is too big for just little old me! The candles are lit, and Handel's Messiah is on the boom box. (Yes, I'm that old, I still have a boom box.)

Merry Christmas to all. Be conscious of your choices, enjoy and savor the good in your day, and let the stresses and tensions go. They are temporary!

Much love and peace to you all, whatever your personal beliefs!




First Page
1
2
3
4
5
6
7
8
9
10
11
12
13
14
15
16
17
18
19
20
21
22
23
24
25
26
27
28
29
30
31
32
33
34
35
36
37
38
39
40
41
42
43
44
45
46
47
48
49
50
51
52
53
54
55
56
57
58
59
60
61
62
63
64
65
66
67
68
69
70
71
72
73
74
75
76
77
78
79
80
81
82
83
84
85
86
87
88
89
90
91
92
93
94
95
96
97
98
99
100
101
102
103
104
105
106
107
108
109
110
111
112
113
114
115
116
117
118
119
120
121
122
123
124
125
126
127 128 129 130 131 132 133 134 135 136 137 138 139 140 141 142 143 144 145 146 147 148 149 150 151 152 153 154 155 156 157 158 159 160 161 162 163 164 165 166 167 168 169 170 171 172 173 174 175 176 177 178 179 180 181 182 183 184 185 186 187 188 189 190 191 192 193 194 195 196 197 198 199 200 201 202 203 204 205 206 207 208 209 210 211 212 213 214 215 216 217 218 219 220 221 222 223 224 225 226 227 228 229 230 231 232 233 234 235 236 237 238 239 240 241 242 243 244 245 246 247 248 249 250 251 252 253 254 255 256 257 258 259 260 261 262 263 264 265 266 267 268 269 270 271 272 273 274 275 276 277 278 279 280 281 282 283 284 285 286 287 288 289 290 291 292 293 294 295 296 297 298 299 300 301 302 303 304 305 306 307 308 309 310 311 312 313 314 315 316 317 318 319 320 321 322 323 324 325 326 327 328 329 330 331 332 333 334 335 336 337 338 339 340 341 342 Last Page

Get An Email Alert Each Time ONEKIDSMOM Posts