| | |
| --- | --- |
| | ONEKIDSMOM's Recent Blog Entries |


Tuesday, May 21, 2013
Those extra trips down memory lane brought on by a stray comment could be considered "detours" but they can be so amusing. Such was the "bonus blog" yesterday. As I get older, there are so many more such "side roads" that it's hard to avoid them.

From these "side roads" comes some of the best advice about the day, and the germs of my pep talks to myself:

* Remember to drink your water.
* The candy bar in the vending machine will NOT make it better.
* Ditto the cookies at the coffee kiosk!
* Eat what's in the bag, that's why you packed it.
* Go to recess... it's as important as your desk work!
* Keep a promise to yourself today.

Spark a great day, my friends. Pray for those who are hurting. Offer encouragement to those who are struggling. Rejoice in the victories of others. In short, Spread the Spark!






Monday, May 20, 2013
I'll have you know, MOBYCARP, *I* was the recipient of the first Barbie doll in the house. And yes, she was overpriced (and her accessories even more so). But I thought she came from Mom & Dad.

I distinctly remember her, as she was a birthday present, and she had red hair (like I did at that time). And almost as soon as I got her, she disappeared... and I hunted ALL OVER for her, and was most upset... only to be encouraged to open the next present... and there she was... dressed in a new outfit that our other sister (you only HAD two at the time) had lovingly made for her.

I was 8 years old, they had come out fairly recently, and after all, she had my NAME! As I grew up, I realized what a stereotype a "fashion" doll was, and while *my* Barbie dolls were action-adventure heroes, I did not want to be associated with the nickname! Still, there were a few *very special* people in my life who knew me when my parents called me that, before Mattell came out with the doll.

Thus, the story... and also why my inner child will always be "toddler Barbie".

Oh, dear... there I go again, baring the soul for the Spark world to see...






Monday, May 20, 2013
Random fragments of conversations from the weekend float through my head this morning. As I was feeling my body in the "alarm went off do I hit the snooze?" decision point, I remembered one friend mentioning that as we get older, it seems harder to START, but once we get going, we're fine. Yep, that's what this morning felt like... would have been nice to stay abed a while longer. But it's MONDAY! And I have an exciting work day ahead... seriously, that's not sarcasm. Design review today, which is a milestone... and it will be nice to check it off the list.

Other random thought had to do with body image and concepts we hold of each other. Some of you already know that SPINNINGJW is my youngest sister. As we've had a couple of walking outings together in the past month, I had mentioned to her my own warped: look in the mirror and see myself as "fat", when the photos show otherwise. Yesterday she mentioned she was still getting used to, adapting her picture of "Barbie" (don't go getting ideas, she's one of the five people on the planet permitted to call me by that name) still matched this one: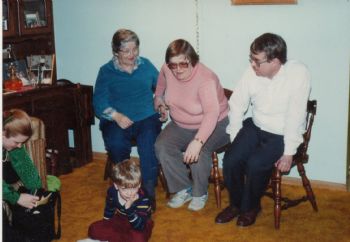 Me at 38. I tagged it in my before shots that the woman in the picture was neither healthy nor happy. My kid sis tells me she never detected that I wasn't happy. Isn't that so true of the faces we put out to the public? Even to those closest to us?

I had blogged before about a snip I read that said it took a year to mentally adjust to each 25 pounds of body weight change. Well, I've had the three years, and I've lived with the 75 pounds of the most recent loss, and I'm close. But I still have to be careful about "how I see myself". I suspect this will always be so.


Me at 60.

OK, 'nuff musings - for today:
* Drink your water.
* Eat what's in the bag - it's healthy, that's why you packed it.
* Don't "forget" to go to recess.
* And smile and hold your head high... you're worth it!

LIFE is good. LIVE it fully. Spark on!







Sunday, May 19, 2013
The weather in the early mornings has been perfect for an active lifestyle. Yesterday the group of ladies KALIGIRL refers to as "the biker babes" got together at 8 a.m. (she and I start about 7:30 to get to the starting point by 8), and rode downtown for breakfast / coffee. It was once again a great outing...






It was overcast and threatening that it MIGHT rain, so I pieced at the yard with the push-mower, but did it in very small increments, as it's long enough it takes about 3 passes and still leaves some of the stray longer stalks standing. However, I wanted to get at least some of it cut before the rain. I got only about 1/8 to 1/6th of the total yard "trimmed", but it's better than none.

And it *did* rain, overnight. This morning it was cloudy and cooler. I had my long and slow run planned for this morning, and I set out about quarter to 7. I went 10.88 miles in 2:07 and change, and got a little bit of sprinkles in the last mile or so.



Had a post-run snack, showered and changed and started in on the laundry when the phone rang... SPINNINGJW was looking for company to motivate herself out of the house to "do something active". Well, I'd already done my workout... but on second thought... a workout for her is not really taxing for me, so I agreed and we went for a 45 minute walk on one of the trails she wanted to see. It was shaded, the sun was out by then, so it was a nice balance to my solo run.




And now? Had some lunch, and am chilling in the house, finishing up the laundry, and will probably piece some more on the lawn later. We shall see.

Hope my Spark buds are all having a great weekend, too.






Saturday, May 18, 2013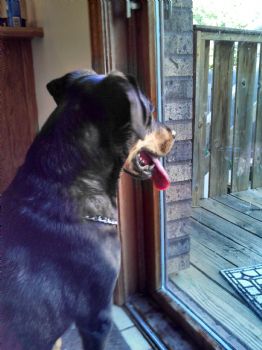 Introducing my new Granddog, Boomer. My son's been on the lookout for a Rottweiler mix to rescue, and on Thursday, he found Boomer at the local Humane Society. His major goal is a jogging buddy who could be taught manners and would be a fine addition to his newly established civilian life.

Boomer quickly responded to Sgt. Son's assertion of who the alpha male in the pack was, thus assuring himself a position in the new squad. He's a bit on the smallish size as Rotts go, not sure what breed the "mix" is, but he's 4 years old, so probably about as big as he's likely to be. And that would be about 50 pounds. Just right, in my opinion... not so heavy as you can't shift him if need be!

So, last night after work, my doorbell rang, and here was Boomer with his new Sergeant, come to visit and invite Grandma (me) for a walk. The second purpose was to acquire dog things that had been used with Diamond: a crate to turn into a dog bed/cave for Boomer, and the doggy seat belt harness, for rides in the car, leash... you know the kind of thing.

Boomer has a very laid back personality: nothing phases him. No interest in chasing rabbits or squirrels. Or cats.

The Prisoner, depicted in the second photo, had a different idea. I don't think I've EVER seen him arch his back and hiss, Halloween style as he did when Boomer accompanied Sgt Son onto the back deck, where the Prisoner was sitting on the rail. I calmed him, and after Boomer went home with Sgt. Son, Prisoner calmed down and exerted himself back into the house.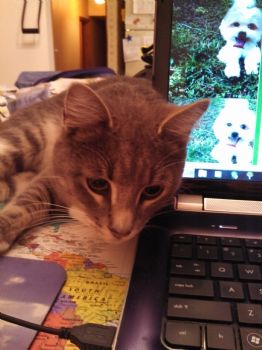 LIFE is good, enrich it with what brings out the LOVE in you! You're worth it. Spark on!




First Page
1
2
3
4
5
6
7
8
9
10
11
12
13
14
15
16
17
18
19
20
21
22
23
24
25
26
27
28
29
30
31
32
33
34
35
36
37
38
39
40
41
42
43
44
45
46
47
48
49
50
51
52
53
54
55
56
57
58
59
60
61
62
63
64
65
66
67
68
69
70
71
72
73
74
75
76
77
78
79
80
81
82
83
84
85
86
87
88
89
90
91
92
93
94
95
96
97
98 99 100 101 102 103 104 105 106 107 108 109 110 111 112 113 114 115 116 117 118 119 120 121 122 123 124 125 126 127 128 129 130 131 132 133 134 135 136 137 138 139 140 141 142 143 144 145 146 147 148 149 150 151 152 153 154 155 156 157 158 159 160 161 162 163 164 165 166 167 168 169 170 171 172 173 174 175 176 177 178 179 180 181 182 183 184 185 186 187 188 189 190 191 192 193 194 195 196 197 198 199 200 201 202 203 204 205 206 207 208 209 210 211 212 213 214 215 216 217 218 219 220 221 222 223 224 225 226 227 228 229 230 231 232 233 234 235 236 237 238 239 240 241 242 243 244 245 246 247 248 249 250 251 252 253 254 255 256 257 258 259 260 261 262 263 264 265 266 267 268 269 270 271 272 273 274 275 276 277 278 279 280 281 282 283 284 285 286 287 288 289 290 291 292 293 294 295 296 297 298 299 300 301 302 303 304 305 306 307 308 309 310 311 312 313 314 315 316 317 318 319 320 321 322 323 324 325 326 327 328 329 330 331 332 333 334 335 336 Last Page

Get An Email Alert Each Time ONEKIDSMOM Posts