| | |
| --- | --- |
| | ONEKIDSMOM's Recent Blog Entries |


Monday, June 24, 2013
This morning something struck me in my Spark daily e-mail. It was the grin on the face of the "success story" featured blog. And it was MOBYCARP's blog about battling to maintain motivation. And it has been my own reaction (physical and mental) to the prospect of the overtime. It is the reminder of the JOY that comes with shedding weight and becoming active.

And it is the reminder of how much easier life is in the lower weight range than it was in the upper range! Not that life becomes perfect, it does not. All those things that drove you nuts at 225, still drive you nuts at 125.

BUT... you do different things with the nuts. And if you are wise, you pay attention to small details.

Last night, I got myself out the door. It was warm and the sun shone down, even though it was "late" in the day. It started out as a walk, just to get the 10,000 steps in. Moderate speed, I told myself. It's warm out here. I was wearing shorts, walking shorts, not running shorts. But I had on my Lincoln Marathon tech shirt, kind of my personal statement to myself that I'm NOT going to let this OT thing get me down.

I flipped on the Runkeeper app on my smart phone, as well as the tunes, and started down the sidewalk. I turned into the neighborhood park. When I got to the other side of the park, I had a choice to make. Loop back into the neighborhood, or cross the street and go "around the lake". Often this decision hinges on whether there is a break in traffic. It's a busy street.

There was a break, so I crossed the street. I was now committed to go by the golf course. I told myself I would go see the lake, but I could turn around after I had gone 15 minutes, to get my 30 minutes of walking, no matter what, in.

But something happened. I hit the ten minute mark and shortly thereafter made the turn into the walk-way between the golf course and the houses of the neighborhood. And my... legs... wanted... to jog. So... I... did. Intervals, right? 1 minute... then walk again?

You could almost see the stress get stripped away as this progressed. I stopped worrying about the time, and just jogged to the end of the lane where it would turn. I took a walk interval. I jogged slow and easy... and it came to me as the joy in motion grew... and as the stress melted away... that all those motivational speakers are right.

Right about what? That the hardest part of your workout is getting yourself to walk out the door to begin with. Once you start, the joy takes over. OK, this may not happen the very first time you work out (on the other hand, some people do become addicted at first outing)... BUT once you have done the hard work, this corner DOES turn... and you get to "here". Here, where the fit body has a mind of its own about what it wants to do.

If you have it with you, the music gets to you: Don't stop believing, the eye of the tiger, what makes you beautiful, walking on the sun, tubthumping, some nights... all the tunes I had downloaded as rewards for myself. They just pulled me along.

I finished that run/walk at 4.12 miles. "Just to get 10,000 steps in." But I got a whole lot more. Drenched in healthy sweat, I followed up with a shower and a proper bedtime.

Now it is Monday morning. I am armed for this work week. Let me savor and remember this workout. A good workout is a way to remind myself that fit is where I want to be... that for as long as I'm granted the ability to be active, I need this. Remember.

LIFE is good... Spark on!







Sunday, June 23, 2013
I need a pep talk on Sunday? Isn't that church day? Don't you get the pep talk at church?

Well... yes, but... there are pep talks and there are pep talks.

First, to give God glory, let's give folks an update on Kelsey... a story abundant with gratitude. I'm going to quote her mom's latest FB status, posted last evening:

"She got a bath today and the nurses washed her hair..She's stable..She had an issue with bleeding today, where the tubing goes into her artery..they are controlling it..they woke her up some today, to check to see what she can do..blink her eyes, squeeze their hands, wiggle her toes..She's sedated again..She's still on the ecmo machine, still on the ventilator..her heart is beating and pulsing..pray that her heart and lungs keep healing."

This is now well into the second week on that heart-lung machine, but the fact that she can blink and squeeze hands and understands the doctor's requests to do these small things speaks well of ongoing recovery, slow as it seems to those watching.

Prayers are a wonderful thing... knowing they are being raised helps everyone keep positive. And here is her (Kelsey's) daughter, playing in the hospital's healing garden. Clearly being well cared for by other caring relatives / friends: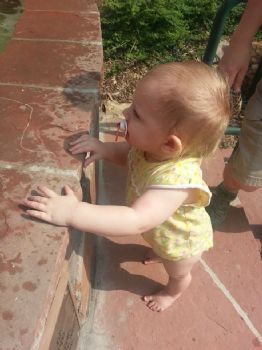 Praise the Lord of Life and the God of Wisdom in providing and preserving these lives.

You know, now that I've posted this... I almost don't need that pep talk! But, in any case:

Remember all you have to be grateful for, today and every day... use this to combat the things you feel negative about, until the negative turns around and God's purpose in it is revealed.

Conserve your health and your energy, so you can do the most important things:

1) "Eat what's in the bag"... even though there is no bag today, you have the plan, and you know what WOULD be in it!



2) "Remember to go to recess"...



3) Prepare for the week ahead... bag those healthy snacks so you'll have what goes IN the bag. Get the laundry done so you'll have the most important bit of your wardrobe for the upcoming week: athletic socks!



4) Hug someone today! (Going to the Mellers with my sis & her daughter... might be a few others there to add to the hug crew...)



5) Drink your water (it will keep you away from the popcorn?)




6) Go to bed on time and get that routine re-established.

LIFE is good. You *do* love your work (blog about that sometime). Spark on!








Friday, June 21, 2013
Today.

It is a gift.

Let me see it as such, and appreciate it as such.

Let me not try to repaint it into what it is not.

Let me live it, and allow the feelings brought on by my will be washed over and processed in a healthy way. Let me be willing and able to be used for the purpose of my maker.

Thank you, Lord, for the abundance of clean, clear water available for me to drink, for not everyone has this.

Thank you, Lord, for the many healthy options for food to fuel my body. Help me choose wisely and without greed in their use today. For there are those who do not have enough.

Thank you, Lord, for the ability to move my body under its own power. Let me appreciate this and remember to take the moments to use my feet and legs to transport me where I need to go, and not just sit on my sit-upon!

Thank you, Lord, for a safe and comfy place to sleep.

There is so much to be grateful for, let me focus on that, and not on things that aren't going "my way". Give me the gift of acceptance of Your direction. And help me appreciate Your hand in all things.

Amen.

Oh, yeah, sorry about that, Sparklies... prayin' my way through the start of the day. Spark on. LIFE is good.






Thursday, June 20, 2013
Discipline: 1 a branch of knowledge or learning

What are YOU learning?

Me? I'm learning to live LIFE in balance.

So, for today, (and remembering what I really, really want)

* Eat (nutricious food, in balance, quality and quantity)
* Drink (lots of clean water)
* Breathe (deep, calming, being conscious every so often)
* Move (don't forget to go to recess)
* Think (Exercise your mind)
* Sleep (go to bed on time)

Spark on, my friends. WE are worth it. And we CAN do it.






Wednesday, June 19, 2013
Stuff that's going on around and emotions that present to your mind... are just stuff. Like a baby, your body needs to be taken care of, no matter what.

* You need to drink your water.
* You need to eat a balanced, nutritious menu.
* You need to get up and move around.
* You need to breathe.

and You need to sleep.

Take care of you, for without taking care of those basic physical needs, you won't be taking care of whatever that is that floats around demanding your attention. One... decision... at a time.



First Page
1
2
3
4
5
6
7
8
9
10
11
12
13
14
15
16
17
18
19
20
21
22
23
24
25
26
27
28
29
30
31
32
33
34
35
36
37
38
39
40
41
42
43
44
45
46
47
48
49
50
51
52
53
54
55
56
57
58
59
60
61
62
63
64
65
66
67
68
69
70
71
72
73
74
75
76
77
78
79
80
81
82
83
84
85
86
87
88
89
90
91
92
93
94
95
96
97
98
99
100
101
102
103
104 105 106 107 108 109 110 111 112 113 114 115 116 117 118 119 120 121 122 123 124 125 126 127 128 129 130 131 132 133 134 135 136 137 138 139 140 141 142 143 144 145 146 147 148 149 150 151 152 153 154 155 156 157 158 159 160 161 162 163 164 165 166 167 168 169 170 171 172 173 174 175 176 177 178 179 180 181 182 183 184 185 186 187 188 189 190 191 192 193 194 195 196 197 198 199 200 201 202 203 204 205 206 207 208 209 210 211 212 213 214 215 216 217 218 219 220 221 222 223 224 225 226 227 228 229 230 231 232 233 234 235 236 237 238 239 240 241 242 243 244 245 246 247 248 249 250 251 252 253 254 255 256 257 258 259 260 261 262 263 264 265 266 267 268 269 270 271 272 273 274 275 276 277 278 279 280 281 282 283 284 285 286 287 288 289 290 291 292 293 294 295 296 297 298 299 300 301 302 303 304 305 306 307 308 309 310 311 312 313 314 315 316 317 318 319 320 321 322 323 324 325 326 327 328 329 330 331 332 333 334 335 336 337 338 339 340 341 342 343 344 345 346 347 348 Last Page

Get An Email Alert Each Time ONEKIDSMOM Posts