Monday, January 19, 2009
It's been a little spotty, but the last two days have been good. Motivation is key. Deciding that it is worth the little bit of extra effort to give my body the care it needs and deserves. That doesn't mean deprivation... it means nutrition... it means healthy amounts of movement, gentle if the day calls for it.

Today it was a walk with my ol' dog. She turned 13 over the weekend, and the first half of the walk, she didn't seem to want to move her old bones. The second half, however, she was more frisky than I. But at least we got outside. She got some good sniffing in. And I came to terms with how fit I am not, and how fit I am. And hope lives.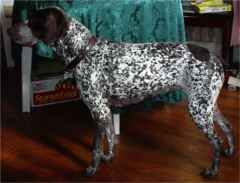 By the way, the photo of the dog is an old one, when she was closer to her prime. It's got to be over five years ago, because it's in the old house.