| | |
| --- | --- |
| | ONEKIDSMOM's Recent Blog Entries |


Saturday, June 20, 2009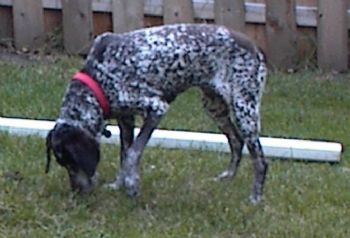 She got a nice walk this morning, saw both an adult bunny (which made her point), and later a baby in the bushes, which excited her no end. And on the way home a young male of her breed jumped the fence in his back yard to come exchange sniffs. You should have seen the grin on her face.

Oh, yeah, I got a nice dose of outdoors, too, and met some neighbors when I rang their bell to ask if they'd like their dog back...







Friday, June 19, 2009
One of my biggest challenges in self-care is my obsessive nature about my work. As I started warming up to this current life-style effort, I started doing a few things to prepare. One of those things was to strategically schedule some vacation days in months where there was no holiday.

Combine this with having got my bike tire fixed last weekend, and we have a plan for a nice Friday bike ride. Well, not this morning... rain. Maybe tomorrow.

Still, the day is mine, all mine!





Wednesday, June 17, 2009
There's a little girl inside me. I call her Toddler Barbie. She is wearing a red dress with a white pinafore, white socks, and black patent leather shoes. Her hair (quite red) has been done in hanging ringlets, a la Shirley Temple in her old movies.

Toddler Barbie is the inner child that must be cajoled, spoken to sternly, and sometimes forced to do what's good for her. She also needs at times to be hugged and treated gently, read to, or put to bed on time. She needs to have her proper food delivered to her, and at times told to go put on play clothes and play outside.

We all have an inner child. The trick is in learning when to use what parental strategy. Sometimes that means figuring out what's going on with the inner little one. Is she stamping her foot, shaking her head and saying "I won't"? Is she sad, and hiding from her friends?

I wrote a couple of days ago about the week having a slow start. For once I picked the right strategy, and indulged that little slowness, while still getting the toddler to do the basics.

This morning... zoom! Well rested, eager for the treadmill, good sweat, luxurious shower, bright attitude. Amazing, if we can just get through the tough days, better ones DO follow.

May today bring your inner toddler whatever he or she needs, leading to great tomorrows!




Monday, June 15, 2009
Two mornings in a row, sloooow starting. Hit the wall of "I'm bored with salads" at noon yesterday, besides.

So: focus on motivation - this is not a sprint, this is a marathon. I cajoled myself onto the treadmill saying "self, you don't have to go as fast, you can warm up slowly... but you are going to move, and you'll feel so much better".

Self grumbled a bit, but agreed that starting slow was a good idea... and I got my goal of at least 30 minutes and stretching afterward accomplished. So, each day may be slogging, but getting the job done is itself a Victory!

If you're having a good week, feeling charged and motivated - luxuriate in it, exult in it, and crow about it. If like me, you're have an uphill battle... count each little victory and recognize it for what it is: valuing yourself!








Saturday, June 13, 2009
It may be cloudy and cool, but for a Nebraskan, that's a good day in June to get out and be active. I'm all giddy this morning because I FINALLY got my bicycle's flat tire fixed.

It must be at least a year ago that my sister called me up on a Sunday morning asking if I wanted to go riding with her. I said sure, then went to the garage to prep my bike for the ride, and discovered the rear tire was not only pancake-flat, it wouldn't hold air when I pumped it in.

I concluded it must have suffered the puncture when I had ridden partway through the neighborhood the week before with my son, to lead him to the nearest trail home to his apartment. This was a watershed moment... he wanted his bike at his place so he could ride instead of drive (remember gas prices last Summer, folks?)

Anyway, lazy woman that I am, I didn't get it fixed. It was a three mile walk to the nearest bike shop, I'm not a fix it herself kind of gal. My feet were still hurting from an injury I took on when I tripped over the dog, don't you know?

And while I have a bike rack to strap to the car, I don't trust it much. Millions of excuses, right? Well, last Sunday, my son pointed out that a new branch of one of the larger bike shops in town had relocated less than a mile from my home. NO MORE EXCUSES.

Now I have a working bicycle. Look out, trails, OneKidsMom is on the loose.




First Page
1
2
3
4
5
6
7
8
9
10
11
12
13
14
15
16
17
18
19
20
21
22
23
24
25
26
27
28
29
30
31
32
33
34
35
36
37
38
39
40
41
42
43
44
45
46
47
48
49
50
51
52
53
54
55
56
57
58
59
60
61
62
63
64
65
66
67
68
69
70
71
72
73
74
75
76
77
78
79
80
81
82
83
84
85
86
87
88
89
90
91
92
93
94
95
96
97
98
99
100
101
102
103
104
105
106
107
108
109
110
111
112
113
114
115
116
117
118
119
120
121
122
123
124
125
126
127
128
129
130
131
132
133
134
135
136
137
138
139
140
141
142
143
144
145
146
147
148
149
150
151
152
153
154
155
156
157
158
159
160
161
162
163
164
165
166
167
168
169
170
171
172
173
174
175
176
177
178
179
180
181
182
183
184
185
186
187
188
189
190
191
192
193
194
195
196
197
198
199
200
201
202
203
204
205
206
207
208
209
210
211
212
213
214
215
216
217
218
219
220
221
222
223
224
225
226
227
228
229
230
231
232
233
234
235
236
237
238
239
240
241
242
243
244
245
246
247
248
249
250
251
252
253
254
255
256
257
258
259
260
261
262
263
264
265
266
267
268
269
270
271
272
273
274
275
276
277
278
279
280
281
282
283
284
285
286
287
288
289
290
291
292
293
294
295
296
297
298
299
300
301
302
303
304
305
306
307
308
309
310
311
312
313
314
315
316
317
318
319
320
321
322
323
324
325
326
327
328
329
330
331
332
333
334
335
336
337
338
339
340
341
342
343
344
345 346 347 348 349 Last Page

Get An Email Alert Each Time ONEKIDSMOM Posts