| | |
| --- | --- |
| | ONEKIDSMOM's Recent Blog Entries |


Saturday, June 27, 2009
I've dropped a total of 9 and a half pounds in those four weeks. And about 7 inches, adding bust, waist, abdomen & hips.

The odd thing is that I can't really bring myself to care about the pounds or the inches. You see, they are side effects of the actions of eating less and doing more, and that was the real health goal to begin with.




Thursday, June 25, 2009
Oh, if anybody reads these every day... I got over my mini-wall for the week yesterday. It seems to help to vent a bit. I've never been much of one for venting, but it really is good for me to scream into the universe, silently, via a blog like this one that "I'm having a hard day!" So thanks for bearing with me.

Today *is* better, already!

The topic line I put there was stimulated by reading a fellow community member's blog about an upcoming family reunion. My brother is coming to town next week, and he hasn't been out in two years. Not since the great family "featherweight" triathlon in August 2007.

Many of us who struggle with weight and fitness long-term have family contributors to the issue. In my family, for example, there are two "fat" sisters (I'm one of them), and two "skinny" sisters. No matter what our weights at any given family event, we have those labels left over from childhood. When I managed to lose enough and get fit enough to weigh less than my older sister (the gorgeous one?)... it was commented on.

Now, by rights, and health standards, I should weigh less than she does. She tops me in height by two inches. Did I stay there? No! It was almost as though I could not, because it did not fit my family definition.

Anybody else with family issues that play into your efforts? What do you do about those issues?

*hugs* & have a great day







Wednesday, June 24, 2009
Today's whine:

I don't really like blueberries. They were fresh at the store, so I bought them, and I've had them for breakfast (as part of breakfast) two days in a row, and I still don't really like them. Sorry, those of you who are fans of this wonderfully healthy food, but there's no accounting for taste.

I'm not crazy about the mixed greens I bought to substitute for my "spinach salad" this week either. Could barely choke it down on Monday. So, today I'm substituting baby carrots, celery and broccoli florets for the noon time salad.

Warning:

On line things can rob you of real life self-care. I had it happen with the dragons last year, and I've had it happen this week with a LiveJournal community that hit the spotlight and grew like my backyard weed patch.

Not that I wish anyone *not* be successful in their efforts, but there is this obsessive guilt about not responding to everyone. Yesterday I kept writing comments to people and didn't get my lunch ready so felt rushed getting to work.

Responding to everyone WILL kill my own healthy living efforts. You have to be selective. For instance, how many Spark Teams should one join?

Final thought: Today I will take care of my own needs first. This is NOT selfish, this is necessary before I can do anything for anyone else!








Saturday, June 20, 2009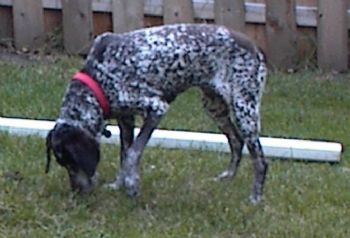 She got a nice walk this morning, saw both an adult bunny (which made her point), and later a baby in the bushes, which excited her no end. And on the way home a young male of her breed jumped the fence in his back yard to come exchange sniffs. You should have seen the grin on her face.

Oh, yeah, I got a nice dose of outdoors, too, and met some neighbors when I rang their bell to ask if they'd like their dog back...







Friday, June 19, 2009
One of my biggest challenges in self-care is my obsessive nature about my work. As I started warming up to this current life-style effort, I started doing a few things to prepare. One of those things was to strategically schedule some vacation days in months where there was no holiday.

Combine this with having got my bike tire fixed last weekend, and we have a plan for a nice Friday bike ride. Well, not this morning... rain. Maybe tomorrow.

Still, the day is mine, all mine!



First Page
1
2
3
4
5
6
7
8
9
10
11
12
13
14
15
16
17
18
19
20
21
22
23
24
25
26
27
28
29
30
31
32
33
34
35
36
37
38
39
40
41
42
43
44
45
46
47
48
49
50
51
52
53
54
55
56
57
58
59
60
61
62
63
64
65
66
67
68
69
70
71
72
73
74
75
76
77
78
79
80
81
82
83
84
85
86
87
88
89
90
91
92
93
94
95
96
97
98
99
100
101
102
103
104
105
106
107
108
109
110
111
112
113
114
115
116
117
118
119
120
121
122
123
124
125
126
127
128
129
130
131
132
133
134
135
136
137
138
139
140
141
142
143
144
145
146
147
148
149
150
151
152
153
154
155
156
157
158
159
160
161
162
163
164
165
166
167
168
169
170
171
172
173
174
175
176
177
178
179
180
181
182
183
184
185
186
187
188
189
190
191
192
193
194
195
196
197
198
199
200
201
202
203
204
205
206
207
208
209
210
211
212
213
214
215
216
217
218
219
220
221
222
223
224
225
226
227
228
229
230
231
232
233
234
235
236
237
238
239
240
241
242
243
244
245
246
247
248
249
250
251
252
253
254
255
256
257
258
259
260
261
262
263
264
265
266
267
268
269
270
271
272
273
274
275
276
277
278
279
280
281
282
283
284
285
286
287
288
289
290
291
292
293
294
295
296
297
298
299
300
301
302
303
304
305
306
307
308
309
310
311
312
313
314
315
316 317 318 319 320 Last Page

Get An Email Alert Each Time ONEKIDSMOM Posts