| | |
| --- | --- |
| | PATTIMET's Recent Blog Entries |


Sunday, July 27, 2014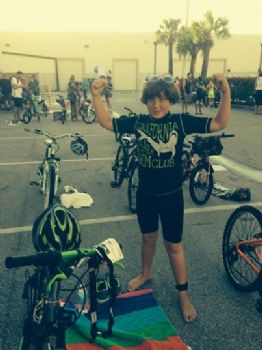 So today my son did his 4th triathlon, well kids triathlon. The last one he did in June, he place 2nd out of 3 boys in his age group. So he was convinced that he was going to place, but we knew that there were going to be more kids, and as much as my son would like to be "athletic" he's not the best athlete, but he gives it 120% most days and I think today he gave 150%. He came in 4th out of 6 boys in his age group. At first I just saw the sadness and upset pour through his body, my heart was breaking for him. I had run the half mile run with him so make sure that he didn't stop. One of the kids in his heat from the pool who he had finished more than a full lap ahead of, passed him on the bike portion, and this is something will sometime send him into a tailspin. I got quite the surprise, we ran a sub 8 minute mile pace for that half mile. I didn't think he had it in him, I'm always pushing him when we do our 3 mile runs to keep up and when running with the kids it's a 2 minute run 1 minute walk and the run is only a 12 minute mile pace... He always does amazing at the swim, and fair with the bike and struggles with the run- I was amazed that he did so well with the run. So he did it and although he didn't come home with an award - he did shave 2.5 minutes off of his time. I explained to him what a big deal that was so now he is happy and ready to continue with his bricks, and ready to start doing some sprints so that he can shave another 2.5 minutes off.

I am so proud of him.

My baby is growing up.




Saturday, July 26, 2014
I did an 8.5 mile run this morning. We ran down by the beach it is so peaceful to run down by the ocean. However, this morning when we started our run, there were lots of members of a run club out doing their training runs. I don't run with them because my schedule generally does not work with their schedule. But I felt so intimated by all of these runners, they can run so much faster than me. I can't just run - I do a 6 minute run and 1 min walk pattern - my overall pace was 12:36 this morning. I'd like to do my half marathon with in less than 2.5 hours, but I am realizing that means a 11:30 pace. I'm not sure that I can do that. right now I'm just worrying about getting to the distance, but soon I need to worry about the speed too. I'm starting to wonder if I'll ever feel like a runner?




Thursday, July 24, 2014
Last night I ran with the boys down by the beach, there is a beautiful path that runs along A1A. We did our 3+ miles of run walk combo. Then we headed for the beach. I had packed sandwiches so we ate, then went down and hit the water and the sand. I did a little bit of actual swimming and more standing and floating around enjoying the calm. The boys loved it, they like it when I come down and play with them. I wish I could manage to make time like this more often.






Sunday, July 13, 2014
A few years ago I started running, but I'm a single mom and as my runs got longer I faced the delema of what to do with my kids while I run. I don't have any family support in the area. Last winter I signed them up for a run club that formed for kids. In the last 7 months, my kids have been running once a week with me (it's my easy day), but it serves as double duty as fitness for all of us and some quality time for us to spend together.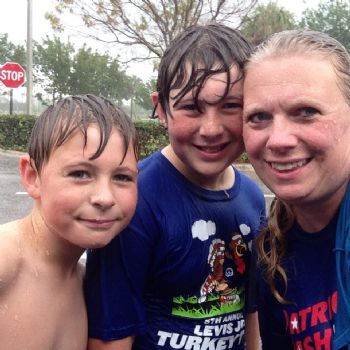 I really enjoyed the time. Now that it's summer, my older son is doing JR. Triathlon's so we've been bike riding together along with our weekly runs and going in the pool. He's doing well and we practiced bricks this week.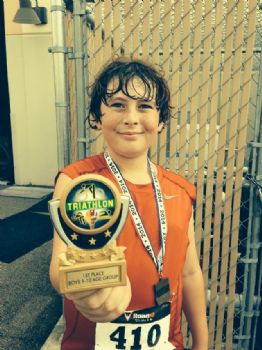 It's great to be able to get several hours of activity in without sacrificing family time. We've done some 5k's together. Did a color run - can't really call it a run but the kids loved it and it gets them moving.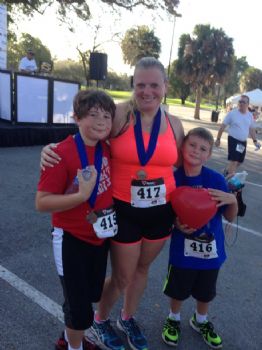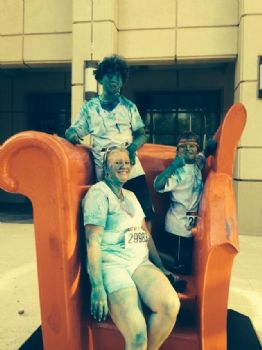 I even achieved a PR a few weeks ago chasing my little one down at a 5K.

He took second in his age group for the second time.

He loves it, that he's faster than his mom. If I start to gain on him, he looks back and giggles and takes off. He's only 8 so he has not mastered pacing yet but his fashion of running averages him out to the low 10mm - which puts mom in the mid 10's trying to catch up. The good news is if I continue to chase him down - as he moves into the 9's I'll move into the low 10's.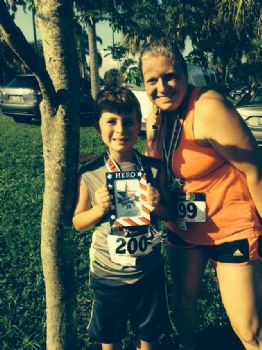 But the best part is the family time and keeping healthy together. I hope that these activities will stay with them as they grow up.





Saturday, February 15, 2014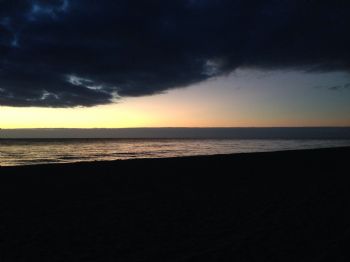 It was a beautiful morning, temps right around 60. I followed my 8 minute run 1 min walk schedule. I use Mapmyfitness to track my runs and my pace. At the first quarter I was running in the low 10's. I suspected that I couldn't keep in up, but went with it, I felt good and wanted to see what I could do. After all I was going to walk in 8 minutes. So I stayed with a large pack of people until about mile 3.5, then I fell back a bit. Yet I pushed on I tried not to slow down but I was now in the mid to upper 10's, but still the 10's. Finally I got to the 6 mile marker... I pick up pace only 2 tenths of a mike left. It seemed like the longest 2 tenths ever. But I did it, 1:08:26. 11:02 average pace... Pretty good since my PR for a 5k is 11:16. I'm very happy with the results, I will run another 10k on April.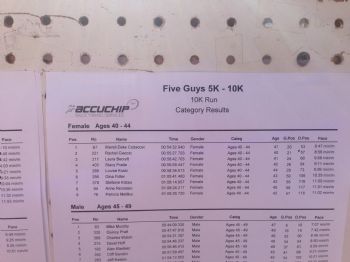 1 2 3 4 5 6 7 8 9 10 11 12 13 Last Page

Get An Email Alert Each Time PATTIMET Posts