Monday, July 28, 2014
Well it's been an exciting weekend. I found out on Friday the gender of my next grandchild. After work I went home and baked the appropriate color of cake. Son was home and this was a top secret mission, so just going home to bake it was no simple task. But somehow I managed without ds seeing. Had to get up super early to decorate said cake. Here is a picture of this finished cake: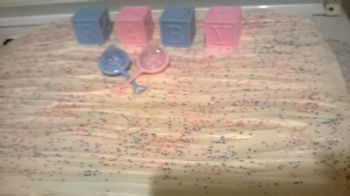 And pic below of said appropriate color...



Yep...baby #3 for them...grandbaby #4 for me is going to be a boy!!!

So Saturday was spent getting the gender reveal party together, then the party, then the cleaning up...needless to say i was one tired puppy...thankfully i had gone to the gym before the party started. Sunday was spent cleaning my own home and getting ready for the week...which i don't think i can ever get to prepared for...lol.

This weeks menu:
Monday-Weekly date night w/mom
Breakfast-Sausage Pancake Muffins & Strawberries
Lunch-Leftovers from last night
Dinner-Dinner at Mom's

Tuesday
Breakfast-Whole Grain English Muffin, boiled egg, banana
Lunch-Leftovers from the weekend
Dinner-Sloppy Joes, sweet potato fries and corn

Wednesday
Breakfast-Strawberry Cream Oatmeal, boiled egg
Lunch-leftovers from last night
Dinner-Chicken Parmesan, green beans

Thursday
Breakfast-Bagel, Cantaloupe, boiled egg
Lunch-leftovers from last night
Dinner-Breakfast

Friday
Breakfast-leftovers from last night
Lunch-Antipasto salad
Dinner-Dinner over at dd2's

Saturday
Breakfast-Raisin Bran Cereal
Lunch-Baked beans & grapes
Dinner-Sub Sandwiches, carrots

Sunday
Breakfast-Soy butter toast and banana
Lunch & Dinner-Ham, potatoes, roasted squash