| | |
| --- | --- |
| | POOKASLUAGH's Recent Blog Entries |


Thursday, November 20, 2014
My five year weight loss anniversary is a week from today. I've had ups and downs, sure, and I may not be to my ultimate goal, but these last five years have been a HUGE success, and I wanted to give you guys a preview of what's to come when I CELEBRATE that anniversary next week!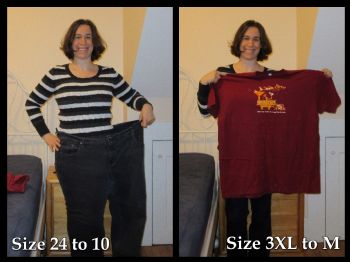 Wednesday, November 19, 2014
This morning, my scale says 157.4 lbs. Y'all, I haven't seen a number lower than 158 since June 6th. I am ecstatic. Over the moon. I am SO CLOSE to being back at that 100 lbs lost line and a healthy BMI.

Sure, a month ago, when I finished my Whole30, I was at 158.4 lbs - only one pound higher. Sure, if I'd've kept going the way things were then, I might have seen the 157s a lot sooner than this, and might even be at a healthy weight again by now. But you know what? I'm NOT going to dwell on where I COULD have been if I'd only done X or Y or Z.

Because here's the thing. Life has been very rough for a long time, and I took a LOT of body blows over the last month. Sometimes I ate too much. Sometimes I ate doughnuts and chips and ice cream. Sometimes I also got my act together and ate well, exercised regularly. Sometimes I kept my pain-eating in check. Through trial and error over the last month, I've managed to find a good balance between eating a fairly strict paleo diet AND giving myself periodic off-plan foods without going crazy about it. And I'm proud of that.

Over the last month, I've seen my weight fluctuate a lot, but it never got completely out of hand. The highest it reached was 163 lbs, and today I'm LOWER than where I was a month ago. It may only be a pound lower, but considering the month I've had? Well, being lower by ANY amount is an achievement.

I still might not make it to the 100 lbs lost line again by my five year weight anniversary next week (on Thanksgiving this year!). But you know what? I'm pretty darn close, and I'm FIGHTING for my health and my body. When that five year anniversary rolls around on the 27th, you better believe I'm going to be CELEBRATING all the hard-earned triumphs and rewards of the last five years.





Friday, November 14, 2014
1. No tooth news yet. Appointment is scheduled for Monday.

2. For those of you who have been concerned about my mental health, rest assured. I was finally able to see a doctor and am now on an anti-depressant. I am working to find a nearby therapist as well. (Also note: despite all the stress, my blood pressure is at 100/65, the lowest it's been in years. Awesome.)

3. Speaking of therapists, my husband and I are now seeing a marriage counselor. Too early to tell if it will make a difference, but we're trying.

4. Sometime between Monday evening and Tuesday morning, our hot water stopped working. Landlords had plumbers out quickly, but they had to order a part, and it didn't come in until Thursday evening. That left us with no hot water - and therefore no heater - for three days. It got pretty cold, especially on the bottom floor (around 60!) but thankfully two of those three days were warmer, so we didn't have to go stay in a hotel or anything. Also: showering has never felt better.

5. It is snowing. Before Thanksgiving. Y'all, I like snow, I like winter, but this is WAY too early. Definitely not in Texas anymore.




6. After a week of a lot of emotional eating and high stress and Girl Stuff, my weight is up a pound since last week. $%#*$*&%! But it's only a pound. I'll take it back off again. I'm honestly not too worried about it despite the swearing. It's just that I wanted to be back to 100 lbs lost by my 5 year anniversary on the 27th, and it's not looking like it's going to happen.

7. The boys got their first term report cards. They were all-A students in Texas, and things are MUCH harder academically here, so I'm pleased that they ended up with mostly As and Bs.

8. I'm over 33,000 words into my novel for NaNoWriMo. It's a terrible draft, absolutely horribly written, but I'm having fun exploring the bare basics of the world I'm writing in, and I have hope that this will help me to get a fuller grip on the story so that I can plan better later and write a much better draft.

9. My eleven-year-old half-sister has been doing NaNo these last few years, and this year she's attempting 50,000. She's already over 42,000 words in. !!! I can't express just how excited for her and proud of her I am!

10. I don't really have a tenth update. I just liked the round number.





Tuesday, November 11, 2014
So things haven't been great for me since May. My family has moved across the country to a place I despise, a place where I know no one. My marriage is completely in the toilet, and my kids are in chaos because of it. My body image issues have flared up terribly, and between the stress and the psychological issues, I've struggled a lot with my weight since May. Things haven't gotten any better - in fact, in some ways, they've gotten progressively worse. And having things so BAD around here has made it very difficult to spot a potential health-related problem that has probably been around for at least six months.

Because when you start having massive rapid weight gains after having a history of massive rapid weight gains related to a specific health problem, you should probably look at that old problem rather than blaming stress or foods that never used to cause you issues.

Because when you start having disordered hunger patterns and spells of hypoglycemia when you haven't had anything like it in over five years, you probably ought to look at old problems rather than blaming your current emotional environment.

Because when you start having mental health issues that go WELL beyond the norm and devolve back into the weird symptoms you had related to that old health issue, warning bells should go off, rather than blaming your current situation.

For those of you unfamiliar with my story, there's a short summary on my SparkPage. Basically, a procedure on my teeth in 1998 caused 11 years of silent, hidden infections that manifested in constant throat illnesses, allergic reactions to things I'd test not-allergic-to, disordered hunger patterns with severe hypoglycemia, bi-polar disorder symptoms, and massive rapid weight gains/losses unrelated to my diet/exercise (like 20 lbs gained overnight, or 30 lbs lost in 3 weeks while eating the same as always - that sort of thing). After my teeth were fixed in September 2009, ALL the symptoms went away.

Here's the thing. The infections were concentrated in one tooth for much of those 11 years, and then, when that tooth was extracted, the two neighboring teeth were shaved down for a bridge. One of the two bridge teeth then began dying and turned into the second infection. In Sept 2009, the endodontist who fixed the second tooth told me I needed to keep a careful eye on the other bridge tooth, as most bridge teeth eventually die and need a root canal.

Up until recently, the tooth has seemed healthy. I started noticing this summer that there was a sliver of dark greyish blue near the gums over that tooth, and I started wondering if the tooth (under the bridge) was dying. So many other things were going on, though, that I dismissed it as probably normal as a bridge tooth. Especially as I'd guessed my dentists would have pointed it out as a problem if it was a problem, right? I didn't connect that blue-grey sliver to my sudden weight gains in May. Then, two weeks ago, I noticed what looks like a small blister in the gums above that same tooth. I mentioned it to Jason, thinking it might indicate infection or abscess, and he agreed that I should get it looked at. I haven't yet, because so much else has been going on. My tooth - idiotically enough - had become the least of my worries.

But the problems have persisted, from sudden rapid weight gains (6-8 lbs overnight??), to hypoglycemic attacks, to a complete dissolution of my mental health, from severe agoraphobia to rapid bi-polar swings on a daily basis. Yesterday morning, I was brushing my teeth and my gums started bleeding all over despite the fact that I've flossed daily for years. My mouth smelled infected. That blister has grown worse. The greyish blue sliver is darker, closer to black.

I think my other bridge tooth is dead, or dying. I think I'm suffering from a whole host of EXTRA problems I don't need right now because of it. I have an appointment to see my dentist on Monday. Most likely, I'm going to have to find an endodontist and get another root canal. Sigh.

If that IS the case, at least then I can be free of all the extra problems, right? Free to concentrate on the ones that AREN'T health-related. It won't make everything better, but at least things won't be WORSE anymore, either. I'll keep everyone updated.

Stupid teeth.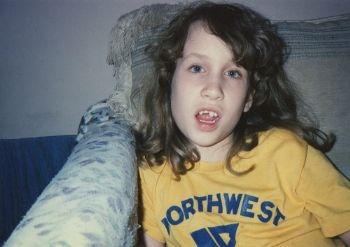 (Me, right after the teeth were first broken on a playground when I was ten. If I could go back in time to just one day...)





Friday, November 07, 2014
Every year in November, I participate in National Novel Writing Month, or NaNoWriMo. I've been doing this since 2009 and love the event. This year, however, with all the stress and depression, I decided last minute to drop from the program. I've felt restless and itchy since November began, as I've watched all my fellow Wrimos working on their projects and writing word-counts.

Back in October, I submitted my synopsis to a contest (of sorts) called 30 Days, 30 Covers. Different amateur graphic artists chose a synopsis from the pool of entries and design a cover for that book. I've never submitted a synopsis before this year, and I didn't figure that I could win a slot once I dropped from the program. Apparently, they don't check, because I found out this morning that my synopsis was chosen and my cover was featured on Day 5: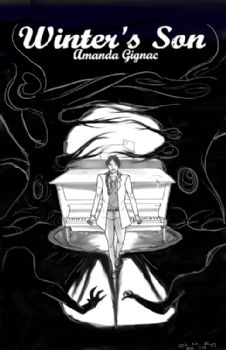 !!! It is amazing! My synopsis:

**************
When Poe Winterson's mother hangs herself on Christmas Eve, Poe is sent to live with her grandmother in the childhood home she hardly remembers. Eight years of nomadic life have obliterated memories of before. She barely recognizes her former best friend, Blake Hansley, much less the rest of her senior class, despite years of elementary school with dozens of them. She doesn't recall playing with Blake in the wooded area behind their neighborhood, or the dilapidated piano left abandoned there. She has no idea that this piano acts as a gateway to another world.

Nightmares. They've always haunted Poe, but they aren't inventions of her imagination like her mother taught her. The Nightmare world is real, and it has come to claim her. Suddenly, nothing about the fabric of Poe's life can be trusted - not her upbringing, not her memories, not the details of her mother's death. She wants to run, to disappear back into the real world and never step foot near that piano again. The Nightmares have taken Blake, however, and Poe refuses to let them destroy any more lives in their hunt for her.
***************

This has galvanized me, and even though I'm a full week late, I've decided to participate after all! I don't know that I'll hit the magical 50K mark, but I'm writing again!

You can see a larger image and the shortened synopsis here:

nanowrimo.org/forums/30-covers-30-da
ys/threads/193843



1 2 3 4 5 6 7 8 9 10 11 12 13 14 15 16 17 18 19 20 21 22 23 24 25 26 27 28 29 30 31 32 33 34 35 36 37 38 39 40 41 42 43 44 45 46 47 Last Page

Get An Email Alert Each Time POOKASLUAGH Posts