| | |
| --- | --- |
| | POOKASLUAGH's Recent Blog Entries |


Thursday, September 04, 2014
I've mentioned before that my big strength goal - the one health-and-fitness-related goal I have yet to achieve on this journey - is to be able to do 5+ pull-ups again. Back in high school, I could do 20+, and I would love to at least be able to do 5 nonstop again one day. I got really close before my surgery in January, getting up to 4 pull-ups. Post-surgery, with my abdominal muscles surgically altered, I lost core strength completely. For weeks, I couldn't even sit up from a laying down position on my own, and it took three months before I could even hang from a pull-up bar. At 5-months post-op, I tested my pull-up strength, and couldn't even do a full pull-up. That was how much core strength I lost (because at heart, pull-ups involve arms and shoulders, yes, but a big chunk of the strength comes from your abdomen!).

I've barely exercised over the summer, and have done no strength training since mid-June. On Monday, September 1st, I decided to take the same extensive fitness test that I mentioned several blogs back ("I need a new me...or, Day 1"). I won't go into all of the numbers here, but I'm happy to say that I've regained most of the strength that I lost post-surgery. I'm back up to a full vertical jump height, flexible enough to reach 4.5 inches past my toes, and I can do 32 on-my-toes push-ups before my core muscles start protesting (at which point I stop, given I'm only 7.5-months post-op and don't want to injure myself!). The only place I haven't regained full strength - or improved my strength - is in pull-ups. However! I was super excited to discover that I can, indeed, do a full pull-up again!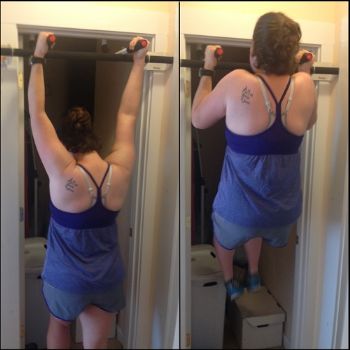 It's only one, but I can do it now! And honestly, I kinda consider this an improvement in strength. Why? Because during my initial weight loss journey, I couldn't do even HALF a pull-up until I got below 160 lbs, and I couldn't do a full pull-up until I was at a healthy weight (154 lbs). Now, I can do a full pull-up at 164 lbs, and that extra 10 lbs of body weight makes a HUGE difference when it comes to pull-ups. Imagine what I'll be able to do when I'm back into the low 150s and high 140s!

My kids started school this week, so now I have my me-time back. I'm still doing really well on my 100 days of exercise challenge, and haven't skipped a day yet (even if some days are merely a 10-min slow walk). I've launched into an intensive pull-up program this week that I hope will help me get back to my pre-surgery level (and beyond), complemented by a full-body kettlebell routine twice weekly and lots of walking. I'm looking forward to seeing where this all takes me in the next four months.

Note: I pre-drafted the above on Tuesday, with the intention to add information about my official weigh-in today (day 16 of the challenge). Yesterday, however, my aunt passed away. She had advanced cancer and this was completely expected, but it's still rough, especially as I'm currently 2000 miles away from all of the rest of my family. I never got to say goodbye, nor will I be able to go to her memorial service next week. I did not handle the news well, and spent a big chunk of the morning eating way too much (especially kettle chips). At the same time, I'm proud of myself because 1) I still counted every single calorie, 2) I still did over half an hour of walking, and 3) though I wanted it badly, I didn't have any sugar at all (I'm now 15 days sugar-free). Today, I'm salt-swollen, so will use yesterday's unofficial weigh-in of 164 lbs as today's weigh-in. That puts me down 4.2 lbs since the challenge began on August 20th.

Thank you all for your kind words and thoughts. I am not christian, and do not believe in god/heaven, but I believe very strongly in kindness, sympathy, and each person processing death and grief in their own way. I personally believe that when we die, we become part of all of the things around us, a sort of non-sentient divinity, and this comforts me, to feel like some part of my aunt is still inside me and the things around me. Yesterday was a rough day, but today will be better. I can honor her by continuing to live.

A tribute to her: bostonblooming.blogspot.com/2014/09/
tribute.html





Thursday, August 28, 2014
Today marks Day 9 of my 100 Days for Me Challenge. I've thus far done very well: exercised daily even if only a 10-min walk, counted calories daily, had no sugar at all since August 19th (though I still put a little stevia in my plain Greek yogurt in the morning). I've been doing my positive affirmations and personal tasks every day as well. Some of my favorite tasks so far have been attending a wine tasting, asking for a neck/back rub, and Skyping with my good friend Stephanie (INEEDACAT9). I've forced myself away from negative self-talk, and I've been pushing myself to spend extra time taking care of myself, from little things like spending time on skin car when I'm tired at night to harder things like smiling at myself in the mirror every time I walk into the bathroom. I don't know yet if it's helping my depression at all, especially as the situation at home has gotten even worse this week, but I'm following through, at least.

And following through seems to be helping. I started this challenge on August 20th at 168.2 lbs. My official weigh-in day is Thursday, so this morning I weighed in at 164.4, a full 3.8 lbs down since August 20th. And that's with it being TOM right now. Woohoo! I know some of that loss is water, but not all of it, because I was drinking 12-16 glasses of water daily before I started the challenge. And for a girl who doesn't lose weight easily, seeing a big drop like this in the first week is really happy-making. I'm back to the 90 lbs lost line. Only 10 lbs until I'm back at my original goal, 16 lbs until I'm back to my lowest weight, and 25-30 lbs until I'm at my final goal!

One interesting thing I learned this week: when it gets really hot out, I stop being hungry. I never noticed this in Texas, because we kept the a/c on almost year-round, so the hottest it got in the house was 80 degrees. I didn't stay outside very long when it was hot, either. But here in the Boston area, while it's been cool most days, we had several days of very hot weather - above 90 - this last week, and we have no a/c. The temp in the house was up to 89 degrees those days, and above 85 for most of the day. And on those days...I simply stopped being hungry until the temp dropped off again in the evening. Then my hunger returned. It's like a natural rhythm I never noticed because of a/c! Certainly made it easier not to snack in the afternoons that way, haha!

I wasn't originally planning to take pictures for my weekly check-ins on this challenge - just at the 25-, 50-, 75-, and 100-day marks - but since I hit a round number milestone (90 lbs lost), I'll go ahead and include an updated pic. This is me now vs me at the last time I hit 90 lbs lost (September 27, 2012).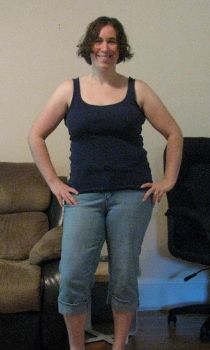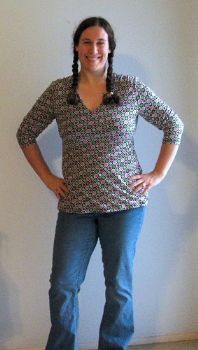 Thursday, August 21, 2014
Today is technically 18 months from the day I met my goal weight, but I'm not really sure I can honestly say I'm "maintaining." The last four months have been mental hell, as I was saying in yesterday's post, and consequently, I've regained roughly 17 lbs since the beginning of May. Periodically I manage to lose a pound or two, but then they just come back, plus friends. I'm doing what I can to get myself to a better mental place (see yesterday's challenge), and to get back to where I was 18 months ago.

Yesterday, I took new "before" pictures. I'm now closer to the 85-lbs-lost line than the 105-lbs-lost line. It pains me to see these new pictures next to the ones from February, when I was at my one-year-maintenance line. Especially since back then, I was 5-weeks post-op and feeling really good about my body. I no longer feel anything like "good" about myself in any way. Sigh.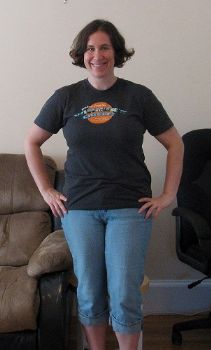 Now.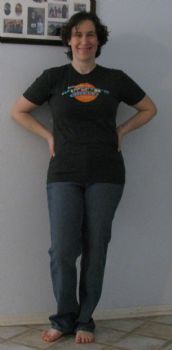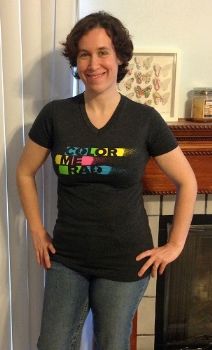 Six months ago.

That shirt that's the same? It's one size smaller in the second photo. I've gone up a shirt size, two pants sizes, and a bra size. I've taken all my measurements and they're all up - and oddly, they aren't the same measurements as the last time I was this weight. My hips, thighs, and calves are all bigger, while my upper body is smaller (not just my waist, which is lower due to surgery). I can tell I've not been a runner in some time! Apparently it really does make a difference, in body composition at least.

I'm putting this up here as truth. I've regained almost 20 lbs. I'm closer to being obese than at a healthy BMI, and my body looks it. I don't "still look good" as some people have said. I look overweight and unfit, and it's time to change that. I'm starting over. I need to lose those 20 lbs again, and after that I really would like to lose another 10-15 lbs, to get me to the 135-140 lbs range. That's a good size for my height and body shape. So I'm no longer really in maintenance. I'm in full-on weight loss mode.

**Note: I deleted the original blog and am reposting because with the responses I got, I realized I misrepresented the situation. I did not regain because maintenance is difficult for me. It is actually remarkably easy for me to maintain, while weight loss is extremely difficult for me. I regained this weight the last four months on purpose. I was in a very bad place mentally, and binging to gain weight because I thought I should look as repulsive as I feel. It was not good, and I'm done with that mentality. While I'm not nearly in a good place mentally, I really want to stop the negative cycle of punishing myself with food for something I have no control over.





Wednesday, August 20, 2014
Originally, this new challenge started as a fitness-only challenge. My friend Stephanie (INEEDACAT9) began a 100-Days-of-Exercise challenge, posting a picture of her fitness daily on Instagram. I loved the idea so much that I decided to copy her, and invite other friends to join a secret facebook group dedicated to the 100-day challenge. My hundred days of exercise start today, to end on Nov 27th - both Thanksgiving, and my 5-year weight loss anniversary.

But this challenge has come to be about more than just fitness. This is about reclaiming myself. The last 13 months have been VERY hard for me, especially the last 4-5 months, because of the things I mentioned in the Truth blog. (Blog is deleted now, because it discussed very sensitive things.) My self-esteem reached an all-time low, until I felt worthless, ugly, repulsive, defeated. Things haven't gotten any better in my situation, but I can't keep living in this place of fear, depression, and self-loathing. I need to reclaim myself. I need to learn to love myself despite the weapons being used against me.

So my challenge, which starts today, will incorporate more than just an exercise streak. Every day for the next hundred days, I will:

- exercise at least 10 mins per day
- eat no processed sugar, and avoid other sugars as much as possible (Note: I'm giving myself ten instances - not days, but instances - off this rule, to accommodate birthdays and holidays and such. I don't have to use all ten.)
- count my calories no matter what I eat that day
- do one positive-image affirmation thing for myself
- do one thing off a list of 100-for-myself tasks that I've created

As a reward system, I will give myself $1 for every daily goal I meet, for a total of up to $5/day, up to $500 for the whole challenge. Yes, that's a steep reward for something so simple, and for people who have just used up their savings to move across the country, but I want to believe that I'm worth it, and that this challenge - which will be a MAJOR challenge for me - is worth it. The reward will come on the last day. I will use the money on something that makes me happy - independently happy. My hope is that by the time the last day of the challenge passes, I will be a happier and healthier person, no matter what my external situation looks like on that day.





Tuesday, July 22, 2014
One fact about me: I'm extremely susceptible to stress. Actually, chronic stress is pretty much a way of life for me. And chronic stress? It doesn't make me gain weight. Because it is my state of being for 90% of the time, it's the place when I'm most stable, the place when I maintain my weight without trying, and when I can lose weight very slowly and with a lot of effort (more than losing normally takes - losing at about half the rate of my calorie deficit). It's my "neutral."

That other 10% of the time? Roughly split at 2% happiness, 8% severe depression. Let me clarify this.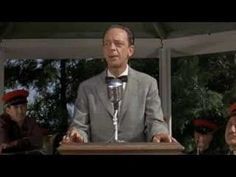 (Don Knotts flashbacks, anyone?)

I have plenty of little happy moments and little sad moments during my neutral periods. This is not to say I'm only happy 2% of my life, and only sad 8% of my life. The 2% happy periods, however, have a distinct biological as well as psychological change. They show up rarely, and often last for about 4-8 months, though they are strongest for about 3 months, then start mixing with stress thereafter until the stress/neutral takes over completely. During that time, I am happy almost constantly, and nothing can damper that. In addition to being happy, it's like my body comes to life. I see more clearly, I sleep better, I have more energy, I laugh a lot, and I get stuff done without effort. (I'm always getting stuff done. It just takes effort during the neutral portions of my life.) And my body starts dropping weight pretty quickly, no matter how inactive I am, or how badly I'm eating. If I eat well and exercise well, I drop weight even faster, at a rate that is above my calorie deficit. My theory is that hormonally and chemically, my body is simply running very efficiently, and thus burning a lot more calories just in every day living, plus it's dropping all the calories it stores up during chronic stress periods. Note: I do not become happy because my weight drops, but the opposite - I become happy, and then the weight starts dropping effortlessly until the happy period is over.

In my adult life, this has happened to me three times: the summer/fall of 1999, the summer of 2006, and the spring/summer of 2011. Each instance is proceeded by some sort of "waking up," a moment when it's like my brain chemically transitions from its normal state to one that is happy and active. Two of those three periods, the waking up moment was so dramatic that it was literally like waking up from one mental state to another, while my body was already awake. Also, I can trace these happy periods and waking up moments all the way back to puberty, though they were more frequent and shorter during my adolescent years.

The transition to severe depression is not as dramatic, and it often creeps up on me unaware. The periods are a lot muddier, and can last a very, very long time. The best description I've ever heard for this sort of depression comes from a book called The Believers by Zoe Heller: "a toad that squatted wetly on your head until it finally gathered the energy to slither off." Yeah. And just like my happy periods, there are distinct biological changes when depression claims me. It's like my body shuts down. I become absolutely still. When I'm happy, my body seems to vibrate even when I'm lying down reading a book, like I just finished a workout and the blood is running through me. When I'm depressed, I can barely get my heartrate up when I work out, and it drops down to below normal immediately afterwards. It's like my body has pulled into itself, sluggish, and is conserving every ounce of energy possible. Of course, there is the corresponding physical result: no matter how well I eat or how often I force myself to exercise, I just keep gaining weight. It's not the stress - I can deal with stress - it's the absolutely shutting down of all unnecessary activity within my body. My personal theory is that my metabolism goes into overdrive when I'm happy, and virtually shuts down when I'm depressed, so that my base calories burned every day differs enormously.

These depression periods happen far more often than the happy ones, sadly, and often much longer. I've not yet found anything that can lift them. Medication hasn't helped in the past - it just sends me into a sort of manic energy that is miserable and painful while I'm still sad and exhausted - but it's possible that something might work someday. I won't stop trying to find a solution, of course. And, I do have to say, since my teeth were fixed in Sept 2009 and I got off the emotional roller coaster those symptoms gave me, I haven't once suffered from severe depression - until now.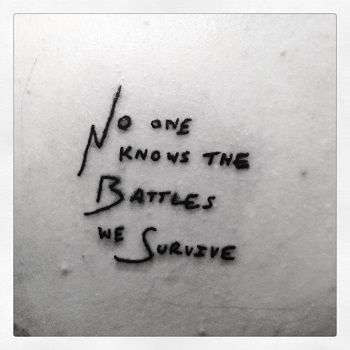 (My new tattoo, upper left shoulder blade)

In late April and early May, depression claimed me, and continues to get worse every day. Unfortunately, this is a depression caused by outside factors, rather than anything internal. I still can't talk about it here, no matter how much I wish I could, because it involves other people and is very private for them. I will say, though, that it has nothing to do with moving across the country, and I would be thrilled and excited about the upcoming move if there wasn't this painful thing happening at the same time. I can only take so many blows, however, and April/May delivered enough of them that I bowed down, and that toad climbed back onto my head. Or my neck, is really what it feels like, because the weight is so heavy that I can't unbend my back.

Periodically, I get a little burst of energy. I am nothing if not determined, persistent, and aggressive about trying to control my body and mind. I can't sustain the energy, though, and go back to being very, very still. And I'm scared. I've now gained 15-20 lbs since the depression took over. Anything I lose, I gain back when I no longer have the energy to keep pushing. And right now, there's nothing I can do about it. I can't change the circumstances around me that have led me here. I can't just will myself out of a chemical problem in my brain that is exacerbated by problems outside my control. I have no doctor to go to, and I don't have time to find one in town, so I will have to find one after we move up north, and then hope that I can at least get on a medication that *might* bring my BODY back to neutral, if not my MIND. The mental part won't improve until the external situation is resolved. :(

I have worked so hard. I've discovered things about my body, about how the right foods and the right amount of exercise really helps keep depression at bay - when there aren't outside factors that are pretty much forcing me into it. It's been five years since I last fell into this kind of dark chasm, and eleven years since I fell this badly. I have no idea what to do or when this will get any better, and I can't tell if that frustrates me into a sort of anger-induced burst of short-term energy, or makes me want to give up completely.

Thanks for listening, those of you who are. I'll see y'all again when I've made it to Boston in a couple weeks.



1 2 3 4 5 6 7 8 9 10 11 12 13 14 15 16 17 18 19 20 21 22 23 24 25 26 27 28 29 30 31 32 33 34 35 36 37 38 39 40 41 42 43 44 Last Page

Get An Email Alert Each Time POOKASLUAGH Posts