| | |
| --- | --- |
| | POOKASLUAGH's Recent Blog Entries |


Monday, April 14, 2014
On Saturday, I was scheduled to do a 5K to benefit the Youth Orchestra of San Antonio. I did this one last year, though because I had bronchitis at the time, I had to walk instead of run it. The course is extremely hilly, so I'm not sure exactly why I decided I wanted to run it this year. I don't like running hills, and frankly, I haven't done any real running since August last year. I've literally run a mile three times (one in September, one in January, one in March) and a 5K once (in December). Since my surgery in January, I've done a couple 2-4 minute jogging intervals, but I did absolutely NO training for this 5K, and I knew I wasn't in good running shape. Still, I was determined to run it, or at least run/walk it. What the heck is wrong with me??

To worsen matters, I was struck by severe insomnia the night before the 5K. Severe = I couldn't fall asleep until midnight, and I woke up at 2:30 and was unable to go back to sleep. I finally got up around 5:45, had two cups of coffee and some yogurt, and hoped it would be enough to carry me through the race. My friend Stephanie (INEEDACAT9) came over around 6:30 so we could carpool together, and I drove to the event area in a kind of caffeine-fueled haze.

Once at the site, we met up with a few other Sparkers, and eventually with my stepmom, Lauren, who was running her first 5K since we did YOSA last April.



Lauren, me, Stephanie

I debated whether to try my original run/walk plan, or to just walk the 3.1 miles. My stomach didn't feel good, and I was so, so tired! But I'd told myself I would run this, and you know me. I'm stubborn and ridiculous. Seriously, I don't know what I was thinking at this point. I really ought to have just walked the stupid 5K! But I didn't. I crossed the starting line, and took off.

Right away, there was this giant uphill stretch of the course, and that got my heart rate up into the 180s. Ugh. I have no idea what speed I was running at, but I knew I wouldn't be able to sustain more than a few minutes at a time. I quickly fell into a pattern of running for 4-7 minutes, then walking 1-2. At the 1-mile sign, my HRM read 11:05. At mile 2, it read 22:36 (11:31 for the second mile). There was no 3-mile marker, of course, the run being only 3.1 miles long. I knew I was behind my PR pace - I ran a 5K in 33:43 last August during a training run - but I had no energy left to sprint to the end. Literally. I *tried* to speed up, and that lasted half a second, and then it was like my body's tank ran out of gas. Ha. It didn't help that there was a hill leading up to the finish line!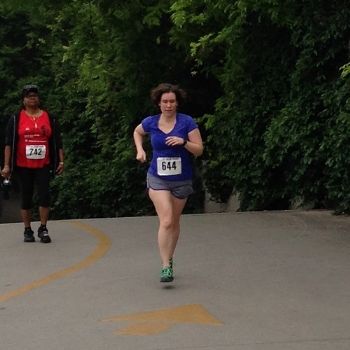 (See where the road drops off behind me? Yeah. Hill.)

Still, I managed to run about 3/4ths of the course, and considering I hadn't trained, and hadn't really run in 7 months, I think I did pretty well. I was a little disappointed in my time - 35:31, an 11:27/mi pace - until I realized that as far as official 5K events goes, that actually beat my previous best time of 35:34, even though I walked a quarter of it. So really, all things considered, I did pretty well. I came in 130th over all, 65th of all women, and 17th of women aged 30-39.

Stephanie and Lauren both did really well, too. Stephanie walked a personal best, and Lauren ran the entire 5K! Jason got this great action shot of Stephanie crossing the line: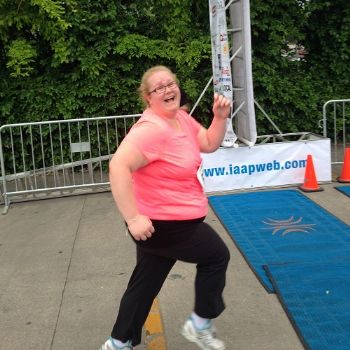 Afterwards, we went out for brunch with Jason, my boys, my dad, and my little sister Julia. It was exactly what I needed - besides a 6-hour nap, haha. A great end to a morning that was fun despite the ridiculously unfortunate conditions. And the whole experience made me realize how much I miss running, and how much I would like getting back into good running shape (especially considering how SORE I was the next day!). I quit last August because I'd become so focused on pushing myself to perform better that it was no longer fun, and I would love to get back into it with a more relaxed attitude. We'll see. I am stupidly self-competitive. :D

Hope the rest of you had a great weekend!






Tuesday, April 08, 2014
After a couple of bad days this weekend, I decided to get out and do my April thrift store trip. I'd promised myself one thrift store trip per month during my 35th year, and I really needed some cheap-but-fun retail therapy after those few really awful days! I had fun picking out some new skirts and tops, plus some books I've really wanted (Brandon Sanderson's The Way of Kings, and the first three books of the Lunar Chronicles by Marissa Meyer - Cinder, Scarlet, and Cress). As usual, I took pictures to show off the new threads!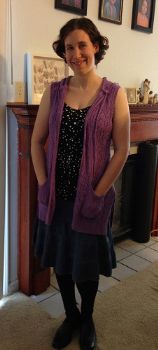 New skirt, new tank, new throw-over hooded sleeveless sweatery-type thing (what the heck else are you going to call that??). Matched it with some leggings I already had at home, and suddenly, I look ridiculously eighties-awesome.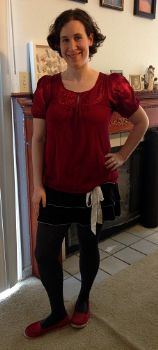 To go with my current obsession with the Lunar Chronicles, which are dystopian YA novels based on different fairy tales, I got this very fairy-tale-princess-looking shirt, paired with this very cute ruffly skirt, and again paired it with some leggings and some awesome matching red shoes I already own. Yes!!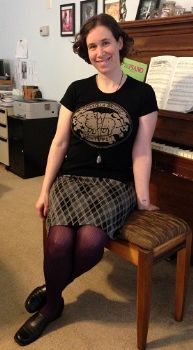 Only the skirt in this picture is new, but it goes well with some other clothes of mine. And this picture...well, it made me realize something IMPORTANT about the last year. According to the scale, my weight now compared to my weight a year ago is only down a couple of pounds. According to the measuring tape, I've barely lost any size, except around my belly from surgery. BUT, looking at pictures...well, I can FINALLY see why people keep telling me it looks like I've lost so much weight in the last year. These next four pictures are:

1. my highest weight of 255 lbs.
2. after I'd lost 50 lbs, at 205 lbs.
3. after I'd lost 100 lbs, at 155 lbs.
4. after I'd kept that 100 lbs off for a year, and lost roughly 2.5 more plus 2.5 of skin (at 150 lbs).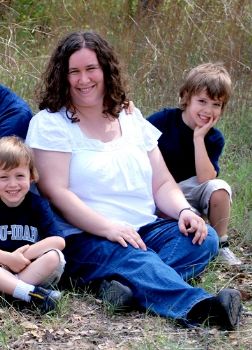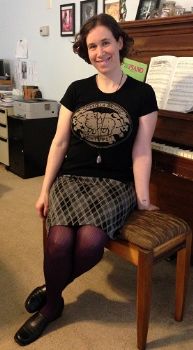 So, um, yeah. I've changed. And not just around the belly.

I can't say WHY there's such a big difference between now and a year ago. Maybe my sporadic strength training has helped, despite not really losing inches. Maybe my body has just been repairing itself and reshuffling a bit after losing 100 lbs. I don't know. But you know what? I'll take it! Heck, I don't look all that far off from my goal anymore, despite the 15-lb difference: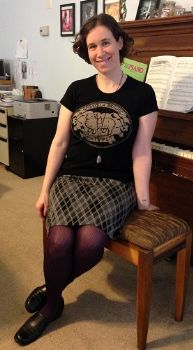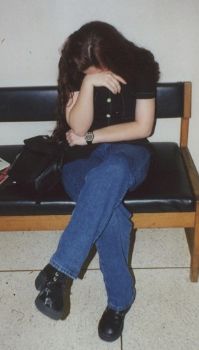 (And yes, that picture was posed. My then-boyfriend fancied himself an artist and photographer. Heh.)

Hope y'all are having a good week!





Friday, April 04, 2014
I had a bit of an epiphany yesterday. All throughout this weight loss journey, my main focus has been on fitness, rather than on cutting calories. I'm a huge believer in eating at end-goal maintenance level and taking the weight off with exercise, and that has worked really well for me, even if the loss has gotten slower and slower as my body weight approaches my end-goal weight and maintenance level. Over the last few months, while I am far more satisfied with my body post-surgery, there is still a part of me that would love to finally get through these last 10-15 lbs, and I've struggled a bit with the conflict between my various goals and mindsets.

Yesterday, I was flipping through some of the food diaries of people I know on MFP. Some are people who have lost their weight through very unhealthy methods, with extreme calorie deficits (eating 700-900 calories a day, for example). While I like MFP for tracking food, simply because all the local-brand foods are in their database and make tracking so much faster/simpler, I really don't like the site/community. The tracking system lends praise toward the greatest deficit possible, even dangerous levels, and the community is...not at all supportive. Sparkpeople is SO MUCH BETTER, both in terms of health and in terms of support. And these people I know who are using MFP alone...many have fallen into the trap of eating as little as possible and never exercising at all - something that is setting them up for longterm complications and health problems.

Anyway, I was looking over some of those diaries yesterday, and I started thinking about the way I've been going at this weight loss thing. And I started thinking, well, if I stop exercising completely, and cut a couple hundred calories out of my diet so that I'm eating right around my BMR (~1625 calories per day), I should be able to lose those last 10-15 lbs much quicker. I wouldn't do what they did, cutting back to unhealthy levels. I would just cut back on fitness and change my focus to calorie restriction for the last 10-15 lbs. I considered this for all of two seconds, and then the protest slammed down in my mind:

No! I WANT to exercise!

I don't WANT to be the thin woman who is weak and has no muscle or endurance. I don't WANT to sit around all day and eat smaller amounts of food. I don't WANT to worry about how I have to eat less and less over time to maintain my loss, as I lose muscle and my metabolism slows.

I want to be STRONG. I want to be ACTIVE. I want to look - and be - HEALTHY and FIT and TONED.

And if that means I'll just have to stay right around 150 lbs instead of making it down to my ideal 135-140 lbs, then I would rather be a strong and toned and active and fit 150-pounder than lose muscle and strength and endurance by dieting my way down to the ideal. That doesn't mean I won't keep trying to get there - you all know me, and you know I NEVER give up - but it does mean that I am embracing my active, fit, strong self. I won't give up on me, on exercise, on building muscle and endurance and strength. These things are far more important than ideal weights and the last 10-15 lbs.





Wednesday, April 02, 2014
Friends, I will tell you the honest truth. I am really, really struggling right now, and have been since mid-March. I've tried my best to get my head above water, but it's just not happening. I made it through March - the vacation to Portland REALLY helped - but now I've crashed into April, and entered the part of the year where I am most depressed.

I despise April. For much of the country, it's a time when spring is opening up. For San Antonio, it's a return of the dreaded six months of summer. Already by the end of March, we had days in the mid-90s, and it's still up there. It's going to be a terrible summer, and since winter was already so volatile (a roller coaster of unusually cold and unusually hot days, often changing several times a week, with 50-degree swings in temp from morning to mid-afternoon), I have a feeling this summer is going to be extraordinarily miserable. I'm just not ready to let go to the only halfway decent weather we get all year, especially when this proved to be one of the warmest winters on record in south Texas, despite the handful of unusually cold days. That depression that so many people get when winter begins to hit up north? That's how I feel now, when I know my windows will be shut tight for the next six months, and I will rarely see the sun, because it's just too frickin' hot to be outside. Every fiber of my being wants to move away from here, and every summer, the NEED to get out of Texas gets worse.

I'm tired. I'm miserable. I'm depressed. I can't bring myself to care about anything. I can't get up the motivation or determination to do any of the things I want to do, and all I see in front of me is a long, miserable stretch of heat-induced oppression. I am trying, really I am, doing everything I can to stay positive. I'm trying to look forward to my writer's conference in June, to a possible vacation with my kids later in the summer. I'm trying to look on the positive side, and to stay in touch with people instead of disappearing from site for awhile like I usually do. I'm trying to keep eating healthy foods and lots of freggies and very little sugar, so as to stave off even worse depression. I also know that after April passes, the depression will ease up a little until about August, just as it does every single year.

But right now, my brain is thick with it, and I feel crushed with the burden of the next six months.

I don't know what to do, or even what help I'm asking for. I'm doing everything I can to stay positive and motivating and upbeat and optimistic, when inside I feel a bit like I'm dying. I don't know how much strength I have inside right now. Maybe all I'm asking for is some extra care and thoughts in the next month, especially if I do succumb so badly that I stop posting and interacting with people here, as I tend to do in the early summer months (ie, "spring" to everywhere else in the country...). I don't know. I just know that I need some sort of lifeline, before this crushes me and washes me away completely.





Monday, March 31, 2014
Last week, Jason and I traveled to Portland, while my mom came to watch the kids. Jason had a conference to attend, and I got to go along for the vacation aspect (yeah!). We were only there for 2.5 days, but I fell in love with Portland nonetheless. It was just so beautiful, and the weather was gorgeous - even though it rained two of the days we were there, it was in little spurts, and I had plenty of time to explore the city! I wish we'd had a few more days to explore!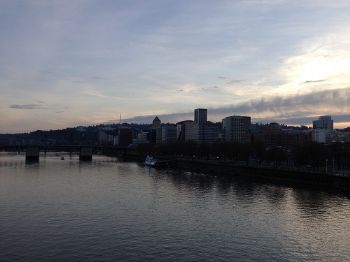 Jason and I stayed in a cheap hotel just east of the river, in easy walking distance from his downtown conference hotel. I was amazed at how pedestrian-friendly downtown was. It reminded me of my experiences in NYC, in many ways. I walked everywhere - Powell's, the river front, the Pioneer Courthouse, and so many other little places. In my 2.5 days in Portland, I walked almost 54,000 steps, around 28 miles, and a total of at least 6 hours. One day alone, I walked 23,460 steps! I never got to officially exercise, but I spent hours and hours on my feet every day, and when I was done exploring for the day, I would go back to my hotel room, lay down, and read for a couple hours. It was amazing.

Another amazing thing about Portland: the food.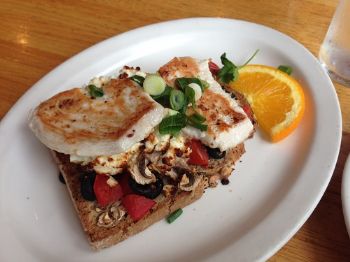 I cannot tell you how bizarre it is to go from a city that has an incredibly limited selection of restaurants who'll serve gluten-free food, to a city where nearly everywhere not only knows what gluten-free means (rare in San Antonio), but has options ready for you. Even on menus that didn't have anything marked, all I had to do was ask, and the waitstaff knew exactly what was available for me. Even the food trucks knew what gf options they had! Plus, they didn't just have awful, dry gf substitutions. I could hardly believe the kinds of bread I had there! Some sort of delicious homemade muffin-like loaf at my breakfast cafe. Seeded teff bread for lunch (above). GF pitas that tasted like naan and were so heavenly I thought I'd died. Etc. This was my first vacation since I discovered my gluten-intolerance, and I managed to get through the whole four days - including a full day of travel, with a 3-hr stopover in Las Vegas, where the only gf options were at Wendy's, UGH - without any cross-contamination. That alone makes me want to move to Portland. Immediately!

So yes, I loved the city, I loved the food, I loved the weather, and I loved the culture of Portland. Best thing about Portland, though? The fact that I had several friends there that I got to meet up with for the first time.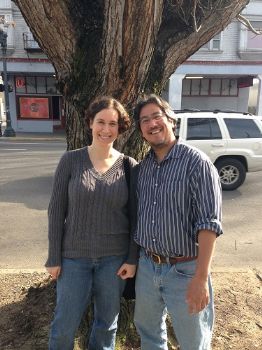 Greg - GHK1962 - has been a member of the San Antonio Spark team for years, despite never having lived in San Antonio. I'm not exactly sure how he found us, but apparently he really liked us, and he's been a great asset to our team. None of us have ever met him in person. I've known Greg for three years now, through Spark, and later, convincing him to participate in NaNoWriMo (National Novel Writing Month) with me, and off and on through email throughout the years. At the last minute, I realized he lived close to Portland (just north of the border in Washington), and wrote to him. We weren't able to coordinate a dinner with Greg and his wife, but he volunteered to pick us up from the airport and take us to our hotel that first day, PLUS he gave us a guided car-tour of downtown Portland. It was so nice of him, and great to hang out even if it was only in a car and only for half an hour. Greg is just as fun in person as he is online, and just as nice, too - after dropping us off, he volunteered to pick us up and take us back to the airport on Thursday morning. What a sweetie!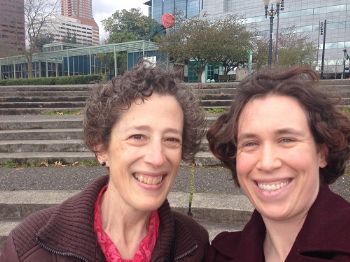 On my first full day in Portland, I met up with another fellow Sparker, Cindy (FAIRHAVENQUEEN). I've only known Cindy for a few months, through the maintenance team here on Spark, but we hit it off immediately. We had lunch a few blocks from my hotel, and talked for hours. After lunch, we went on a walk up the river until the sun disappeared again and it started trying to rain on us. We didn't know each other very well when we first met up, but it turned out we had a lot in common, and I loved exchanging stories with her. It was so great to meet her and get to know her better in person!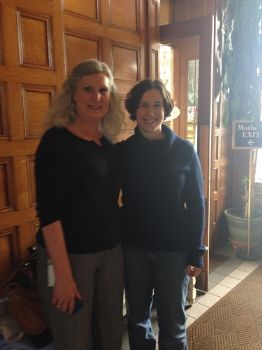 On my last full day in Portland, I met up with a third friend who isn't a Sparker, but someone I've known for years through book blogging. Juli and I have talked through blogging, twitter, instagram, and facebook, and we knew immediately we were going to have to plan a lunch when I was here. She made reservations at a place not far from her downtown company, and met me there on Wednesday. One of the things she said during our lunch really struck me: "It's so funny meeting people in real life that you've known online for years. They're always exactly how you'd imagine them to be!" And it's really true, or at least, it has been in my experience, and I've been meeting fellow bloggers and Sparkers around the country for years now. Juli and I spent way too long talking - oops, I made her late back to work! - and we both wished she could have just taken the whole afternoon off.

So that was my vacation - lots of amazing food, tons of walking, and so many wonderful friends. I enjoyed literally EVERY MOMENT of my vacation in Portland, and was very sad to leave it. I think I would jump at the opportunity to go back, even permanently, if such an opportunity presented itself. :)



1 2 3 4 5 6 7 8 9 10 11 12 13 14 15 16 17 18 19 20 21 22 23 24 25 26 27 28 29 30 31 32 33 34 35 36 37 38 39 40 41 Last Page

Get An Email Alert Each Time POOKASLUAGH Posts