| | |
| --- | --- |
| | SHARON10002's Recent Blog Entries |


Saturday, July 12, 2014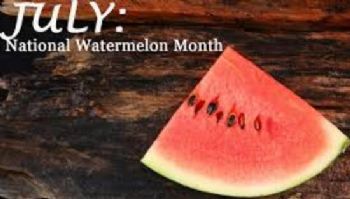 Did you know that July is National Watermelon month? What fruit could be more synonymous with summertime fun than watermelon?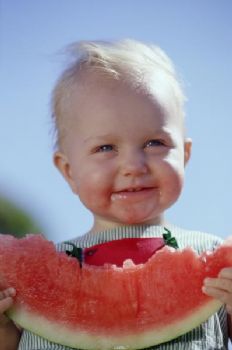 You know summer has officially begun when you spot watermelons in the grocery store, or at your local farmer's market.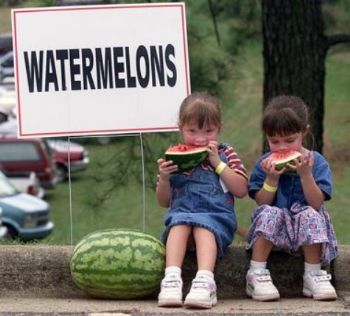 I don't think I've ever met anyone who doesn't like watermelon. It spans the spectrum from young and old alike.




Its luscious, rosy red, sweet juiciness is nearly impossible to resist, and just biting into a slice says, "Chill - have fun. Don't take things so seriously."




It never fails to quench our thirst for something sweet. As if that weren't enough to win us over on its own, watermelon is packed full of nutrition, hydrates our bodies, quenches our thirst, and is low-fat.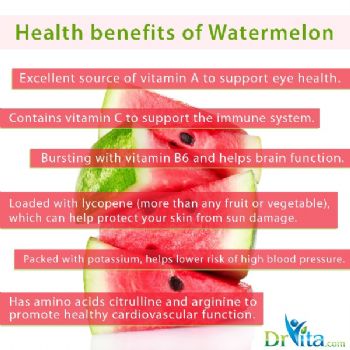 Did you know that watermelons are an excellent source of several vitamins: vitamin A, which helps maintain eye health and is an antioxidant; vitamin C, which helps strengthen immunity, heal wounds, prevent cell damage, promote healthy teeth and gums; and vitamin B6, which helps brain function and helps convert protein to energy. Watermelon actually contains more lycopene than any other fresh fruit or vegetable, including tomatoes; about 15 to 20 milligrams in two cups of melon! It's all that Lycopene that gives the melon its rosy red color, and it has been demonstrated to lower cancer risk, especially prostate cancer.

If your kids don't like spinach, swiss chard, lima beans, or tomatoes, offer them a slice of icy, cold watermelon instead.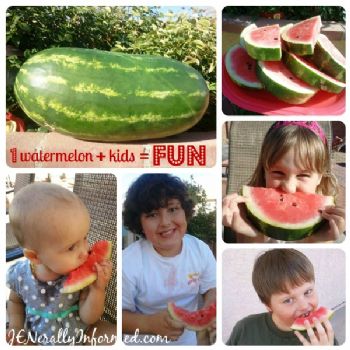 It is a great source of potassium, which helps muscle and nerve function, helps maintain the body's proper electrolyte and natural PH.

It also helps lower the risk of high blood pressure in adults. In conjunction with this it also contains the amino acids citrulline and arginine, which can help maintain arteries, blood flow, and aid in overall cardiovascular function.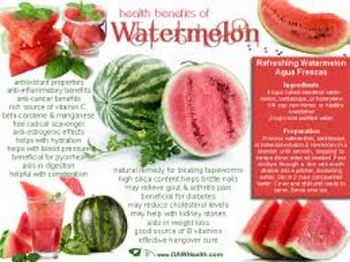 Here are some more "juicy" watermelon facts:

• The first recorded watermelon harvest occurred nearly 5,000 years ago in Egypt.
• Watermelon is 92% water.
• Watermelon's official name is Citrullus Lanatus of the botanical family Curcurbitaceae. It's cousins are cucumbers, pumpkins and squash.
• By weight, watermelon is the most-consumed melon in the U.S., followed by cantaloupe and honeydew.
• Early explorers used watermelons as canteens.
• The first cookbook published in the U.S. in 1776 contained a recipe for watermelon rind pickles.
• According to Guinness World Records, the world's heaviest watermelon was grown by Lloyd Bright of Arkadelphia, Arkansas in 2005, weighing in at 268.8 lbs (121.93 kg).
• Watermelon is grown in over 96 countries worldwide.
• In China and Japan watermelon is a popular gift to bring a host.
• Over 1,200 varieties of watermelon are grown worldwide
• The United States currently ranks 5th in worldwide production of watermelon.
www.watermelon.org
health.howstuffworks.com/wellness/fo
od-nutrition/facts/surprising-health-b
enefits-of-watermelon.htm

Here are a few ways to have fun with your watermelon: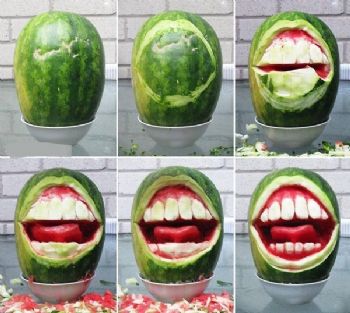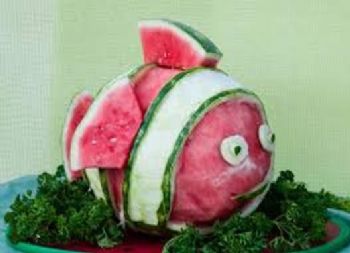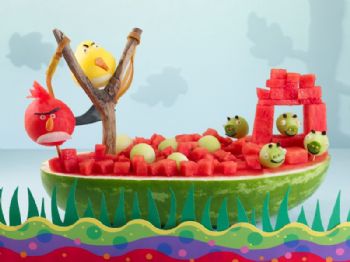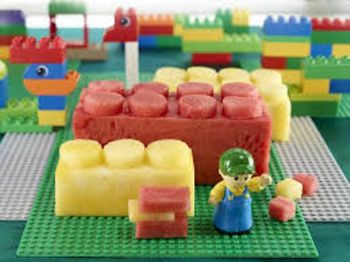 And finally for your enjoyment, here are a several fun, refreshing recipes to help you enjoy some watermelon before it's gone for the summer:

Frozen Watermelon Lemonade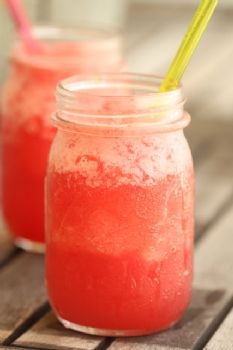 3 cups watermelon cubes, seeds removed
1/2 cup raspberries
3/4 cup sugar
1/2 cup water
Juice of 2 lemons (about 1/2 cup)
1 1/2 cups strawberry-flavored, calorie-free carbonated water, chilled

Place watermelon cubes and raspberries in a blender; process until smooth. Pour through a sieve; discard pulp.

Combine the sugar and water in the small saucepan. Heat, stirring constantly, just until the sugar dissolves. Set aside allow to cool slightly.

Stir the sugar-water and lemon juice onto the watermelon raspberry juice mixture. Pour the juice mixture onto a covered freezer container. Freeze until firm.

Using an ice cream scoop, spoon the mixture into tall glasses. Pour 3 to 4 tablespoons of the strawberry flavored water over the frozen juice in each glass. Serve immediately.
Makes 6-8 servings

Nutrition Information (per serving) CALORIES 99; PROTEIN 0.5g; CARB 25g; SUGAR 23g; FAT 0.3g; CHOL 0g;
thetowndish.com/2007/06/07/ten-facts
-you-never-knew-about-watermelon/

Mediterranean Watermelon Salad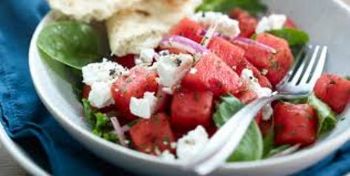 6 cups torn mixed salad greens or spinach leaves
3 cups cubed seeded watermelon
1/2 cup sliced onion
1 tablespoon extra virgin olive oil
1/3 cup crumbled feta cheese
1 dash cracked black pepper

In large bowl, mix all ingredients except oil and pepper. Just before serving, toss salad mixture with oil. Drizzle with Balsamic vinegar. Garnish with pepper, if desired.
www.watermelon.org/Recipes/Mediterra
nean-Watermelon-Salad-186.aspx

Watermelon-Strawberry Pops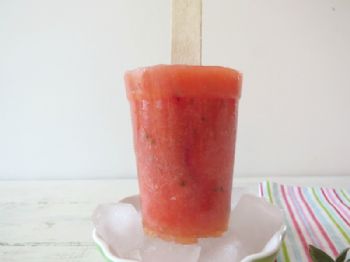 Everyday Food, July/August 2009

2 pounds seedless watermelon
1/2 pound halved hulled strawberries
1/2 cup sugar
3 tablespoons fresh lime juice

Working in batches, puree watermelon in a blender. Strain through a fine-mesh sieve into a large bowl (discard solids). Puree strawberries; add to bowl. Add sugar and lime juice and stir until sugar has completely dissolved.

Pour mixture into ten 3-ounce ice-pop molds and insert sticks. Freeze pops until solid, 2 1/2 to 3 hours (or up to 1 week).
Makes 10 Servings

www.marthastewart.com/313657/waterme
lon-strawberry-pops?czone=food%2Fprodu
ce-guide-cnt%2Fsummer-produce-recipes&
gallery=274584&slide=313657˘er=276955

Here's a Skinny Refreshing Cocktail for when "It's Five O'Clock Somewhere". Since the watermelon is naturally sweet, this doesn't require much sugar, and refreshes for only 105 calories a glass!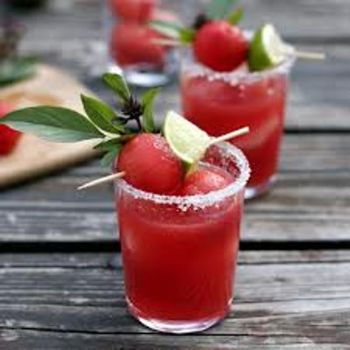 Watermelon Margarita

2 teaspoons sugar
1 lime wedge
3 1/2 cups cubed seeded watermelon
1/2 cup tequila
2 tablespoons sugar
3 tablespoons fresh lime juice
1 tablespoon Triple Sec (orange-flavored liqueur)
Lime wedges or watermelon balls (optional)

1. Place 2 teaspoons sugar in a saucer. Rub the rims of 6 glasses with 1 lime wedge; spin rim of each glass in sugar to coat. Set prepared glasses aside.

2. Combine watermelon and next 4 ingredients (through Triple Sec) in a blender; process until smooth. Fill each prepared glass with 1/2 cup crushed ice. Add 1/2 cup margarita to each glass. Garnish with lime wedges or melon balls, if desired.

Sue Spitler, Cooking Light JULY 2010

Nutritional Information: Calories: 105 Fat: 0.2g Saturated fat: 0.0g Monounsaturated fat: 0.0g Polyunsaturated fat: 0.1g Protein: 0.6g Carbohydrate: 14.1g Fiber: 0.4g Cholesterol: 0.0mg Iron: 0.2mg Sodium: 1mg Calcium: 7mg
www.myrecipes.com/recipe/watermelon-
margaritas-10000001995736/

Here's a simple way to cut a juicy watermelon into small manageable sticks for little hands: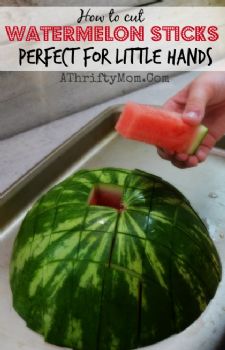 So get out there and enjoy more of this number one summertime favorite before it's too late!




Thanks for stopping by!
***Google Images***





Thursday, July 03, 2014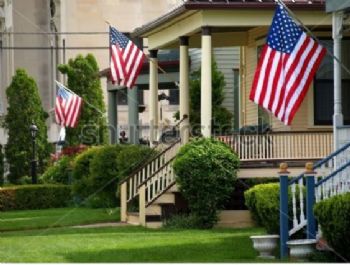 Everyone loves celebrating the 4th of July! A recent poll found that 94% of Americans view flying the American flag a sign of patriotism and pride in their country. But one thing that you might not be thinking about is whether your flag is Made In the USA. If you are shopping for a flag - be it one to fly on a large 20 foot flagpole or a small flag to adorn your flowerpots on your porch - take the time to buy a flag that is Made In America.




My first recollection of showing respect for the flag was in my little home town watching the July 4th parade. First entry was a line of servicemen, one from each branch of the service, carrying the American flag, our state flag, along with the American legion flag, and one more which escapes me. They proudly carried the flag down the street as everyone stood and put their hand over their heart. My dad did and told me to do the same to show respect for the flag. I saw a tear go down my dad's face and many other faces around us too. To this day, I still get a lump in my throat when a parade begins and Old Glory leads the procession, or the Star Spangled Banner is sung before an event.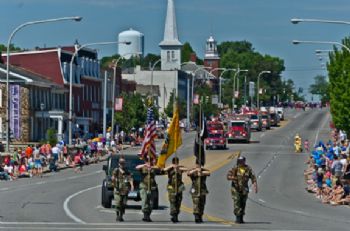 As the nation prepares to celebrate its 238th birthday, "Buy America" efforts are still going strong, though emotions on the subject tend to fluctuate depending on the state of the economy.

"It doesn't really matter to me," said Luis Rodriguez, a retired postal worker who last week sat on a picnic table in a Satellite Beach park wearing a postal carrier union T-shirt with the famed red-white-and-blue eagle — the Postal Service's mascot.

"What I do is make sure the correct number of stars and stripes are being used," Rodriguez said. "If not, then I have more of a problem with it. But I'm not really too concerned about where it's made."

Vietnam War veteran and former Marine Corps infantryman Chip Hanson disagrees. He believes in a "buy American" philosophy. Patriotic items — including items that will be used in July Fourth parties this week — should be manufactured in the United States, he said. That includes plastic forks, paper plates and napkins.

"Most definitely it should come from our country," he said. "If you look at what's happening in our country, we've slipped into a situation where we are depending on other nations for our primary items."

I couldn't agree more. Buying a flag and everything else you can, keeps workers employed and can create more jobs if the demand is there. Retailers aren't tone deaf to patriotic emotions when it comes to buying American. Wal-Mart, for example, pledged last year to buy $50 billion over a decade in American-made products. Still last week, many of the products sold with patriotic themes were made in places such as the Dominican Republic and China. And how's this for irony? Wal-Mart sells U.S. flags for $34.72 with the label on the package proclaiming "Made in the USA." However, a pole and bracket set sold along aside it are imported from China.

That's changing, somewhat, as labor costs in places like China rise, Kirn said. A number of U.S.-based textile and clothing manufacturers, for example, are seeing new life because it's become more cost-effective to manufacture domestically.

"Some of the textile mills in the Carolinas are reopening, and I think there is an appeal to that for a variety of reasons," he said. "You control the supply chain, you know what the raw materials are and you know what you're getting. And you're closer to the place where you're ultimately going to vend it." Plus, it costs a whole lot less to ship something from South Carolina to California than it does from China to California.

Wherever you stand on the issue of prices versus patriotism, July Fourth is a good time for each of us to take stock about how we are spending their money whether we're going to support jobs in the United States or outside the country.

"We have a Declaration of Independence, not a declaration of interdependence," said Simmermaker, an author of two books on buying U.S. made products.

Source: http://www.thetowntalk.com/article/2014062
9/BUSINESS/140629015/-Made-America-not
-always-easy-retailers-deliver

American made Flags and Accessories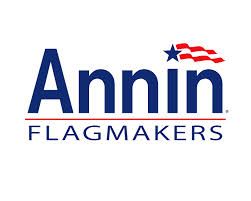 Annin Flagmakers have been making flags since 1847 and are now the oldest flag manufacturer in the U.S. Annin has plants in New Jersey, Pennsylvania, Ohio and Virginia. Not only a great choice for U.S flags, Annin also manufactures Patriotic fabric decorations. I LOVE fabric bunting as a decorating choice as it is reusable, long lasting and a great Eco friendly choice over plastic banners!
www.annin.com/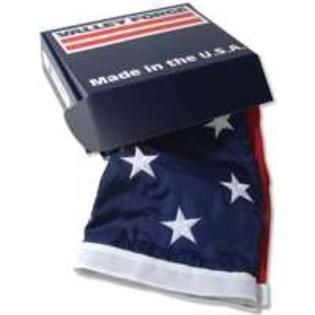 Valley Forge Flag Co. has been manufacturing US flags since 1882. Valley Forge Flag Co is headquartered in Wyomissing, Pennsylvania, and manufactures products in South Carolina. Valley Forge carries a great selection of U.S flags as well as patriotic decorations (yay for fabric!), all made in the USA.
www.valleyforgeflag.com/16/Home.htm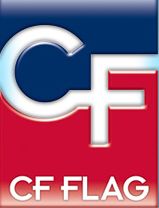 Chicago Flag and Decorating Co (CF Flag) has been in business since 1898. . What I LOVE about CF Flag is the line of eco friendly U.S. flags they produce. That's right, U.S. flags made from recycled items! Their Eco-Glory Flag is made from yarn created by recycled soda and water bottles- and even comes in a recycled box!



Flagsource/J C Schultz Enterprises Inc, manufacturing U.S flags since the 1920s, is the baby of all the companies. Their manufacturing facilities are located in Batavia, Illinois. They carry an impressive selection of U.S Flags.
All of the companies listed above are members of the Flag Manufacturers Association of America which established the "Certified Made in the U.S.A" certification program of American Flags. According to the FMAA website, " 'Certified Made in the U.S.A. ' certifies that your American flag has been made in the U.S. of materials that are domestic in origin and that all processes in every step of its manufacture were completed in U.S. facilities with U.S. labor".
www.fmaa-usa.com/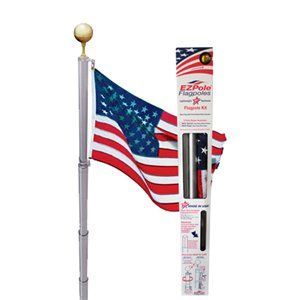 You can purchase the Liberty Telescoping Flagpole Kit, a 100% manufactured in America flagpole kit- even the flag is made in the USA! The telescoping flagpole style, is in my opinion, is the most Eco-Friendly as it contains no additional hardware like ropes and anchors. If you have noticed any "Made in the USA" flagpoles in stores, please share in the comments!
www.americanflags.com/litefl.html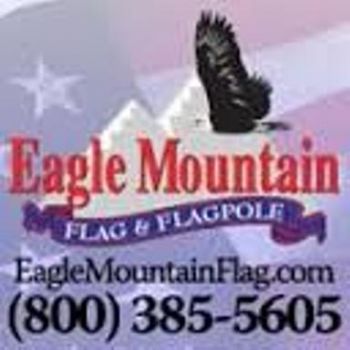 Eagle Mountain Flag and Flag Pole sells several different varieties of flag lights, including some Eco friendly energy saving ones.
www.eaglemountainflag.com/


If you need a flag, or might now be thinking of replacing your current flag, now would be a good time to buy one for Labor Day and Veteran's Day. Our troops and those looking for jobs will thank you.
thanks for stopping by

Source: http://www.usalovelist.com/flag-day-americ
an-flags-made-in-usa/






Saturday, June 14, 2014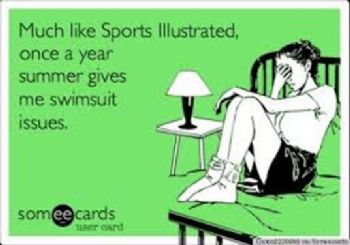 Well, it's official. I have procrastinated long enough, it's almost the 4th of July, and I can no longer ignore the fact that it's time to go shopping for a bathing suit.

According to a recent poll, a sizable proportion of women, almost half or 41% of them, would prefer sitting in the dentist's chair for a root canal over going through the emotional hell of shopping for a bathing suit. I can believe that - although it's a real toss-up for me now that I think about it.




Most styles look like they were designed for those ladies in the B grade movies, or my 4 year old niece. Those three way mirrors that are designed to give you a 360 degree view only further accentuate all the droopy and flabby body parts we try so hard to avoid noticing! To sum it all up, the view is most definitely less than we hope for. It's funny, about the only thing I can get a good look at in those mirrors is my a**!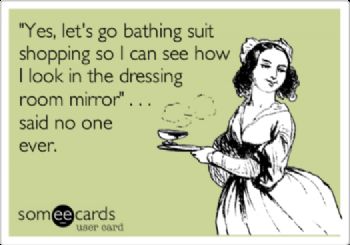 So after scouring every nook and cranny I find a couple of suits that I think might actually modestly cover a good proportion of me. I slink quietly into the farthest corner of the dressing rooms, and so it begins . . .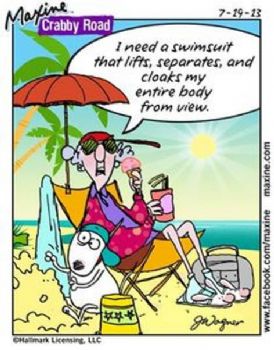 I picked out the one that gave me the most hope to try on first. I was hoping to score early in the game, and beat feet back out to the parking lot for quick get-away. The name sounded promising. It was actually called a "miracle" suit.

As I stepped into the leg holes, I knew how this suit got its name - it would be a miracle if I could get it over my knees and then up over my hips! I huffed and I puffed struggling to pull that damned elasticized tube over my hips and other "assets" and tugged and pulled even more to get it high enough to cover "my girls".

The bathing suit fit all right, but unfortunately it only fit those bits of me willing to stay inside it. The rest of me oozed out rebelliously from top, bottom and sides. My thighs were looking like poppin fresh dough trying to escape from the tube.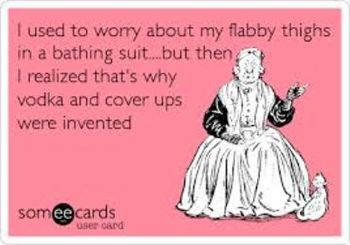 Trying not to really look at myself in the 3 way mirror, my first thought was "If I even try to even take a deep breath it might cause a major wardrobe malfunction!"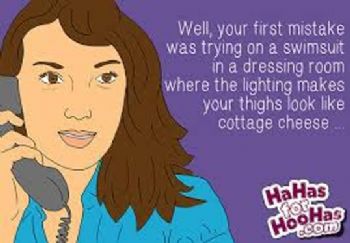 That did it! It was time to squirm and exhale as much as I could to get it back down to my ankles and off. Who knew this could be more of a workout than the "Swear Master" or the "Dreadmill" at the gym? I was definitely counting this as my exercise today! I have to admit their marketing was spot on! It was a Miracle suit alright – A miracle that I got out of it! I knew that I was not willing to struggle like this again - let alone every time I wanted to go to the pool!

Here is a list of things that ran through my mind while shopping for the "right suit":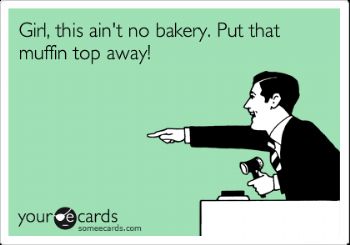 • "Nope! I have more parts than that suit - period."
• "Holy crap! That's not just a muffin top, that's the whole muffin."
• "I must have picked up the wrong size."
• "That's OK, I have a couple of more to try on"
• "Maybe it's just the bad lighting."
• "This makes me look like the Pillsbury Dough Boy's mother!"
• "This one would be great if my legs and my neck were the same size"
• "Next!!"
• "Where does this strap even go?"
• "How in the world am I supposed to fasten this behind by own back?"
• "How do I even begin to get into this thing?"
• "Aaand this one won't even fit over my legs!"
• "This would be OK if I could amputate my entire torso."
• "Oh hell no!"
• "Why do they always assume my boobs and butt are the same size? I'm not Twiggy!"
• "Are you kidding me?!!"
• "Did they suddenly run out of fabric?!"
• "This is literally the worst thing I've ever seen!"
• "Oh My God!"
• "You know what? Now that I think about it, the bathing suit I have is just fine."
• "How many days 'til Fall?"
• "Time for a drink!"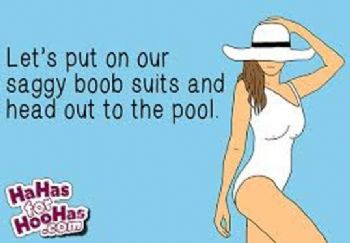 In the meantime, I'll just wear a big, floppy hat to the pool, and maybe it will divert all the attention focused on my assets.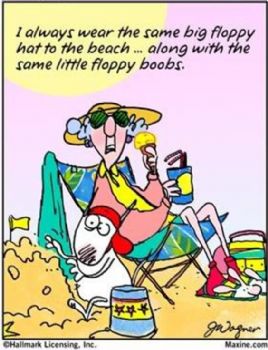 I wonder . . . does Spanx make a full body bathing suit?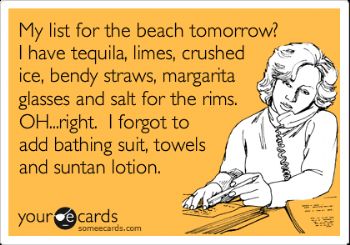 Thanks for stopping by!
***Google Images***






Thursday, June 12, 2014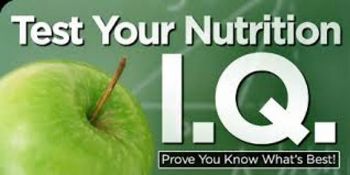 Which food gives you the most potassium? Which food would you choose to get the most Vitamin C? We all do lots of reading here on Spark People, and we are constantly trying to make healthy choices in our daily nutrition as we plan our meals. Think you're knowledgeable about nutritional values in your food? Have some fun and take this quiz to find out:

Nutrition Quiz:
www.webmd.com/diet/rm-quiz-nutrition
-iq

I didn't do as well as I had hoped only scoring 70%. I hope that you do better than that, and have some fun while doing it.

Thanks for stopping by!
***Google Images***






Monday, May 26, 2014
Memorial Day is much more than just a three-day weekend and a chance to get the year's first sunburn. Here's a handy 10-pack of facts to give the holiday some perspective.

1. IT STARTED WITH THE CIVIL WAR

Memorial Day was a response to the unprecedented carnage of the Civil War, in which some 620,000 soldiers on both sides died. The loss of life and its effect on communities throughout the country led to spontaneous commemorations of the dead:

• Waterloo, N.Y. began holding an annual community service on May 5, 1866. Although many towns claimed the title, it was Waterloo that won congressional recognition as the "birthplace of Memorial Day."ť

2. GENERAL LOGAN MADE IT OFFICIAL

Gen. Logan, the speaker at the Carbondale gathering, also was commander of the Grand Army of the Republic, an organization of Union veterans. On May 5, 1868, he issued General Orders No. 11, which set aside May 30, 1868 "for the purpose of strewing with flowers, or otherwise decorating the graves of comrades who died in defense of their country during the late rebellion."ť


3. IT WAS FIRST KNOWN AS DECORATION DAY

The holiday was long known as Decoration Day for the practice of decorating graves with flowers, wreaths, and flags. The name Memorial Day goes back to 1882, but the older name didn't disappear until after World War II. Federal law declared "Memorial Day"ť the official name in 1967.

4. THE HOLIDAY IS A FRANCHISE

Calling Memorial Day a "national holiday"ť is a bit of a misnomer. While there are 10 federal holidaysť created by Congress—including Memorial Day—they apply only to Federal employees and the District of Columbia. Federal Memorial Day, established in 1888, allowed Civil War veterans, many of whom were drawing a government paycheck, to honor their fallen comrades without being docked a day's pay.

For the rest of us, our holidays were enacted state by state. New York was the first state to designate Memorial Day a legal holiday,
In 1971, the Monday Holiday Law shifted Memorial Day from May 30 to the last Monday of the month.

5. IT WAS JAMES GARFIELD'S FINEST HOUR—OR MAYBE HOUR-AND-A-HALF

On May 30, 1868, President Ulysses S. Grant presided over the first Memorial Day ceremony at Arlington National Cemetery—which, until 1864, was Confederate Gen. Robert E. Lee's plantation.

As the songs, speeches and sermons ended, the participants helped to decorate the graves of the Union and Confederate soldiers buried in the cemetery.

6. NOT EVEN THE UNKNOWN SOLDIER CAN AVOID MEDIA SCRUTINY THESE DAYS

"Here rests in honored glory an American soldier known but to God." That is the inscription on the Tomb of the Unknowns, established at Arlington National Cemetery to inter the remains of the first Unknown Soldier, a World War I fighter, on Nov. 11, 1921. Unknown soldiers from World War II and the Korean War subsequently were interred in the tomb on Memorial Day 1958.

An emotional President Ronald Reagan presided over the interment of six bones, the remains of an unidentified Vietnam War soldier, on Nov. 28, 1984. Fourteen years later, those remains were disinterred, no longer unknown. Spurred by an investigation by CBS News, the defense department removed the remains from the Tomb of the Unknowns for DNA testing.


7. VIETNAM VETS GO WHOLE HOG

On Memorial Day weekend in 1988, 2,500 motorcyclists rode into Washington, D.C. for the first Rolling Thunder rally to draw attention to Vietnam War soldiers still missing in action or prisoners of war. By 2002, the ride had swelled to 300,000 bikers, many of them veterans. There may have been a half-million participants in 2005, in what organizers bluntly call "a demonstration—not a parade."ť

A national veterans rights group, Rolling Thunder takes its name from the B-52 carpet-bombing runs during the war in Vietnam.

8. MEMORIAL DAY HAS ITS CUSTOMS

• It is customary on Memorial Day to fly the flag at half staff until noon, and then raise it to the top of the staff until sunset.

• The World War I poem "In Flanders Fields,"ť by John McCrea, inspired the Memorial Day custom of wearing red artificial poppies. In 1915, a Georgia teacher and volunteer war worker named Moina Michael began a campaign to make the poppy a symbol of tribute to veterans and for "keeping the faith with all who died." The sale of poppies has supported the work of the Veterans of Foreign Wars.

9. THERE IS STILL A GRAY MEMORIAL DAY

Several Southern states continue to set aside a day for honoring the Confederate dead, which is usually called Confederate Memorial Day. It's on the fourth Monday in April in Alabama, April 26 in Georgia, June 3 in Louisiana and Tennessee, the last Monday in April in Mississippi, May 10 in North and South Carolina, January 19 in Texas, and the last Monday in May in Virginia.

10. EACH MEMORIAL DAY IS A LITTLE DIFFERENT

No question that Memorial Day is a solemn event. Still, don't feel too guilty about doing something frivolous (like having barbecue) over the weekend.

In 2000, Congress established a National Moment of Remembrance, which asks Americans to pause for one minute at 3pm in an act of national unity. The time was chosen because 3pm "is the time when most Americans are enjoying their freedoms on the national holiday."

Read the rest of these fascinating facts at: http://mentalfloss.com/article/27858/10-th
ings-remember-about-memorial-day

Happy Memorial Day! Take a moment to remember those who served, and continue to serve.
Thanks for stopping by!



1 2 3 4 5 6 7 8 9 10 11 12 13 14 15 16 17 18 19 20 21 22 23 24 25 26 27 28 29 30 31 32 33 34 35 36 37 38 39 40 41 42 43 44 45 46 47 48 49 50 51 52 53 54 55 56 57 58 59 60 61 62 Last Page

Get An Email Alert Each Time SHARON10002 Posts