| | |
| --- | --- |
| | SHINING_ON's Recent Blog Entries |


Sunday, July 20, 2014
As I wrote yesterday, since walking is the ONLY sanctioned form of exercise after my spinal fusion for the next 3+ months, I've come up with a custom 12-week walking program.

It would be far too easy just to feel defeated and do nothing, as I did after my ankle reconstruction. The hard lesson I learned from that was that you MUST keep fighting for this goal, no matter what! There is no such thing as waiting until you're "allowed" to exercise. Last time, I wasn't creative and I didn't ask what activities I was allowed to do. Granted, I couldn't walk at all last time - but I could have done core and arms. This time, I asked. I can't do core or arms, no leg cardio (including biking or elliptical, jumping, etc.) but I AM allowed to walk at a pace that doesn't interfere with my incision healing (i.e., no bouncing!). After 6 weeks, I may be allowed to light biking. It will depend on my progress.

Well, I'm not even 2 weeks post-op yet. I've done some light walking with the walker -- up to a half-mile -- but that was all until yesterday when I did 1.35 miles. I decided I felt good and safe enough to design and start an exercise program.

I'm using this opportunity to work on both my walking speed and distance. I'm not a fast walker, and I've shied away from 5Ks so far because I've been worried about time. Yet, I can probably walk a half-marathon (or close) in distance if given no time limit. So, this program is about combining my distance stamina with speed. I'm a good walker, and the treadmill works well because the side bars form a walker for me to hold on to.



Here's the program (12 weeks):

This is an interval walking program very similar to the one Spark proposes, but with some customization to fit my needs and goals. It's based on Spark's 12-week Beginning Walking Program ( www.sparkpeople.com/resource/fitness
_articles.asp?id=1204 ).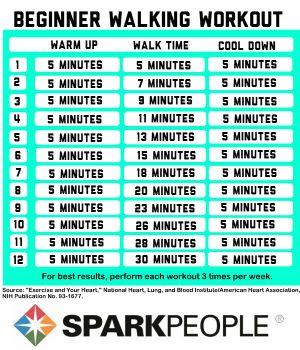 Let's start with week 1, where each interval is only 5-minutes long. There is a mandatory 5-min warmup and cool down, and each day I walk 3 5-min intervals at a speed higher than my base speed. Each interval is delineated by 5 min spent at the base speed.

How did I determine my base speed? I decided it should be an RPE of 4-5. For those of you unfamiliar with the RPE scale, it's a really handy way to assess how hard you're working. I'll probably do a whole post on it another time, but for now suffice it to say that I want a speed that is comfortable enough that I can walk a long time but isn't completely undemanding. For me, this is a speed of 2.0 right now because of my incision and pain level.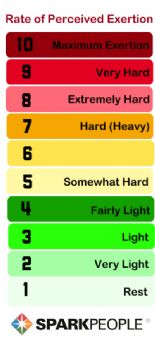 I decided that the interval speed should start at an RPE of 7-8. I found that a good starting speed yesterday was 2.7. I wanted to start on the lower end at first to be careful. The last thing I want to do is to accidentally open my incision or to create so much pain I can't keep walking! So, 2.7 felt like a safe speed to start. I could easily walk the interval, but I felt it pushed me enough to work up a sweat. I got my HR up to 136. Overall, it made the workout an RPE of 7.

Where my customization comes into this program is that EACH DAY within each week I increase my interval speed by 0.1 on the treadmill. This means that, if my interval speed was 2.7 yesterday it will be 2.8 today. By the end of the week 1, my interval speed will be 3.3. Then, I will take whatever speed during week 1 gives me an RPE of 8-9 for the workout and make that my starting interval speed for week 2, when my interval length goes up from 5 minutes to 7 minutes.

It sounds more complicated than it is. It does, however, require that I record my RPE each day along with my distance walked for the fitness tracker. It starts nice and slow, but by the 12th week, I hope to be jogging for 30 min intervals. That may be wishful thinking, especially at this point, but I can't get there if I don't try! I've been longing to get back into running, and this seems like a great opportunity. Plus, it will put me in good condition to do a fall 5K!



I'm really excited to have a solid plan and to have set a goal. I feel less useless and disabled having a plan that I can DO. Yesterday's walk went really well. I also allow myself to walk at a speed of 2.0 AS MUCH AS I WANT, although I need to be careful not to do too much of the higher speeds, at least until my incision is fully healed. The skin is already starting to pull (painfully), and the last thing I want to do is irritate it or cause drainage problems from the wound. But, what this unlimited walking gives me the option of is increasing my daily step count and giving me an additional outlet to burn calories and the restlessness I feel!

I feel pretty proud of myself, though, for having a plan started before 2 weeks post-op. This was a major surgery, and I can't help but be amazed at what MY body -- my poor, ill-treated, obese body -- can do! One day, I will climb mountains again. I know it.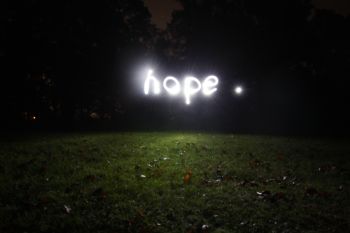 Saturday, July 19, 2014
In the last 3 days, I haven't done much to work toward my goal, I admit. I was feeling ashamed, but I need to turn that shame into motivation. So, I've not done much -- okay. I can't go back in time and change that. What I can do is work with increased fervor beginning today to help compensate for those 3 days I lost.

I've been feeling like an invalid. I've been wallowing in that, frankly. It's hard. I'm in a lot of pain. I'm healing, but the recovery process is soooo slow. It's hard not to feel depressed when I think that I get to look forward to anywhere from 6-12 months of this from the spinal fusion. I feel disabled. It's funny because I have a true congenital physical disability, but until now I've rarely felt disabled. I guess it's because my limitations are so extreme -- and because it's happened so suddenly.

I am at the point in my recovery where I am being encouraged to walk as much as I can as long as I am careful and take it slowly. I ought to take advantage of that. I INTEND to take advantage of that. I'm restricted from pretty much any other form of exercise right now. I've even had to back off from arm exercises, for now, because I was twisting my torso too much. But, by golly, I can walk.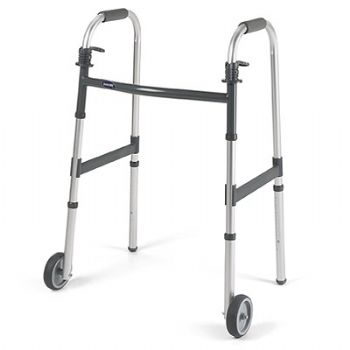 I'm a good walker, even though I need assistance. At the hospital, the PT staff complimented me on my walking ability and motivation despite the recent surgery. I WILL take advantage of that.

I will view this as an opportunity.

The opportunity I see here is a chance to increase my walking speed and distance. Pre-surgery, I could hike 8 miles. I could do a mile (on the elliptical) in under 13 minutes. Yet, I couldn't walk very quickly. Not only that, I still hadn't mustered up the courage to do a walking 5K because it is timed. So, I'm going to use this opportunity to try to reach this goal -- and maybe others I come up with along the way.

I developed a new walking program, which I will post about next post later today. I'll need to stay accountable because this new program is an every day program. However, I know I can stick with it! After all, haven't I been on this weight loss journey for over 5 years now? It's been slow and arduous, but I'm STILL fighting. After all -- sometimes all we can do is fight, right?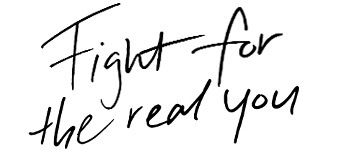 Wednesday, July 16, 2014
December 4, 2015. It's the day I've chosen, with my dear friend, as my goal date. I would like to reach my goal weight by this date. Nay-- I WILL reach my goal weight by this date! That's 506 days from today.

Why the sudden update? Apparently, it takes a surgery to bring me back to Spark, hah. Not that I wasn't finding success without spark; remember, success comes from within! I had returned to my previous low weight of 278lbs on my own. Not only that, but I was at my lowest inches yet! I began weight lifting with a personal trainer in February, and it was the extra push I needed to see the results I was so anxious for.

However, I'm facing a potential setback. Last Monday, July 7, I had major surgery on my back. As with my ankle reconstruction in 2011, this surgery came up rapidly and unexpectedly. I barely had time to get my affairs in order. I'm now dealing with the recovery: pain, walking with a walker, severe restrictions on my mobility and activities.

So, what am I going to do? Well, I can walk, even if it is with a walker. I can march in place. I can do some arm work, as long as it doesn't stress my back. I can make my diet stricter. Most importantly: I can not give up!

Today, I've eaten some oatmeal, and some kimchi pork that I made before the surgery as part of my preparations. Now, off to march awhile!





Sunday, January 19, 2014
I am still recovering from influenza, so my activity has been waning since Thursday. However, I've taken this opportunity to think closely about my diet. In general, I've been thinking a lot about my diet lately. This goes along with what I was trying last month with the detox diet, trying to eat clean, etc. Although I temporarily lost some weight on the detox diet, it was short-lived. I don't think it was fat, but I'm okay with that.

So, one of the things I know about myself is that I can eat too much. I generally eat well these days - but still too much. I don't know any longer if I should still eat lowered carb or if I should carb cycle - or WHAT I should do. So, when things are complicated, my reaction is to simplify, simplify, simplify. Perhaps it's the scientist/reductionist in me. Perhaps it's the perfectionist in me. Perhaps it's the anorexic in me. I don't know. However, what I do know is that I'm far, far, far too busy to be able to focus on what and how much I eat.

That means I have two choices: I can either slip back into old habits and just eat what's handy and become a 300+ lb woman again (NOT going to happen!) OR I can come up with a diet that I know I will find filling, easy to prepare, and easy to follow.

Luckily, I don't mind eating the same foods with regularity. Every day would be tough, but often is pretty easy. I don't need a ton of variety. So, I should work with that.

I should also work with the fact that I love good, healthy food, that I know I need to feel full and well-nourished to feel good (and have a good mood), and that I am a great planner. In fact, I thrive on planning!

SOLUTION: 5 meals a day, ~5 meal choices each, average of 1500-1600 calories per day. If this goes well, it would give me the flexibility to go down (or up) in daily caloric intake as needed. So, consider this a starting point.

What are the 5 meals?
1. Breakfast (after exercise, with coffee)
2. Smoothie
3. Lunch
4. Snack
5. Dinner

What do I have for meals so far? Well, this hasn't been super easy to come up with, but it's not been terribly hard either. I'm just pulling first from things I know I like to eat. Going fiber rich whenever possible!

BREAKFAST: 1) oatmeal + chia + apple, 2) bran flakes with raisins and almonds + milk, 3) homemade breakfast burrito, 4) ? 5) ?
LUNCH: 1) homemade breakfast burrito + veg, 2) lentil or bean curry + veg, 3) ? 4) ? 5) ?
SNACK: 1) kefir + almonds, 2) cottage cheese, 3) ? 4) ? 5) ?
SMOOTHIE: Kale + fruits + oats (no recipe variation here, just fruit/taste variation)
DINNER: 1) fish or chicken + veg + sweet potato, 2) beans + cornbread + veg, 3) ? 4) ? 5) ?

Suggestions? I'm open! Meals should be in the 350-450 calorie range, snacks in the 200-300 range to fit well. Hit me with some fiber rich, filling ideas! Recipes a plus!












Thursday, December 05, 2013
So, this post is going to be part update, part commentary on a detox diet I'm doing with a friend.

WHERE have I been? Sadly, ill. I've been having kidney issues again, starting with a stone and subsequent infection, followed by lots of follow-up tests. I had hoped at least this part of my ill health was behind me, but it's not. I've also been busy with my PhD program, of course, relationship issues, and just trying to remain healthy. There's been so much, I don't really know how to succinctly fill you in on it all, so I won't even try.

My weight has fluctuated a lot these past few months, at least in part to bloating issues from kidney troubles. I'm trying to take it in stride. My clothes fit mostly the same, most days, so I'm fairly confident that if I've regained fat, it's not been that much. But, I'm still frustrated over the gains and eager to try to start losing again.

So, my health is a mess right now, and doctors are either stumped or completely unhelpful. I just keep doing what I do best - Trying. Striving. FIGHTING.

In other news, on Sunday I started an Ayurvedic cleanse with a friend. I'm doing it because I love to experiment, and I figured - why not? Can't hurt anything, and kitchari is a balanced diet actually as long as you add plenty of veggies. I don't know how much I'm "detoxing", but my weight is going down. Jury is still out on whether it's water weight or actual fat, though.

The only other thing to add is that I've finally gotten back into backpacking - with the same friend. Over the past several weeks, we've done two 8+ mile hikes together. During the most recent one (on Black Friday), I pulled a muscle - why, oh why, didn't I think to STRETCH before attempting a long hike? Why didn't it dawn on me?? Sigh. I'm better and wiser, now.

That's about it. I'm still fighting and hanging in there. I've adjusted my weigh-ins to reflect my water weight or fat gains, whichever the case may be. Now I just have to be patient and keep working. As long as I never give up, I'm winning.



1 2 3 4 5 6 7 8 9 10 11 12 13 14 15 16 17 18 19 20 Last Page

Get An Email Alert Each Time SHINING_ON Posts