| | |
| --- | --- |
| | SJSTUCKEY's Recent Blog Entries |


Wednesday, March 26, 2014
You guys!! You guys!! OMG - YOU GUYS!!!! I'm an Avenger!!!

Yesterday, I signed up for the Inaugural Disney Avengers Super Hero HALF MARATHON on November 16. In just about 6 months, I'm going to put on an awesome kick-booty costume, go to Disneyland at the crack of dawn, and RUN a HALF MARATHON!!

I'm elated!

I'm excited!

I'm a little nervous...

Omg... I can't breathe...

Dear Sweet Mary...I'm going to *RUN* a HALF MARATHON! That's...13.1 miles...(or 20 kilometers if you're metric).

I haven't run in 2 months.

Do I even remember how to run?? Let's see.... compression leggings (check!), sports bra (very important - check!), wicking tee (check!), good shoes (erm....well...they've got a few miles left in them...so...check-ish!), Nike+ tracker (check!).... left foot, then right foot...okay....Breathing.....

Hrm.... let's see...

in through nose for a 4-count....

out through mouth for a 4-count...

in for 4....

out for 4....

INNNN....

OUUUT....

I...think...I...got...this...!!

Holy Smokies.... Here I go!!!!

AVENGERS...ASSEMBLE!!!!!






Tuesday, March 18, 2014
There's that motivational saying that goes, "If you're tired of starting over, stop giving up" or something like that...

Sometimes it feels as though I'm stuck on the same cycle of starting over, and starting over, and starting over... and I don't think it's ever been that I've "given up"...but that I had to stop the trajectory for some reason or another.

Recently, I have been struggling with a respiratory issue. It is likely something "simple" - like allergies, or maybe even an imperceptible acid reflux - something that I could very easily resolve. However, for the past two months, I haven't been able to make head or tail of this thing. And the worst part is that I've had to forego exercise - the kind of exercise that could really affect the results toward which I've been working.

Now, a person could look at this as a huge set-back - and, at times over the past few months, I have felt that way. This whole experience has been really mentally (as well as physically) challenging for me.

However, I was able to find something GOOD in all this. I realized how much I really like working out...and that I really LOVE running! I really WANT to get back to it! And not only that, but I'm making plans to run a half-marathon before the end of 2014, and in March of 2015, I plan to run my first-ever marathon here in Los Angeles. I couldn't be more excited and thrilled!!

But I still can't seem to breathe. Hrm. And the numbers on the scale have gone up... by at least 8 pounds. Well...that's not terribly motivating, is it? What can a girl do?

I've decided to concentrate on my nutrition and get my body back into balance through a cleanse - specifically, Dr. Oz's Two-Week Weight Loss Cleanse. From what I've gleaned from my nutrition education here on SparkPeople, it actually looks pretty reasonable: there's plenty of protein, there's plenty of fiber and good fats, and there's a limit of carbohydrates (which makes me raise a small eyebrow, but if it's only for 2 weeks - and exercise is restricted during that time - then I might not need more than what's naturally occurring in the unlimited veggies and the 1/2 cup of brown rice per day.) I look at it as a "jump start".

I'm also hopeful that this re-balancing might even suss out the breathing issue. Wheat is a big no-no on this diet/cleanse. And while I've never felt or noticed any kind of wheat/gluten allergy in the past, there's always the possibility that too much wheat in my diet could be the source of the imbalance and the breathing concern.

So... here I go again. Once again into the breach! Steady, all...we shall persevere!!

For more information on the Dr. Oz Two-Week Rapid Weight Loss Plan go here:
www.doctoroz.com/episode/dr-ozs-two-
week-rapid-weight-loss-diet#latest-sto
ries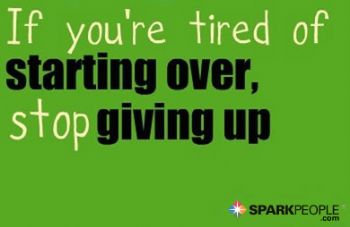 Wednesday, January 01, 2014
THE PLAN (and if I post this out loud, it helps):

Since I did it before and it worked fairly well, I'm gonna start doing the ol' gettin' up at 5am thing to hit the gym thing again. (I'll make breakfasts and lunches the night before). If I get to the gym by 5:30am, that gives me a full hour to do some cardio, but more importantly, I can get in some strength training - which I *know* is going to make the biggest difference in the overall shape & appearance of my body. (I've been mulling this over for two weeks now, formulating a plan, psyching myself up for what I want & need to do.) So... that's just what's gonna happen exercise-wise. Gym in the morning (at least 3x's per week; preferably 3x's during the work week, then at least one FUN outing on the weekends...like a bike ride, or an outdoor run....).

The goal is to start building core and arm strength. By Warrior Dash on April 5 (6?) I hope to be able to pull myself up and out of any muddy ditches (thereby avoiding what happened last time when the ex FLUNG me out and into another one...not cool.) I want...nay, NEED to be able to do it myself. I know it's not gonna be perfect after 4 months, but I just want it to be BETTER... After the Dash, I can keep working on the arm strength so that by June/July, I can wear my favorite bikini again. (I don't like the "over hang"/muffin top thing... I'm done with that. No longer need it.)

Oh - and since I've been too immersed in the Facebook Land, I came up with a little "reward" system: for each minute of exercise I conquer per day, I earn one minute of Facebook time. If I do 30 minutes of exercise in the morning, I get 30 mins of Facebook that day. (I still haven't decided if I'm allowed to "carry over" earned minutes from one day to the next.)

AND - concurrent with the exercise schedule, I'm changing my eating & drinking habits. I've been imbibing TOO MUCH alcohol lately (and not just over the holidays, but since July). Alcohol will be limited to TWO glasses per WEEKEND. That might mean ONE on Friday and ONE on Saturday, or TWO on one of those nights... but none of this "glass every night 'with dinner'" baloney. (Besides, it disrupts one's sleep, and if I'm getting up at 5am, I need my sleep!!!)

Alcohol and sugar cravings tend to be related, so that will also get cut. I'll keep the sugar for my one cup of coffee per day, but it's gonna get eliminated from everything else.

Fresh veggies and fruits are now back on the menu! My favorite meals over the summer were usually a fruit or veggie with a little cottage cheese. It sounds "old school diet-y", but when assembled well, it's a PERFECT meal. Light in calories, full of protein, and the sweetness of fruit (or savoriness of a veggie like a cucumber) is REFRESHING!

The hardest part of the new menu is going to be the grocery shopping. To keep things from spoiling in the fridge, I'm gonna have to shop every few days or so, and the temptation to buy things off my grocery list is gonna be great...but I know that I - WE - can do anything we set our minds to!!!!!

So... thanks for reading this. Feel free to share your own intentions for this New Year... I have more, but this one is big on my mind today.

And here's my "before" picture. Granted, the sweater is too short (which cuts the visual line across the worst part of my bod) and my arm is probably covering the small of my back, so it LOOKS like I'm preggers, even though I'm not. But here's where I'm starting. I want to post something for April and again for July and again for October. By January 2015, I want to be strong, 145lbs and back in my size 4 LBD. Go, Me!!!







Monday, November 18, 2013
It's almost the end of 2013. I started this journey at the beginning of this year and set some goals that I believe were highly achievable. I wanted to lose 20 lbs by the end of July. I haven't done that. I thought I was making progress, then I wasn't, then I was a little bit again, then I wasn't.

This morning, I woke up and discovered I'd GAINED a pound. Okay, okay... I know. It's just ONE pound. It could be water-weight left over from last night's Thai fest. It could be from "that time of the month", it could be because I'm being inconsistent with both my exercise and my nutrition. And cheese. OH, THE CHEESE!!!!

So... what can I do to make the last month and a half of 2013 count? What can I do to still make this year - with all of its ups and downs, breakups, health challenges, weddings, small personal victories - a successful one?

Well... I could cut back on a few things. Alcohol: it's been a lot of fun lately, but even one glass of wine every night (at about 100-150 cals each) still doesn't provide me with any proper nutrition. Cheese: I've chosen the lower-fat options, and it's a GREAT quick protein, but cheese in every meal isn't helping me. DESSERT: I don't usually have dessert, but when a craving hits - even a "little nibble" - it's a setback.

I could also incorporate a few things, too. VEGETABLES: I can eat more of these now. No, really!! Now that I'm not dating the MAN-CHILD (who refuses to eat like a grown-up), I can make entire meals full of fresh veggies! EXERCISE: I can also incorporate more exercise. I took a break from it for a bit (I needed more sleep and the gym membership was getting a little too pricey), but finding consistency of 30 minutes a day is what I need (not these crazy 2-hour daily power sessions the ex expected from me). I have to do these things for ME.

I look at my past successes and ask myself, "What worked and why do you think so? Was it easy or difficult? Was it expensive or affordable after all? Can you commit to doing that again?" I still hope to drop a few more pounds before the New Year, so what ELSE do I have to lose? Think of what I have to GAIN!!!

Alright, Holidays... Brace yourself!





Wednesday, November 13, 2013
I just read this article www.sparkpeople.com/blog/blog.asp?po
st=one_celebrity_whos_happy_to_be_a_he
althy_size and as an actress living and working in Hollywood, I think I can provide *some* perspective, here.

First, the camera lens is curved - like a fish bowl. This is why they always say "the camera adds 10lbs" - because visually, it does.

Two, actors are not just entertaining us. They are spokespeople for products - for instance, Fashion. Many fashion designers create "sample" sizes of their designs which are generally size 0-4. People make money when an actor wears a designer's dress or suit on the red carpet ("Who are you wearing?"), but if you can't wear it, you don't get paid (and neither does the designer...it's complicated). Additionally, size 8 is considered "plus size" by Hollywood standards.

However, I will say that there are many actresses who - particularly in their late 30's and 40's - maintain a more healthy weight because they're in a different "type" category. They can't play the 20-something coed anymore; they play the all-American housewife/comedienne/attorney/cop/etc. and those types of characters can be physically demanding (not only to film, but to maintain over several seasons).

And let's not even get into plastic surgery (which, IMHO, is only done by those who suffer from tremendous insecurities)!

This is a cruel, superficial industry. Remember the horrible backlash that the awesome-amazing-talented Melissa McCarthy endured when her show, "Mike & Molly" first aired? She ultimately prevailed because she is an AMAZINGLY talented woman with a truckload of integrity and spunk. I personally have a little girl crush on her.

Therefore, for me, healthy is the way to go. Currently, I'm on the border between a size 6 & 8 and I'd like to get back to being a size 4 (simply because I love the way that size feels on my body). But I am driven to win over Hollywood by my talents, not my waistline. If the side-benefit of maintaining a healthy lifestyle is dropping another size, then so be it. But I'm going to do it because I'm happy with who I am on the INSIDE.

So, here's to getting up every day at 5am for a run and sticking to a reasonable, nutritious "diet" plan. Let's raise a glass (of water) to perseverance, tenacity, and chutzpah! HUZZAH!


1 2 3 Last Page

Get An Email Alert Each Time SJSTUCKEY Posts