| | |
| --- | --- |
| | SLAPTHEFATCAT's Recent Blog Entries |


Wednesday, October 22, 2014
Day 7 and still on track! I've noticed a considerable difference between my fitness now and just a week ago. I can do my 50 crunches and push ups with much less effort than before. Also, I have noticed that I am able to catch my breath after exercising a bit faster and easier. I can feel my own body a bit more and I make more healthful choices (although my diet has been pretty healthy, and I still need to work on portions). I have also noticed that I can exert more effort during workouts. Whether this is a good or bad thing is determined by how long I continue to push myself at my limits, which from the past I have learned how to recognize.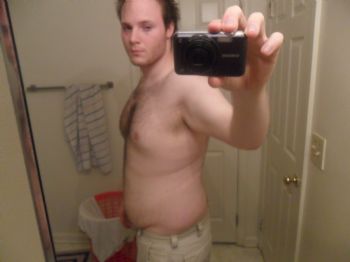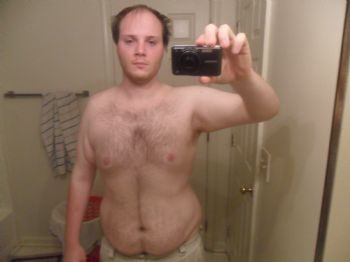 Tuesday, October 21, 2014
A few things to report about today.
1) Instead of driving the 5-10 minutes to school, I walked. I took me all of 20 minutes to walk to school. I did the trip twice. So, (20x2)x2= 80 minutes of walking! (20 minutes up, 20 minutes back, with 2 trips)
2) Got my 50 push-ups and crunches in.
3) BUT I ate a bit more calories than usual because I had peanut butter, chocolate and bananas as a snack. So, I won't be having that snack any time soon. Also had an italian sausage, bacon, and some ground venison, which had more fat than I would like to admit and also dramatically increased my calorie counts as well. I did well to restrict my overall caloric count as it didn't go too far beyond my goals.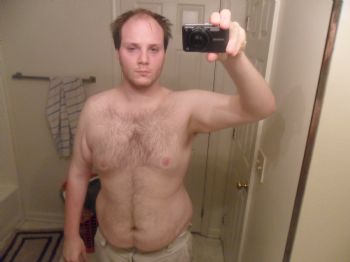 Sunday, October 19, 2014
Sorry, yesterday was horrible. I ate so much sugar that it rivalled me as a kid. LOL. And nothing fitness other than walking around the Ocean City board-walk for a bit. Today, I did okay with nutrition, but a little high in fat. Also, no fitness yet, but as soon as I finish writing this, I am going to do 50 push ups and crunches and later I will do another set to make up for yesterday.
I saw myself in the mirror and I realized I am wearing about the same as Chris Evans' outfit in Captain America when he wears the white shirt and cargo khakis. It really made me motivated to work out because it reminded me of the possibility of me getting to that and me cosplaying as him at a con. I mean, I do kind of look like him.

Edit: Took an amazing pic of me. Also, I have gotten some push ups and crunches in, but I still have a bit more work to do.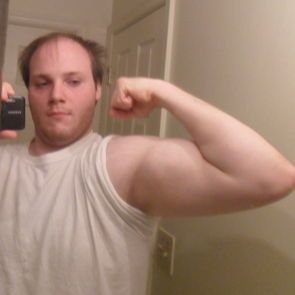 Edit 2: All caught up on my push ups and crunches. My goal tomorrow is to walk to class instead of driving. The school is so close people probably wonder why I drive.




Friday, October 17, 2014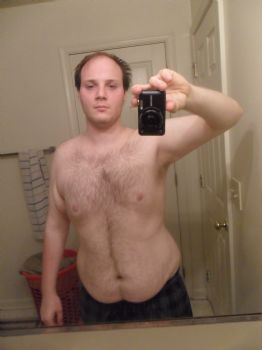 Just a quick update before my parents visit.
I can't wait until tomorrow. I've been staying up really late for the last couple of days because I would just play on the net forever and then go and remember I had homework to do, so I would stay up later to get that done. But tonight, I will go to bed at a reasonable time. This late night thing is making me REALLY tired during the day, so I have to stop it before it becomes a habit.
Got my chemistry test back today. It was not good, but I am still in the top 15% (what does that tell you about the difficulty?). I can re-do my incorrect answers for half credit, minus the short answer (which I got most credit for anyhow). Of course I will be doing that.
I got all the push-ups and crunches done yesterday and I have 25 of the push-ups done today, with still needing all of the crunches. I can already tell a difference with my muscle activation (because I know this muscle difference in muscle is not from building muscle). My abdominals have a much larger area that I can contract, my traps are certainly affected (the muscle in the shoulder-neck region). It's amazing the difference in just this little bit of time.
Got to go, parents here!

EDIT: I finished my exercises, plus I did some dumbbell flies.




Friday, October 17, 2014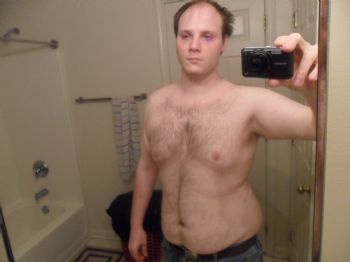 Sorry for the really late update. I wanted to do all my push ups and crunches before I posted. I've noticed today that it was really hard for me to do all my push ups. But I have noticed with my crunches that I can actively engage my abdominal muscles. I mean, you kind of have to engage your ab muscles during a crunch, but if you think about laying your back flat to the ground when you go back down, you will notice that your abs stay contracted.
I have been tired pretty much all day, some times more so than others. Also, I have been attempting to eat plenty of vegetables and drink plenty of water today. I have definitely eaten more veggies, but my water intake is only slightly higher.
Here I come, Goku!


1 2 3 4 5 6 7 8 9 10 11 12 13 14 15 16 17 18 19 20 21 22 23 24 25 Last Page

Get An Email Alert Each Time SLAPTHEFATCAT Posts