| | |
| --- | --- |
| | SPARKLINJEWELLS's Recent Blog Entries |


Saturday, January 29, 2011
so

so many of you have been checking on me, figured i should do an up-date

can you believe it's been 29 days? 4 weeks ago today

i can't believe it

i really can't believe that i'm so down and out yet

chest/lung trouble-- it hurts so bad-- if they told me they would cut me open to find and fix the damage, i'd be all over that-- just seems unreal that this is normal-- i can barely move yet- my chest hurts so bad- i'd still have to rate it at a 10 pain level-- sheesh- dr is giving me percocet in supplies of 75 at a time..........wish they would help!

feet/ankles- still swollen- actually felt my toes for the first time wed........dr is still just saying it's from being too sedentary-- so i'm trying to walk around the house more

fingers- nerve damage- i did do tests at the hospital wed for the nerve damage-- i see the surgeon mon- but my dr had the results thurs- he says they will have to do surgery- from what i'm reading on-line- arm/elbow will be in a splint 6 weeks.........wow

there's some huge psychological problems with all this

i'm totally dependent on others- i haven't even gotten a rental car yet- with these feet, i can't really twist around to look, i'd have no business driving

of course- i can't go car shopping

so i really am grounded

it snows- and i have to ignore it- and hope someone shows up offering to do it- the 2 girls next door did it twice- but haven't been back since- i had a guy who showed up- after i paid him and he left- i realized he only did about half of it! i did try and shovel the back porch- there's so much ice, it's really dangerous-of course, i fell- skinned both knees, bruised my shoulder, huge bump on my head- can't even explain how long it took me to get up-- well, now it's all icy out there again-- not sure what to do-- it's so dangerous- much less- it makes me look like the dregs of the street not taking care of my stuff!!

i live in a 2 story house-- i'm still sleeping sitting up in a chair in the living rm........regardless, it freaks me out to even think of being upstairs sleeping in my bed-- i also won't go up there and shower after dark-- took me a while to figure this out- it's just too scary to "be up there"- i'm totally vulnerable right now- if someone did break in or something- i can not even try and protect myself.....that's scary- that is really freaking me out

let's see- what else

absolutely amazes me how few people i've heard from- i'm the care taker- you stub your toe- i'm sending a card, etc........none of all of them people have called or e-mailed or nothing

that's messing with my head!

my kids are helping- trucking out here to take me to dr- going shopping- etc

my parents are old- 78 and 80-- i didn't tell them right away cuz i figured i'd be fine in no time- and then i'd tell them

well sheesh.......now it's like a lie- the longer you lie.........the harder it is to take back- do i tell them now- or- just wait til i'm 100%??

i need movie lists- i'm renting movies-- i've done all of the in demand movies......so if you have ideas of what i could rent.........bring em on!

thanx for listening........i can honestly say- if it weren't for my great spark buddies--i'd be in a lot of trouble.........you guys are holding me together!







Sunday, January 09, 2011
wow, been a week

of course, it's as easy to say, it's only been a week

definitely life-altering- i've left the house once, thurday, my dughter came out and took me to dr appt

the 2 daughters were here that day and ran some errands for me too

this being dependent is not fun

dr had nothing to say- said it'll take a while to heal- what does that mean?

i am also having other side affects now from the accident/recovery-- i can not lie down, so i've been sitting up for 8 days now- well my feet are like double their size , and ankles, and calves-- says that'll take a while to heal also

so, i've been trying to sit up and put my feet up, but, i only last about an hour at a time- that does not yet appear to be helping any

have been on a steady diet of vicodin- really doesn't seem to be helping any-- i just took my first percocet- we'll see what that does

you hear how easy it is for people to get addicted to pain pills- i have that worry in the back of my head

car is being totaled- i think what they're giving me is low- but........any way you look at it- you're still losing out.........gotta get something else now, and, needless to say, i'm doing some exploring into "safer" vehicles-- but it's still gonna mean another, longer loan.......

haven't gotten a rental car yet- no need- i sure can't drive, but it adds to my feeling of "helplessness"

i really do hate all this whining- but, first off, wanted to up-date all ya'all who've been so kind, and-- whining/blogging does help some

amazing how many lawyer letters i get in the mail every day- yes, it is a "sue-ing" world

not in any way how i foresaw getting into 2011- so much for exercise, getting a rhythym going again, etc

makes me wonder too tho- am i ready to die? what if i had died that day.......no, i don't have my affairs in order

need to get that done

it also does re-affirm all concepts of NEVER wanting to be dependent- so- gotta get healthy!

you spark pople rock..........thanx for caring so much






FYI: there's an awful lof of commercials on tv in the middle of the night!

i suspect- no matter how flabby your hind end may be-- sitting on it day after day after day--- it gets sore!!!





Saturday, January 01, 2011
so

i was sick- my last 6 days of year- had vacation- was down and sick every day

oh well- that's fine- we're still gonna start fresh as of dec 31st- my day back to work

had a good 31st- work- exercise-food

ok, now we're on a roll

leave for work this morning- 5:39 a.m.-- make it 1 block-- NO ONE's up on New Year's Day at 5:30 a.m.!!!-- this young lady- mid-twenties??? blows through a stop sign and BOOM- in the intersection- now, i always watch this corner, cuz, my way does NOT have a stop sign, the cross street does, and yes, people are bad about stopping

i have no idea where she came from- i NEVER saw her

i was driving- heard a boom- then a guy asking me if i was ok

my car is TOTALED!! 2 yrs old..........and it's in pieces........
call work
call the cops
i think i'm ok- yes- chest is sore- pretty sure it's from the seat belt and air bag, but, just sore

cops are busy- does this only happen here?? it's 8:45 when they finally show up?? 3 hours....it was below zero- my car's dead- NO HEAT!! NO ONE came out of houses and offered a warm house, or car, or bathrm- NOTHING!!

cops arrive- GUESS WHAT??? she has NO insurance........imagine that!!!

car tow-ers are running late too- BUSY.......takes til 10 a.m. for them to tow my car

did i mention- when my tow truck got there (thank you AAA)-- the young lady went and tried to get him to do HER car!!! ggrrrrr..........

I AM FREEZING!!! i finally get home.......hurt so bad decide it just can NOT be normal-- can not even move/breathe w/o pain

let's see--------where's my car??

think i'll taxi to urgent care- well sheesh.......it's a holiday

so i get a taxi to hospital-- wow-- our taxi drivers are NOT nice-- didn't help me at all as i'm walking bent over......

so then i spend 6 1/2 hrs in emergency rm.........they did take 1 look at me walking in and got me in a bed- hooked up an EKG........i've been sick- lots of coughing- well my chest hurts too bad to cough- so i'm audibly wheezing all over.......

chest x-rays- dr is more worried about my breathing than my sore chest

also x-rayed my HUGE thumb......guess i jammed it somehow

x-rays are fine- no pneumonia- nothing broken

dr just says i'll be sore for a WHILE.......a while?? is that 2 days- a month??

i can't go to work like this......i doubt i'm even gonna try and make it upstairs to bed tonight-- hurts to lay down-- think i'll try the chair

and i'm FREEZING!!! hands are like ice- i'm still in my shoes and coat from when i was at hospital.......delayed shock??

did i mention that young lady was dressed in a coat and shoes-- nothing on her legs?
by the time cops got there, no way could they tell if she was drunk

of course-- her neck and back hurt.......screaming how i better have insurance.....as she's taking pictures with her camera phone

cop believes they'll total my car out-- i don't believe that's usually a good deal.......

i still can't believe it

now i'm stopped in my daily exercise
stopped in how much i need to get done here
stopped in how much i have to do at work

just hoping............this'll be my worst of 2011???

thanx for the support ya'all

hope your New Year's started a LOT better than mine!!!





Saturday, December 25, 2010


lillian- age 1, and her cousin- klaudia-9 yrs old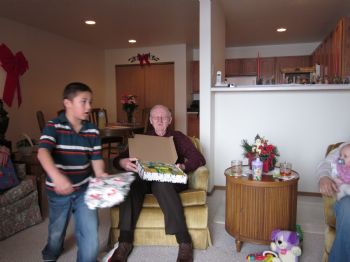 kelvyn 6 yrs old




khloe 17 months old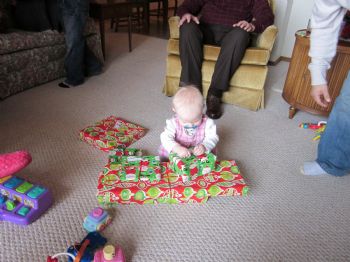 lillian again- she's such a sweetie!





Sunday, November 28, 2010
kit thought i should show these off

i took/found 365 quotes-- cut them up

painted these vases- girls names, flowers, hearts, etc......... wrote "a thought, a wish a day........from my heart to yours"

not sure yet if my intent is that they save them, and re-use every year....but i have started a 2011 list of quotes so maybe they'll get new ones....

pics aren't wonderful-- hard to see with the glass and stuff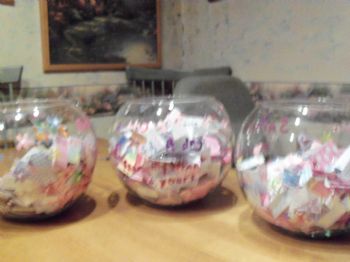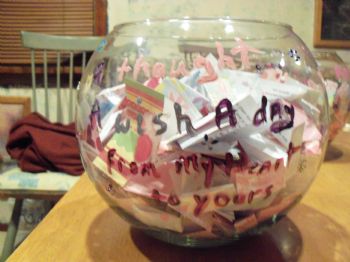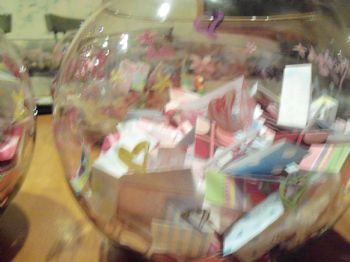 1 2 3 4 5 6 7 8 9 10 Last Page

Get An Email Alert Each Time SPARKLINJEWELLS Posts