| | |
| --- | --- |
| | SP_STAFF's Recent Blog Entries |



Monday, April 15, 2013
Happy Monday, everyone!

Today we are happy to announce a new change that will make your SparkPeople experience even easier!

As of today our DailySpark blog, which we launched as the separate website DailySpark.com in 2008, is moving to SparkPeople.com. Now you can read all of our great blog posts right here at SparkPeople without having to click away to another site. It's also getting a new name: The SparkPeople Blog.

You'll find the SparkPeople blog stories on your Start page, in your daily "Best of SparkPeople" email, and now under the "Articles & Videos" dropdown (pictured below), too.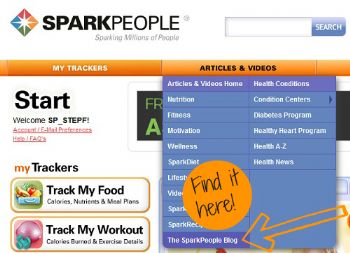 In addition, all SparkPeople announcements that we used to post here (like this one) will now be posted on The SparkPeople Blog going forward. So look for your news about SparkPeople and our new features there.

To read more about the reasons for this transition (and the benefits), click here.

We are excited about bringing you great stories, news and tips from SparkPeople experts and partners in this new, easier to use format. We'll see you at the NEW The SparkPeople Blog!

Thanks for your support,

The SparkPeople Team






Thursday, March 21, 2013
Have you given up on dieting time and time again? Have you lost weight and gained it back? Are you just plain sick and tired of starting over?

If you answered "yes" to any of these questions, you'll be excited to hear our latest news. SparkPeople wrote another book! WooHoo!

The Spark Solution is a two-week program to jump-start your weight loss and total body health. The idea behind it is simple: Why waste time experimenting with weight-loss tactics that don't work? With The Spark Solution, you'll spend the next two weeks setting yourself up to drop pounds and get healthy for the long haul.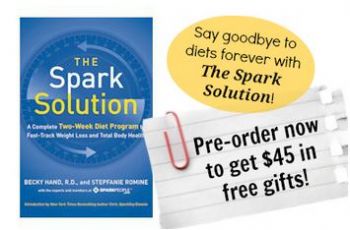 Whether you want to lose 10, 50, or 100 pounds, our new book will set you up for a lifetime of healthy living by helping change the way you think about weight loss and setting goals that you'll stick with.

Here's what you'll get:

• A three-part plan to make over your mindset, boost your metabolism, and build momentum

• 14 days of 1,500-calorie eating plans, with three easy, delicious meals a day plus two snacks-- to keep you satisfied while helping you burn calories

• A program based on what worked for our most successful members--and what didn't work for those who gave up early on

• A custom workout plan from Coach Nicole that helps you maximize your efforts--without spending hours in the gym

• Quick and delicious recipes like Lean Philly Cheesesteak and Pan-Fried Chicken with Rainbow Slaw

• Plus, if you pre-order now, you'll get $45 in FREE gifts and 500 SparkPoints! Hurry, this is a limited time offer.


These SparkPeople members ended the yo-yo diet cycle and you can too with The Spark Solution.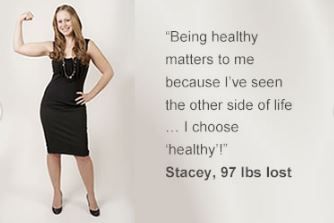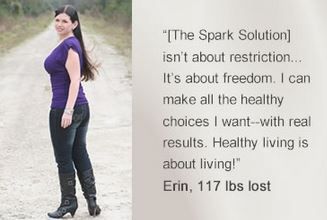 Pre-Order Today to Get $45 in Free Gifts NOW:

• 2 full-length DVDs: Cardio Blast and Fit, Firm, and Fired Up with Coach Nicole

• 3 months access to SparkCoach, with direct access to SparkPeople Coaches, including the book's authors!

• 500 SparkPoints

Get a fresh start this spring on your weight loss goals and set yourself up for long-term success. With The Spark Solution you could be just two weeks away from your healthiest, happiest self!

Pre-order your copy today at www.sparkpeople.com/sparksolution

Have you already pre-ordered? Click here
to enter proof of purchase and get your gifts.







Wednesday, March 06, 2013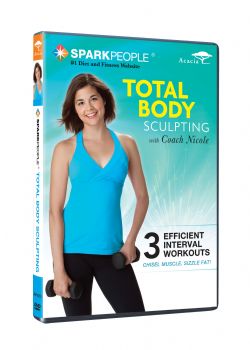 Good morning, Sparkers! We hope everyone is staying warm and safe after the snowy weather that hit a large portion of the country overnight.

Today we're asking a favor that'll take you just a few seconds of time, but could make a big difference in Spreading the Spark far and wide!

SparkPeople's Total Body Sculpting DVD was just nominated in the "Best Fitness DVD" category for a Home Media Magazine award. The winner is chosen by popular vote, so we'd love your help in the voting process. It's quick and easy. Here's how to vote:

1. Go to Home Media Magazine's web page here: www.homemediamagazine.com/awards-vote

2. Scroll down about half way on the page and select our DVD under the "Best Fitness Disc" heading.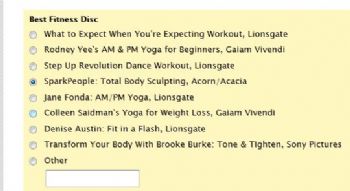 3. Scroll to the bottom of the page. Enter your email address in the box provided (no other information is required), then hit the "Submit" button.

That's it! Voting closes April 14. We appreciate your support. It would be awesome if SparkPeople could win this honor.

To learn more about SparkPeople's Total Body Sculpting DVD (which has already taken a few other top honors), click here.







Monday, March 04, 2013
Here's a super easy way to enter to win one of four $50 Amazon gift cards. All you have to do is sign up for our Special Offers email newsletter by March 15, 2013 to be entered to win!

By subscribing to this email, you'll discover special deals and coupons from both SparkPeople partners and advertisers who help us keep the site free! Rest assured, we will never share your address with anyone else. Here's what two members recently told us about receiving this email:


"I always see good deals on these emails." –SUSIEMT

"The emails have been a resource of information about items that can become rewards for me someday. The links make it possible to learn more and to purchase or at least plan a purchase." –SAM60SUMTHINK
Signing up for our Special Offers list is easy. Just
click here
to access your Email Settings. Scroll down to check the box next to "Special Offers" and then click the orange "Save My Email Preferences" button at the bottom of the page. If the box is already checked, then you are already on the list and automatically entered into the drawing!
We will randomly draw four winners from our subscribers list on March 19, 2013. Winners will be contacted via email. (
View official giveaway rules
.)
Thanks and good luck!






Tuesday, February 05, 2013
Good evening, Sparkers!

Today we added a "share" functionality to your Nutrition Tracker page. You'll see it on the top left of the page as indicated here by the arrow: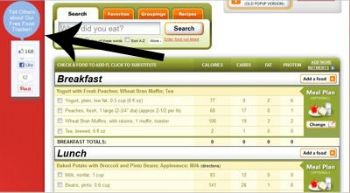 We want to clarify that by sharing this page via Pinterest or Facebook, your personal data will NOT be shared. No one will see information about you, your calories, the foods you've tracked or even your username if you choose to "like" or "Pin" this page.

Rather, those sharing options are simple ways you can help Spread the Spark. Should you choose to share our Nutrition Tracker with your Facebook friends or Pinterest followers, you'll be helping to Spread the Spark by telling others about our free calorie-tracker tool. It only takes two seconds of your time and it's totally optional, but it's a great way to spread the word about SparkPeople.

Please consider visiting your Nutrition Tracker page today and "sharing" the page via social media. You never know who you might "Spark"--and by doing so, you'll help us in our mission to Spark millions of People to get healthier and live happier!

Thanks so much! SparkCheers!

The SparkPeople Team



1 2 3 4 5 6 7 8 9 10 11 12 13 14 15 16 17 18 19 20 21 22 23 24 25 26 27 28 29 30 31 32 33 34 35 36 37 38 39 40 41 42 43 44 45 46 47 48 49 50 51 52 53 54 55 56 57 58 59 60 61 62 63 64 65 Last Page

Get An Email Alert Each Time SP_STAFF Posts