| | |
| --- | --- |
| | SP_STAFF's Recent Blog Entries |


Wednesday, May 21, 2008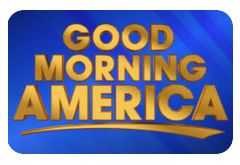 See her in separate interviews on "Inside Edition" & "Extra" Thursday evening
SparkPeople member Nichole Jones (NichJones) will appear on ABC's "Good Morning America" Thursday, May 22, at about 8:30 a.m. Eastern Time. We hope that her fellow SparkPeople members will tune in, tell their friends and support Nichole as she shares her amazing weight loss story and Spreads the Spark to millions of viewers nationwide. If you can't watch it live, don't forget to set your VCR or DVR to record it.


Over the last three years Nichole has transformed herself from a 240-pound mother of three to a svelte 135-pound fitness & figure competitor. But she wasn't alone on her journey; she found support and motivation from many SparkPeople members throughout the years. After reaching her weight loss and fitness goals, Nichole has remained an active "SparkPeople Motivator," providing inspiration and encouragement to other SparkPeople members just like you.

Nichole will also be appearing on two entertainment shows that air at different times around the country, so be sure to check out when Inside Edition (local listings) and Extra (local listings) air in your area.

Please leave a comment below to wish Nichole well as she prepares to head off to NYC and her whirlwind of television interviews!

Don't forget to tune-in to "GMA" Thursday at 8:30 a.m. to see Nichole's success firsthand!





Thursday, May 15, 2008


Hi everyone

We're excited to launch 2 recent site enhancements.

SparkTeam Message Board Search
You can now run a search within a specific SparkTeam's Forum. You'll find a search box at the top of the Team Forums on the main SparkTeam page, and then within a SparkTeam message board you'll find the search at the top of the messages or topics. Please note that for privacy reasons search is not available on private SparkTeams. We hope this search makes it easier to find what you need in your Teams!

Horoscopes on WebSearch
You can now check your daily horoscope on WebSearch. Log in to WebSearch and click the "Customize Your News" button to add your horoscope (customized for the birthday you entered on registration) now.

If you haven't used WebSearch, its a great page to set as your internet browser's homepage. You can see our quote of the day, news, and add your favorite links. Plus you earn 25 SparkPoints for setting this page as your internet homepage!


As always, these improvements are based on feedback and ideas from our great members!





Friday, May 09, 2008


A Mother's Day Success Story
At SparkPeople, we've seen countless success stories come from our Community of amazing members. One theme that is present in many of our favorite stories is members are not only improving their own health, but the health of the people around them too. This perspective is one of many ways that SparkPeople is different from traditional weight loss programs that are often isolating and difficult to stick with. Just in time for Mother's Day, we wanted to share the story of three SparkPeople members--a mom and her two daughters--who worked together to lose over 165 pounds combined.

It Starts With One
When Vivian Bedoya (BEMORESTUBBORN) decided to lose weight in June 2004 to prepare for her eldest daughter's upcoming wedding, she knew it wouldn't be easy. She had spent years as a busy wife and mother of two, but didn't make time for exercise and had never tried to eat healthy. Fortunately for Vivian, the same stubbornness that enabled her to maintain her unhealthy habits all those years also gave her the strength to stick with to her new program.

That summer, Vivian began to exercise regularly and pay close attention to what she was eating, but she kept her goals to herself. Even without significant weight loss to start, Vivian remembers seeing early results. "Once I began making progress," she said, "I was pleased to discover that my health issues were alleviated. As a bonus, I discovered that I love running - something I NEVER dreamed I would enjoy." At five feet tall, Vivian was able to transform her self-proclaimed "rotund" body (starting at over 150 pounds) to a svelte 108 pounds by her daughter's wedding day in October 2005.

Like Mother, Like Daughter
But this story does not end with the fabulous mother of the bride. A few months after Vivian began her journey, she debated with herself on how to help her youngest daughter, Lisette (LISETTE44), take control of her health and weight as well. Lisette was Vivian's "mini-me." The duo had been partners-in-crime for many nights of take-out and desserts. Although Vivian knew her daughter was unhappy about being overweight, she was still reluctant to interfere with her daughter's choices. After one of the most difficult conversations the two had ever had, Vivian and Lisette agreed that after Lisette graduated from college, she would start taking control of her health.

In May 2005, with the help and inspiration of her mother, Lisette began her own weight loss journey. Through consistent exercise and portion control, she has lost an amazing 75 pounds over the last three years.

Spreading the Spark
Inspired by the amazing lifestyle change her mom and sister experienced, Vivian's eldest daughter Jessica (JYBEDOYA) reached out over email for advice from her mom. Eager to see her daughter achieve the same life-changing results, Vivian responded almost immediately with, as Jessica describes, "wonderful advice, a workout schedule, and of course, SparkPeople.com"

In the year and a half since that fateful email, Jessica says that she "took advantage of just about every feature that SparkPeople has to offer." This dedication coupled with the support and motivation from her mom and sister, enabled her to reach her goal and lose over 45 pounds.

Reflecting On Their Changes
Listen to what each of these remarkable women has to say now.
"As glad as I am about my success, it is the success of my daughters that makes me happiest. That I motivated them through my example is wonderful; that they took that example and through their actions, commitment and discipline created their own success - that is a priceless legacy!"- Vivian

"Unlike the old days, when the family task was deciding which Uno's deep dish toppings we wanted, talk around the family dinner table is now geared towards the run one of us went on or what new exercise someone is doing. Keeping up is motivation in itself!" - Lisette"

"Nothing on a plate tastes as sweet as being healthy. Nothing is worth the feeling I have when I look in the mirror and love the reflection of the new me and I'm sure we all feel that way."- Jessica

Have a Happy and Healthy Mother's Day from everyone here at SparkPeople!






Friday, May 02, 2008


SparkPeople's Official Swimsuit Bootcamp & Contest starts in just a few days (May 4)! I hope everyone is as excited to get going as we are here at SparkPeople!

Since there are just a few days left now before we officially kick off, we wanted to remind you to invite you friends, family and even co-workers to join you for this challenge. This is a great opportunity to invite anyone to SparkPeople who might be interested in looking a little better in their swimsuit this year (and who isn't?) and interested in a chance to win $1,000 cash and other prizes (again, who isn't?)!

Here are 3 quick and easy ways that you can tell others:

1. Send an email letting them know about the challenge and contest! You can direct them to www.SparkPeople.com/Bootcamp. (New members joining the site will automatically be put onto the Bootcamp team when they use the link above.)

2. Print off the cards we've created! Hand them out this weekend while you're out and about! Download the cards here: www.sparkpeople.com/pr/bootcamp_sts.pdf

3. Spread the word on your other favorite websites and blogs! Whether you post a message about the Bootcamp on other message boards you are active on, create a new post on your blog, or post about it on your MySpace or Facebook page, these are all great ways to tell others about the challenge!

Thanks again for joining the Bootcamp and good luck reaching your goals!

Remember, Bootcamp starts this Sunday!

Coach Nicole






Thursday, April 24, 2008


This month you can catch two SparkPeople members in two different national women's magazines.

Lisa Wells (LisaPooh34) is featured in the May 2008 issue of Health Magazine in the "I Did It" section. Lisa has lost 90 pounds and gives credit to the SparkPeople community for helping her at anytime, day or night.

C. Simone Rivers (JOURNI167) is featured in the May 2008 issue of Essence Magazine in the "Fit & Fab" section. She has lost an amazing 130 pounds and recognizes her SparkPeople friends for helping her break bad habits.

Both of these issues are available on newsstands, so grab a copy to show your support for these two amazing members. Also, be sure to leave a comment below to congratulate both Simone and Lisa on a great job of "Spreading the Spark"!



First Page
1
2
3
4
5
6
7
8
9
10
11
12
13
14
15
16
17
18
19
20
21
22
23
24
25
26
27
28
29
30
31
32
33
34
35
36
37
38
39
40
41
42
43
44
45
46
47
48
49
50
51
52
53
54 55 56 57 58 59 60 61 62 63 64 65 Last Page

Get An Email Alert Each Time SP_STAFF Posts