| | |
| --- | --- |
| | SP_STAFF's Recent Blog Entries |


Monday, June 16, 2008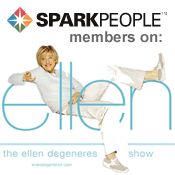 If you missed the first airing of SparkPeople members Rosie, Kristin & Kristi being interviewed on The Ellen DeGeneres Show (originally aired in January), be sure to catch the rerun today. For information about when Ellen is on in your area, check out the local listings. Rosie (ThinnyMinny), Kristin (Mrs.Honeycomb) & Kristi (Fruityful) met on SparkPeople, and have been using the site for almost two years. The support, motivation and encouragement that they provided each other through the site enabled them to lose a combined 350 pounds! Be sure to tune-in and tell your friends!





Thursday, June 12, 2008


We're thrilled to announce that SparkPeople.com members have collectively lost over 5 million pounds to date! Nope, you're not seeing things. That's 5,000,000—with 6 zeros.

You can check it out for yourself on our Activity Stats page, which also keeps running totals of calories burned, cups of water members have drunk, and more. These are real-time stats that update every time a member tracks these details on the site.

This is a huge accomplishment for every single person who has logged in, stuck with their program, and tracked their weight loss on the site, no matter how big or small. Congratulations to everyone who helped us reach this big milestone.

We hope this is just the beginning, too. Every day, members are losing weight and getting healthier, helping one another along the way, and Spreading the Spark so that more people can find out about the amazing resources, tools and supportive Community features that SparkPeople offers for free. Here's to your next big milestone!

Now it's time to toot your own horn.

Comment below and share how many pounds YOU'VE lost since joining SparkPeople!






Wednesday, June 11, 2008


We're happy to announce two new SparkRecipes enhancements that launched today. Both of these will be helpful for anyone who has "shared" a recipe on SparkRecipes.com.


Now you can "Subscribe" to any recipe that you've created and shared on SparkRecipes.com. Each time you share a new recipe, there will be a checkbox allowing you to choose if you want to subscribe to it. Being "subscribed" means that you'll get an email when another member leaves a comment on your recipe. Like SparkPeople's Message Boards, you'll only get one email until you click on the link in the email. You can subscribe or unsubscribe to any of the recipes you've added (old or new) from your Recipe Box, too.


Related to the enhancement above, recipe creators can now reply to comments that others leave on their recipes.
Our members have requested this functionality so that they can keep tabs on how others rate their recipes, respond to questions that others ask in the Comments section, and know about errors or oversights that their recipes might contain. We hope that you'll enjoy using these new features on SparkRecipes.com!





Tuesday, June 10, 2008

Good afternoon!

We wanted to let you know about two new changes we've made to the Nutrition (Food) Tracker, based on feedback and suggestions from our members.


Now you can copy meals from one day to another. This has been a long-standing request from our members who eat a lot of the same (or similar) foods and meals day-to-day and week-to-week. It will help you save time when tracking! Once you track at least one food for a meal, a "Copy this meal to another day" link will display next to the meal name. Click the link and a calendar will pop up, where you can choose which day to copy the meal to. It will automatically copy that meal onto the day you choose.


You can also adjust your grocery list to provide for up to 8 people. To see this, click on the grocery list for the week (near the bottom right of your Nutrition/Food Tracker page) and you will see "Number of people serving" in the upper right hand portion of the page. Change the number (from 1-8) and click "Update list" and you will see it change the list.
We hope you enjoy these new Food Tracker improvements!





Monday, June 09, 2008


When we launched SparkGoodies last February, members like you provided us with overwhelmingly positive feedback…and a lot of ideas, too! So last week, we added 92 brand new SparkGoodies for you to choose from when rewarding yourself and others for a job well done.

Many of these were suggestions from our members, such as seasonal Goodies (we added a Beach Ball, Beach Towel, Umbrella, Swimsuits, etc.), more "inexpensive" items (over 50 of the new items cost 25 points or less), and more Goodies for the guys (how do golf clubs, yard equipment, a sports car, and a grill sound?).

You can go to any SparkPage and click "Give USERNAME a Goodie" to browse through the newly updated store.

We hope you enjoy these brand new SparkGoodies, which give you a fun way to spend all those SparkPoints you earn.

If SparkGoodies are new to you, read the article below for more information:
www.sparkpeople.com/resource/motivation_articles.asp?id=1018




First Page
1
2
3
4
5
6
7
8
9
10
11
12
13
14
15
16
17
18
19
20
21
22
23
24
25
26
27
28
29
30
31
32
33
34
35
36
37
38
39
40
41
42
43
44
45
46
47
48
49
50
51
52 53 54 55 56 57 58 59 60 61 62 63 64 65 Last Page

Get An Email Alert Each Time SP_STAFF Posts