| | |
| --- | --- |
| | SP_STAFF's Recent Blog Entries |



Thursday, August 20, 2009


Hi everyone!

When you logged in to your Start page yesterday, you may have noticed a new banner at the top of the page. This is our newest SparkPeople feature. We call it the SparkPeople Insider. Here's a small image of what it looks like:





Each day, there will be a new insider "tip" when you log in to SparkPeople. We're going to feature some of SparkPeople's best—and often "hidden"—features in this section. Occasionally, you'll also find a Special Announcement or info about NEW features in this area, too!

In addition, you can earn 1 SparkPoint each day for clicking on the link in the Insider. We hope this will encourage both new and seasoned SparkPeople members to learn about some of our best features and to remember to read the special SparkPeople Insider tip each day.

We hope you enjoy the SparkPeople Insider. Remember, you'll find it on your Start Page (under the "My Tools" tab) when you are logged in.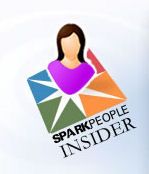 Wednesday, August 12, 2009



Hi everyone

I wanted to let you know about two feature enhancements today:

1) Tweaks to Fitness Maps
- The biggest change we made is that you can now search maps by any city name or zip code (including international). Previously you could only search by choosing from the 100 biggest US cities.
- We also made some smaller changes, including the ability to rename your route and use metric measurements.
- As a reminder you can find Fitness Maps by going to Healthy Lifestyle, then Fitness, then find a link in the center of the page. You can click here to visit directly.

2)New page to view Video Blogs - You can now view all Video Blogs on one page. You can sort them to see the most recent or most popular. We encourage you to visit this page for inspiration and to browse videos from members like you! You can get to this page by going to the Community tab and clicking the "Explore Video Blogs" link in the Blogs section, or can click here to visit the page directly.










Thursday, August 06, 2009
Hi everyone!

Based on member feedback, we've added some new "success" icons that you can use as your Message Board profile picture. In addition to the "I lost __ lbs" icons, there are now icons such as "I ran my first 5K", "Creating a New Me" and "Getting Fit". To upload one, click on Edit My SparkPage, click the link to change your profile picture, then click the link to "success icons" at the top of the page.

We hope you enjoy the new options!!






Thursday, July 30, 2009



Recently, we unveiled a redesigned SparkRecipes.com to make it even easier for you to find and share healthful meal ideas. We've also been hard at work on a few more improvements to the site that we think you'll love.


One of the biggest problems people face when they embark on a journey to healthy living is cooking. Whether you never learned how to cook or just don't know how to lighten up your favorite foods, many people fear the kitchen.


With SparkRecipes.com, you can overcome that fear and cook healthful, affordable meals at home.


Introducing "Healthy Home Cooking with Chef Meg"

We have joined forces with Chef Meg Galvin of the Midwest Culinary Institute. (Visit her "Healthy Home Cooking with Chef Meg" page here!) Chef Meg is a World Master Chef and full-time chef instructor; a wife and mother of three preteen boys; and an avid runner. With a passion for healthy living that was sparked during childhood, Chef Meg knows how important it is to find time for fitness and healthful meals with her family.


Chef Meg grew up on a farm in Kentucky, eating food that went straight from the field or the pasture to the table. Today, she continues to provide fresh and healthy meals for her own family--and now yours, too.


She took some of your recipes and gave them a makeover and shared plenty of original, healthful recipes, too. To help you feel more comfortable in the kitchen, Chef Meg did a handful of how-to videos, with plenty more to come. She'll teach you basic cooking techniques and show you how to make healthful meals for your family.


Watch Chef Meg's intro video here.



You can find a link to all of Chef Meg's original and made-over recipes and her videos on the SparkRecipes homepage, in the bottom righthand corner. You can also visit her "Healthy Home Cooking with Chef Meg" page here!


We'd love to know what you think about this new feature, especially the cooking videos, so check them out and then leave us a comment below. Tell us what you liked, what you didn't like, and what you'd like to see in the future.







Friday, July 24, 2009
Hi Everyone

Thanks for watching the Entertainment Tonight story!

Responding to some comments from members who wished it was longer, here are a few thoughts about this:

1) Anytime we're able to get a positive story about SparkPeople in front of millions of viewers on such a great show - especially one that prominently shows the logo and URL - then we'll take it! This helps us continue to build momentum. So, we thank ET very much for covering the amazing story building here every day. They are "ahead of the curve" in understanding that something great is happening at SP.

2) This is one reason our book is soooooooooooo important to everything we're doing. If the book sells well, then EVERYTHING will change in terms of getting additional media coverage. We'll have so many people interested in covering SparkPeople that I won't be able to keep up. And of course, I'll want as many members as possible to join me and our team in this coverage. Bottom line, if the book sells well, we'll be spreading the spark to so many more people.

Here's a link to the ET story if you weren't able to see it (one fix on the text on their site - thousands sign up every day, not month):

www.etonline.com/news/2009/07/76746/index.html

SparkCheers and thanks for your support!

Chris (SparkGuy)



First Page
1
2
3
4
5
6
7
8
9
10
11
12
13
14
15
16
17
18
19
20
21
22
23
24
25
26
27
28
29
30
31
32
33
34 35 36 37 38 39 40 41 42 43 44 45 46 47 48 49 50 51 52 53 54 55 56 57 58 59 60 61 62 63 64 65 Last Page

Get An Email Alert Each Time SP_STAFF Posts