| | |
| --- | --- |
| | SP_STAFF's Recent Blog Entries |



Wednesday, July 13, 2011
Hi Everyone!

As you may have noticed, we made a chance to the site yesterday. Now instead of having the site aligned to the left side of your monitor, it is centered.

We did this for a couple of reasons:
- Most major sites are now centered
- Since many monitors are now larger, sites look better centered

Please let us know what you think about this change! There are some things I really like about it that I'll wait until later to post until after hearing your thoughts.

Have fun reaching your goals today!

SparkCheers!

Chris (SparkGuy)







Tuesday, July 12, 2011
Today's Fitness
I did 41 fitness minutes today (July 11) – can you tell that I used to be an accountant with my odd fitness minute totals down to the minute :)?

Today's Highlights
Today's fitness highlight was increasing my number of leg lunges. If you haven't tried lunges, they are an amazing exercise to build leg strength! I'd recommend starting with a small number and working your way up or otherwise you'll get – in technical terms – "Lunge Legs" and be barely able to walk the next day. I once did a bunch of lunges after having not done them for awhile and then the next day I walked all around San Francisco – or at least tried to – BIG mistake! Learn from SparkGuy's mistakes :).

My other day highlight was playing a game with the boys outside in the great weather. I'd kick a plastic ball high in the air and they had to chase it and then whoever got it first had to run it back to me without getting tackled by the other one (my 7yo came up with this idea). They each had to run at least a mile, but didn't notice because they were having so much fun and squealing while out-running each other. Unfortunately, the game ended when the 4yo tried to tackle the 7yo and got the wind knocked out of him for the first time ever which freaked him out, but I grabbed him and let him know he'd be able to breathe again in a few seconds.

Member Post
Here's one of my favorite member posts from yesterday – I had several great ones to choose from today!

****
Title: 69 Pounds Lost!!

Message: I never in a million years thought that doing something as simple as eating healthier and exercising more could bring results like I have seen. Any time you see people on TV talking about how much weight they have lost there''s always some magic pill they took or some magic exercise equipment that they used or some special deliver at home meal system. Well guess what? I haven''t done any of these things and I have still lost 69 pounds!! Not that anyone who uses these systems are wrong or anything. Whatever is good for you is good for you! I eat healthier, feel better, get more sleep, and exercise like there''s no tomorrow and I still find myself smiling and laughing and enjoying my life. When I first started this on the first of this year if you would have told me that I would be 69 pounds lighter by July 11, I would have looked at you like you were crazy. But as crazy as it seems if you give yourself the chance you can do amazing things! It''s not over yet and I know that tough times are to come, but right at this very moment I want to celebrate my feet having 69 less pounds to lug around. Thanks for all of the support SP! Could not have done it without you!


****

Click here to leave this member a comment:
www.sparkpeople.com/myspark/messageboard.asp?imboard=33&imparent=24729627

How was your Monday? Did you get at least 10 minutes of fitness? What's your highlight?

SparkCheers!

Chris (SparkGuy)








Monday, July 11, 2011
Today's Fitness
I did 77 fitness minutes today – WooHoo for weekends and getting outside!

Today's Highlights
Today's highlight was running sprints in the neighborhood. I love these because you can get a great workout in a short time. I think sprints do more than just about any exercise I do to help me with clear thinking.

With the great fitness this weekend I slept well and feel good today. I'm ready to make this a great week and hope you are also ready for this!

Member Post
Here's one of my favorite member posts from yesterday:

****
I began this journey to better health, (again), on April 30th and found SparkPeople shortly after. I am so glad I did!!! Today I got on the scale expecting it to be about the same since I had shown a loss yesterday. Well.....I got on, looked, couldn''t believe my eyes, got off, got back on and then screamed with delight! I had broken the 250 mark, weighing in at 249.8!!! That makes 18 lbs lost (and I don''t want them back - so if you see them just ignore them they''ll go away , I hope

) I think everyone on my side of town must have heard me! What a motivator! All those minutes of dancing in the living room to Electronica/Disco music on cable are paying off - plus the walks on the days that aren''t to hot and humid! I set my first goal at 10% of my body weight and I am well on my way to accomplishing that goal. Small goals make a difference - when I look at the amount of weight I have to lose it is overwhelming! Small goals are the key in all of this! (for me anyway). AND the KISS principal - keep it simple sweetheart! Anyway, I''m rambling -which I tend to do when I''m excited! I hope all of you the best in your journey! Take care of YOU!



****

Click here to leave this member a comment:
www.sparkpeople.com/myspark/messageboard.asp?imboard=33&imparent=24718800

How was your Sunday? Did you get at least 10 minutes of fitness? What's your highlight?

SparkCheers!

Chris (SparkGuy)








Sunday, July 10, 2011
Hello Everyone!

Note: I will blog much more about this, but I have re-started my goal to see if I can do 1,000 days in a row of at least 10 minutes of fitness. As you can see from the title of this blog, today is Day 23. I will also try to blog as many days as possible. One of my goals is to motivate as many people as possible around America and the world to reach their goals using health and fitness combined with goal setting as a springboard to reach goals in all areas of life. Working together we can make an enormous impact. As I say, "Your daily actions and words impact more people than you realize!"

Today's Fitness:
I did 58 fitness minutes today – woohoo!

Today's Highlight:
My fitness highlight today was swimming laps with my boys hanging onto my back. They LOVE this because it feels like they are surfing. My oldest even tries to stand on my back while I'm swimming. Needless to say, this is a really challenging exercise! I love this one because it's both a challenge physically and something memorable for my boys.

Member Post:
Here's one of my favorite member posts the past couple of days. I love the confidence members have because of all the support and tools here at SP!

****
I was in the hospital recently and because I am diabetic they sent a diabetic nutrition counselor to see me. While I'm sure she meant well, she came in assuming that I knew nothing about a diabetic diet or that I had a current plan and had my diabetes under control.

I quickly corrected this assumption and pulled out my laptop to show her my Sparkpeople nutrition page!! She was very impressed and made sure to write down the website before leaving.... I'm hoping she will share this as a tool for her other patients!!! I can't believe as a nutrition counselor she didn't already know about it!
****

Click here to leave this member a comment:
www.sparkpeople.com/myspark/messageboard.asp?imboard=33&imparent=24689470


How was your day yesterday or today? Did you get at least 10 minutes of fitness? We can do this!

SparkCheers!
Chris (SparkGuy)








Thursday, June 30, 2011



Two SparkPeople members are featured in the July 18, 2011, issue of First for Women magazine. Tia and Anna are on pages 32 and 34, respectively.

Be sure to pick up a copy of the magazine today (it hit newsstands Monday!)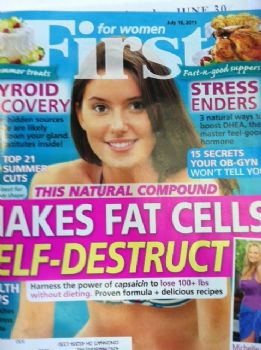 Way to go, ANNALISSAS, who lost 80 pounds, and TIAGAYEPFA, who lost 42 pounds!




First Page
1
2
3
4
5
6
7
8
9
10
11
12
13
14
15
16 17 18 19 20 21 22 23 24 25 26 27 28 29 30 31 32 33 34 35 36 37 38 39 40 41 42 43 44 45 46 47 48 49 50 51 52 53 54 55 56 57 58 59 60 61 62 63 64 65 Last Page

Get An Email Alert Each Time SP_STAFF Posts