| | |
| --- | --- |
| | SP_STAFF's Recent Blog Entries |



Monday, February 13, 2012


Last week we announced the addition of "SparkPeople Funnies" with a hint that more changes to the site would be coming soon. Today, I am very happy to announce that on Wednesday, Feb. 15, we'll be unveiling some upgrades to SparkPeople's newsletters! These changes affect our daily newsletter, which many of you subscribe to. In an effort to optimize the newsletters we send out and reduce the amount of email members receive, here's a rundown of what's coming:

Newsletters That Will Be Discontinued
Beginning Wednesday, we will discontinue the following daily newsletters.


Food Showdown. Instead of sending it in a daily email, we're giving Food Showdown a new home on dailySpark.com each weekend, and we'll also feature the Food Showdown in The Weekly Spark (subscribe here).


Family Health and Wellness. You can continue to find great family and kids content on dailySpark.com (subscribe to the dailySpark digest here) and in our Healthy Kids and Families Lifestyle Center.


Healthy Reflections (Quote of the Day). But don't worry. While this will no longer be a stand-alone newsletter, the Quote of the Day will be incorporated into our Best of SparkPeople daily newsletter (subscribe here).
Newsletters Getting a Facelift
Best of SparkPeople (daily). We're expanding this newsletter to include a daily feature, a Motivational Quote of the Day, SparkPeople Funnies, and top blog posts from dailySpark.com bloggers and members!


Recipe of the Day. This title has been totally redesigned to feature our best recipes and Chef Meg's cooking videos along with cooking tips and food blogs.


Exercise of the Day. We're redesigned our fitness email to feature exercises and Coach Nicole's workout videos, plus member fitness tips, a daily workout song to get you moving and more!
Remember that you can still earn SparkPoints for reading email newsletters—and the stories within them. It's a great way to keep your goals in mind each day and get more insightful tips for your health journey. To edit your email subscription settings any time, go to your Start page (under the My Trackers tab) and then click on
Account/Email Preferences
near the top left of the page.
We can't wait to hear what you think about our new, revamped email newsletters that start this Wednesday!






Thursday, February 09, 2012
Good morning, SparkPeople!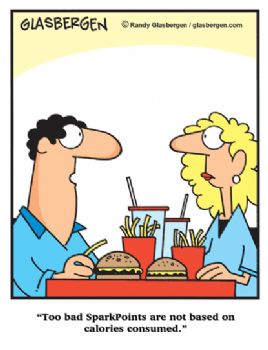 Today we added some great health, fitness and diet cartoons to our website. We're calling them the "SparkPeople Funnies!" You can find all of the cartoons in the Wellness section of our website (under the Healthy Lifestyle tab at the top of the site) or by clicking here: www.sparkpeople.com/resource/funnies.asp

You'll find some "SparkPeople" themed cartoons (created by our employees) as well as some general humor about weight loss, healthy eating and exercise. These cartoons are easily shareable, too. You can post them to Facebook, Twitter and Pinterest quite easily, and save them to your SparkFavorites, too!

Pssst! These cartoons are part of a larger new enhancement to the site that's coming soon: Brand new email newsletters from SparkPeople that will feature SparkPeople Funnies (among other great new features)! Stay tuned for more info about our new and revamped email newsletters in the next 1-2 weeks.

We hope you enjoy the SparkPeople Funnies!






Friday, February 03, 2012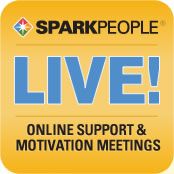 If you are a regular visitor to SparkPeople, you've probably heard about one of our newest features, SparkPeople LIVE! Online Support and Motivation Meetings – or LIVE! meetings for short.

One of the best features about the LIVE! meetings is that all the classes are led by current SparkPeople members just like you! Combined, our leaders have lost over 500 pounds by following the SparkPeople program and they are passionate about helping you reach your goals as well.

We are excited to announce that two new SparkLeaders will be leading LIVE! classes starting next week.

DETERMINED_SOUL (Jessica) joined SparkPeople in 2008 and has lost over 120 pounds. Along the way, she discovered a passion to help others become successful in their own journeys. She is now a weight loss coach, fitness coach and fitness trainer. She will be leading LIVE! classes on Monday nights at 10 p.m.(EST)

"I love LIVE! because you get live interaction with all the people you chat with through message boards. It is a great hour of support and motivation from others just like you, and I have made a ton of friends through the LIVE! meetings. I also think SparkPeople LIVE! is one more step that allows SparkPeople to make a huge impact on the lives of many by helping them become successful on their journeys to creating a healthy, fit, and energized lifestyle."
--DETERMINED_SOUL


SHEENADEE (Merle) joined SparkPeople in 2008 and has lost over 60 pounds. She started out completely sedentary, but now lives a healthy and active lifestyle-- and enjoys it, too! To learn more about Merle, here is a video of her sharing her weight loss story. SHEENADEE will be leading LIVE! classes on Tuesdays at 12 p.m.(EST)

"I love the LIVE! meetings because each one provides tips on a fitness related topic. The prepared material is chock-full of information and I always learn even more details from member discussions. It's been great to see some of my Spark friends on-screen, and I've met many new ones, too."
--SHEENADEE

SHEENADEE also posted a video blog on her SparkPage about how LIVE! has helped her. Watch it now!

Not sure if SparkPeople LIVE! is the right fit for you? You can try it free for one week! Classes are offered every day of the week at multiple times throughout the day, and you can attend as many classes as you'd like free of charge. Best of all, you can do it from the comfort of your home; even in your pajamas if you'd like!

Click here to learn more and start your free trial week of SparkPeople LIVE!

SparkCheers!

The SparkPeople Team







Monday, January 30, 2012


Wanted to let everyone know about a small change we just made to make it easier for anyone to share their SparkPeople status updates on Facebook, as well. This is a feature that we've had for a long time, but it was previously a bit hard to find.

The enhancement now makes this feature really easy for anyone to use! The next time you update your SparkPeople status you'll see the option to "Post to Facebook" also. This box will be unchecked by default, so if you'd like to try it out you'll have to check the box before hitting the "Update Status" button.

If you have not previously connected your Facebook and SparkPeople accounts, you'll first be asked to do this (it takes just a second) before you can proceed. You'll only need to do this once, not every time you use the feature.

Once you have successfully shared a status update on Facebook, we'll keep this box checked for the next time you update your SparkPeople status, but you'll always have the option to un-check this box before posting.

This was a feature that many SparkPeople users were already taking advantage of, so we're happy to make it easier for everyone to use!

SparkCheers!
Tim






Tuesday, January 24, 2012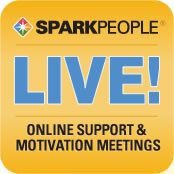 Have you always wanted the opportunity to ask Coach Nicole a question about your workout plan? Now is your chance!

Join her this Thursday, January 26 at 8 p.m. (EST) for her very first
SparkPeople LIVE Special Event! During this live, hour-long class, she'll be sharing tips on how to create a workout plan that works for YOU and you'll have the chance to ask her questions, as well as share your own advice with other SparkPeople members just like you.

SparkPeople LIVE! Online Support and Motivation Meetings take place in an online, video chat room, so you can join right from the comfort of your home! You will not only see other SparkPeople members but also to chat with, laugh and learn from them, too. With your paid membership, you get exclusive access to Special Events just like this one, as well as unlimited weekly classes covering relevant topics like weight loss tips, fitness, motivation, cooking and more!

To attend this class, you must be a member of SparkPeople LIVE – registration is quick and easy! Plus, you first week is FREE and you get 50 SparkPoints and a 20% off coupon to the SparkPeople store just for signing up! What do you have to lose? Click here to get started today.



We hope to see you in Coach Nicole's class on Thursday night!


SparkCheers!

The SparkPeople Team





First Page
1
2
3
4
5
6
7
8 9 10 11 12 13 14 15 16 17 18 19 20 21 22 23 24 25 26 27 28 29 30 31 32 33 34 35 36 37 38 39 40 41 42 43 44 45 46 47 48 49 50 51 52 53 54 55 56 57 58 59 60 61 62 63 64 65 Last Page

Get An Email Alert Each Time SP_STAFF Posts