| | |
| --- | --- |
| | SP_STAFF's Recent Blog Entries |



Tuesday, August 28, 2012



Good morning, everyone!

We're excited to unveil today a redesign of our video pages! Our videos are now easier to browse, thanks to tags and categories that separate them by body focus, intensity level, type of workout/video and more.

We've also added new videos from our partner Everwell that cover various nutrition and wellness topics as chosen by our editors.

When viewing a video, the video screen is larger than ever! The new sharing bar on the left makes it easy to "like," tweet, pin and Save (to your SparkFavorites). In addition, all actual workout videos have a "Track Calories Burned" button below them that makes it easy to add the workout to your Fitness Tracker. Note: This button only shows up on workout videos and when you are logged in to the site.

Starting today, you'll also be able to earn 3 SparkPoints each day for watching a video on SparkPeople! Simply click the "Get Your SparkPoints" button beneath the video screen.

We hope that this new redesign will make it easier than ever for you to watch, learn from and work out to our video collection!

Start browsing videos now: www.sparkpeople.com/resource/videos.asp






Monday, August 27, 2012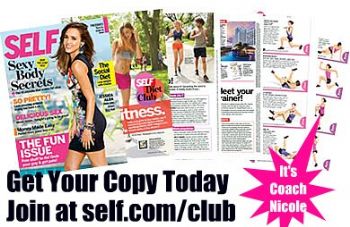 Happy Monday, SparkPeople!

In case you haven't heard the news yet, we're thrilled to tell you that Coach Nicole is currently featured in the September issue of SELF magazine—on newsstands now. Our very own fitness expert designed the cardio and strengthening workout plan for the SELF Diet Club, a weight-loss plan that combines a calorie-controlled diet along with Coach Nicole's workouts to help participants drop 2 pounds per week.

We're so proud that our trainer is featured (and that SparkPeople is mentioned as well! We'd like to encourage you to pick up a copy of the magazine and/or join the SELF Diet Club online, where you can also access the meal plans and workouts for free. Just sign up at www.self.com/club.

Please join us in congratulating Nicole for being the featured trainer in SELF magazine this month, and help us Spread the Spark by picking up a copy of the magazine, telling your friends, and joining SELF Diet Club's 4-week plan online. Thanks for your support!

The SparkPeople Team






Monday, July 23, 2012
We recently told you about Angela (4A-HEALTHY-BMI), the amazing SparkPeople member who was scheduled to appear on the "Today" show on Monday (July 23) as the newest inductee of the Joy Fit Club. She had a great appearance and made everyone at SparkPeople so proud. For those who missed the story, here is a link to the video so you can watch it yourself.

Here's the video. If the player embedded below doesn't work for you, click this link to view it at the "Today" show website.




Great job, Angela, and congrats on your amazing success. Please leave a note of congratulations below for Angela. Thanks for Spreading the Spark on national TV! WOO-HOO!






Saturday, July 21, 2012




Hey, SparkPeople members!


Great news: One of our members is going to be on the Today Show.


Angela (4A-HEALTHY-BMI) will be featured in the Joy Fit Club during the final hour of the show on Monday, July 23. Her story is pretty incredible, but you'll have to watch to learn the details! Be sure to tune in to cheer her on!


SparkCheers and enjoy the rest of your weekend!







Thursday, July 19, 2012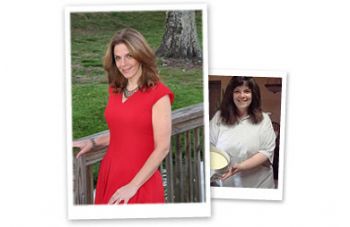 Here at SparkPeople, there is nothing we love more than hearing about our members' successes. Not only we do we want to hear how SparkPeople has improved your life, but we also want to see what healthy choices and lifestyles really look like!

We know that it took a lot of hard work, sweat, and motivation to get to where you are today, and it's time to share your success story with the world! Send us your before and after pictures* for a chance to:

• Win one of five $50 Amazon gift cards
• Be interviewed for an article on the dailySpark about your success story
• Have your before and after picture featured on the SparkPeople homepage!

Click here to learn more! You only have until July 30th to submit your entry. Good luck and keep sparking!

*Be sure to read the submission guidelines here:
www.dailyspark.com/blog.asp?post=share_your_success_story_with_sparkpeoples_before_and_after_sweepstakes



First Page
1
2
3
4 5 6 7 8 9 10 11 12 13 14 15 16 17 18 19 20 21 22 23 24 25 26 27 28 29 30 31 32 33 34 35 36 37 38 39 40 41 42 43 44 45 46 47 48 49 50 51 52 53 54 55 56 57 58 59 60 61 62 63 64 65 Last Page

Get An Email Alert Each Time SP_STAFF Posts