| | |
| --- | --- |
| | SP_STAFF's Recent Blog Entries |


Wednesday, January 23, 2013


Good afternoon, SparkPeople!

Today, we'd like to announce that we're partnering up with the folks over at BodyMedia to provide you with another great tool to help you reach your goals. BodyMedia has a fantastic line of fitness tracking devices to help you wirelessly track your activity, calorie burn and sleep cycles. As of this week, we have made it possible for you to sync your BodyMedia data directly to your Fitness Tracker!

Sync Your BodyMedia to Your SparkPeople Account

Syncing your BodyMedia data to your Fitness Tracker is a simple process that takes just a few minutes. Visit this page for more information about BodyMedia and how to connect a device to your SparkPeople account. (Note: Syncing will only work if you have a current subscription to the BodyMedia Activity Manager.)

Get a BodyMedia Discount for Being a SparkPeople Member!

Don't have a BodyMedia device? Now is the perfect time to get one, because SparkPeople members can now save 15% on any BodyMedia armband! Purchase a device using this link and enter SPARK15 at checkout to receive your discount. As an added bonus, SparkPeople will earn a percentage of the sale, which helps keep our site free for you!

We hope this new feature will not only benefit those who already have BodyMedia devices, but will also inspire even more people to check out this innovative gadget to help them reach their health goals. Enjoy!


SparkCheers,
The SparkPeople Staff


P.S. You can read more about our BodyMedia integration at Mashable.com!






Thursday, January 17, 2013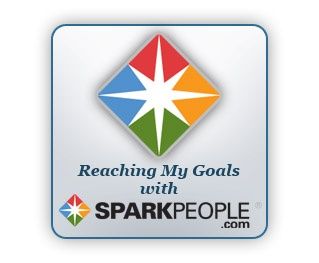 We hope that all of you are off to a great start toward reaching your goals this January! Hopefully SparkPeople's trackers, resources, community features and coaching tools have helped you make some progress during these first few weeks of 2013.

As you know, SparkPeople is a FREE website because our mission is to SPARK millions of PEOPLE to reach their goals. We try to keep our costs as low as possible so that we can remain a free service for you and everyone else. We don't spend much on marketing to recruit new members. Instead, most people learn about or join our site because members like you tell them about it! (And we thank you for that!) That's why we ask for your support in "Spreading the Spark" to others. It's a great way to help others improve their lives and it helps keep SparkPeople free so we can help even more people.

January is the time when many people are making health-related goals, so it's also the best time to tell people you know about SparkPeople.

If you have a few minutes to spare in the next few days, here are some very easy ways that you can help Spread the Spark to others.

1. Share the SparkPeople Badge on Facebook, Pinterest and/or Twitter. Just click the link above to easily tell your social media friends that you're reaching your goals with SparkPeople!

2. Follow SparkPeople on Facebook, Twitter, Pinterest and/or Tumblr. Every time you interact with us (like, reply, comment, retweet or repin something we post) is another chance your friends will find out about SparkPeople!
SparkPeople on Facebook

SparkPeople on Twitter

SparkPeople on Pinterest

SparkPeople on Tumblr

3. Earn 10 SparkPoints for each friend you refer to join SparkPeople. Visit our Tell A Friend page to get a custom URL you can share with anyone. If they join the site from your URL, you get 10 SparkPoints per person!

4. Buy our new DVD at Target. The newly released 'Total Body Sculpting with Coach Nicole' is our highest-rated DVD to date: Nothing but 5 stars on amazon, plus endorsements from top fitness magazines calling it "one of the year's best." We are so excited that Target chose to stock our DVD on their shelves from among hundreds of available DVDs this year! This lets all kinds of new people discover SparkPeople by discovering it at Target! But they'll only keep it in the stores if it sells well, so if you're thinking about buying it, don't hesitate to run to your nearest Target store to purchase it. (Look for it in the sporting goods section, not with the movies.) As a bonus, you'll get 250 SparkPoints for your purchase—but only when you get it at a Target store.

5. Just tell someone! Simply tell someone—anyone—about your goals this year and how you're using SparkPeople to reach them. Call a friend. Send an email. Tell your co-worker. Just spread the word. When you tell people about your goals and how you're doing, research shows that you're more likely to reach them. And when you have people join you, your odds of success are even greater. To make it easy, we have email templates, printable flyers and even printable "business" cards that you can share! Find 'em right here.

Please consider doing what you can to help Spread the Spark today. The more people we can reach, the healthier we can make this world.

Here's to a healthy 2013 for all! SparkCheers!






Thursday, January 03, 2013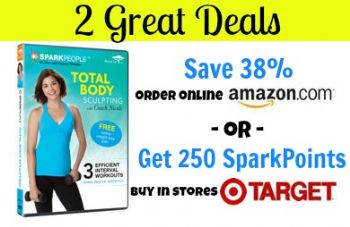 Happy New Year!

On behalf of everyone at SparkPeople, we want to wish you a Happy & Healthy New Year! Whatever your goals, we are here to help.

For those of you who are planning to get fit, tone up and lose weight in 2013, we wanted to make sure you knew about 2 Great Deals happening this month on our new Total Body Sculpting with Coach Nicole DVD. Members can choose one of two deals when purchasing this title--but only for a limited time.

Deal 1: Save Money
Save 39% off MSRP when you purchase Total Body Sculpting at amazon.com. For a limited time, amazon.com has slashed the price of this DVD so you can get in shape for less dough. This sale won't last long, so check it out today!

Deal 2: Earn SparkPoints
When you purchase Total Body Sculpting at an actual Target store (not online), you'll earn 250 SparkPoints. Target stores nationwide are already starting to stock the DVD (look for it in the sporting goods section, not in the movies section), and it should be in every Target by the end of the month. We are thrilled to have been selected as one of a few fitness titles at Target, which is why we are offering this Target store exclusive. Buy your DVD there and you'll earn SparkPoints for your purchase! At our local store, the DVD is just $12.99! Learn more.

We hope you'll take advantage of one of these two great deals while they last.

SparkCheers! Let's make 2013 the best year yet!

The SparkPeople Team






Friday, November 30, 2012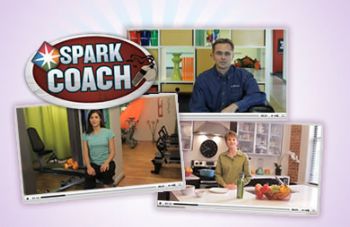 We launched SparkCoach back in August with a single program track: the SparkDiet, and our members have responded in an overwhelmingly positive way to the feature and the video-based coaching program. Thank you for your support!

The last several months, your coaches have been hard at work developing new programs for SparkCoach, based on feedback from members. Today we are happy to announce the addition of TWO new SparkCoach programs!


Plateau Busting: If you haven't seen any weight loss for several weeks despite your hard work, this 4-week program is exactly what you need! Each day, our coaches will deliver proven strategies to help you start dropping pounds again. All the while, your motivation will soar thanks to built-in daily encouragement and helpful visualizations.


Consistency & Motivation: We designed this ongoing program to help you stay motivated to stick with your healthy habits for the long haul, whether you're losing weight or holding steady in maintenance mode. Featuring daily health, fitness, motivation and nutrition challenges from your coaches, these fun and interesting daily goals will help you stay accountable and avoid temptation.
Anyone using SparkCoach can switch to a new program at any time by simply clicking your "SparkCoach Account Settings" button (from your SparkCoach Welcome page) OR by clicking the "See Other Programs" button (near the bottom of your SparkCoach Program page).
You can sign up for a free 1-week trial of any SparkCoach program by visiting
www.sparkcoach.com
!
We hope that you enjoy these new offerings!






Thursday, November 29, 2012



It's the most wonderful time of year: The 12 Days of Holiday Cookies emails are almost upon us! Starting Dec. 1 and running through Dec. 12 in our Recipe of the Day email, you'll get a tasty holiday treat in your email inbox each morning--and these recipes are a step above the rest. They're not only tasty, but they are a little healthier than most cookies, too.


This year we updated our list, keeping some old favorites and adding some new ones. Whether you like gingerbread or chocolate chip cookies, rolling out dough or just dropping it on the pan, traditional or creative, we have a cookie for you.


Don't miss these tasty holiday treats--click here to sign up (check the box for "Recipe of the Day" email)!
Here's a sneak peek:








If you're a cookie lover, you don't want to miss these emails! Sign up today--and share with a friend.
If you're a Pinterest user, help us Spread the Spark by pinning your favorite healthier holiday treats!





First Page
1
2 3 4 5 6 7 8 9 10 11 12 13 14 15 16 17 18 19 20 21 22 23 24 25 26 27 28 29 30 31 32 33 34 35 36 37 38 39 40 41 42 43 44 45 46 47 48 49 50 51 52 53 54 55 56 57 58 59 60 61 62 63 64 65 Last Page

Get An Email Alert Each Time SP_STAFF Posts