| | |
| --- | --- |
| | STARLIGHTSHADOW's Recent Blog Entries |


Thursday, October 18, 2012
I'm not up to date on who's who in... well, anything except classical music I guess. Still, people mention names as though they expect me to see faces with them (I'm really bad at recognizing and remembering people I personally see, I'm worse at remembering photos and associating ANYTHING with them). My closest friends have learned to refer to actors by the role I first saw them in, because that's pretty much the only thing that will stick with me. They laugh, but they've come to accept that I'll never associate anything apart from a job with someone whose job is me watching them do it.

I can't bring myself to google these people. It's an invasion of their privacy for me. I don't want to know about their lives, I don't care to speculate what or whom they might or might not have done. If I knew them, personally, it would be utterly different, but I DON'T! So WHY should I care that such-and-such was seen with this-and-that-person? WHO are these people and WHY should I want to pry into their personal affairs? What gives ANYONE the right to do so?

And why are they offended if I say so? These are PEOPLE, not objects for anyone to stare at all the time. Let them live!

Inspiration, for me, isn't about stalking the lives of others. It's about meeting people and learning their stories, becoming a part of their lives just as I, myself, become a part of theirs. When there's a personal component to inspiration, when there's a STORY behind it, when I've talked to that person (whether face-to-face or on the internet), then there's a spark ignited within me.

So, please, people at work, don't show me "How supposed Star X lost 50lbs!" magazines at work. Chances are, I won't even know who that person is supposed to be (except I now know the name they are known by), let alone be inspired by them or aspire to be them. I'm quite handy with image manips myself, you know? Reality, the simple treasures of a friend's or an acquaintances story, the beauty of my surroundings, the fire within and the visible representation of my goals without will always, always serve so much better as something worth striving for.

(I once told off a famous football player when I was out buying shoes when I was still a student in NYC. He was miffed that the sales associate was paying attention to another customer and me and not swarming to him like the other two associates in the not-that-big store. I was SO scared of that giant man, but really, really angry that he was offensive to both the sales people and other customers so... yeah, this is why I'd never survive as a criminal attorney. I've been told I have NO self-preservation instincts when I perceive a slight or an injustice.)





Tuesday, October 16, 2012
The ugly truth: It's mostly like exercising while NOT hypothyroid, but from time to time, this happens...

About half a mile into my run/walk tonight, my pulse-meter started beeping at me like crazy. I'm wearing one on concession to the team physician of the volleyball club I'm playing at after he found my BP to be on the very low end of being conscious while exercising (my BP drops when I exercise). Checking the readings, they were at 80/50, not too unusual for me but a sign that I need to slow down a little. I was coming up on a walking interval anyway, so I just skipped the final ten seconds of running and went straight to a brisk walk.

That's when the dizziness hit. Now, I'm not new to this, and I know that some days my hormones are out of whack enough that I get dizzy from nothing, so I pushed through. I knew it couldn't be hypoglycemia as I'd had a big dinner tonight.

At 1.6 miles in, at my turning point, the nausea hit. This is nothing new either, but when combined with the dizziness... let's just say I didn't make an attractive picture by the wayside.

Trouble is, I was 1.6 miles from home.

I made it, at a crawl almost, but I got there. I'm still proud I did my exercising, but now I'll have to take some migraine meds before Step 3 of the unholy trinity hits. They tend to make me at once ravenous, tired AND loopy so... I just hope I won't binge.

Hope you're having a better day than me!







Monday, October 15, 2012
A sure sign it's getting close to winter? All these bunnies out and about at night, fluffy and chubby and nibbling on everything.

I almost stepped on one today. Poor thing was just about as shocked as I was, we looked at each other and just sprinted off in opposite directions. Why do these things always happen to ME???




Sunday, October 14, 2012
When you're severely hypothyroid, days without any pain are rare. At any moment, muscle soreness, headaches, joint aches, general malaise or similar ailments are our constant companions. It can be pretty well managed with the meds, but since the body isn't a machine and doesn't work the same all the time, the same dose might at times send your heart jittering like a bug and make you feel sluggish and under the weather the next.

Today was a perfect day. NO pain! Even though I trained so hard during the week and had days on which I thought I was a creaky old lady due to being so sore, I persisted in being active EVERY day, and it paid off.

As I was starting to run after warming up, my first thought was "Huh? This is easy!". I ran harder than I had all week, then, during recovery, caught my breath completely. The second set was even better. The trail was flying by under my feet, I even overtook the Grandpa Runner I see every time I run at night for the first time ever (he caught me during my second recovery set and gave me a "You go, girl!", how nice!).

I'm definitely still riding the runner's high, so forgive me if this is a little disjointed.

So, on my route there's a few regulars. There's the Grandpa Runner, who goes for a 15k run every night at 10pm. There's the Super-Fit Architect runner who ever only runs in the most stylish outfit he can find (but who always has a nod for everyone he passes). There's me, Desperately-Gasping Chick. Then there's Sport Student Runner, who doesn't like running but has to do it for his degree (he much prefers biking and playing basketball he told me). There's Soccer Coach Runner, who has been embarrassed about not keeping up with his players and wants to get fit, too. He and I talk for a while during my walking intervals, but I'm faster than he is and usually pull ahead by the time we're halfway through (he asked about my plan, his was "Go as long as you can, walk, repeat", I gave him mine, now he's doing the same intervals). We all flit past each other in varying states of exhaustion, giving a nod in greeting or a friendly word.

It's strange how they're all men except for me. I feel so safe here in this city. I never even questioned being out this late, and my work won't permit anything else. I couldn't ever run in the morning- I'm an absolute night owl, getting up even five minutes earlier than I have to makes me shudder. I love running at night for the crispness of the air, the stillness of nature, the lessening of traffic.

And the people. When they saw me, feeling like flying today, smiling from ear to ear, music pounding in time with my feet, they, too, smiled at me.

I like to think we runners lift each other up, no matter what our level. I like to think that when we see someone flying on that special high, we want to work a little harder so we can join them.

I'm looking forward to getting the same feeling next Sunday, at the end of next week's interval program. Until then, I hope one of the others flying will take me with them.




Saturday, October 13, 2012
I usually hunt for stuff to decorate my home with in nature. Today, I found the most amazing bright red rose hip covered branches and some maple leaves as well as tons of horse chestnuts and some unopened chestnuts.

Wound the rose hips into a loose wreath, sprinkled the leaves and unopened chestnuts inbetween, put a candle in the middle and filled it up with the horse chestnuts. Results? Well, pics are going to come soon but it's a 0$ decoration that's going to last weeks and looks absolutely beautiful. Yay for nature!

Edit: Photos added.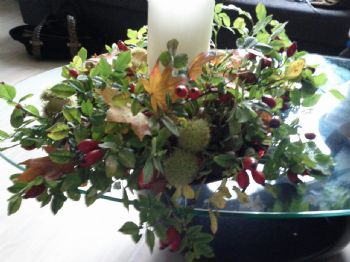 First Page
1
2
3
4
5
6
7
8
9
10 11 Last Page

Get An Email Alert Each Time STARLIGHTSHADOW Posts