Monday, May 26, 2014
I saw that phrase on a billboard yesterday and loved it :D It was an ad for a tanning salon, which is neither sexy nor healthy, but the slogan is still motivational! Reminds me that I have to work for it.

I had an active weekend with a mini road trip/vacation. I went to a hot air balloon festival, stayed overnight, then stopped to tour a religious site on the way home. I did a LOT of walking, both at the festival and the site. I made some bad choices with my food - nothing too terrible but still not great. That was entirely due to poor planning on my part. I didn't bring anything with me to eat and I didn't eat at the regular times, which led to bad judgment when I did eat.

The good thing about it is that I know to plan better in the future! In about two and a half weeks, I'm going to another balloon festival as part of a four day beach trip, so I will plan out what I will eat each day and not be caught off guard. I'm staying at a condo-type place that has a kitchen, so I'm going to bring some of my own food and buy fresh ingredients like milk and fruit when I get there. I'll do a lot of walking and swimming, so it should be a pretty healthy trip :)

I've finally done some Disney World planning. I watched the planning DVD Disney sent me - not that informative, but great propaganda for getting me even more excited ;) I've read the Magic Kingdom and EPCOT sections of my guide book and marked the attractions and stores I want to visit, but I need to read the rest of the book. That way, as soon as I get Extra Magic Hours information for December, I can start scheduling my itinerary. I've got to get everything planned before I go back to school in August - between my own classes and teaching, I won't have any free time!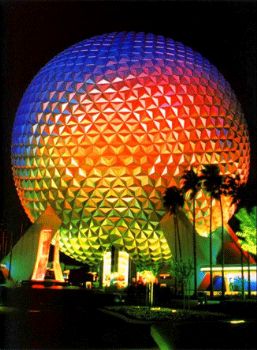 This place has my heart. I don't know why exactly, but Spaceship Earth is my favorite thing in all of Disney World.