Friday, March 20, 2009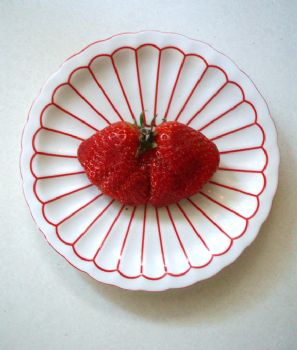 On most Fridays people are reminded to wear red for heart health. I've been thinking what I need to do for a healthier heart. I wonder if strawberries are good for hearts? They had them on sale at the grocers so I got 2 boxes. They are amazingly good to have been shipped from out of state. Funny thing is both boxes came from different farms and it is amazing the difference. One was from a farm where the berries were smaller and sweeter and other was the huge giant ones and weren't as sweet. I also ate a cup of blueberries (frozen from our garden last year) and know they are good antioxidants.

I also have been helping hubby in the garden today so got plenty of exercises besides the others I did today. I try to get in a meditation walk every day the weather allows. So I know that is good for the heart.

I'm sure drinking lots of water is good and also I drink soy milk every day. I found 8th Continent llight vanilla flavored so I'm getting less fat in the milk. Sleep is also good for the heart and I manage to get 7-8hours every night.

What are you doing for a healthy heart?