Saturday, March 28, 2009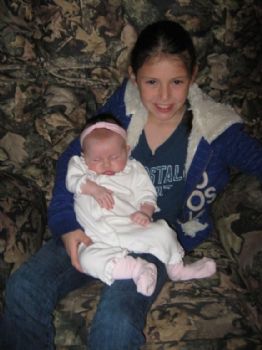 We had the family out today and this is a picture of 2 of my granddaughters. They are cousins. Taylor is the older one and it is her birthday. She turned 9. Baby Molly is 10 weeks old. Taylor is ADHD and can hardly sit still for any length of time. But today she was in love with Baby Molly and sat and held her for over an hour. She would sing to her and strange thing, Baby Molly never cried when she was sitting with Taylor either. And when Taylor would sing, Baby Molly would smile and croon along with her. It was amazing to watch these 2 together. My youngest son (the father of Baby Molly) adores Taylor and they have a great bond as well so guess it is just natural for his daughter to have that bond with her as well.

Love among family members is the best thing in the world.