Saturday, April 04, 2009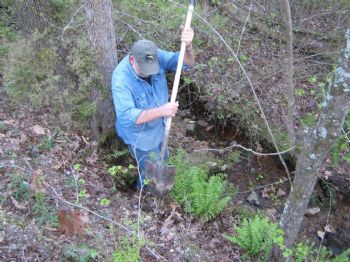 We have an old preformed gold fish pond next to the house in the shade. The 2nd year we used it as a goldfish pool, my husband accidentally broke a hole in the bottom trying to kill a snake. So since it wouldn't hold water and we didn't want a gaping hole beside our front porch, we decided to turn it into a garen instead. Since it is in constant shade we have had a hard time finding something that will grow there. But we decided to try the wild fern around that mostly grow in shady wet places and we planted a few last spring. They did so well that we filled in the entire area with dirt and went again this year and dug more fern.

Fern is any one of a group of about 20,000 species of plants classified in the phylum, so I have no idea what type these are. Ferns are "pteridophyte" which has traditionally been used to describe all seedless vascular plants. They differ from seed plants in their lack of flowers and seeds. They reproduce by spores. Fern species live in a wide variety of habitats, from remote mountain elevations, to dry desert rock faces, to bodies of water or in open fields. And in some places are considered terrible weeds. Ferns are considered to be a fossil plant and have been around since the beginning of time. Ferns have several uses. One is food, another as fertilizer in rice pattys, as landscape plants, in floral arrangements, They also have been known to remove heavy metals from soil, especially arsenic And our fossil fuel coal was formed mainly from ferns. Some ferns are poisonous and have been known to kill cattle. They can also be used to clean wounds and in some places are used as bandages. Also it is depicted in art as decorative element.

What can we learn from a fern....persistence!!! Look how long they have been living!