Sunday, March 04, 2012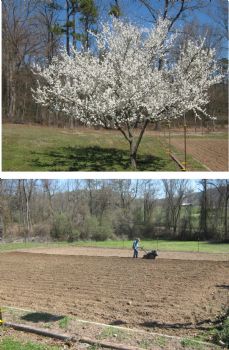 Thought I would share a couple of pictures of our blooming garden. We have quite a few fruit trees but the Ozark plums are always the first to bloom. We had slight frost this morning and temp of 32F but think they fared ok as it didn't last long. I'm praying we have good weather from now on but we have at least a month or more that could have cold or frosty mornings.

Our garden is tilled (as you can see hubby working so hard)...we have the leaf lettuce seeds planted and the onion sets (that make green onions) in the ground. I do love spring so much. I also got my first asparagus sprout and ate it raw right from the garden...o so good...Veggie season will be upon us sooner than we think. Robins are back until they migrate on and even saw some bluebirds.

Spring makes me want to get outside and do more walking. Hope everyone gets some good walk time in this blooming season.