Saturday, April 21, 2012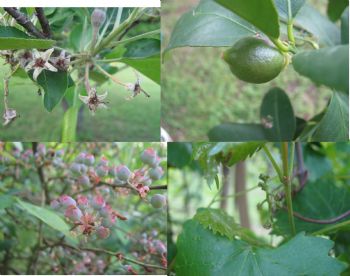 As you can tell we have lots of baby fruit where we live. Apples (topleft), dwarf lemon (top right and has to be kept in pot to take inside in winter), blueberries (bottom left and will be the first to ripen) and muscadine grape (bottom right and fruit is tiny here)..I'm really looking forward to fresh fruit when it starts ripening, but in the meantime, I'm still eating our frozen blueberries and the applesauce I made last year. And jam from the muscadine grapes. Looking forward to the lemons this year..maybe marmalade?

On health note...only got 15 minutes of exercise in today and did that inside. The privet hedge is in full bloom and last few days I've been outside I've gotten a snoot full...and the old allergy cough is back..so will try to remain inside until it quits blooming. Hate being cooped up but would like to breathe as well. Allergy meds don't seem to be touching it this time..But once it is finished then I should be good to go outside until fall when rag weed season comes in..I used to never have allergies and now seems to hit me alot..just hate it..but will deal with it.

I am keeping my calorie count in check so doing well there...didn't lose but half a pound this week..boohoo but at least it was a loss. better next Saturday I hope.