| | |
| --- | --- |
| | VONBLACKBIRD's Recent Blog Entries |


Thursday, November 13, 2008
I hadn't even thought about Thanksgiving lately. I didn't realize it was only 2 weeks away. I have promised myself that this year I won't stuff myself and eat smaller portions and pick the ones lowest in calories if possible.

My Daughter-in-law and best friend and I have been preparing Thanksgiving dinner together now for several years. She usually cooks the ham and turkey and is heavy on the starchy veggies like mashed potatoes, sweet potatoes, gravey, etc. I usually make the turkey dressing which I will make this year as usual. I don't particularily like dressing so I don't worry about eating it. I also make fresh cranberry sauce from the whole berries. I am designated to make another veggie and she asked if I would cook some of my frozen corn from the garden. I'm thinking another starch which none of us need. We don't make the green bean casserole as none of us like it. I'm thinking of doing raw veggie and fruit trays this year. And just serve the veggies with fatfree salad dressing as a dip. I plan to make a sweet dip for the fruit using fatfree sour cream and fatfree coolwhip. Jackie is making a sweet potato pie and maybe a pumpkin pie and wants me to make a pecan pie. But when you look at all this food and think of the calories...well if I eat only 1 bite of everything, I still will get my calorie count for 3 days worth. I plan to try drinking lots of water before going and then just fill up my plate with the raw veggies and fruit and the turkey breast only, even though I don't care for turkey. I would much rather have the ham. I'm not planning on eating the potatoes or sweet potatoes but may eat a tiny bit of corn as I plan to prepare it without butter. (they can butter it themselves if they want) and skip the pies and eat the fruit instead.

This is the main dinner I have to really worry about as we usually prepare finger foods and healthier fare for christmas. I will post again after Thanksgiving on how I fared on eating and watching those calories.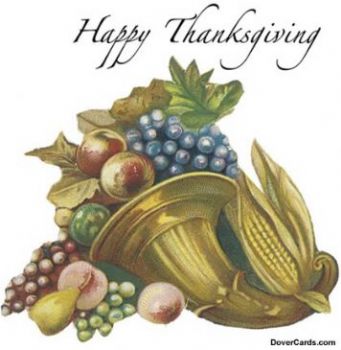 Wednesday, November 12, 2008
"I think people that have a brother or sister don't realize how lucky they are. Sure, they fight a lot, but to know that there's always somebody there, somebody that's family. "
Trey Parker and Matt Stone, South Park, Cat Orgy, 1999

I only have one sister and she is almost 3 years older than me. She has always been the "small" one in the family. She is only 5'2" and been a petite size most of her life. She turned 60 this year but you would never know it. She retired from teaching after 30+ years in the Texas system and has now been teaching in Arkansas for about 5 years. She says that the present year will be her last each year but yet she somehow continues to stay with it. She and I both share so much. We both have rhumitoid arthiritis and we both have sons. And since mom died in 2002, we sometimes feel we only have each other. We also both love the outdoors and the changing of the seasons. We also both are teachers.

We are also so different in so many ways. I think she looks more like my mom and I look more like my dad and paternal grandmother. She is small and I am large. She is not a crafter but I love to craft. She doesn't garden, but I do. But she is the only sibling I have and we share so many secrets and wishes and dreams.

She lives about an hours drive away and we met this past Saturday for a nice autumn hike. We had so much fun that we want to try to do this more often. We have been through so much together. When mom got alzheimer's we both asked ourselves...."will this be us when we are old?" Funny thing is when growing up, we would fight like cats and dogs but as we both age, we have grown closer than ever. It is always good to have a sister for a friend.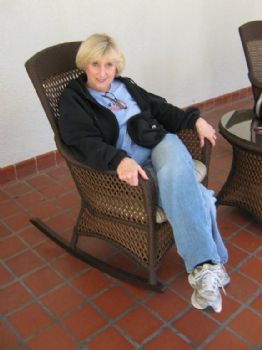 Friday, November 07, 2008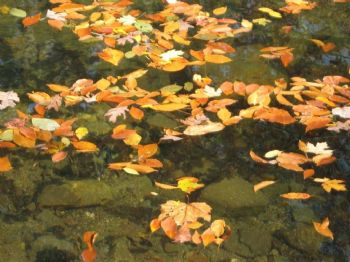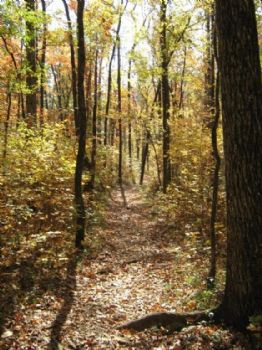 I think I've had the flu last week and weekend. Felt a little better on Sunday but weak and shaky. On Monday, I asked Sonny (husband) to take a ride up into the mountains to look at the fall color changes. It was a good thing we did so as since then the leaves have steadily fallen and it is beginning to look so bare now. I took some awesome photos and we even stopped and took about an hour hike. It just happened to be where we had spent our honeymoon as well.

Speaking of color changes. We always need changes in our lives. We need changes for the better. I truly believe I'm making good changes now. I've lost 37 pounds and still need to lose about 37 more to be a good healthy weight for me. Right now I'm concentrating on changing my exercise habits. I also found out this week that I'm not immune to "falling off the horse" so to speak. I had lost 3 pounds this past week, which I'm sure has alot to me being sick. But it seems I've tried to make up for it today and I went over my calorie range. That is pretty good considering I didn't go that far over and it was the first time since joining Sparkpeople in April. But like they always tell you, "You have to get right back in the saddle."

Another change that needs to occur is for me to do more toning exercises to get these muscles back in shape to what they need to be. So changes will be occurring to build those good habits into me. It takes several days of doing to make it a habit...so I've learned so this change will be a needed change.





Wednesday, October 29, 2008
I'm really having some health issues right now. I was started on Crestor almost a year ago and have been having bladder and yeast infection problems. I had trouble before with my kidneys while taking some high powered Rhumitoid drugs so I have to be careful. I've just read up on side effects of Crestor and one is renal failure. I had called my gyn early this week about the yeast infection and they want to see me pronto but then couldn't work me into their schedule for 2 weeks. I've been running fever especially at night so haven't felt well at all. I am worried about the Crestor though as my urine has had a funny smell for several months now. I called my local clinic and they are getting me in Friday morning and hopefully will test my blood and urine for anything. It is just awful to feel so bad. I have kept at keeping my calorie count down close to 1200 and at least between 1200-1500 which is what is good for me to lose weight without problems. I've also been managing to walk though it seems to have gotten harder lately.

On another note, baked 3 pie pumpkins and put pulp in freezer. I made some pumpkin custard from a team member's recipe and made it with low fat milk so made a nice healthy alternative to pumpkin pie. I've also been baking my apples and eat with a little cinnamon. I don't particularly like raw apples so this is great for me and get the taste of an apple pie. These are much healthier as neither has pie crust which is high in fat. I'm now not as worried about the coming holiday eating as know I can do this and keep the healthy spark.





Friday, October 24, 2008
I don't know what it is about colder weather. My body seems to think it is going into hibernation mode and I seem to get more hungry. I have really struggled this week to keep the calorie count within my range of 1200-1500. It has been hitting in the higher ranges than I would like. I've upped my exercising and know this has alot to do with it as well. I'm not noticing any weight loss either. I think it is my time to hit a wall. Another bad thing is I love all the "comfort" foods this time of year. Sweet potatoes, chili, soups, potatoes, pumpkin pies and peanuts in the shell. I'm trying to find ways to make these lighter and not as heavy as I used to make them. I've learned to make my fruit pies now with Splenda so that helps but still they are higher in fat than I would like. I know I'm really going to have to watch myself through Thanksgiving. My daughter-in-law loves to cook, especially bake so thankfully she will handle most of the cooking this holiday season. I'm also looking at buying healthier Halloween candies like the fruit roll ups and gummys instead of the regular high sugar, high fat things. I may even buy pencils and hand out. But I have learned through this summer that there are definitely things I don't need to keep around my house like chocolate candy!!! I have found a "guilt-free" chocolate frozen fudge bar with only 60 calories so let that be my chocolate treat. I still have a long way to go and hopefully I won't fail during this time of year. Another main problem is with colder wetter weather, I do not like to move much. Joints just don't seem to work as well, but I am going to really make an effort to get out an walk. Walking, I've found, is peaceful and theraputic and I really enjoy it!! Still don't like basic exercising but am trying. Hope to make this a really fruitful holiday season.



First Page
1
2
3
4
5
6
7
8
9
10
11
12
13
14
15
16
17
18
19
20
21
22
23
24
25
26
27
28
29
30
31
32
33
34
35
36
37
38
39
40
41
42
43
44
45
46
47
48
49
50
51
52
53
54
55
56
57
58
59
60
61
62
63
64
65
66
67
68
69
70
71
72
73
74
75
76
77
78
79
80
81
82
83
84
85
86
87
88
89
90
91
92
93
94
95
96
97
98
99
100
101
102
103
104
105
106
107
108
109
110
111
112
113
114
115
116
117
118
119
120
121
122
123
124
125
126
127
128
129
130
131
132
133
134
135
136
137
138
139
140
141
142
143
144
145
146
147
148
149
150
151 152 153 154 155 Last Page

Get An Email Alert Each Time VONBLACKBIRD Posts